We met the owner of the "Rebel Muse Tattoo" in Denver and found the fire of the artist who always wants to improve. Read the interview…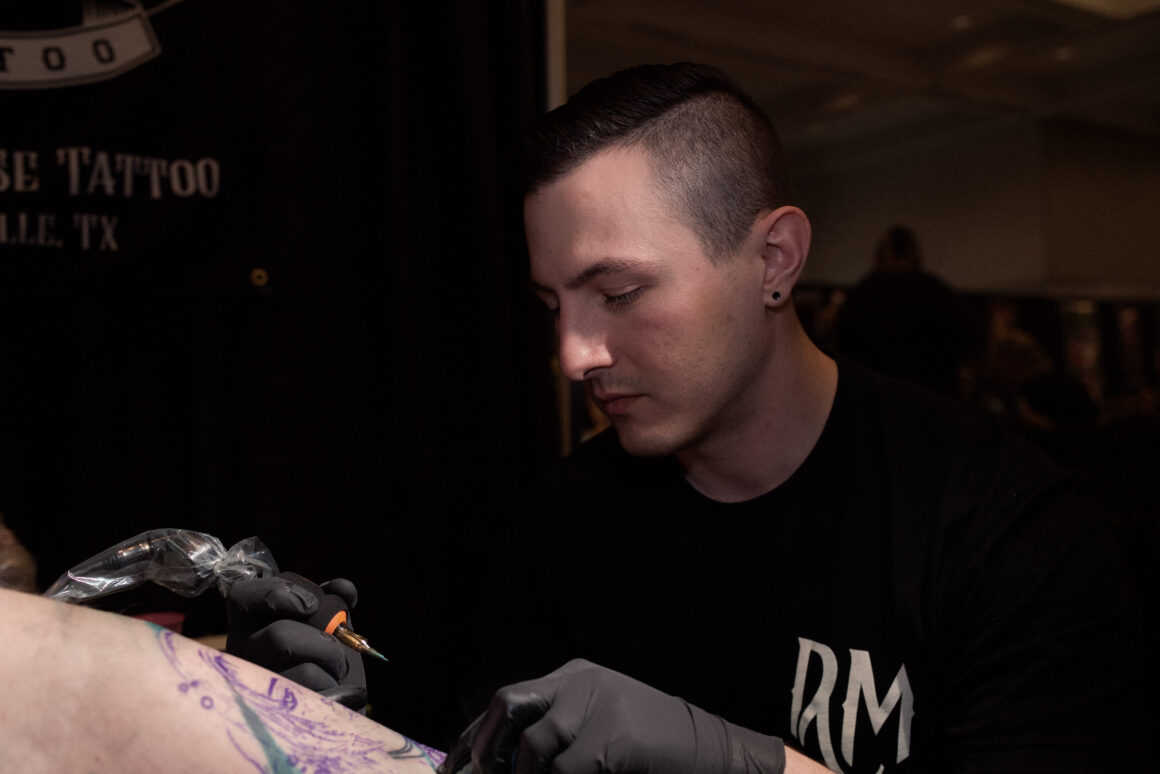 Hi Danny, how many years have you been tattooing and what have been your milestones to become a professional tattoo artist?
I've been tattooing for 10 years now, which is still crazy to think about for me. The real milestone in becoming a tattoo artist was getting a job at my first studio back in 2011.
I'm self taught with no apprenticeship, so that step let me know I was on the right path.
Since then my "milestones" have been about becoming a better artist: starting the convention circuit here in the U.S., getting tattooed by the artists I look up to, working at respected studios, Guest spots and collaborations – all those steps were equally important in their own way and have made me who I am today.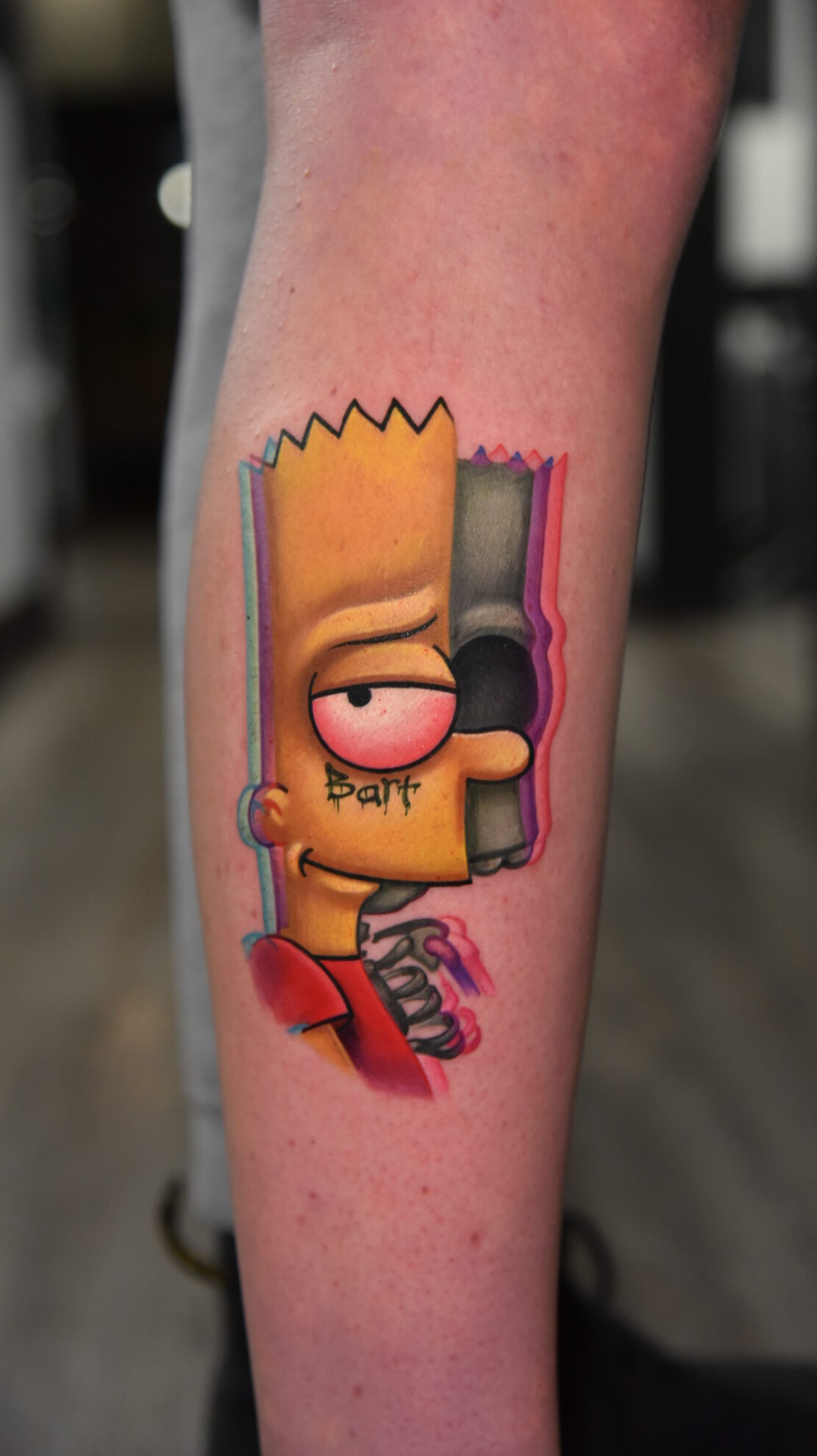 Have you had any teachers to whom you have to say thank you? Or does it all come from your exclusive talent?
No it's not about talent. I don't think any artist today succeeds all on their own. I've dedicated a lot of time to perfecting this craft myself, but I'm also fortunate to have learned from a handful of mentors over the years.
My first mentors are Dave Lukeson and Clint Cummings.
Dave was the first good artist who ever gave me the time of day. He tattooed my sleeve, taught me proper Black and Grey, and gave me some life lessons along the way. Clint saw potential in my work early on and gave me a shot at one of the better studios in my city (Dallas at the time). His mentoring style was brutally honest and he never held back. It made for difficult days every now and then, but everyone who worked with him grew because of it.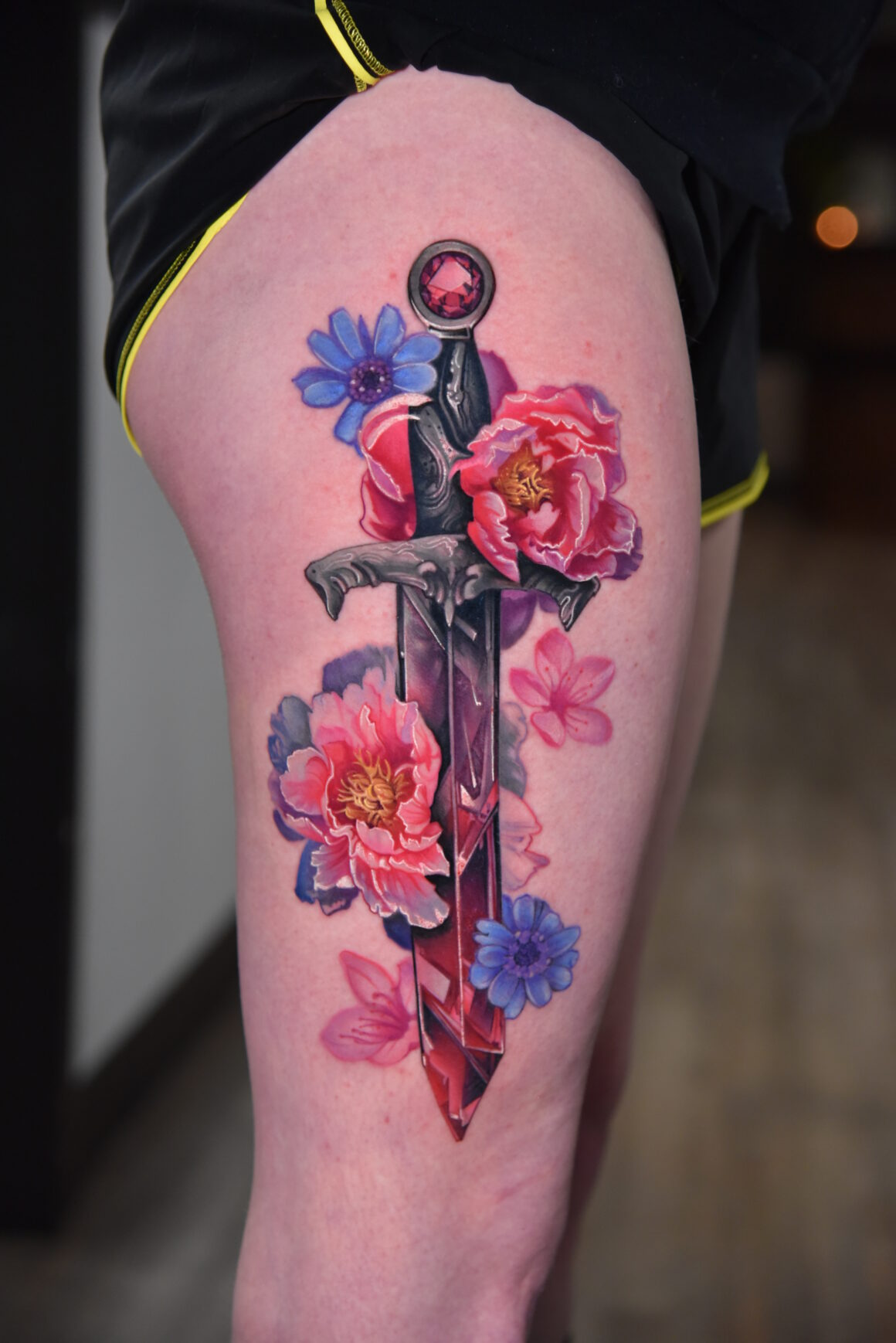 Do you forget anyone?
Well, more recently, Liz Cook has been a mentor to me over the past few years and we now own a studio together, the "Rebel Muse Tattoo" in Denver. She's easily the most knowledgable person I've met when it comes to art and tattooing.
Working with Liz daily is really what helped me refine my style and skillset.
I owe a debt of gratitude to all of these artists, and many more.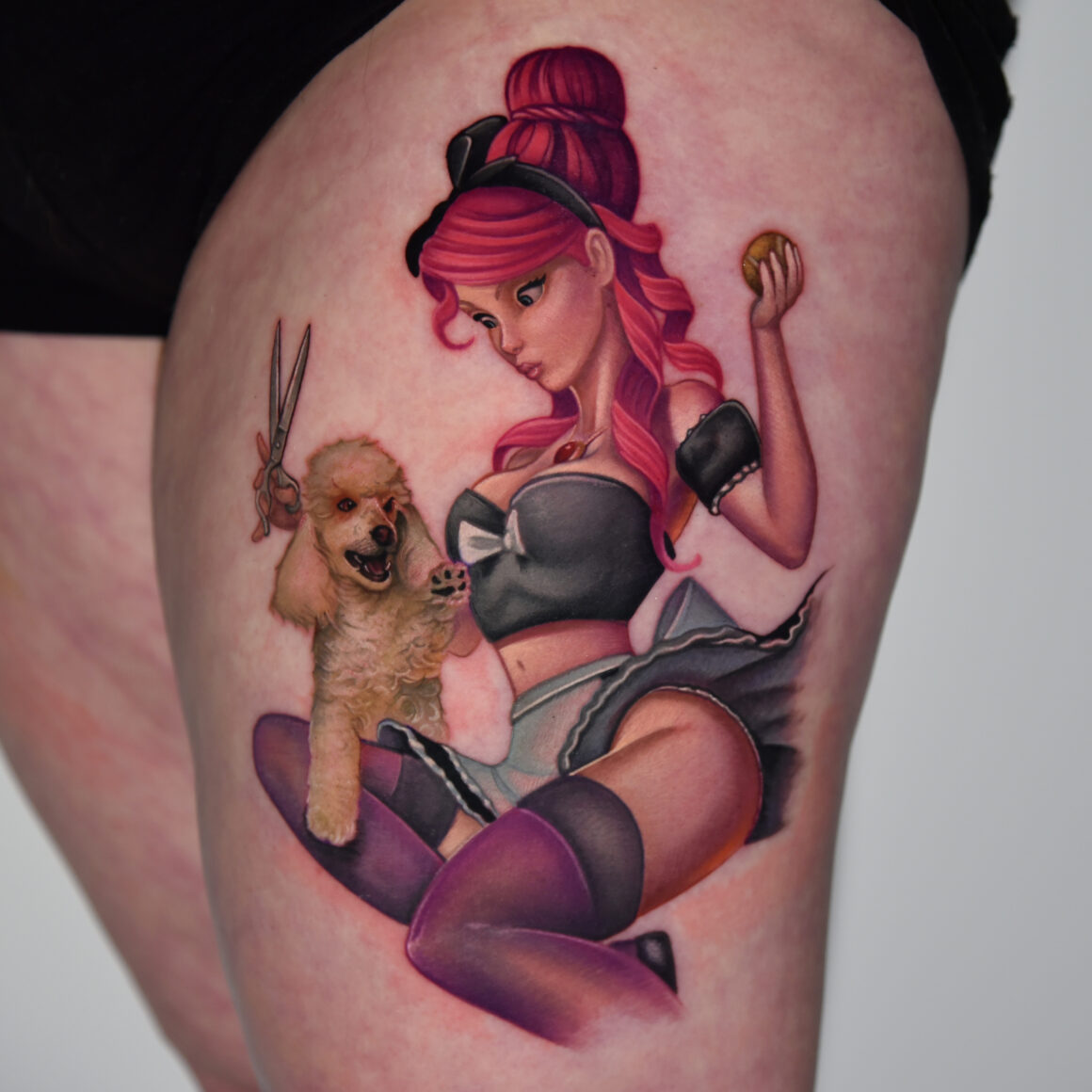 What do you think are the dominant subjects in your tattoos? Cartoons, comics, manga or realistic ones?
The most dominant category is "pop culture", which actually covers all of those! (laughs). I try not to restrict myself to any one type of tattoo, but instead I look for projects that seem fun and exciting. Since I watch a lot of movies and play video games it makes me more interested in those characters.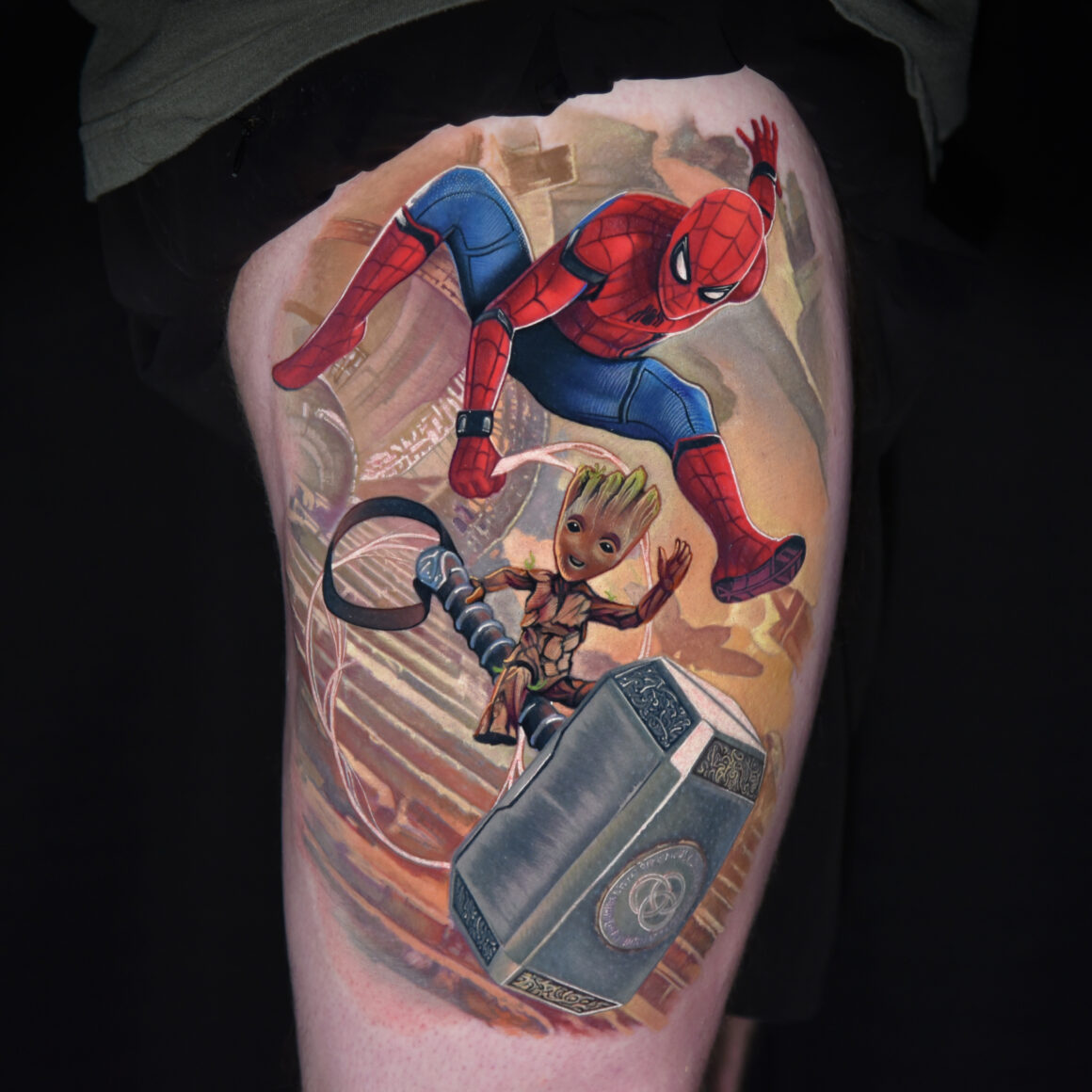 When tattooing characters from the world of cinema or the famous MCU (Marvel Cinematic Universe), does the idea always start with your client or do you also contribute with the right advice?
I never want to convince someone to get tattooed, so it always starts with the client. After they give me the basic idea, I find a way to create the best version of their tattoo and advise them from there.
It's really important when working with Movies and Comics to find a way to make your tattoos unique.
Many people end up using the same images off the internet, so hundreds of tattoos could easily look the same. When you look at my work and see lighting effects, neon, graffiti, etc. it's usually because I wanted to make my tattoos stand out against everyone else.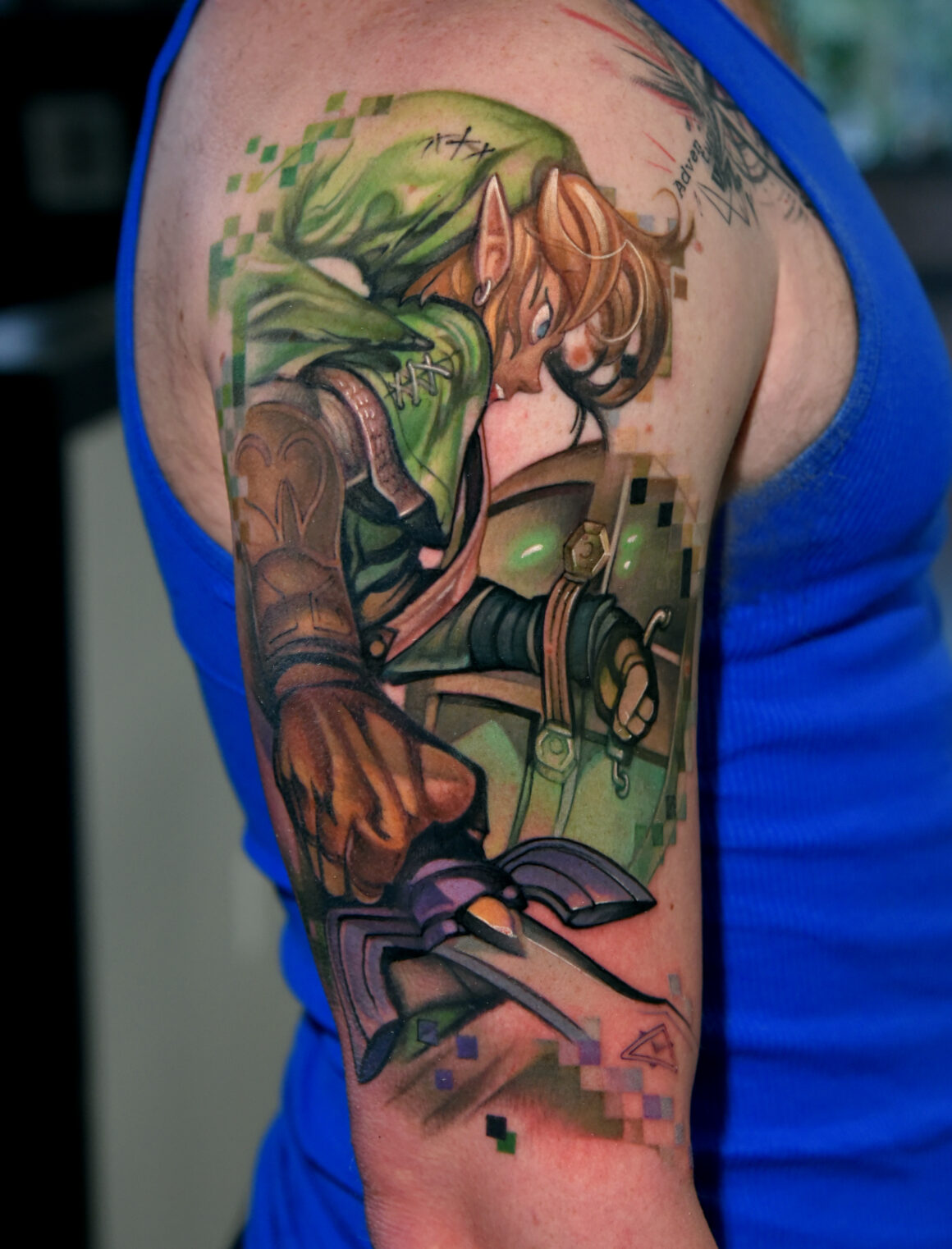 What's the tattoo scene like in Denver where you work as the owner of the "Rebel Muse Tattoo"?
The tattoo scene in Denver is terrible. No one should come here. Just kidding! (laughs)
But seriously…
Denver has actually been really great all around. Clients are much more willing to give artists freedom with their work and allow us time to finish the tattoo properly.
While there are many top tier artists here across all styles, it doesn't feel like we're "competing" with one another because everyone is friendly.
I think many artists moved here (myself included!) because we wanted to live and create in a place where we could also be inspired by the nature that surrounds us. It seems like everyone I've met has shared that mindset, and there's a real opportunity for connection in a post pandemic world.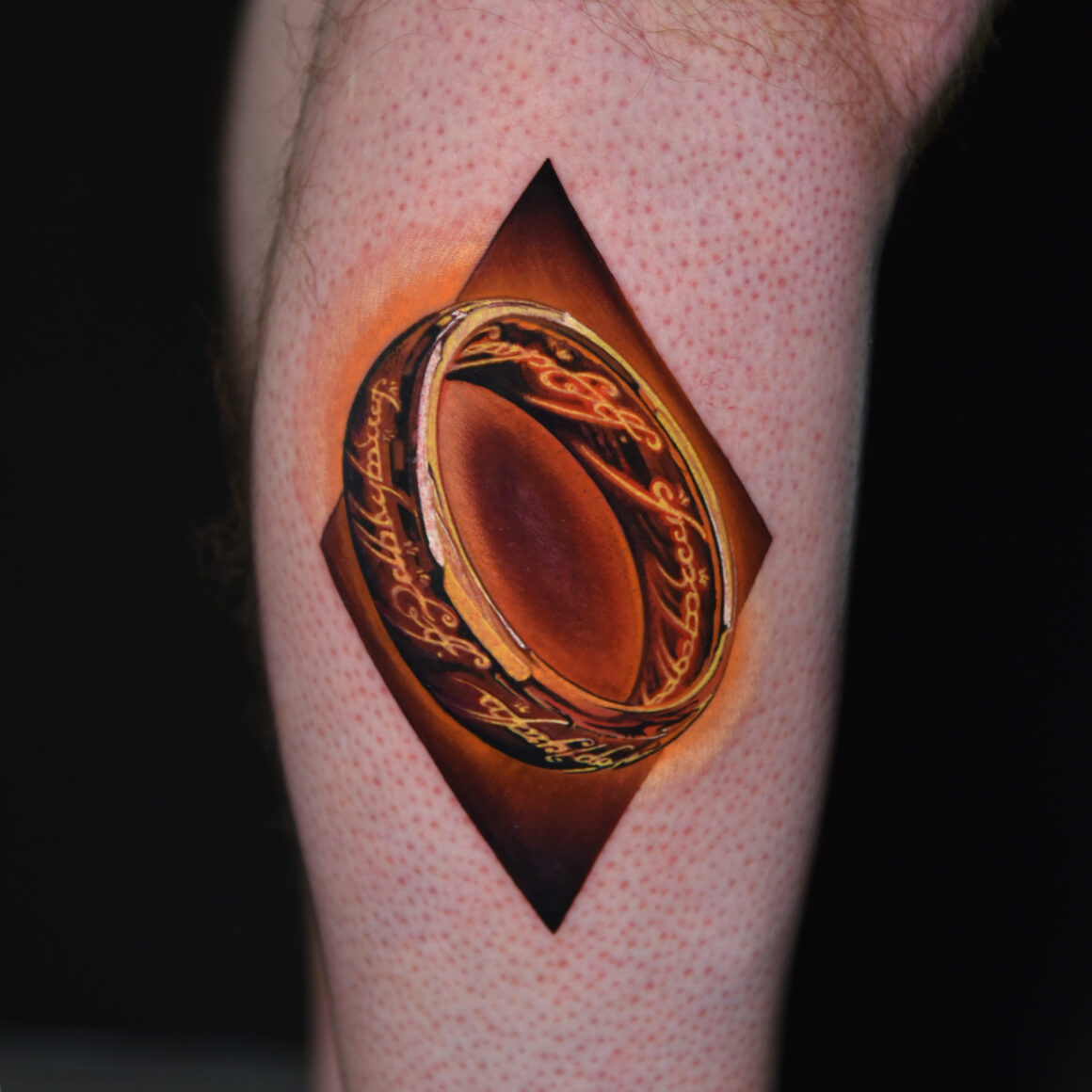 Last question: make a wish and tell me what percentage it might come true…
For my entire career there's been a milestone that seemed too far out of reach whether because of skill, networking or just plain luck – tattooing at the London Tattoo convention. It was widely considered to be the best collection of hand picked tattoo artists worldwide, and I regret not seeing it in person before Miki Vialetto announced the shows permanent closing last year.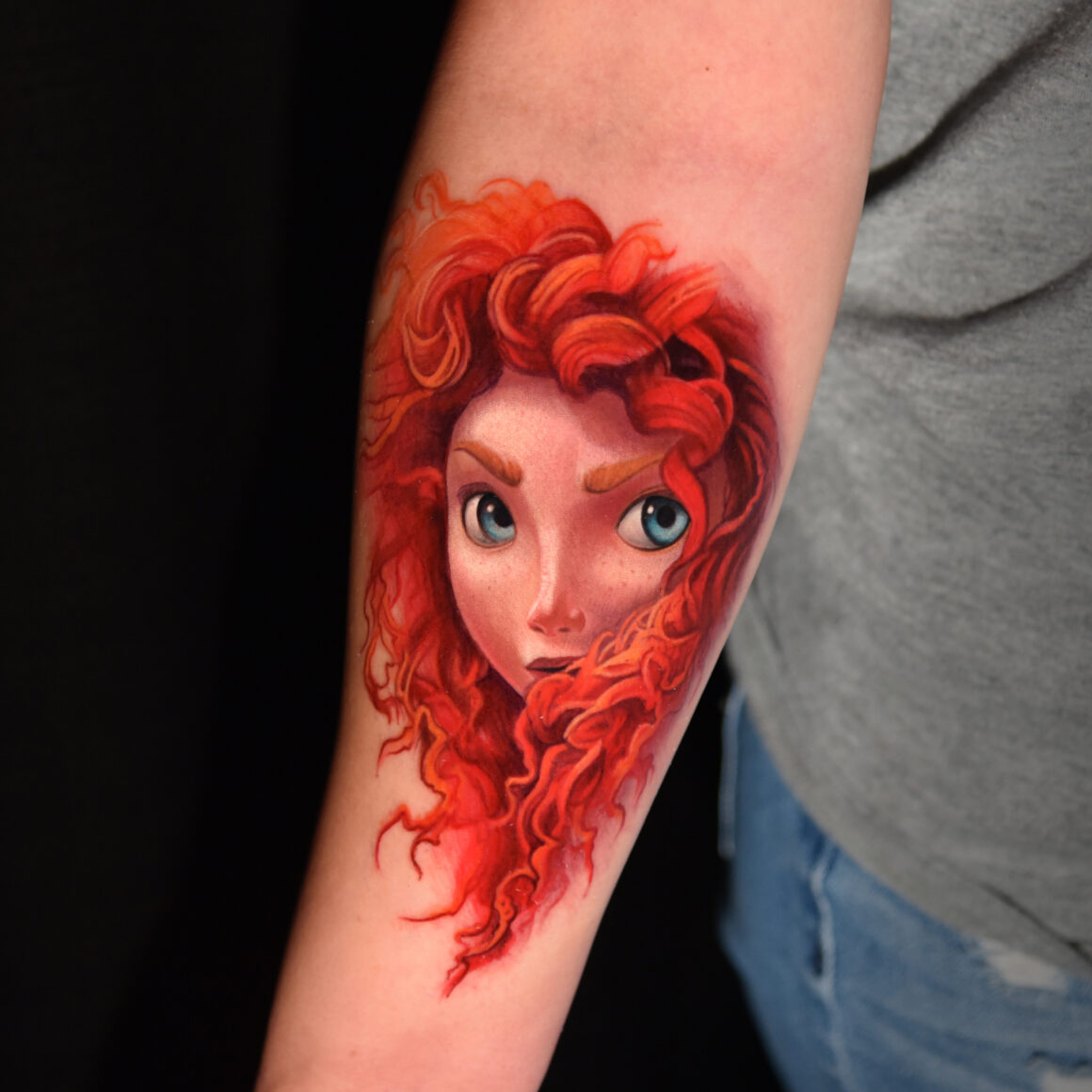 One last word on London, please.
London was a symbol for our community about pushing boundaries and respecting what's sacred about tattooing. It was uncompromising in both of those ideals and gave every tattooer something to aspire to. So my wish is simple, to attend that expo reincarnated. Whether to tattoo or spectate, whether it's in London or Tokyo, on a mountain top or in Miki's basement – I'll be there. 100%.