She feels more like a tattoo artist than an alt-model, this exquisite French girl who now, after ink and pencils, has already set herself another goal: sculpture!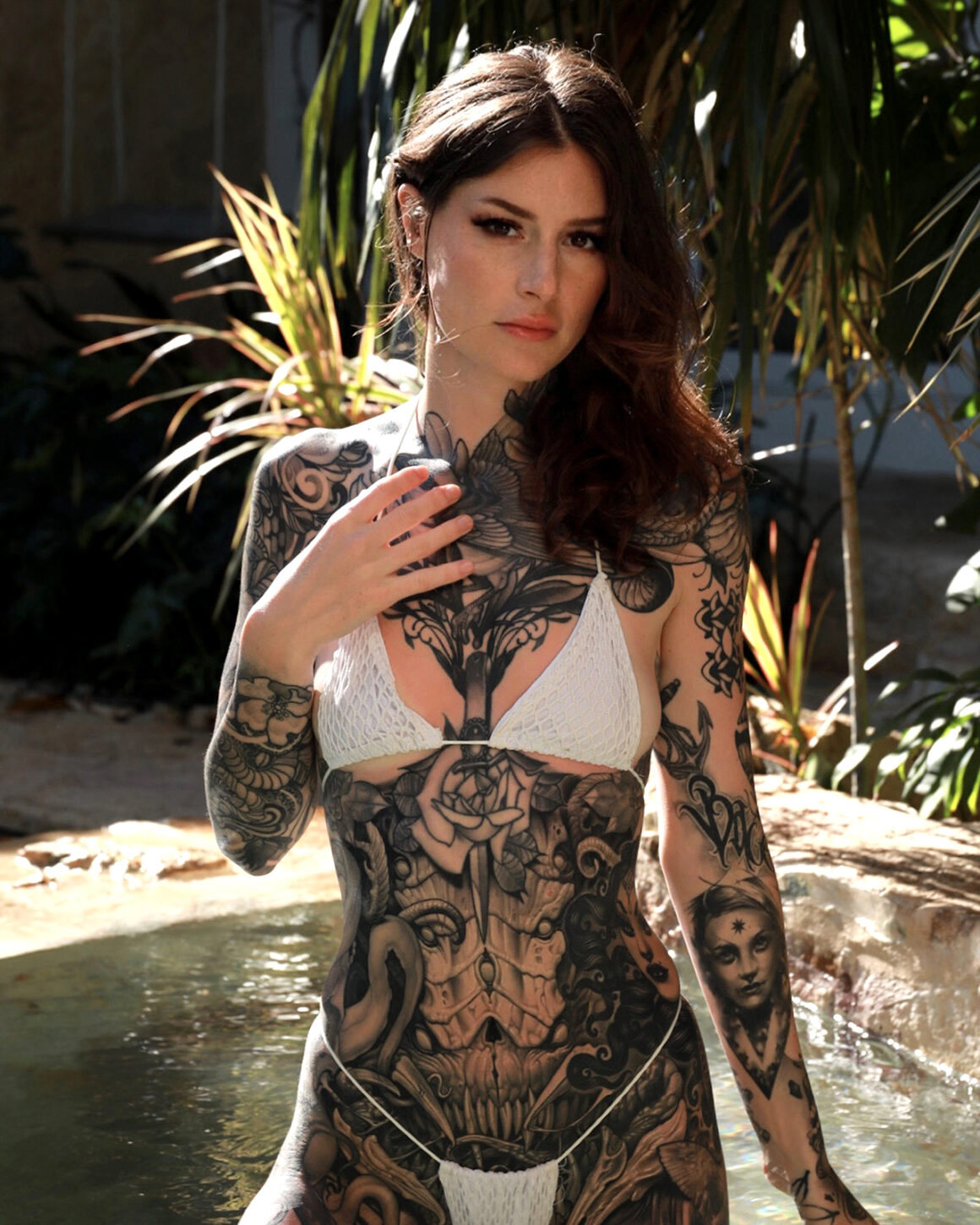 Hi Ccyle, can you tell me a little bit about yourself? What was your course of study to become a tattoo artist?
Hi, I'm Ccyle and I'm a French tattoo artist based in Barcelona. Tattooing came into my life when I was 25 years old and just moved to Australia. I took this opportunity very seriously and was going to the studio every day to draw. On the side, I was working in a stripclub every weekend to be able to pay my bills.
It became a huge inspiration for me, to mix my artwork with sexwork just came naturally.
To this day, I'm still in the process of learning and improving my skills. I've been attending live drawing classes and workshops at the Barcelona Academy of Art (IG: @barcelona.academyofart). It doesn't matter how many years you've been tattooing, it's always time to learn new techniques!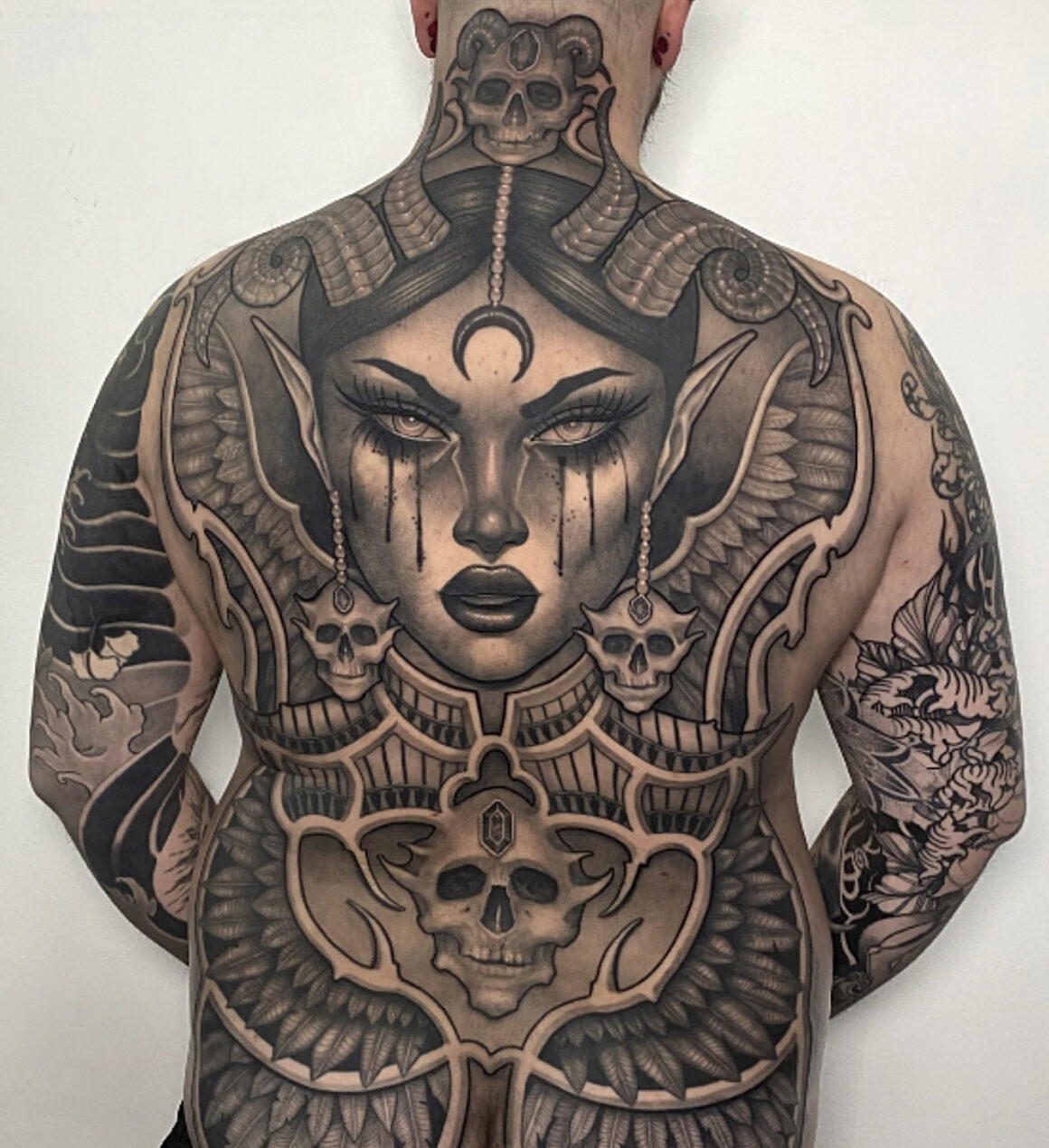 Tell me the truth: do you feel more a tattoo artist or a model?
I'm definitely an artist more than a model. My life is surrounded by art and creativity and drawing is my passion. Modeling is mostly a way for me to showcase my great collection of tattoos. I've travelled the world to get tattooed by some of the most amazing tattoo artists, and I want to show the empowering feeling that comes with wearing art on your skin. Hence all the bikini pictures!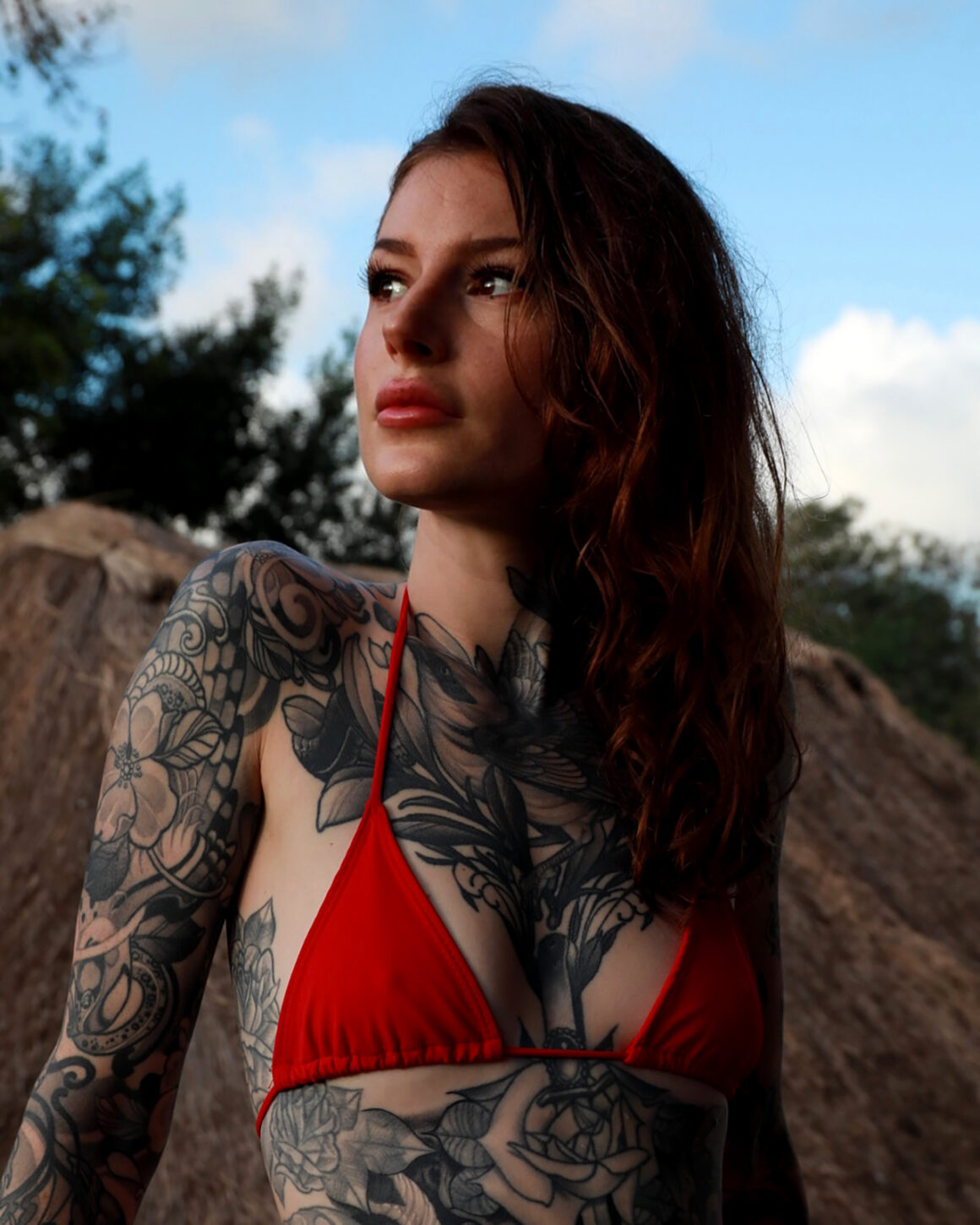 Your female figures radiate different themes: independence, sin, suffering, sensuality, solidarity between women, love between women, some vampirism maybe. They are complex women. Is there a precise "message" behind them?
I've always been passionate about strong women, and female power. Working in the sex industry taught me that what is often taken for weakness, can actually be used as a strength.
Women are a lot more powerful than we think, and I think that's what radiates through my portraits.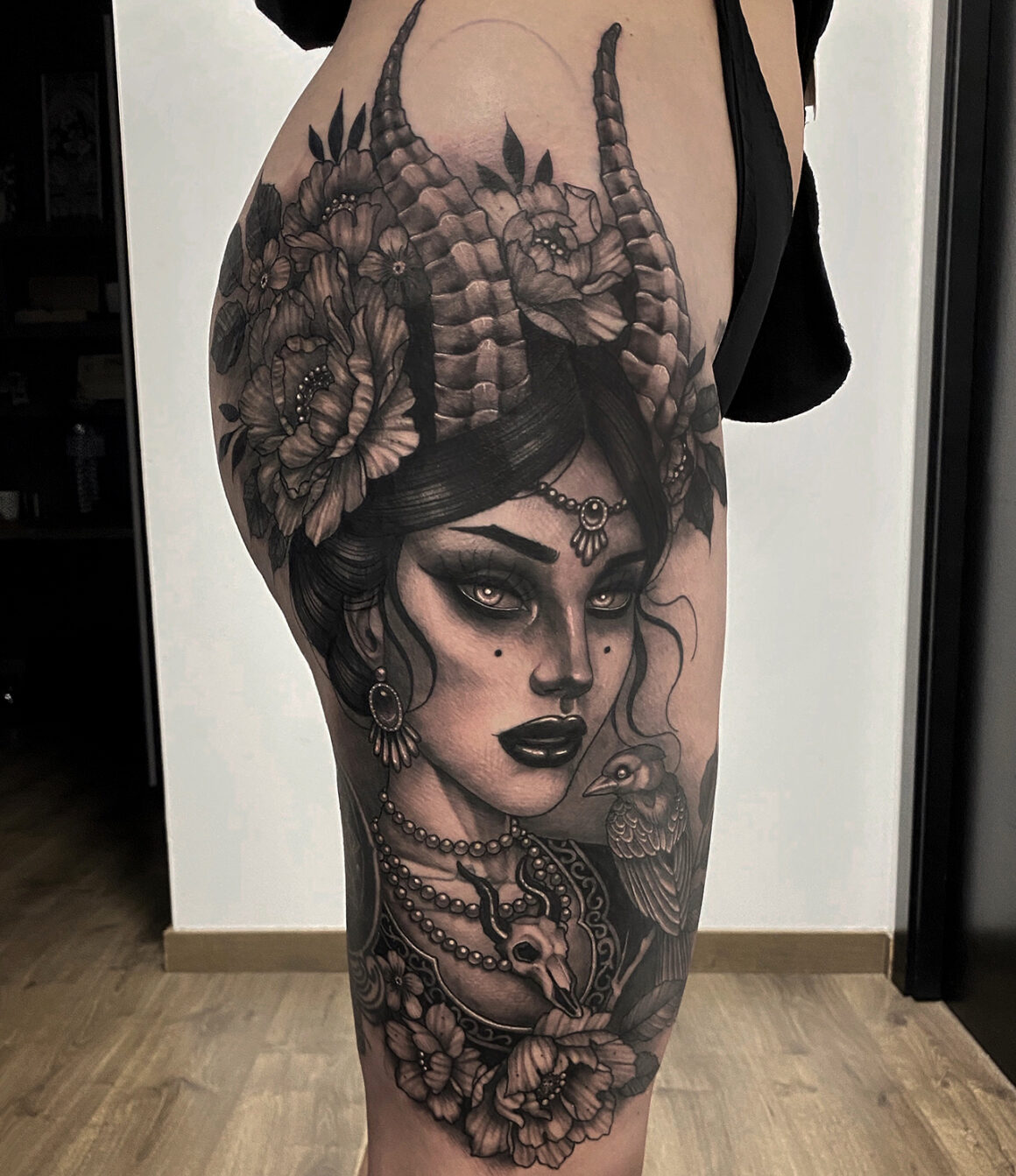 I noticed that you like to take portraits of other models featured on Instagram. Is that a tribute to the social entrepreneurship of other women like you?
I follow a lot of amazing content creators on social media. Whenever I have an art block, I go through my Twitter feed or my screenshots folder and pick a babe to sketch.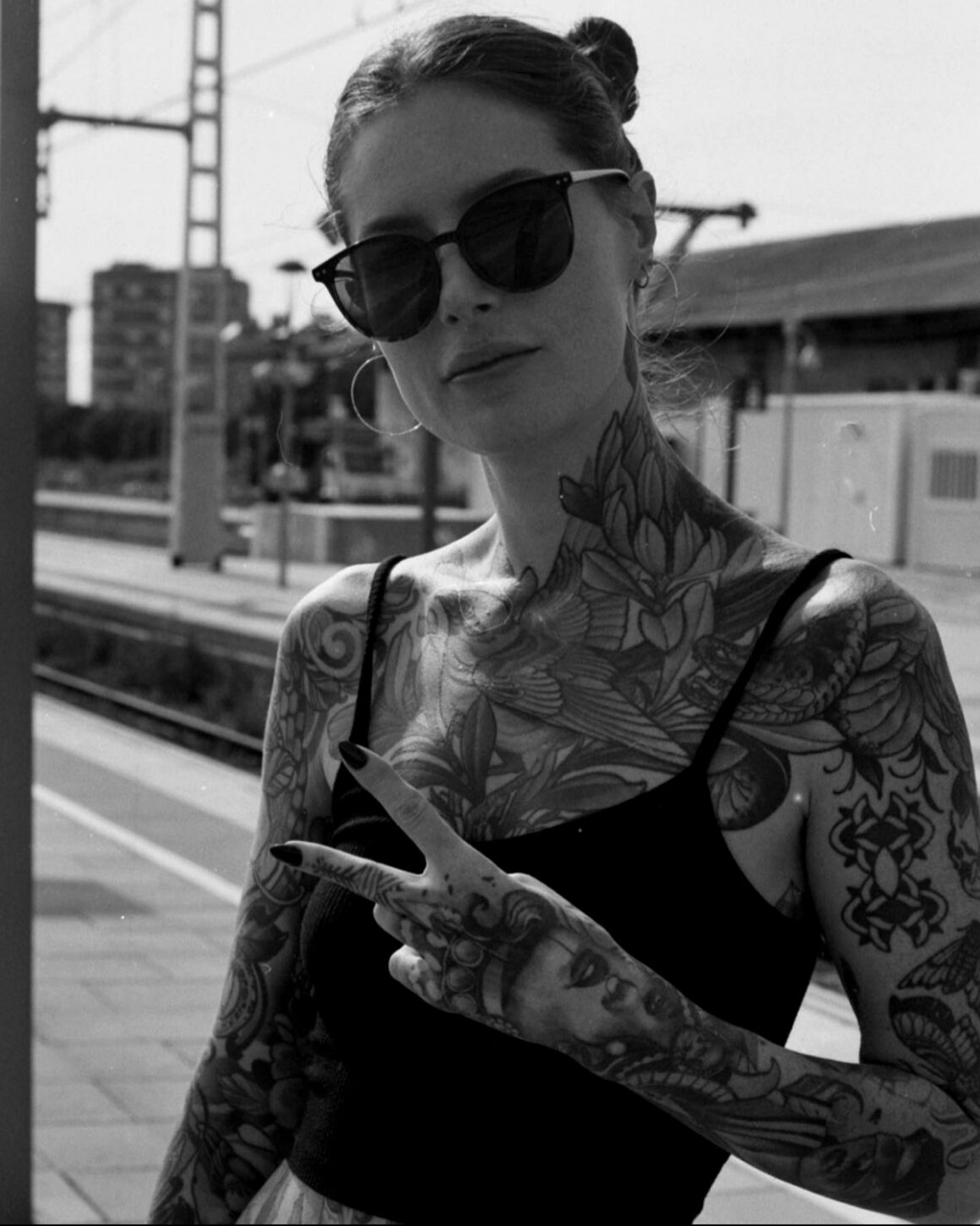 I'm forever grateful for all these amazing models, working so hard to make amazing free content, thinking about interesting lighting, position, outfits and so many other creative directions.
They are a great source of inspiration for me, that's why I love to draw them so much.
Since I started doing live figure drawing, I understood even more how important the relation between the artist and the model was. For centuries, working hand in hand together with the common purpose of creating art and beauty.
You are very tattooed in addition to doing tattoos: do you have a tattoo artist of choice or does your ink come from all different artists?
I have a lot of admiration for people doing bodysuits with one tattoo artist, but I could never commit to just one! I've been collecting tattoos for years, and the experience of travelling, meeting an artist you admire, watch them work and ending up with a great piece from them is incredible.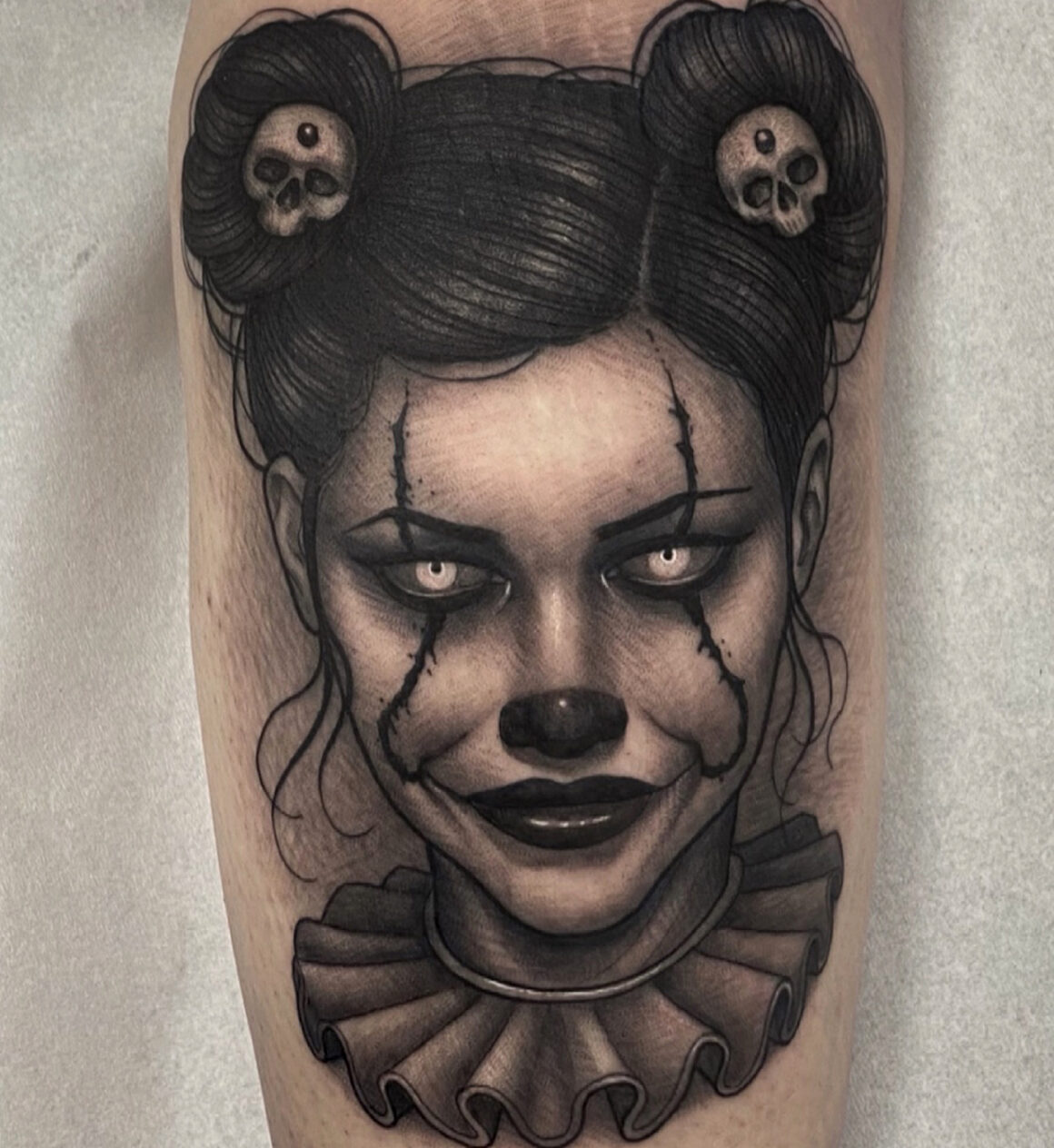 Sometimes, I meet artists that are so good that I get more than one piece from them. Sneaky Mitch (IG: @sneakymitch) from Leeds did my chest and shoulders. And Julian Siebert (IG: @julian.siebert) from Munich did my belly piece and we are now doing the back this summer! Really looking forward!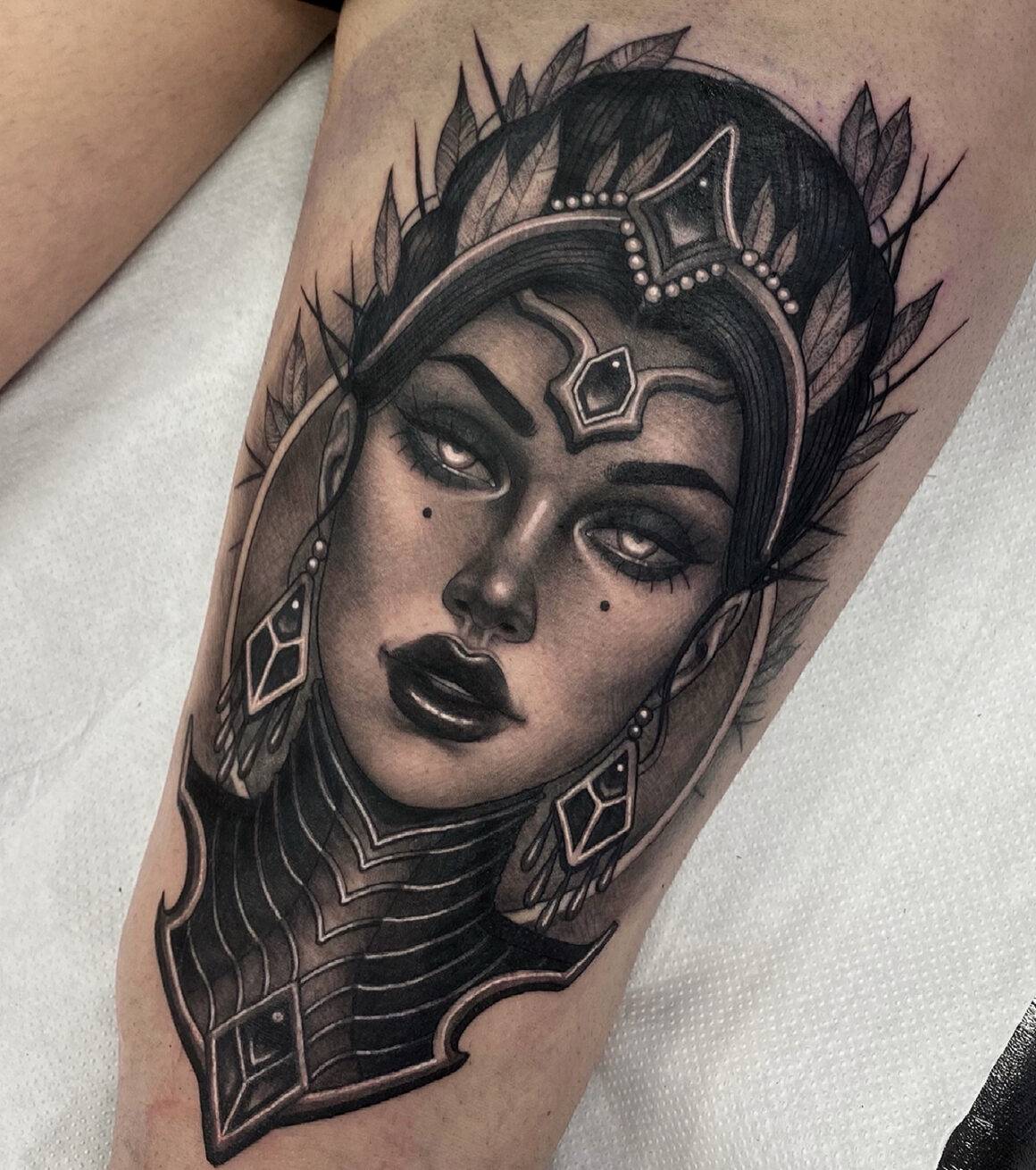 Do you have an ideal situation to realize your plans? I mean – whether it's tattooing or speaking through images? What is your ideal mood to create?
A normal drawing day for me would be to wake up at 7:00 am with a coffee and my THC vape, and to start some pencil sketching to warm up.
After a nice walk in the forest with my dog, I would switch to my iPad and try to have 6-7 hours of drawing done.
Usually I would work on prints, product designing, tattoo projects etc. You know, I love the iPad because I can easily bounce from one project to another, which helps me to keep a fresh eye on my drawings.
In Barcelona do you tattoo privately or do you have a tattoo studio that you refer to?
I tattoo in a studio in Poblenou (IG: @a1bcn). I've been working there for 3 years with a great team of blackworkers (IG: @xnazax and @aidawolf_tattoo).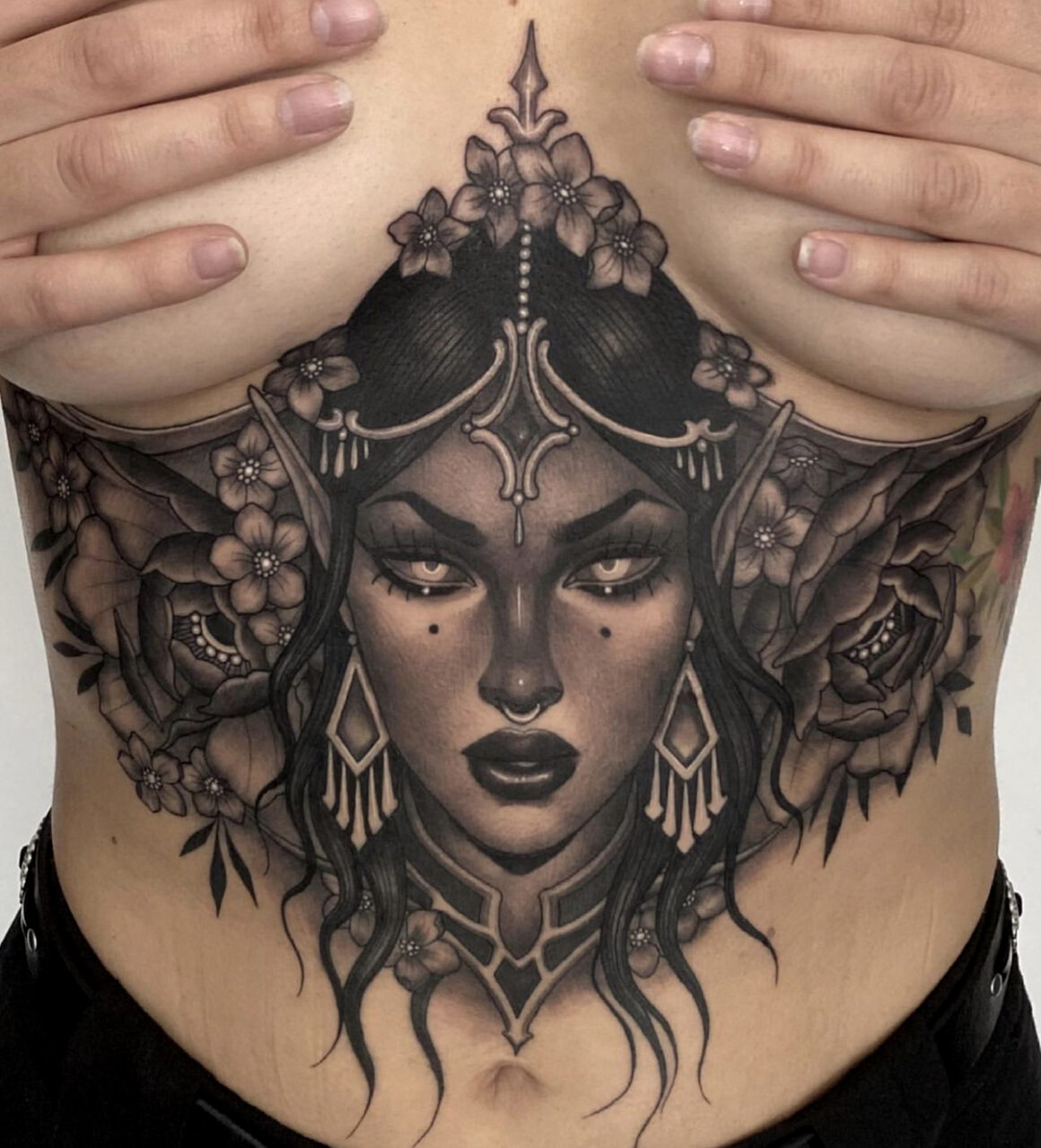 Do you have a very long waiting list if suddenly someone decides to contact you and book your tattoo?
I usually book my agenda for 3 months in advance so I can always have some freedom to make plans. I try to guest once a month in a different country.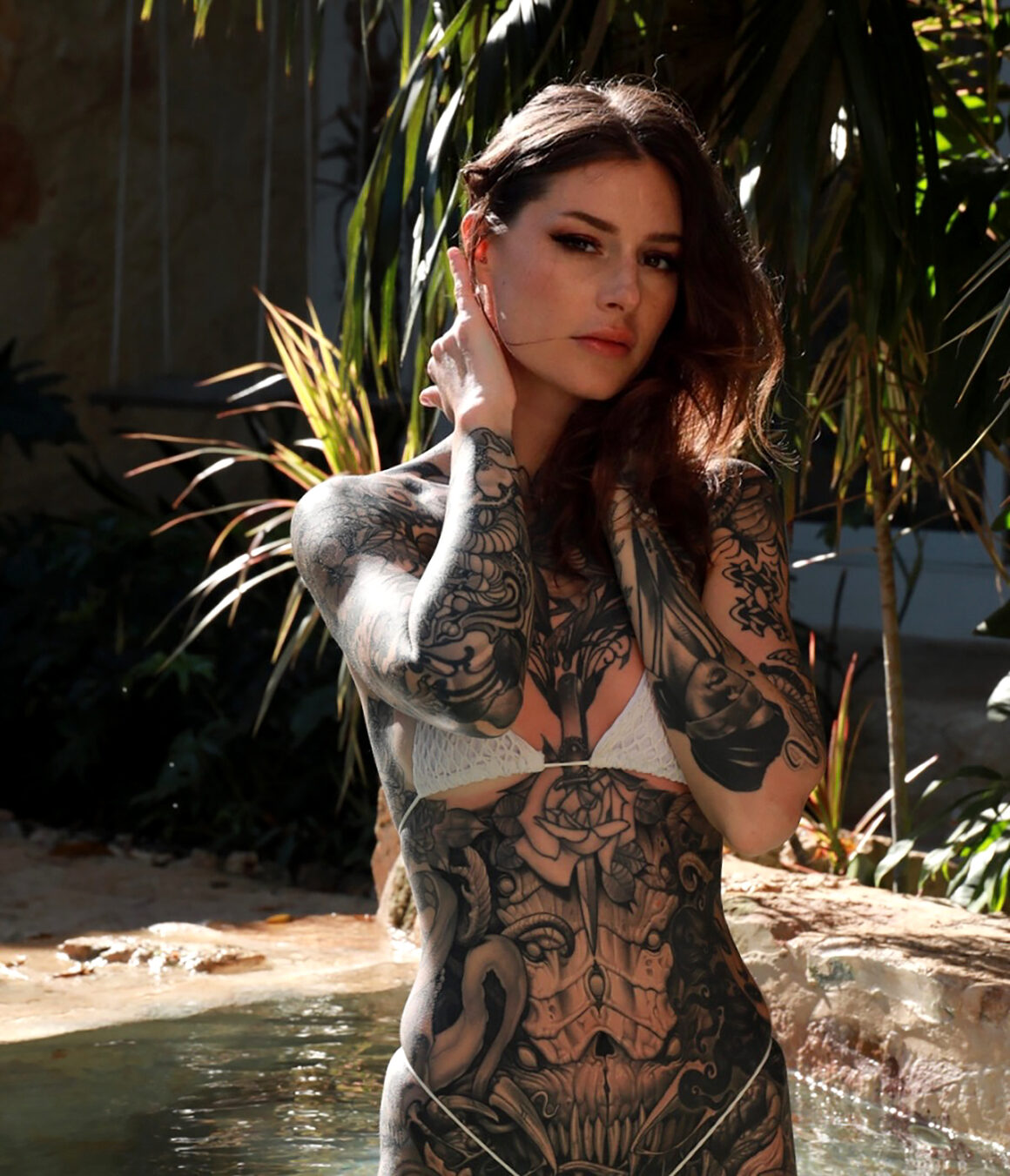 Do you like conventions and guest spots? Do you have just something marked on your agenda for the coming months?
Yes I love it! We're so lucky to be able to travel the world with our job, and I decided to make the best of it! This year is the first year since Covid where I can actually travel outside of Europe. So it's going to be quite busy: Taiwan, USA, England, Australia and New Zealand are in the program.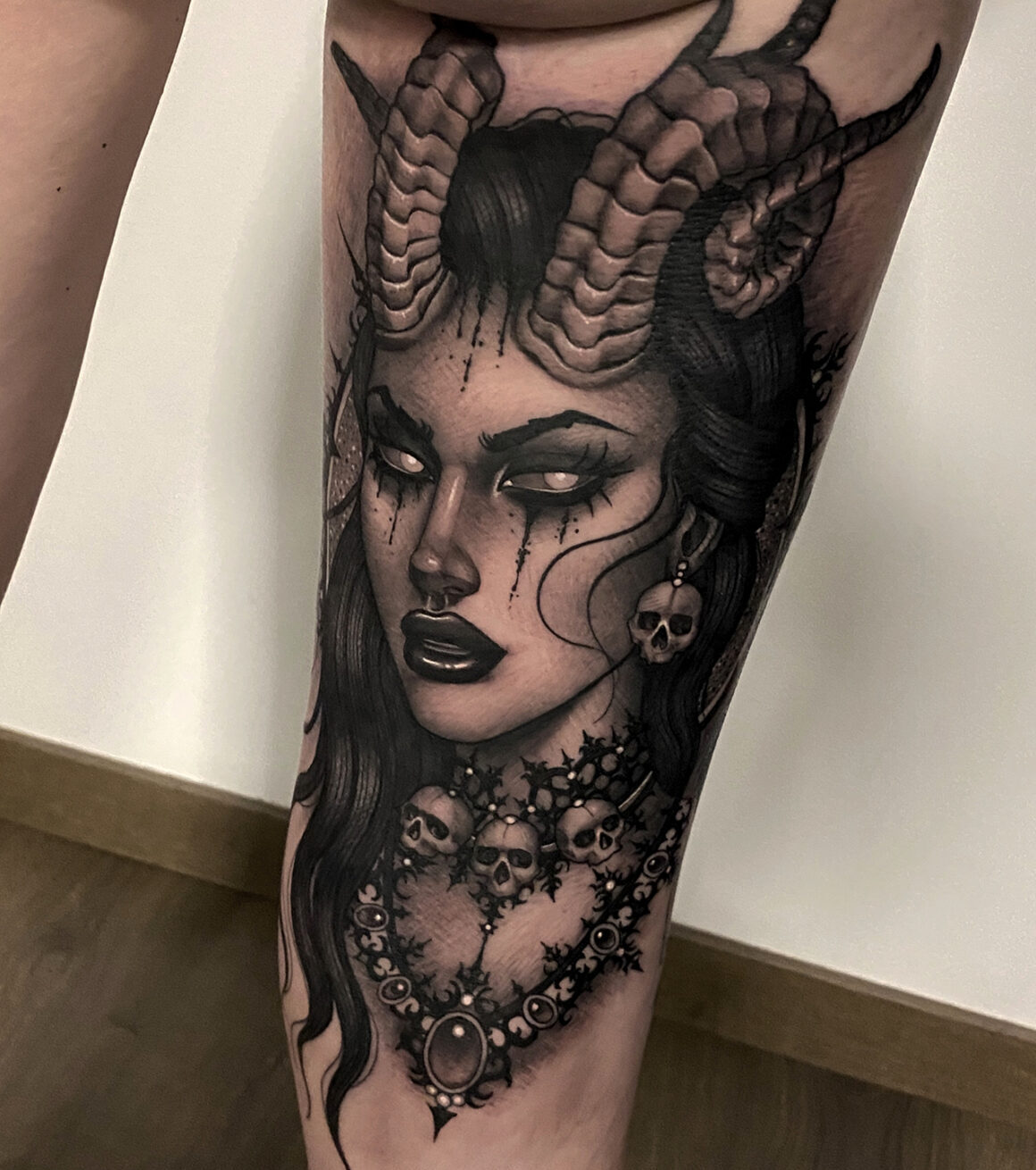 Do you have a wish that you would like to see fulfilled as early as this 2023?
My wish is to keep improving in my art. I've signed up for a portrait sculpting workshop this summer at the Barcelona Acadamy of Art and I'm looking forward to learn a new skill!
And your last famous words are… ?
Everybody is welcome to join the Bad B*tch Club (IG: @badbitchclub.store)!