Carlos Torres' monotone masterpiece takes the all-new Indian Chief Darkhorse into the stylised world of 'Black and Grey' fine art tattoos. The third of three headline artists work to be revealed in CGI as part of the 'Indian Motorcycle X No Regrets' tattoo art collaboration.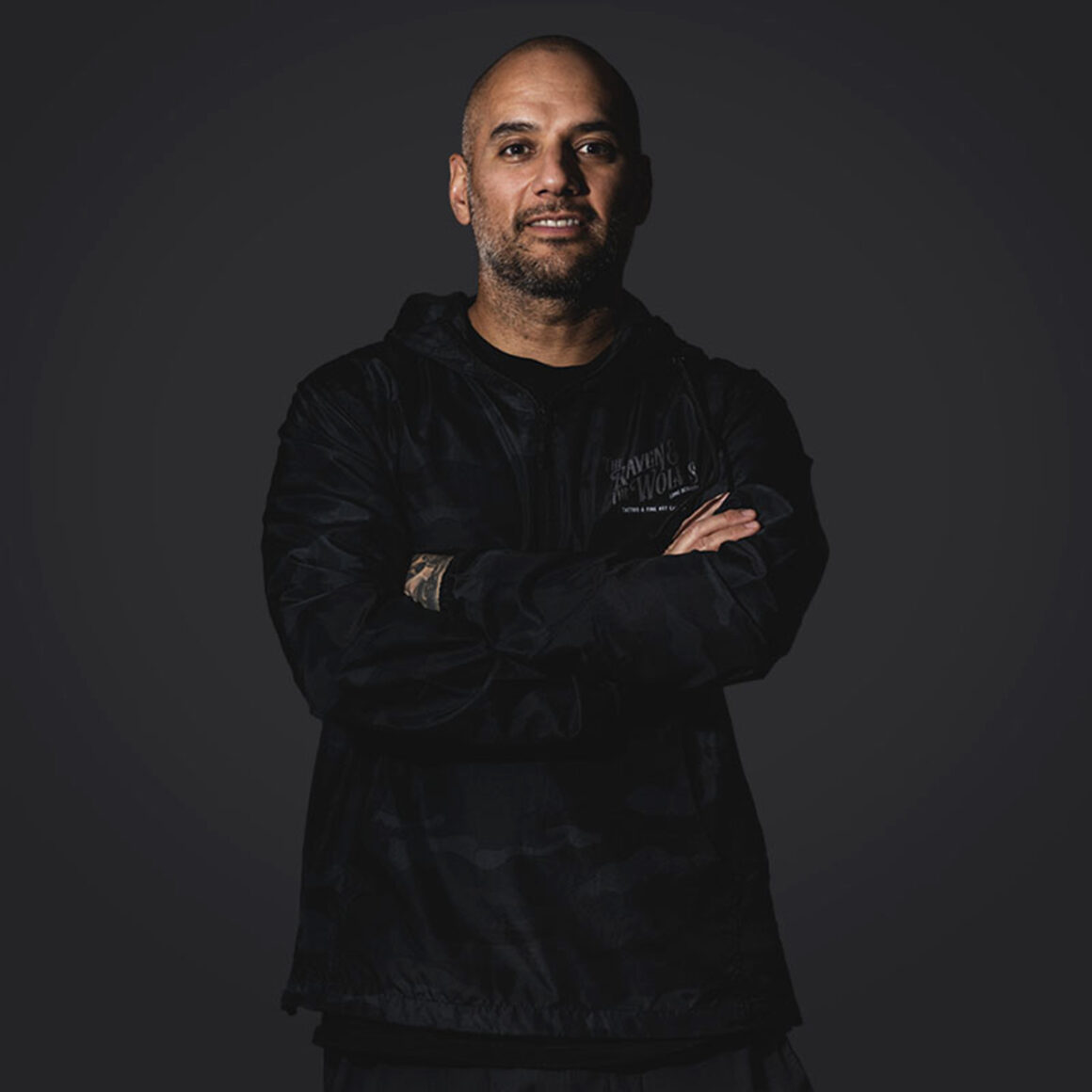 Could you tell us who you are and a little bit about yourself please?
Hi, my name is Carlos Torres. I'm a Tattooer and an oil painter and I have been tattooing for close to 25 years. I have a shop in Long Beach, California called The Raven and the Wolves. We spent a long time trying to figure out a word that can combine both of those things and then I saw this video on how out in the wild, ravens and wolves have this symbiotic relationship where they hunt together.
It's really cool, the ravens have been known to fly over and they have a specific call to let the wolves know where the prey is.
The wolves kill the prey and in turn the ravens get to eat with the wolves. They have been seen out in nature playing with each other and they say the raven is so intelligent that it remembers the face of a specific wolf. We couldn't find one thing to combine them, but a good friend of ours said "just name it that, it sounds like a whiskey bar" and that's what we did.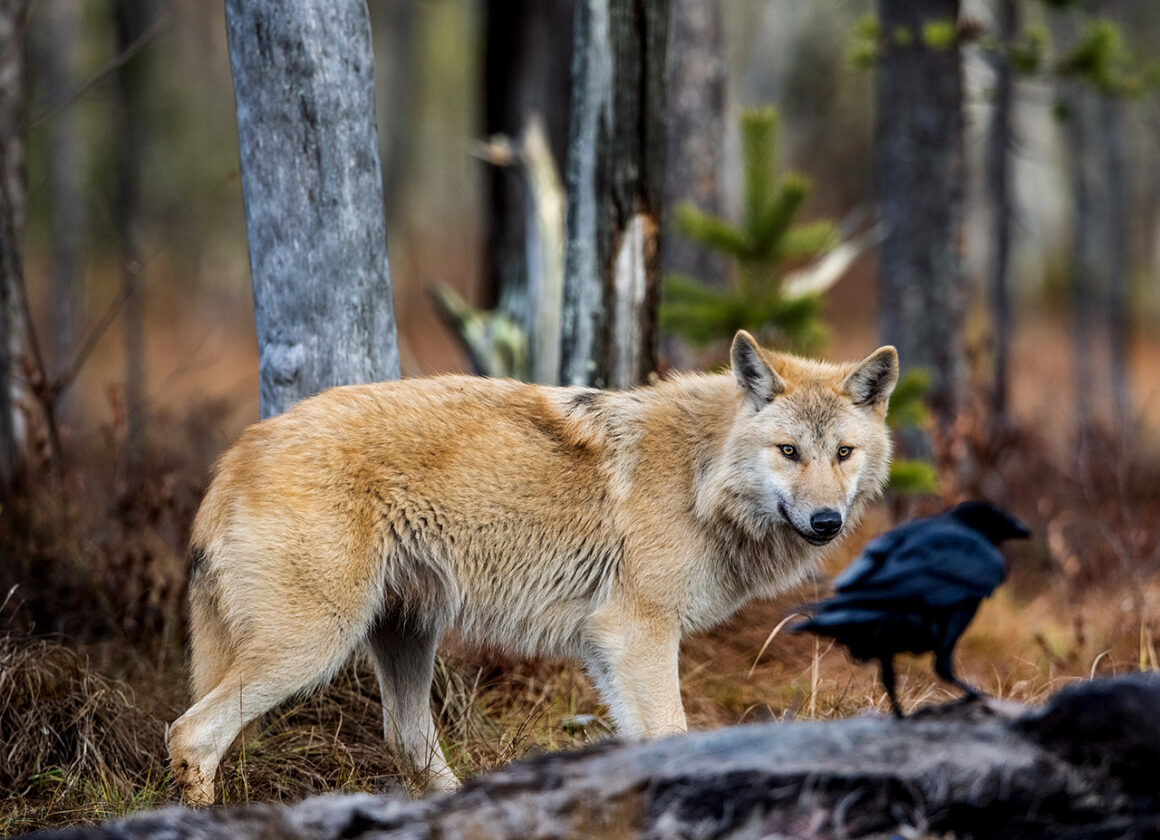 How did you get into tattooing?
You know, when I got into this shop with these mentors man, they were really into art and they really focused on the art aspect of tattooing, so I learnt a lot from them. Coming from doing walk ins at the other shops, these guys were all about custom tattoos and that's kind of where I got my education and was able to put all my drawing skills from back in the day, into this new outlook on tattooing.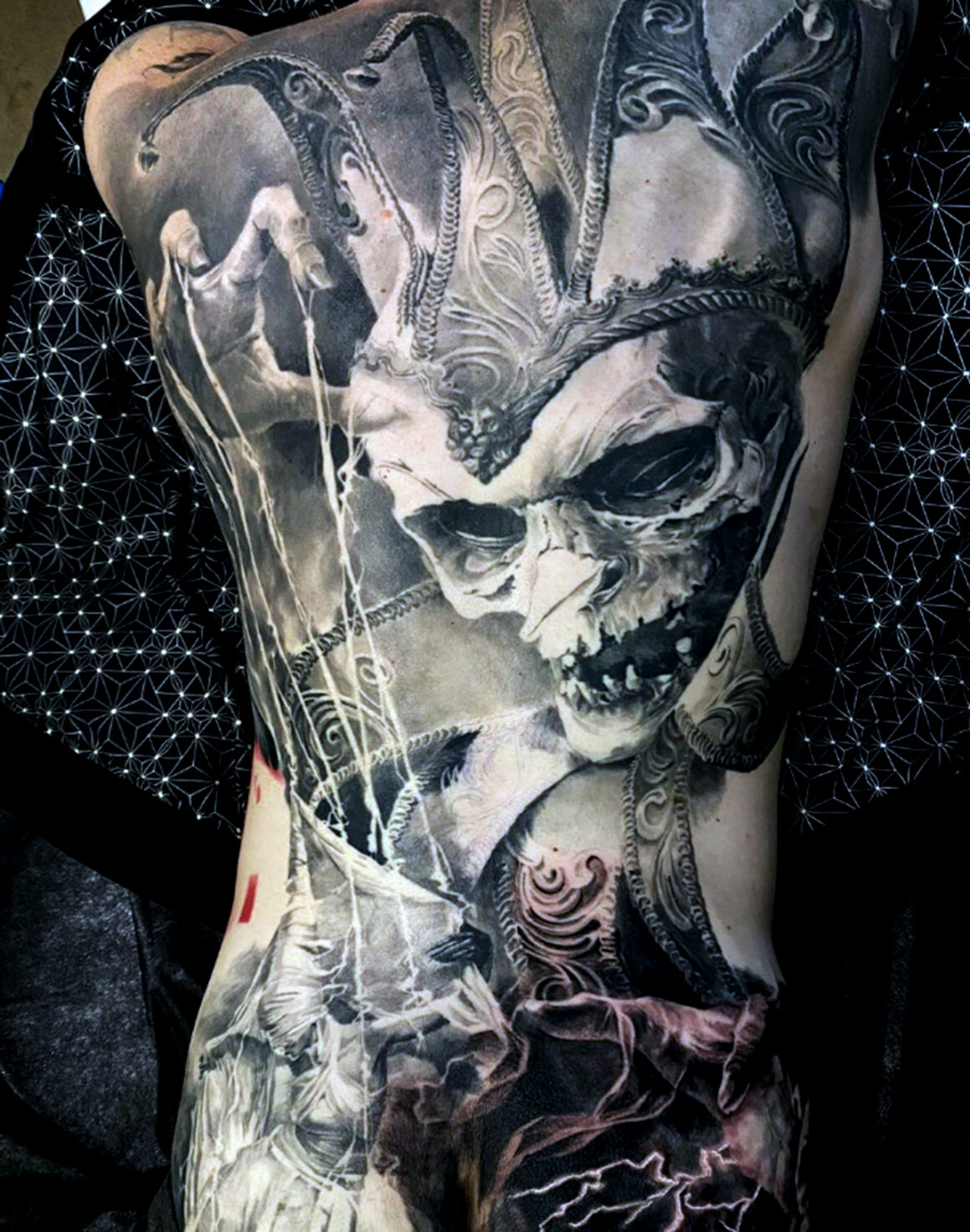 What motivated you to pursue a creative career?
I didn't really get into painting until a few years later when I started seeing oil paintings. I've always been into the old Renaissance paintings, but when I finally started seeing guys like Shawn Barber who were oil painters and tattooers that is when I really had this epiphany, like oh man, I want to do that, I think I could do it, so that's when I started chasing the oil painting.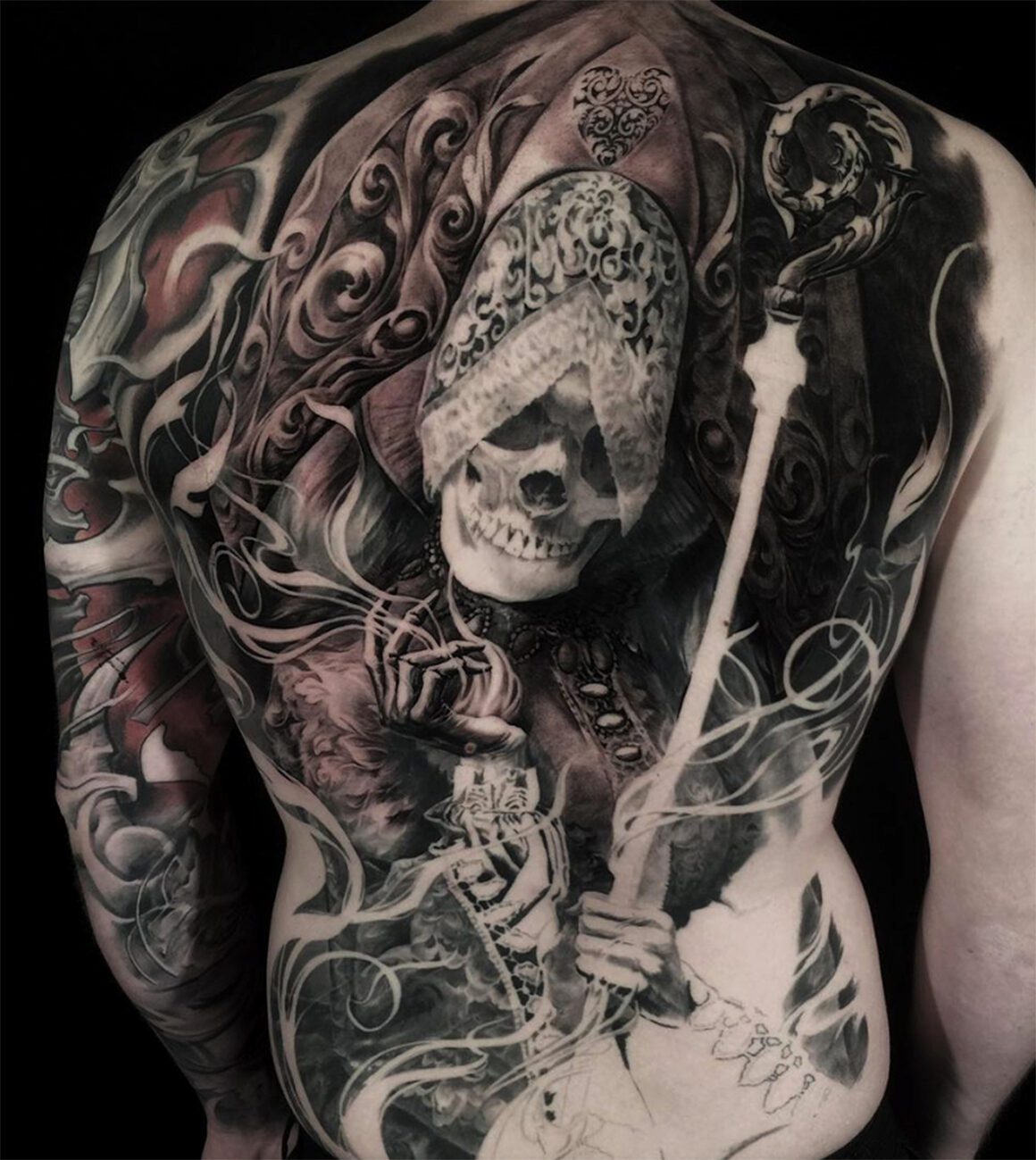 It was always about surrounding myself with people who had the same outlook and the same type of goals you know, and I think with that and my good friend Alan Padilla, we had originally set out to do a gallery inspired tattoo studio and I think once we did that we just started attracting people with a similar interest. Years later when I opened my new shop The Raven and the Wolves we went in with the same mindset. We just changed locations and again it's just been attracting the same type of people. People wanting to learn every day how to become a better artist.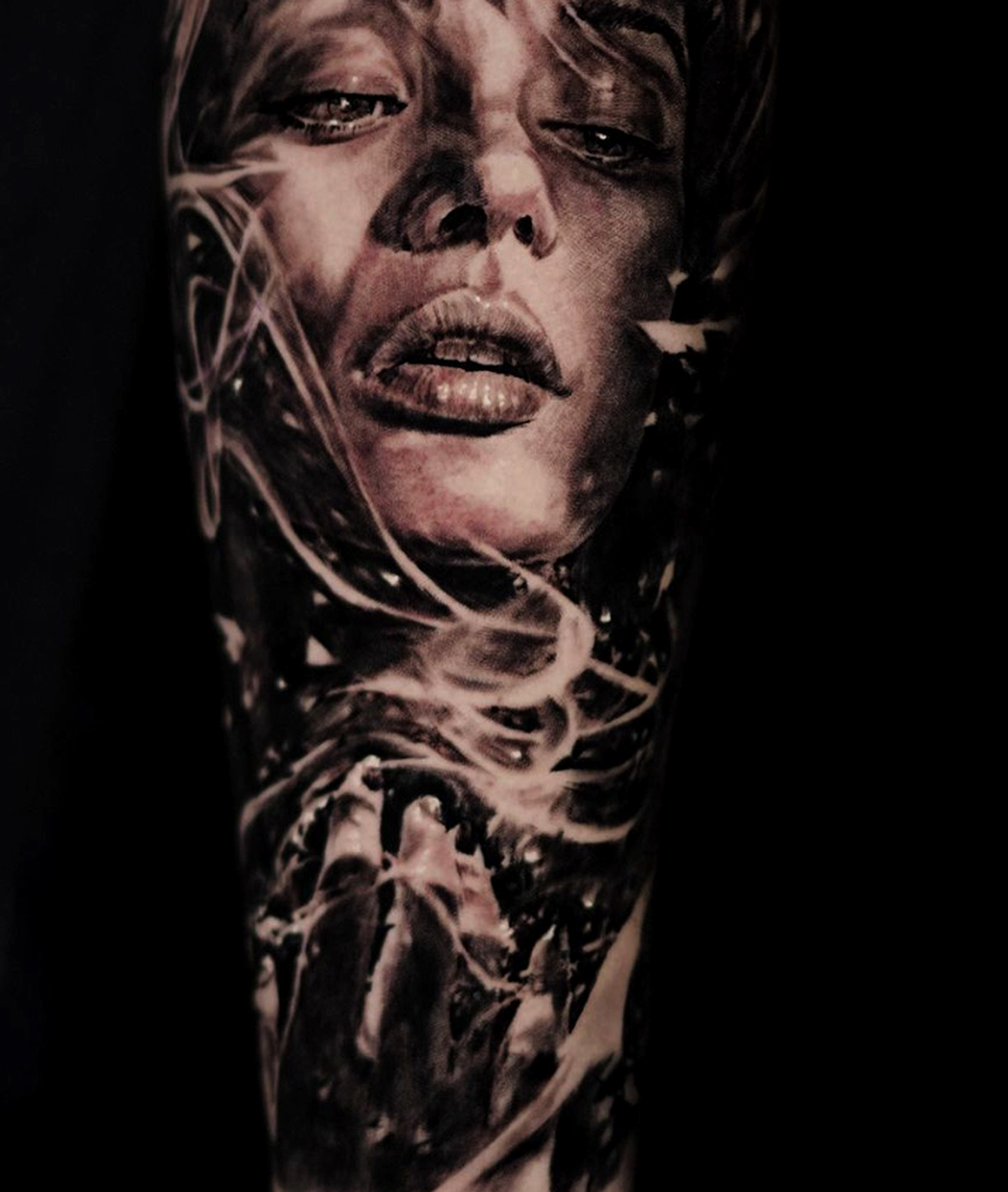 What has been the most interesting/challenging part of the No Regrets/ Indian Motorcycle project?
It's a design for a motorcycle so that's a little bit more challenging. Knowing how best to approach it was another consideration. Was I going to do one big design that was just overlayed? Or should I treat it almost like a tattoo, doing sections like an arm and a leg… I guess that was probably the most challenging thing, trying to keep everything cohesive. I think the fun part was it's similar to a tattoo where you're designing it to move around the body but instead of being on a person it is the bodywork of a motorcycle. I found that a lot of fun.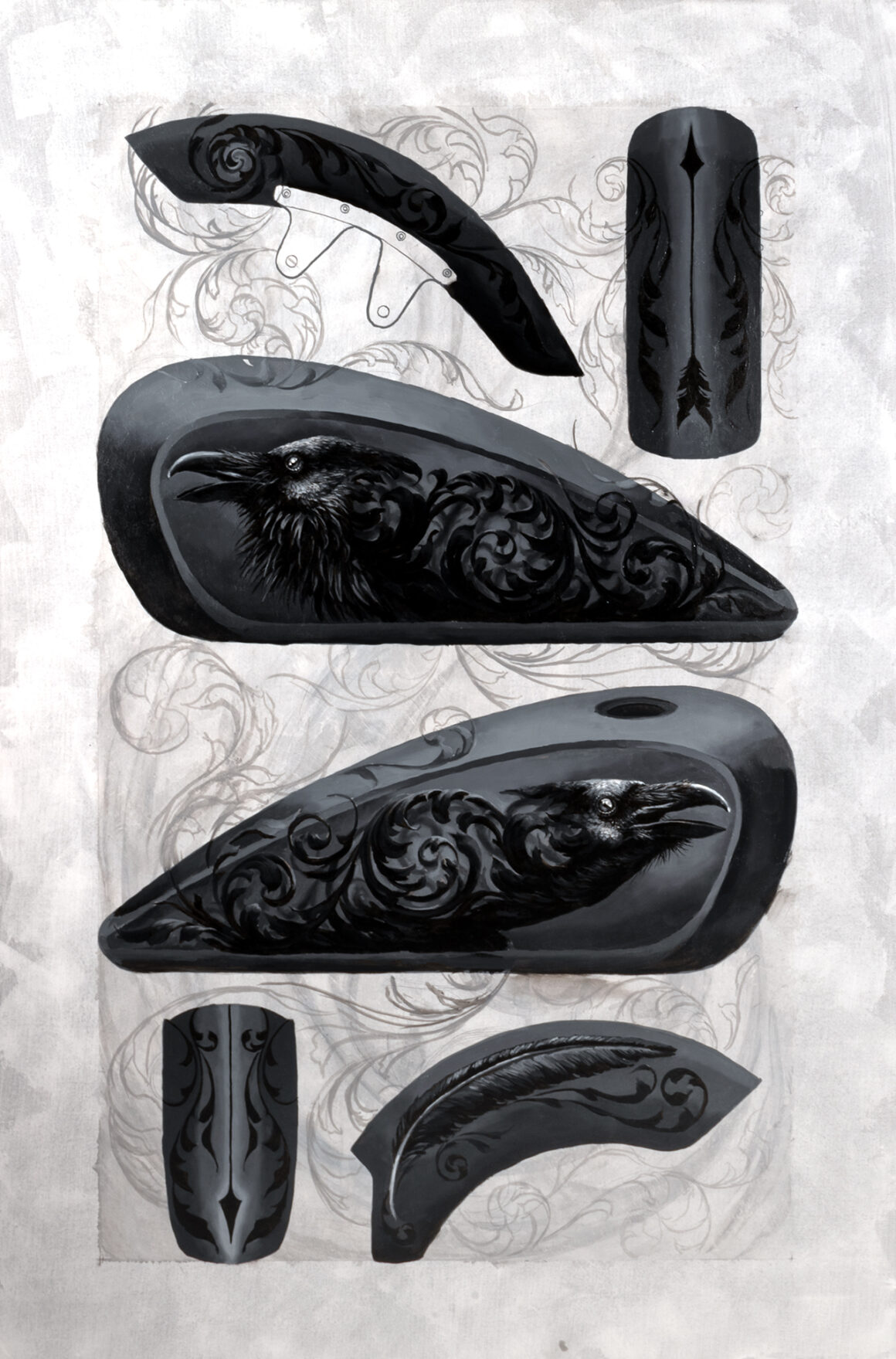 How has it been different designing across the Indian Chief compared to large scale work on the body? Are there any similarities you can draw? Is it easier/harder?
The difficult part was definitely trying to design something that's going to move around this motorcycle with the harsh contour changes and in particular making my design have this movement to it. I wanted my design to move with the design and shape of the bike and so that presented a pretty big challenge.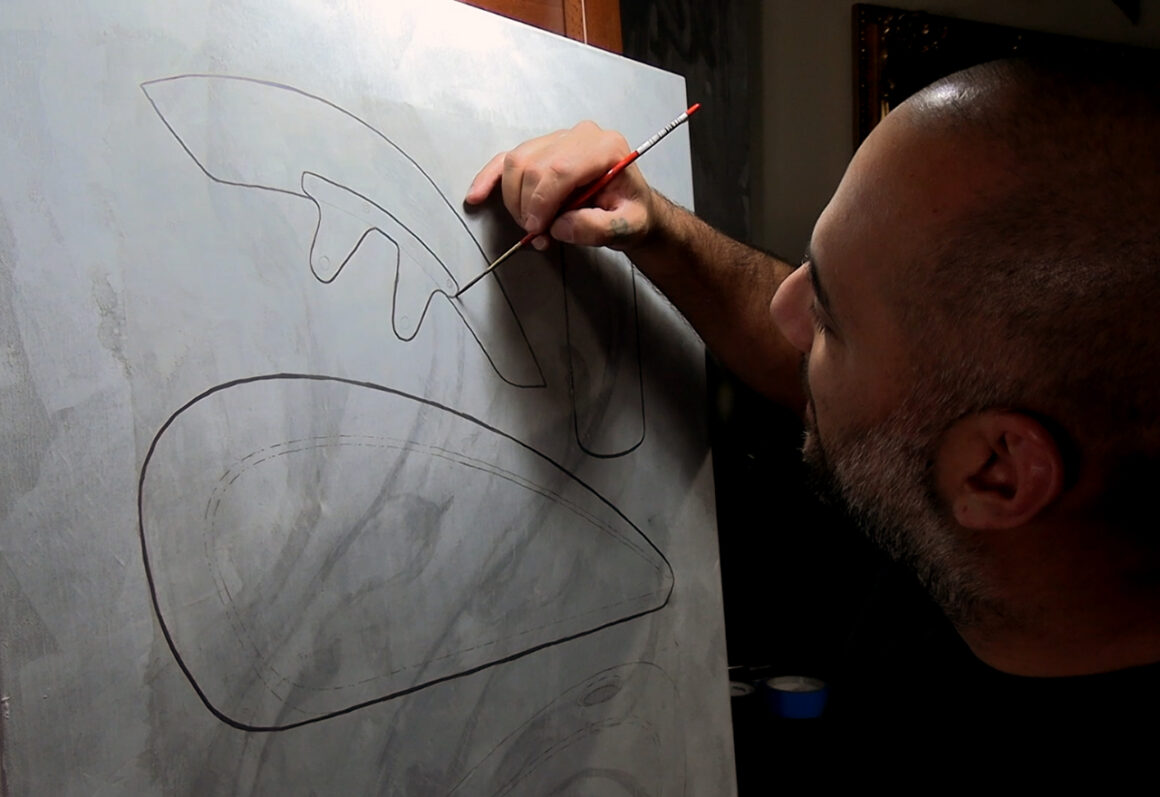 Can you talk us through your design?
Designing this was interesting. I did a lot of brainstorming, had way too many ideas that I was trying to narrow down to one. I wanted to do quite a few things but ultimately, I chose this raven because 1) I felt like a raven has always been pretty special to the Indian culture itself, and 2) it flies and it moves and that's what I felt should go on a motorbike. So, after I narrowed that down I just tried to figure out how to design it and make it become part of the bike.
I have kind of created this little niche for myself with filigree, you know.
Sometimes it's cool and sometimes people are like 'oh you do the swirly stuff' and I think 'Oh man!' So anyway, I wanted to add a little of that into it and found a cool way to make the raven kind of hollow and then that trails off onto the back mud flap.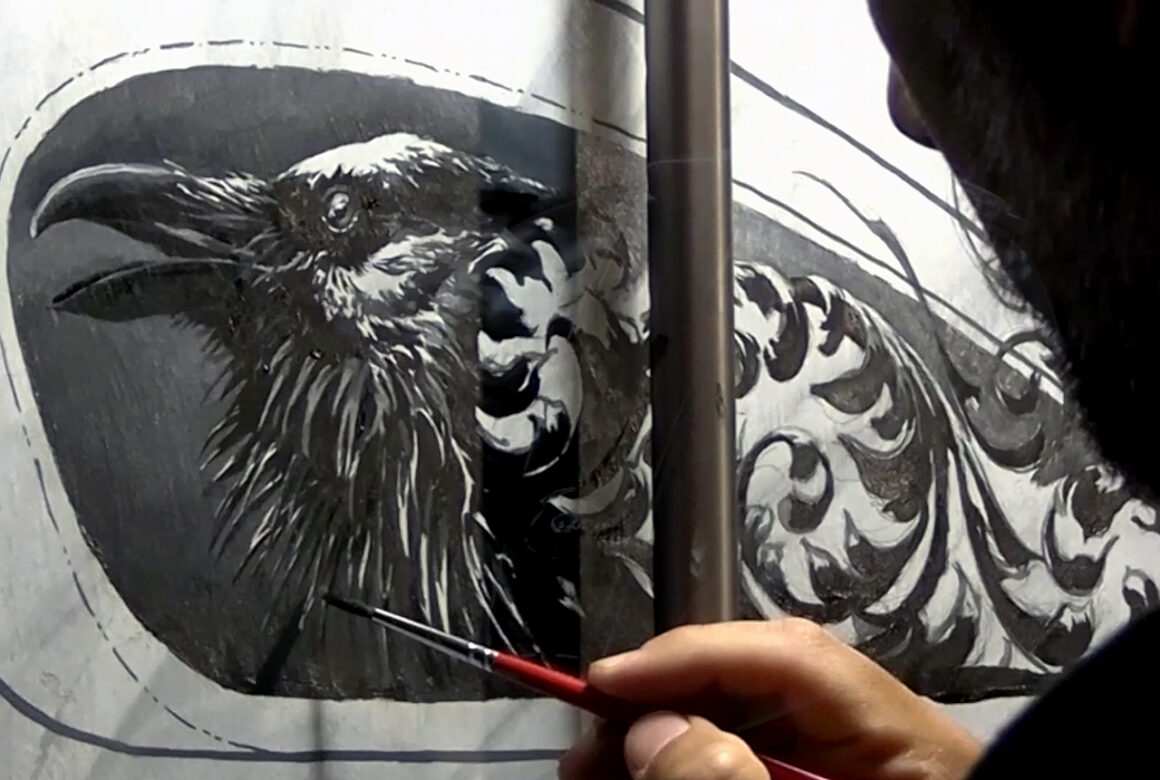 One of my very first clients and still a really good friend of mine, rescued a raven and as we became friends he was like 'Hey come over, I want to introduce you to him', so I met this raven named Lucy and I was so blown away by how intelligent a bird can be. Ever since then I have researched ravens and how smart they are and they are always searching for knowledge and trying to figure out puzzles and things like that, so for me I always thought about the intelligence of a raven when trying to figure out these challenges.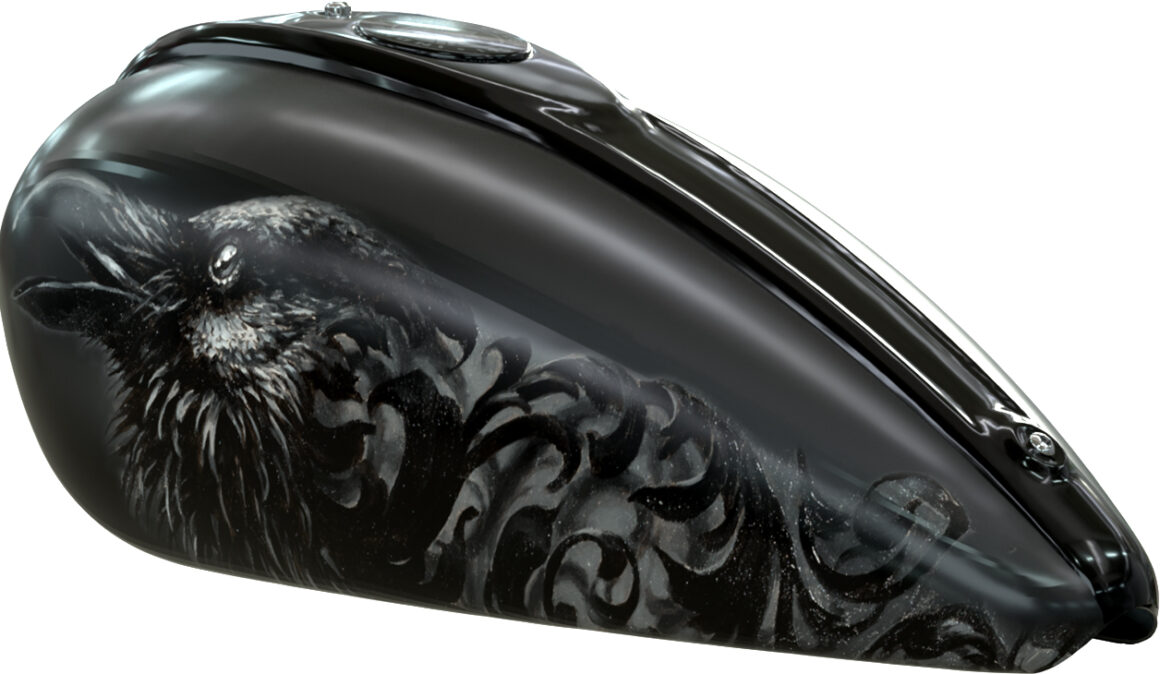 All the profits will be going to the Mastectomy Tattooing Alliance to help fund mastectomy tattoos for breast cancer survivors. Is this cause close to your heart? Has anyone you know been affected by breast cancer?
I can't imagine what that's like. I haven't had anybody close to me or in my family have to deal with that but I can't even imagine, so any little thing I can do as a human being to help that cause, I'm in and I'm honoured!
Being able to use my art to contribute to the charity and breast cancer, breast cancer survivors and this organization, the MTA, I'm thrilled you know, it's the very least I can do.
I have a lot of clients. We always say as tattoo artists we're part time therapists, you know. There's a good amount of people that will come in with scars they want covered up from something that happened in their life. Any time you can help someone out with that and their confidence, it feels good.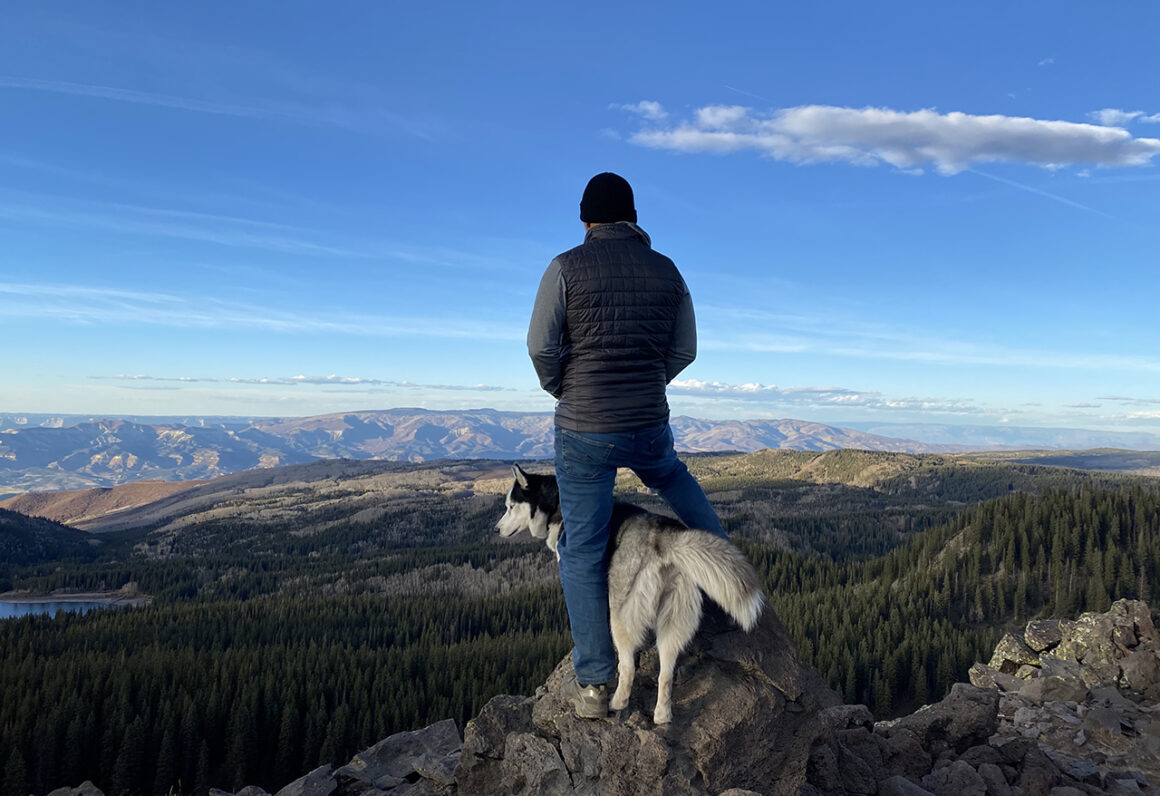 How do you feel about having your unique design on the iconic Indian Chief motorcycle?
I am super honoured man! The idea of my design on a motorcycle is pretty cool, something I didn't think would ever happen. I mean it makes me obviously honoured and proud that I can be part of this cause too.
Actually, seeing the bike here and how it changes and moves, man I am sitting here thinking 'Aww I should have done this', or 'I could do that! I could change my design a little bit here' and now, I'm even more excited to see my design on the motorcycle.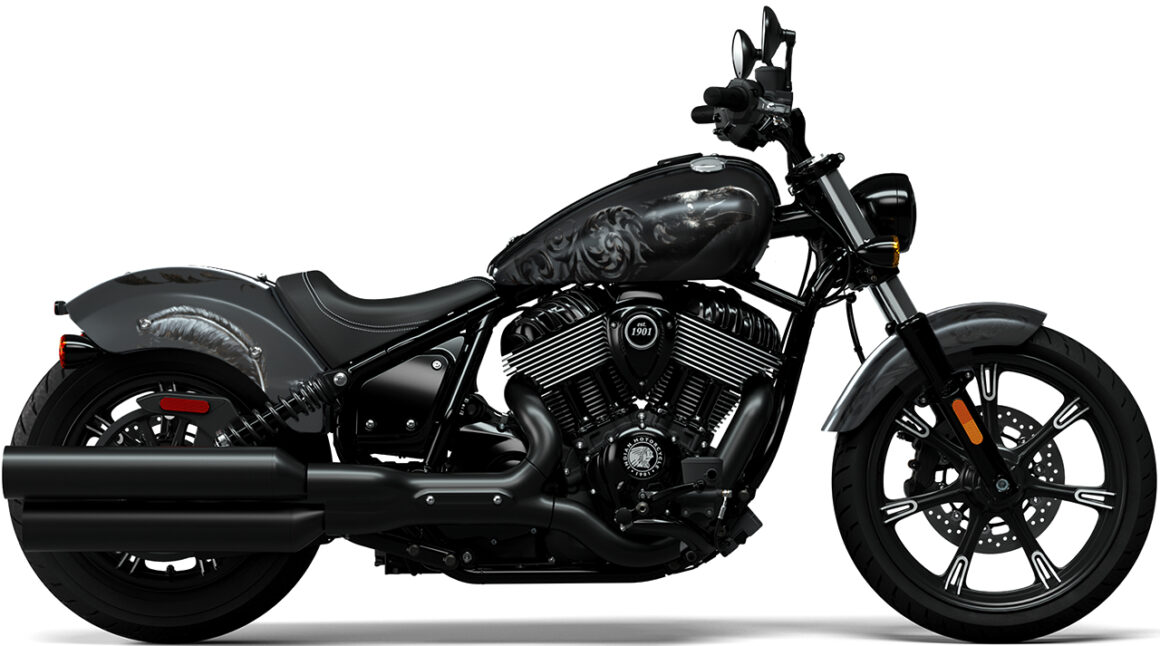 Are you a biker yourself? Is this the kind of bike you would ride?
I don't personally have a motorcycle. I have always been a little afraid of myself on a bike as I like to go fast, but I've recently been thinking of a way to get myself on a bike. I have a dog and she goes with me everywhere, so I want to get on a bike with a side car and I want my dog to have the goggles and us just to cruise down the street you know! She's awesome man, I take her everywhere I go and that's what I want to do!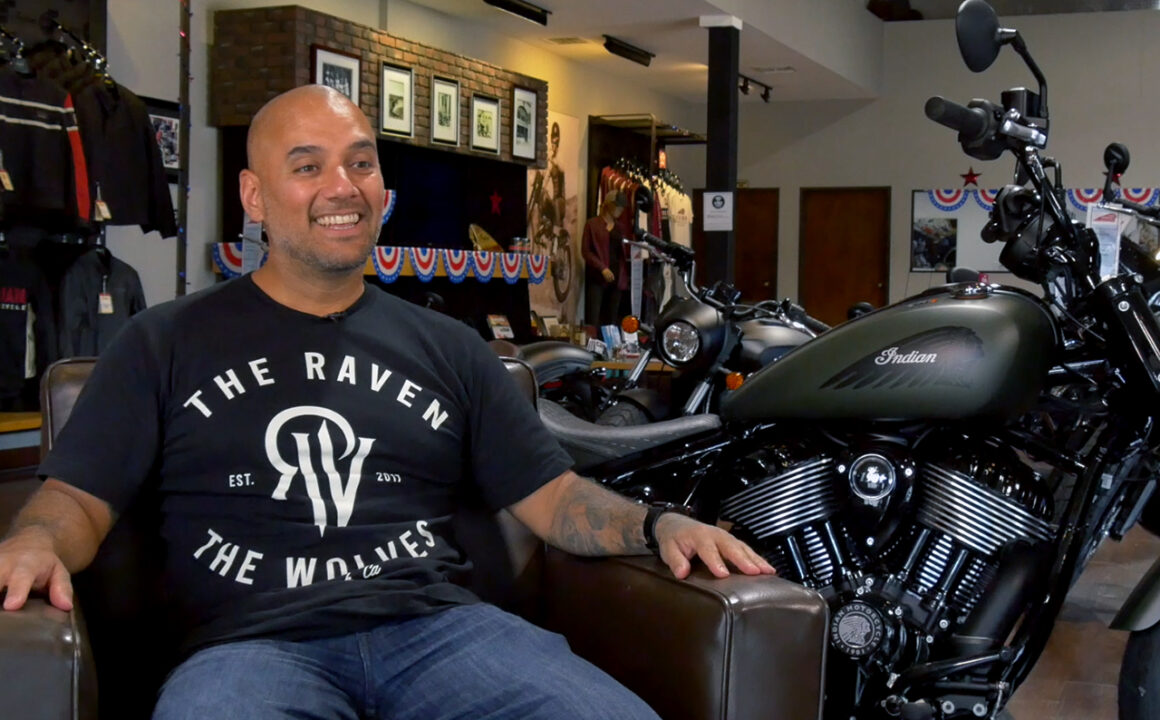 What do you think about bigger brands inviting tattoo artists into the creative design process on products? Have you done anything before with another brand?
The idea of tattoo artists being asked to collaborate with big companies is pretty cool! I mean I have been tattooing for close to 25 years now, so I was in that part of tattooing where it was still frowned upon. So how the popularity of tattooing and how much it has been accepted now with these big brands asking us to participate, it feels good and I'm proud to have our artwork represented on iconic brands. I've done some stuff with different companies that I have worked with. I recently did a thing with Puma Golf which was pretty cool. I look forward to seeing more tattooer's art hopefully on big products.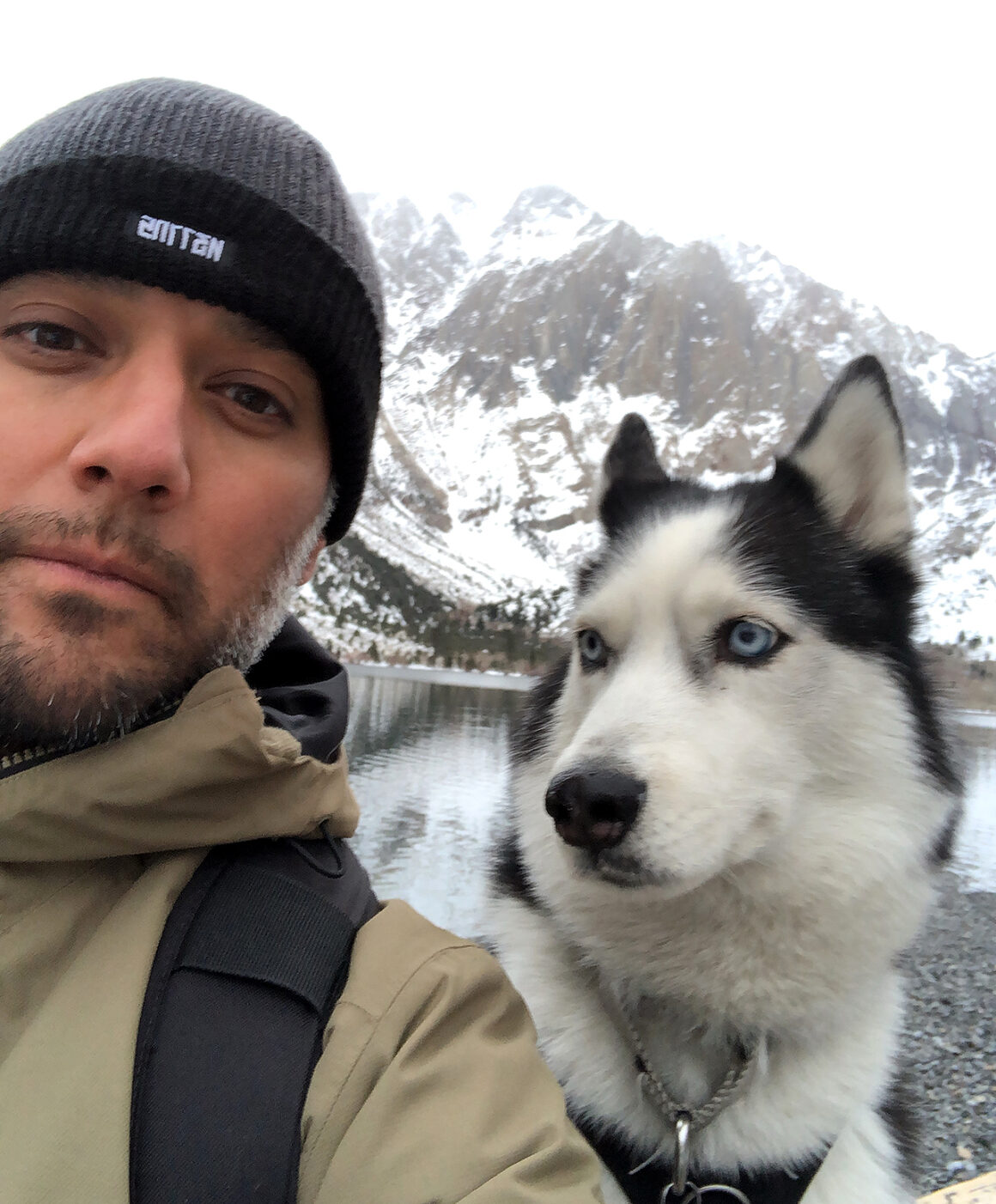 Your bike will be raffled off. Why should people buy a ticket for your bike?
I think it's good to go buy a raffle ticket for the cause alone. But hey, if you win a motorcycle that's very cool and if you win a motorcycle with my art on it that could be cooler still! No, I think it's cool man, I mean the cause alone is great!