Abstract art is part of the training of this artist who works at "Eclipse Tattoo" in Barcelona like an obscure 60's garage cover played by The Ramones. Let's find out more!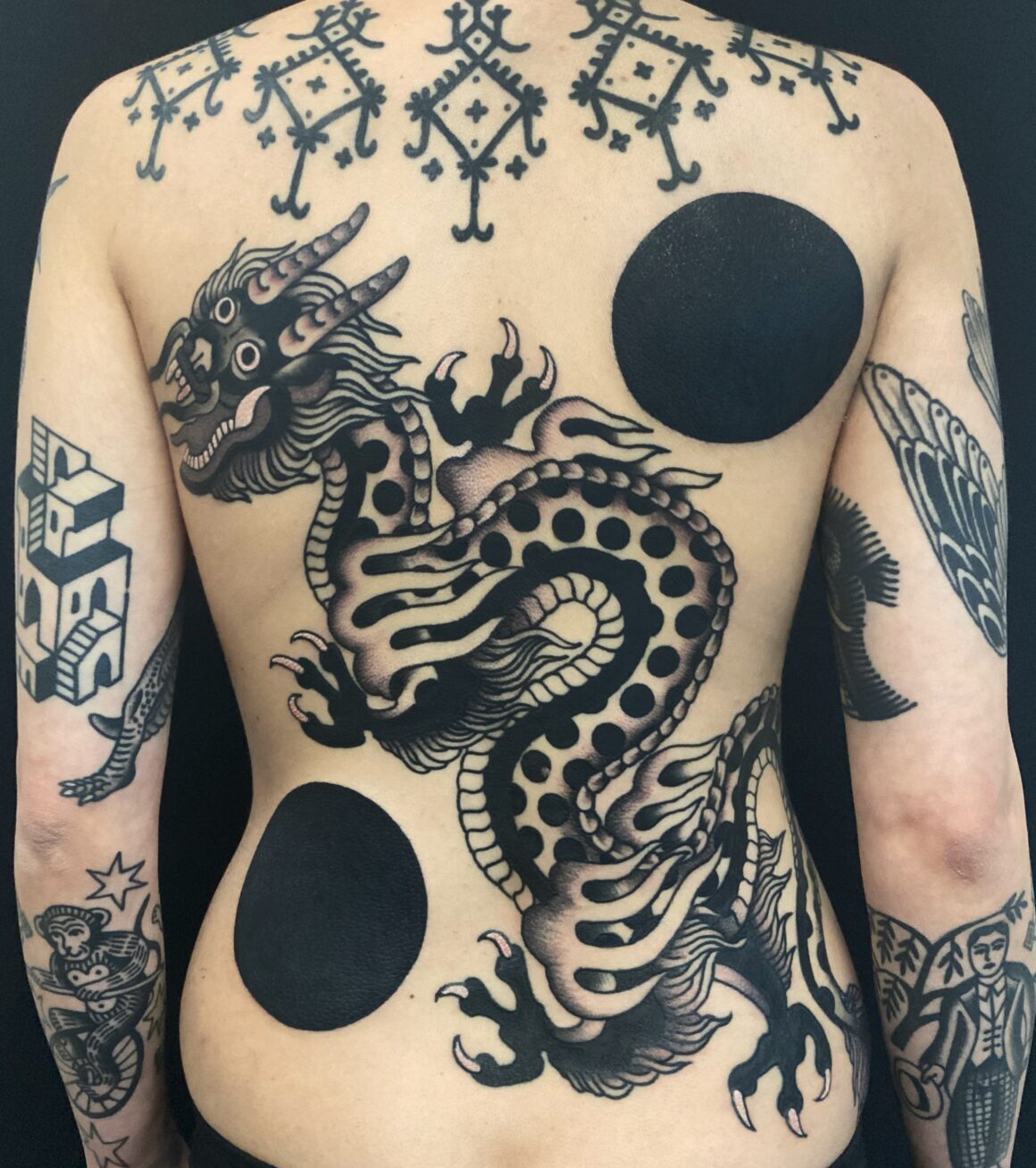 Hi Carlo, can you explain to our readers how you became a tattoo artist in your life?
Well, I was never a successful student, so I never got to art school and I never took any drawing or painting lesson either. I started drawing as a child, as soon as I could hold a pencil, and I never stopped. I could name Roger Hargreaves (the mastermind behind the Mr. Men) as my first influence, I was obsessed with his characters and I couldn't stop drawing them. Then Hergé came, then John Byrne and Jack Kirby. I basically learned everything from the comic books I was reading.
And then how did you get close to tattoo?
In the late 80's/early 90's music started to catch my attention, especially heavy metal artwork. Derek Riggs and Ed Repka are still amazing to me.
Music would finally lead me into tattooing. I got more into the underground scene and I got more attracted to tattoos.
By 1999 the idea of tattooing became a thing (I even drew some of my friend's first tattoos) but I was still far from taking the step. It seemed unreachable! Besides, I had never yet seen any really amazing tattoos then. "Schiffmacher's 1000 Tattoos" was the game changer.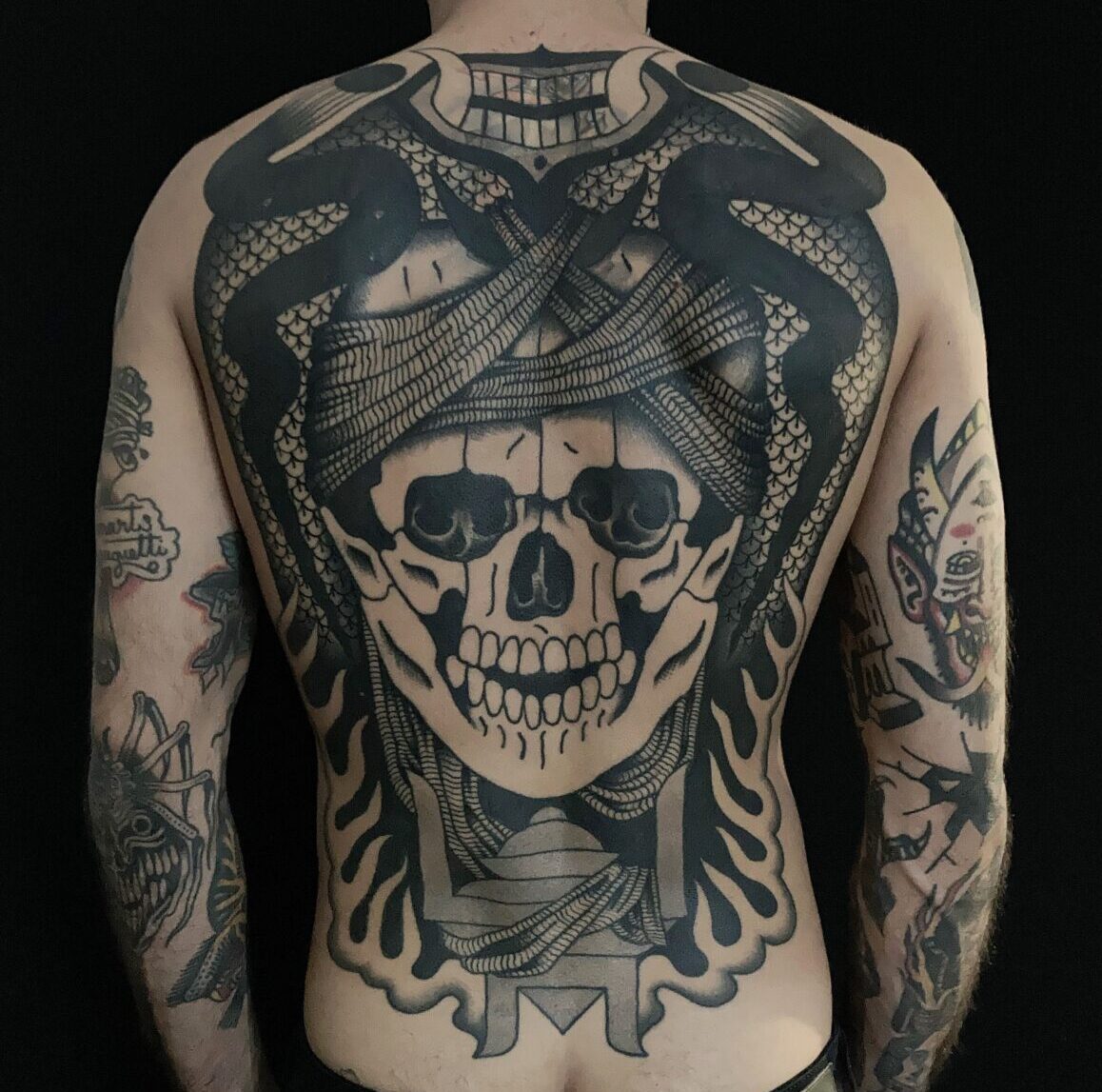 Seeing those incredible pieces definitely blew my mind! I understood there had to be more in Barcelona than the poor tattoos everyone was getting. That's when names like Tomas García, Keko Buenavista or Monga started to pop out. That happened in the early 2000's.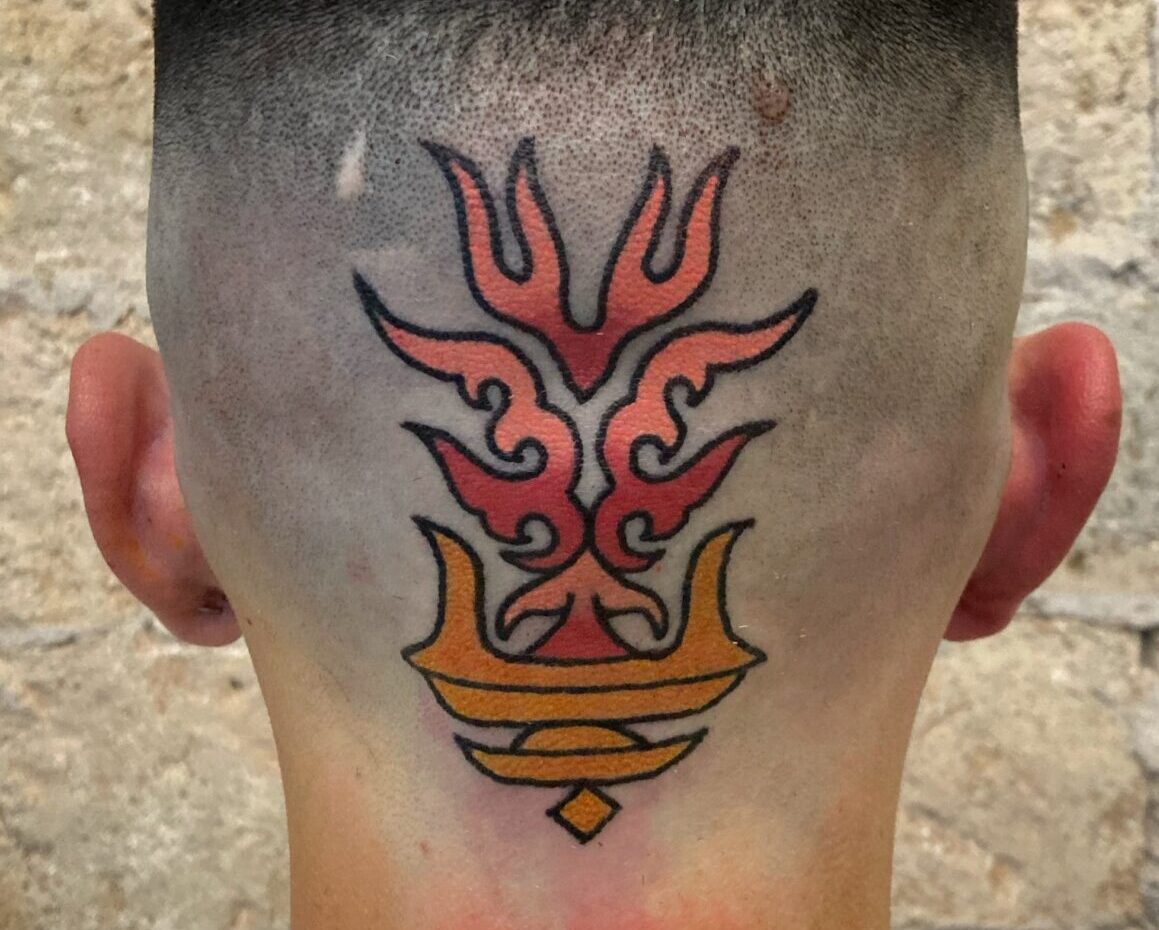 The figure of Monga was very important to you, wasn't it?
Yeah! Monga did my first tattoo, I brought him the drawing myself and it was a terrible design based on an Alex Binnie tattoo. As soon as he saw the drawing he asked me if I had copied that from Alex… I was very surprised! That man – Monga – knows his stuff, he has always had an encyclopedic knowledge and a trained eye. We were into the same things and we got along really well so I thought about asking him to teach me. He said no (obviously, we had just met) so I came back repeatedly, always with my poor drawings, to get more tattoos. He always said no… can't blame him though! (laughs)
But you didn't give up…
Sure. I then asked him if he could help me to get started in any way and he kindly made me a list of all the things I would need. As much as I appreciated the gesture, that list was puzzling. At the time I didn't even know tattooers soldered their own needles. But fate was not to be taken lightly.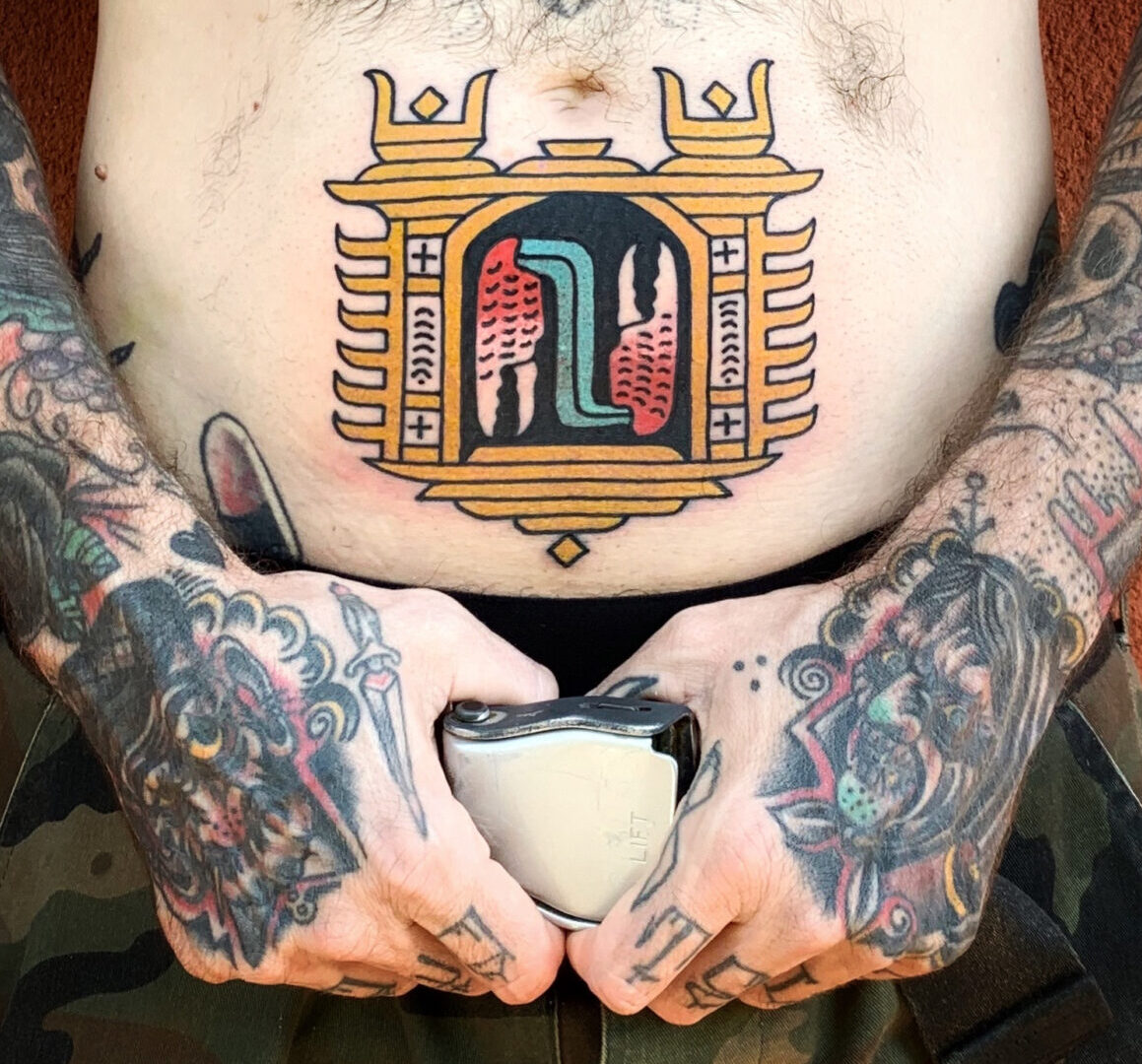 Soon after he made me the list, a friend of mine told me he knew someone who had some tattoo stuff he wanted to get rid of. I met that guy and he happened to be selling everything on that list, everything! He said it belonged to his brother who had passed away and he wanted someone to make a good use of it. So I got everything (for 300 euros only – 3 Micky Sharpz machines included!) and went back to Monga, who liked the story and took me in as an apprentice.
I started my apprenticeship back in 2004 at "Aloha Tattoos" and worked there for 10 years. That's how I became a tattooer.
Is it correct to define your style as a successful mix between traditional and abstract art?
When I first started tattooing I was very much into Traditional tattoos. Traditional as we understood it back then. Nowadays there are a thousand books about Traditional, you can find flashes everywhere, and you have expert tattooers who can make you feel you're back in the 1940's, but in the early 2000's in Spain it all summed up to a bold line, black shading and some colors. I love the idea of making pieces that will last forever and will always be readable, that's why I really love Tribal and Traditional tattoos.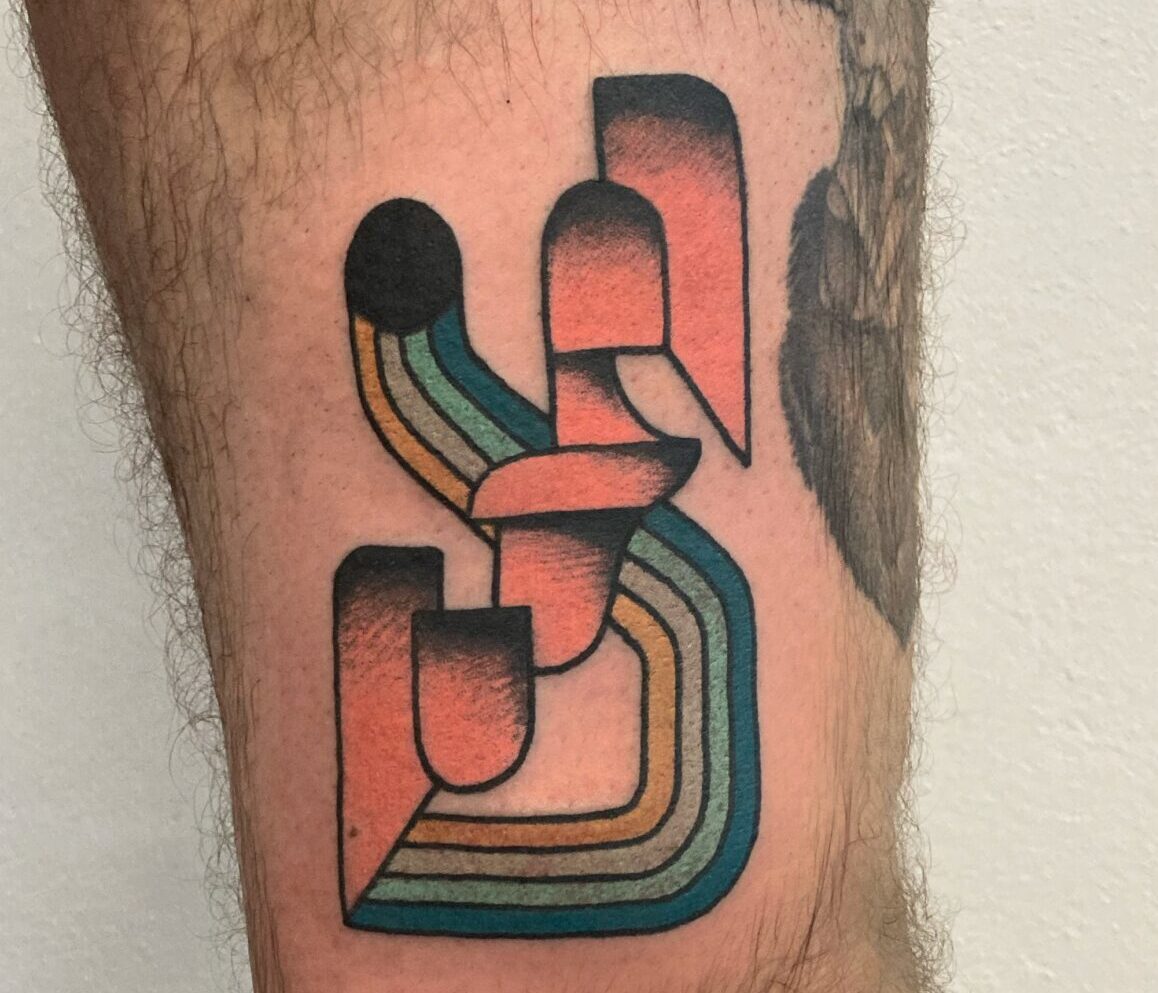 That's the assumption. But I bet you put your own spin on it…
Yeah! Both styles – Tribal and Traditional – have proved to be good aging survivors. So I stuck to that ethos but I changed the subjects. I enjoy playing with shapes and searching for different things. I'm also into the spiritual aspects of the human being.
My aim is to create images which are appealing to basic instincts and feelings.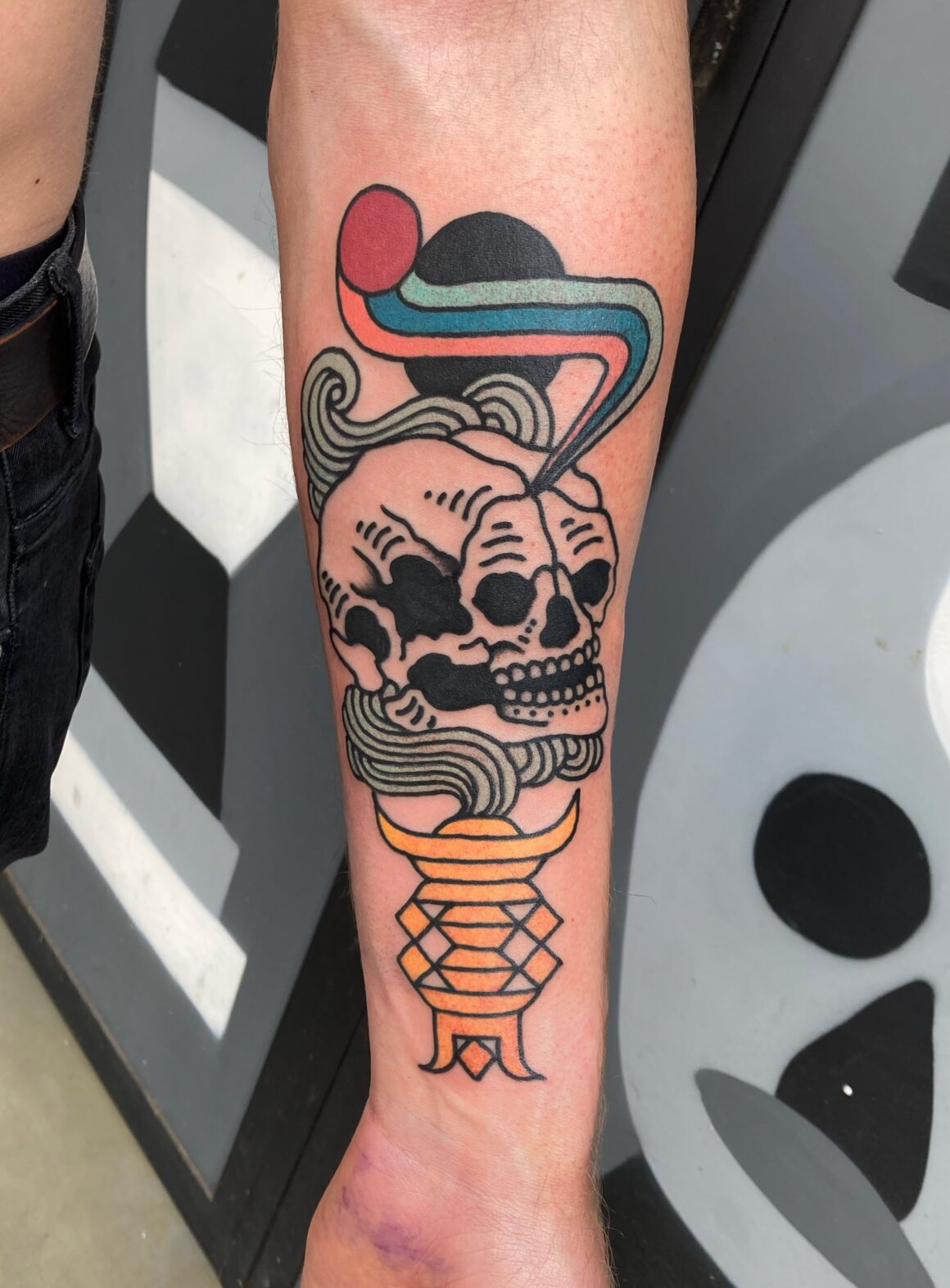 I know you don't look for meaning in everything you tattoo, right?
Well, I love when someone connects with my drawings regardless of the meanings. We search for meanings too much and I'm done with that. Meaning is overrated. Don't take me wrong, it's cool sometimes, it even seems to make sense every now and then, but we don't need it everywhere all the time. That's why I also gravitate towards abstract shapes because it makes me feel free to push my own boundaries a bit further. This is just my own path and I'm really grateful to meet people who appreciate what I do enough to get it tattooed. I wish my work could be described as that mix but I think I'm still not quite there yet at least not as much as I would like to. But I look forward to that!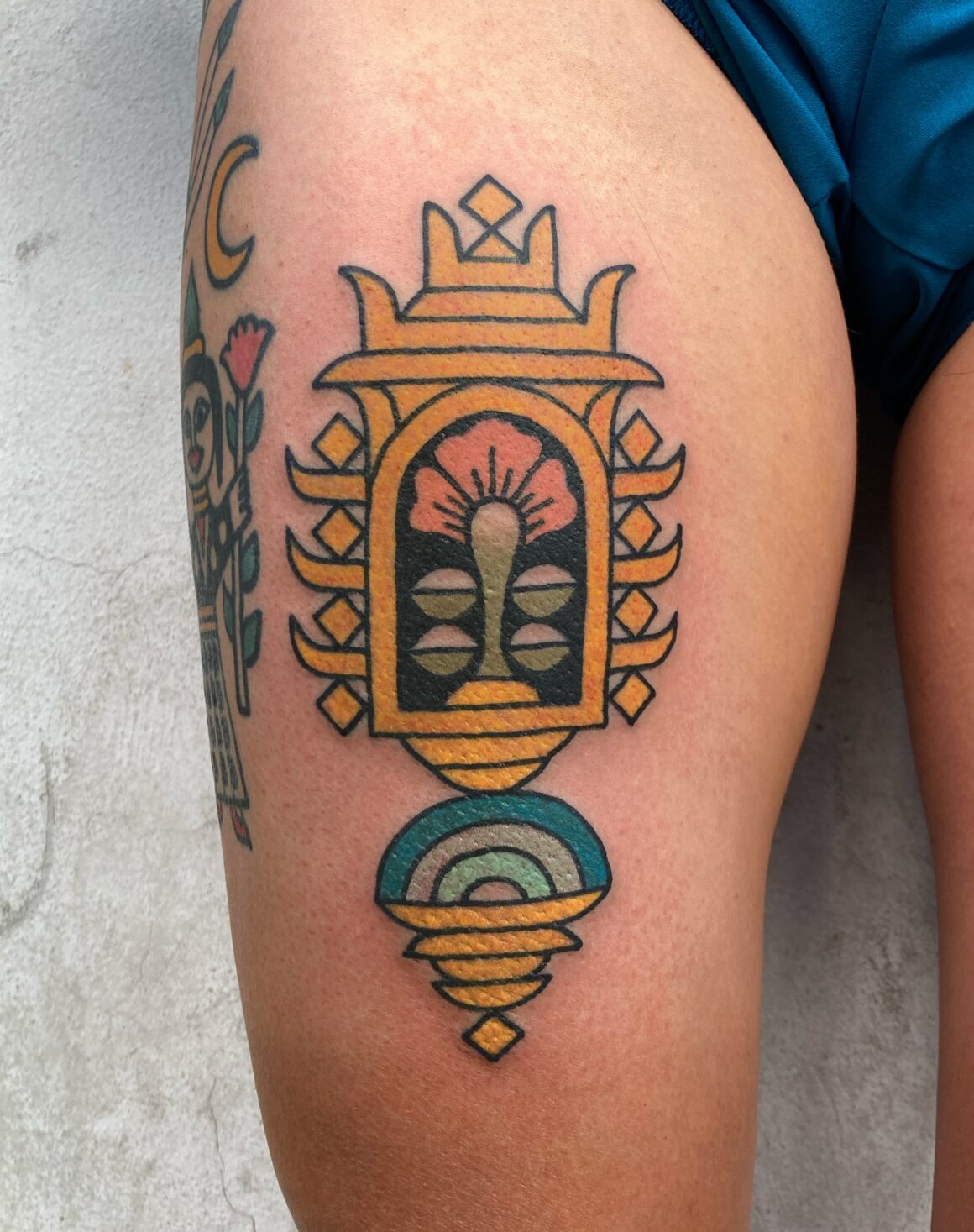 Can you tell me something about the studio where you work, the "Eclipse Tattoo" in Barcelona?
I opened "Eclipse Tattoo" alongside my longtime friends David Tejero and Rotor in 2018. We all met years ago and became friends while working at "Aloha Tattoos". We wanted to build a studio were people who had other artistic interests could join us on our weird journey. As a result, we ended up owning this strange studio where no one really does what you would expect from a common tattoo parlor.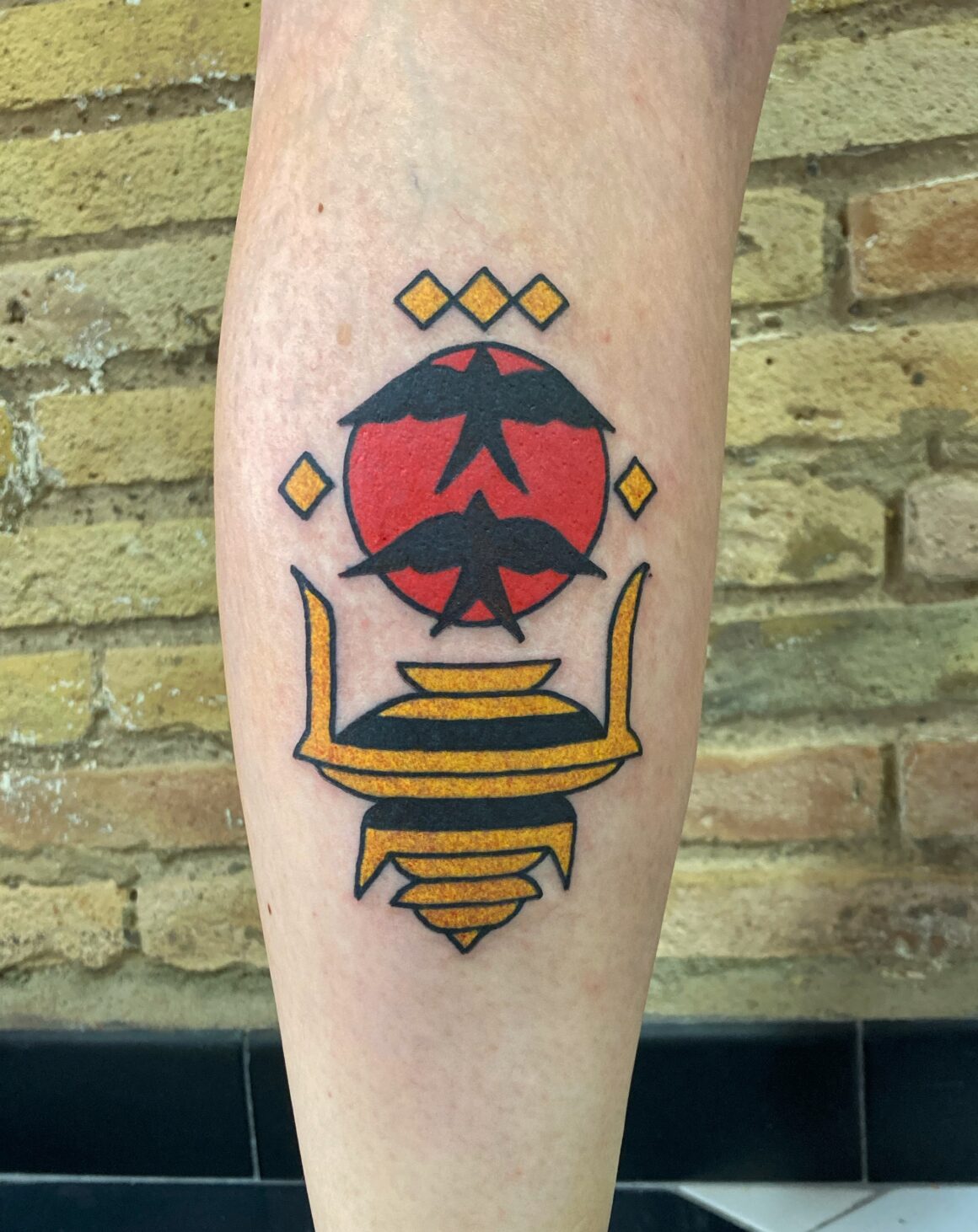 We can't say it turned out to be a very profitable business but it's very exciting instead. We were never in it for the money so here we stand. You can currently find Anana, Pablo Sinalma, Tayri, Iñaki, Nacho Eterno, Numi, Mishavatra and Olracle working with us.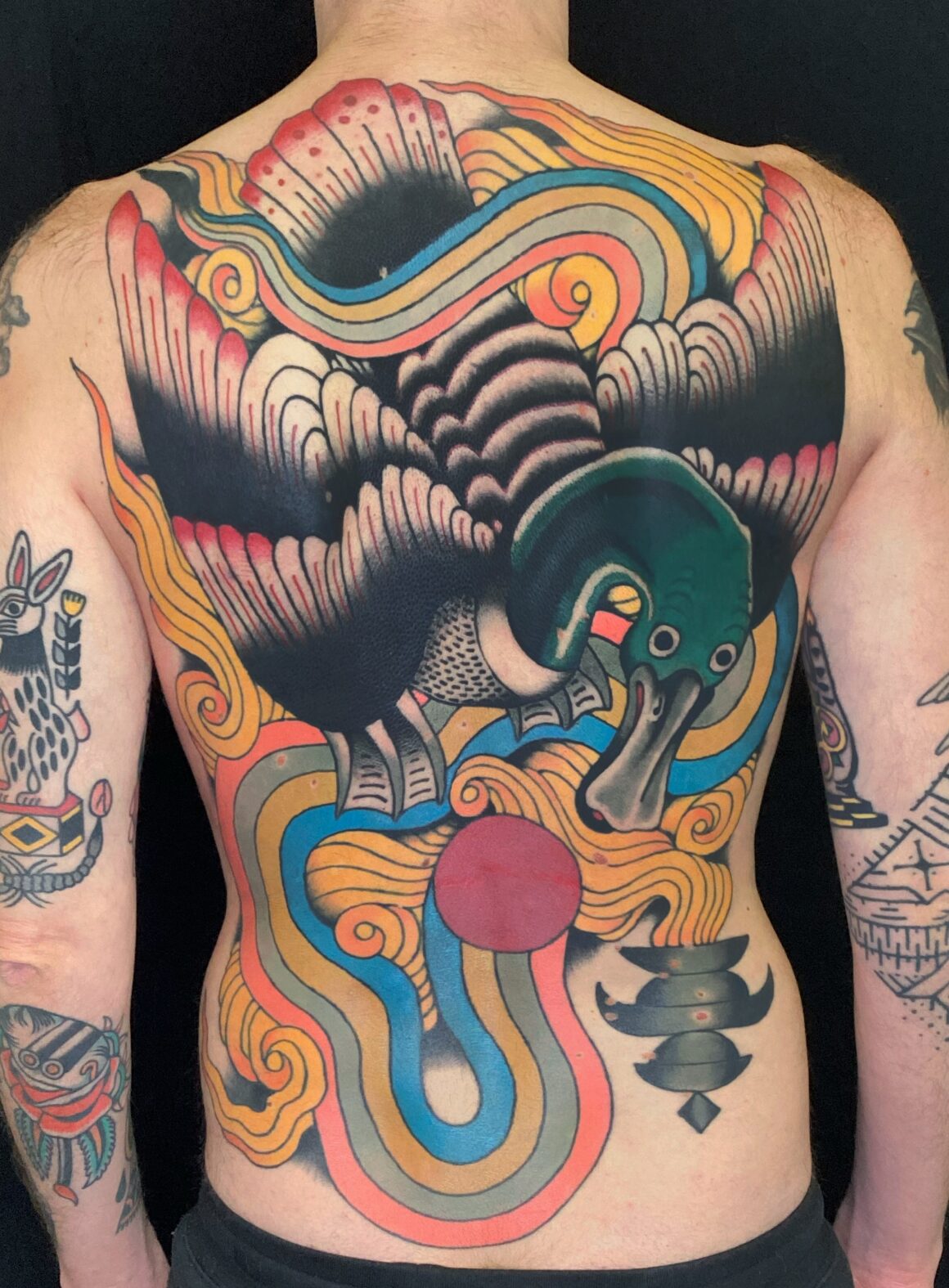 You've named your Instagram page (where you feature your artworks on walls) "The Shape of Things to Come". Was this more of an homage towards jazz musician Ornette Coleman – who titled that way one of his historic albums – or science fiction writer H.G. Wells?
Even though I'm into both science fiction and jazz this quote refers to the 60's garage punk song. It was originally written for the movie "Wild in the Streets" and credited to Max Frost & The Troopers which is a fictional band on that same movie. The song was covered by the Ramones on their "Acid Eaters" album and that's how I first knew about it. I was a kid when I listen to that song and I've always loved it. The lyrics go: "There is a new sun risin' up angry in the sky and there's a new voice sayin' we're not afraid to die". Ok, it may sound naive now but I've always believed changes are possible and this is an anthem for me!