She works in a Berlin atelier, quotes artists such as William Adolphe Bouguerau or Koloman Moser and finds inspiration in Greek mythology. The time has come to learn more about her…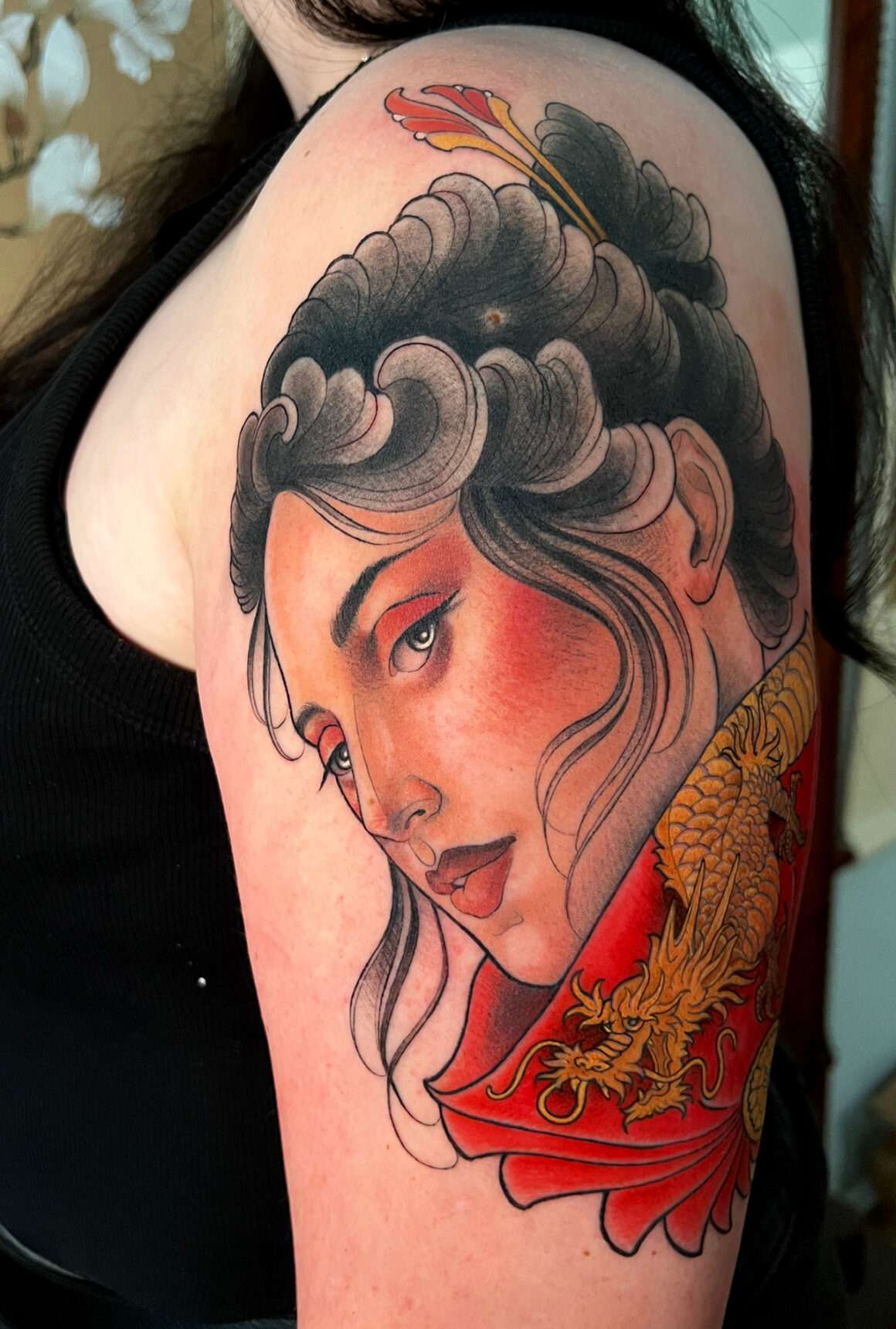 Carina, will you reveal us when you discovered you possessed this whole elegant and romantic view of existence that later resulted in your tattoo craft?
I don't know if there was a specific time for this, but I've had a fascination for art in all its forms and the mystery behind it since I was a child. In my early youth, I began to deal more intensively with the various art epochs and have always been interested in figurative representations. About twelve years ago, my personal sense of aesthetics expanded into other fields and I developed a great interest in furnishings and fashion from bygone times.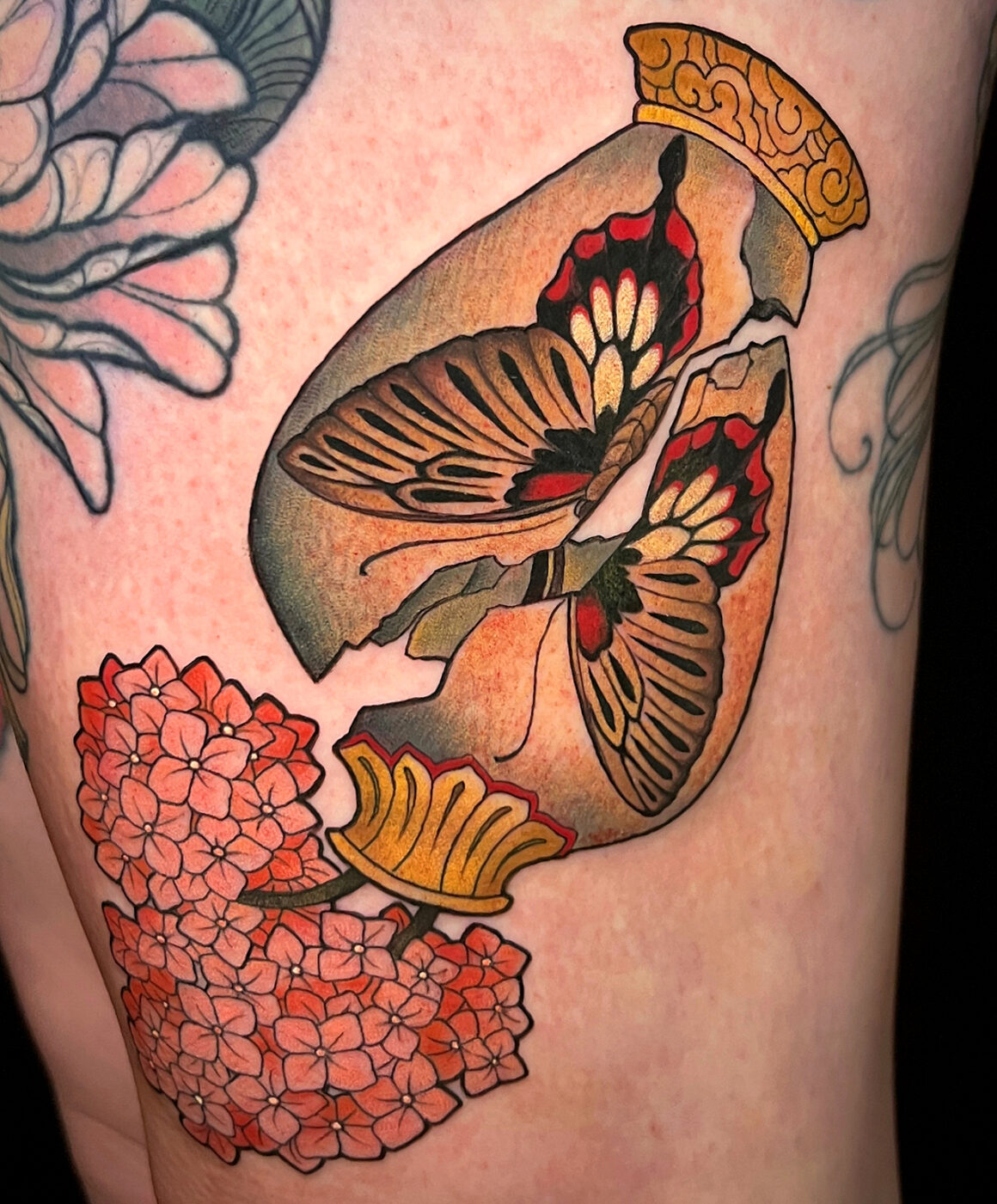 And about tattooing…?
With tattooing it started that I looked at everything in my environment how it could be tattooed and I abstracted it, added or removed lines and shapes and tried to connect that with classical tattoos. The inspiration I get from visiting museums or from simple things in my environment just like patterns on the floor or wrought iron gates, well, I try to incorporate into my drawings. The comforting, warm feeling you get when you look at a painting or a sculpture, something that touches you to the core, inspires me to create something by myself.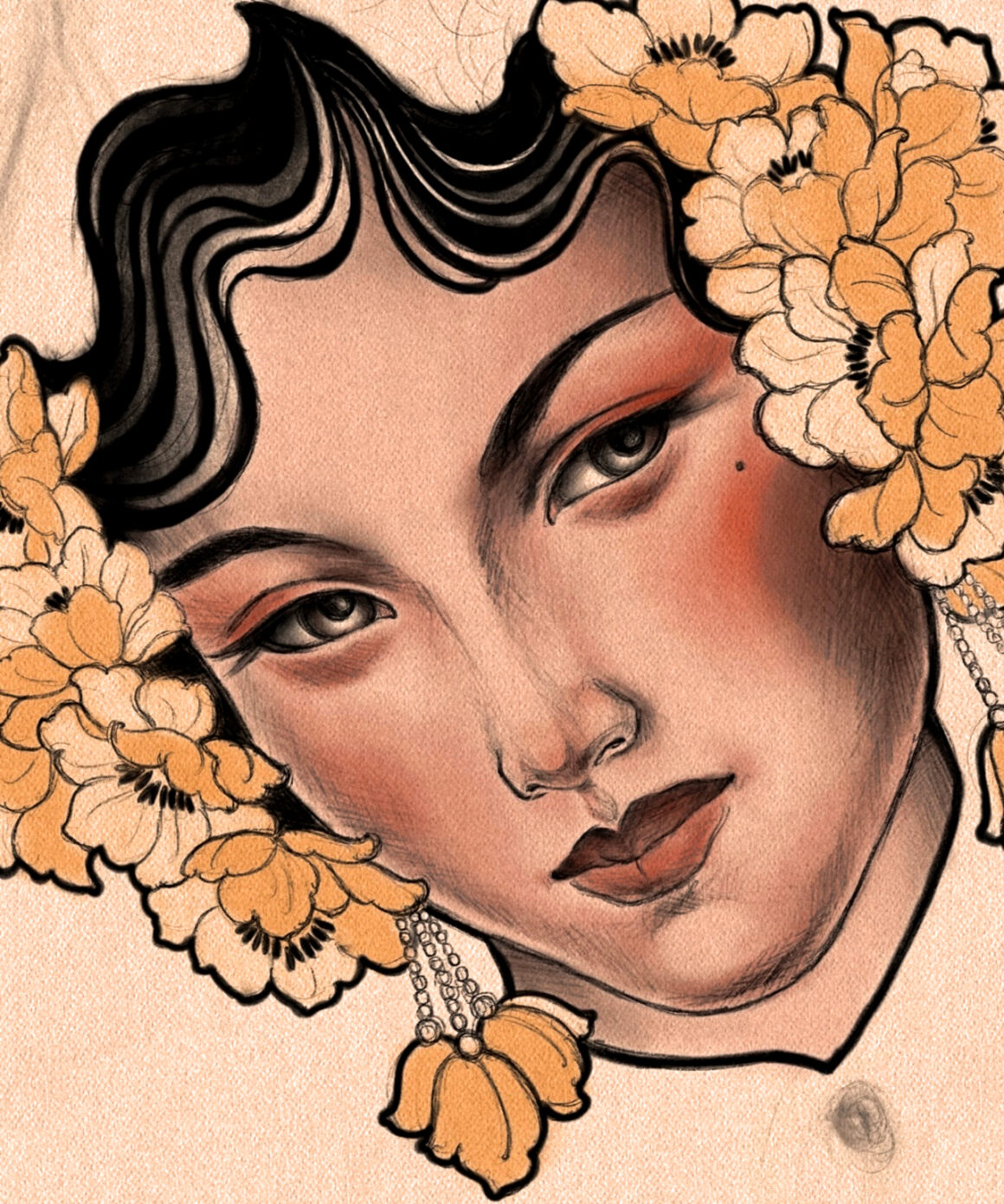 What are tattoos to you?
I see tattoos as a form of art in which you put a lot of yourself and which is a product of various external influences. This is probably also the reason why I prefer to draw and tattoo portraits of women. They have always been used to represent allegories and this fact triggers something in the viewer and gives a sort of "room" for personal interpretation.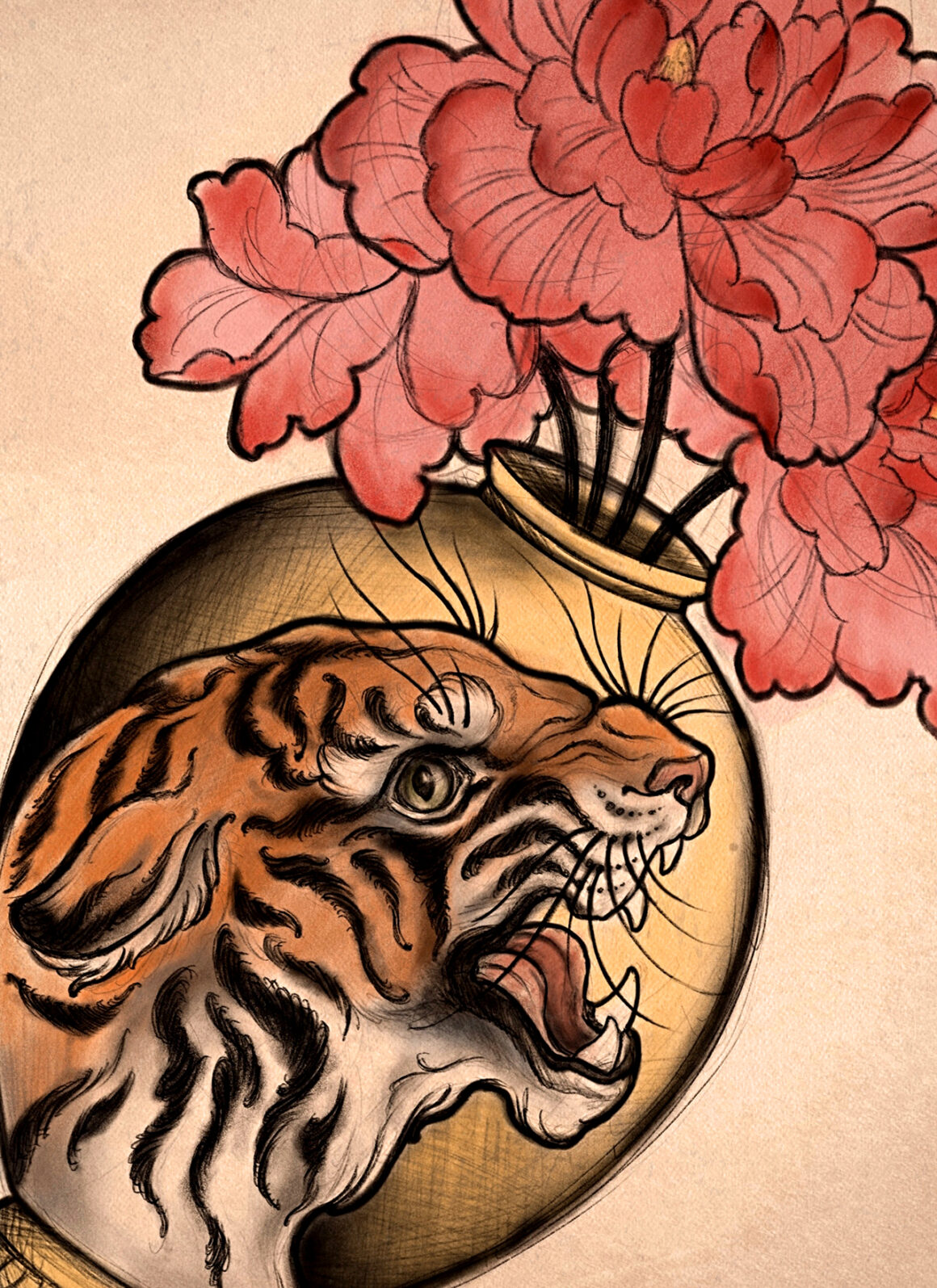 From an artistic point of view, who are the most important people in your life?
In my personal environment or family, I never had people who were much interested in art, even though I was always encouraged to draw as a child.
That's why I started for my own motivation exploring artists whose work interested me.
Even today, I still love looking at old photographs or art books for inspiration, and I love for example faces by William Adolphe Bouguerau and Frederic Leighton or the graphics by Koloman Moser.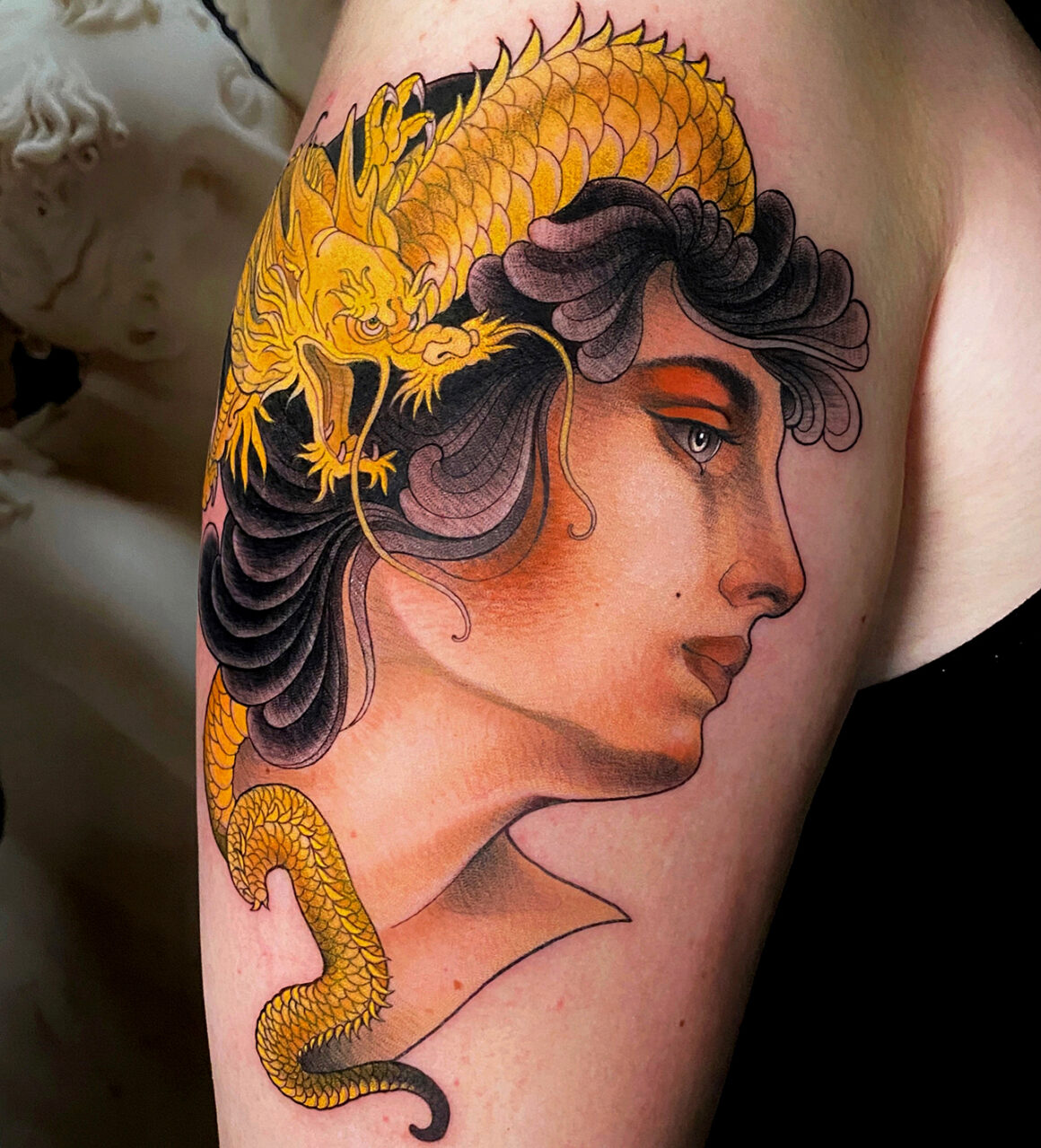 What if we were to talk about tattoo masters?
One person who influenced me regarding tattooing is Lars aka Lus Lips (IG: @lord_lips), whose motivation and support got me into tattooing back then. While tattooing was a lot more accessible at the time I started then it used to be, I probably still wouldn't have had the confidence to start on my own at this time. For me, he was also the first tattoo artist I noticed who combined classical art with tattoos and where you could see the enormous passion behind everything he did.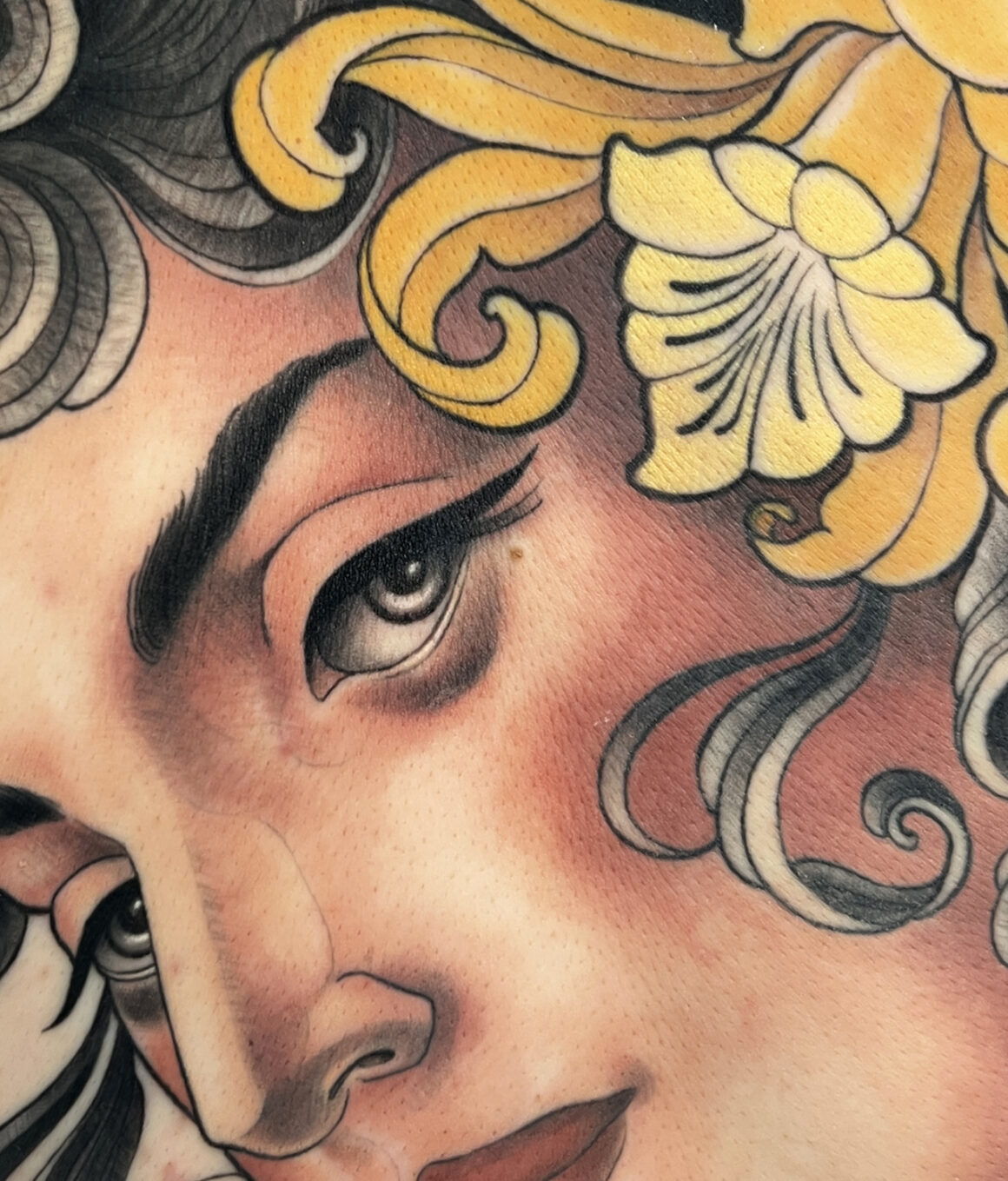 Am I wrong, or is the beauty of your women's creations a kind of meeting point between East and West?
That's probably true. I have a deep interest in Greek mythology, which is often the subject of depictions in our western art. For example, I love ancient sculptures and their reinterpretation in later eras.
For a few years now, however, I also find Asian art very exciting, of course especially in relation to the origin of tattoos.
Their shape is completely different and that's why it's so interesting for me. I find it difficult to limit yourself because art is always in flux and if I stayed in just one field, I would probably get bored after a while and there would be no further development. Since my drawings are of course always influenced by my personal interests, I try to combine them in it.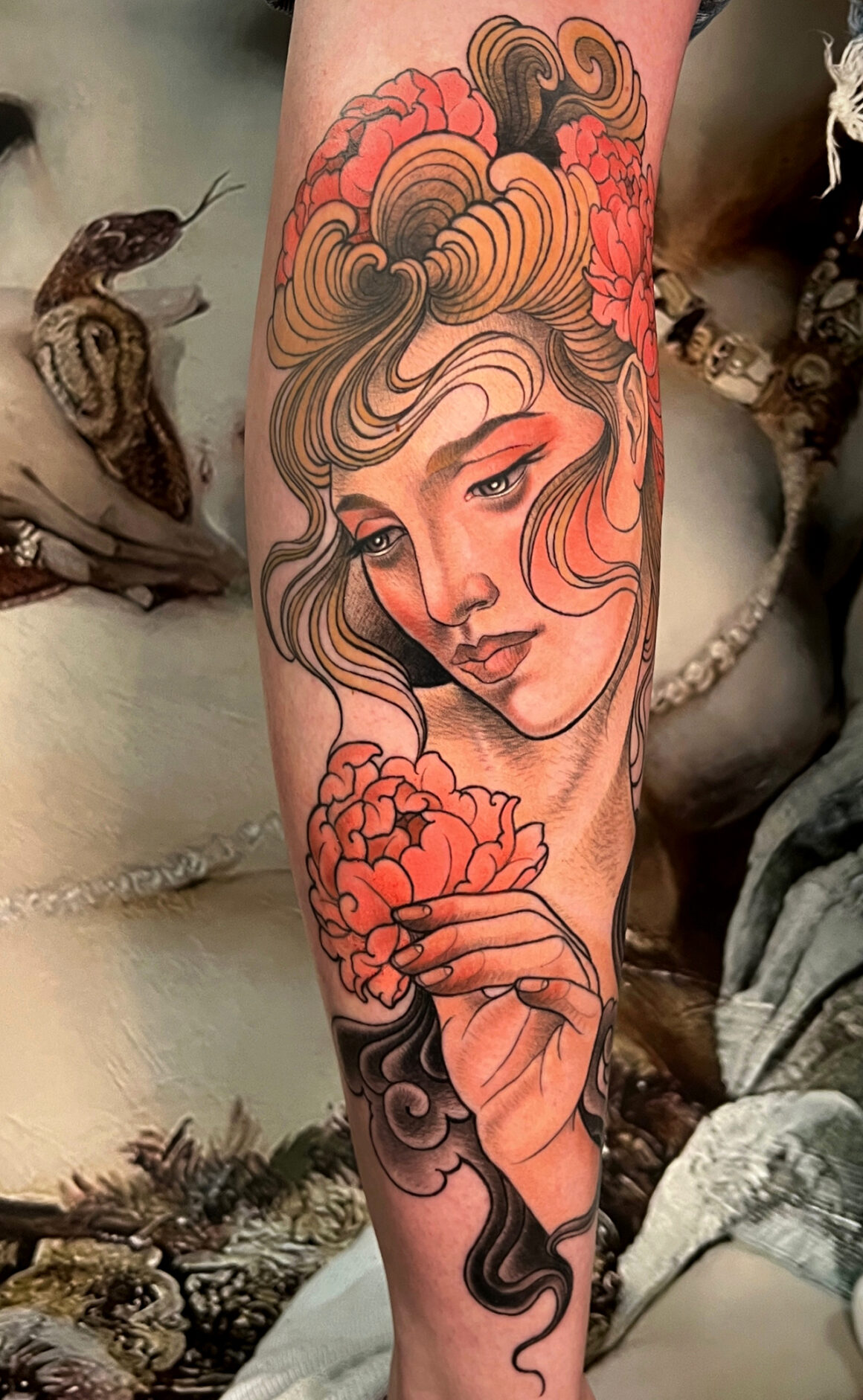 How does one of your tattoos ultimately come about? I mean – does the female client leave the initiative to you blindly trusting your craftsmanship, or is it a mutual research work?
This is very different and is as individual as my customers. Some only give a very brief description of the motif or, in the case of female portraits, sometimes only an emotion that they would like to portray. Others, on the other hand, have a very precise idea and also list details that they want to have incorporated into the design.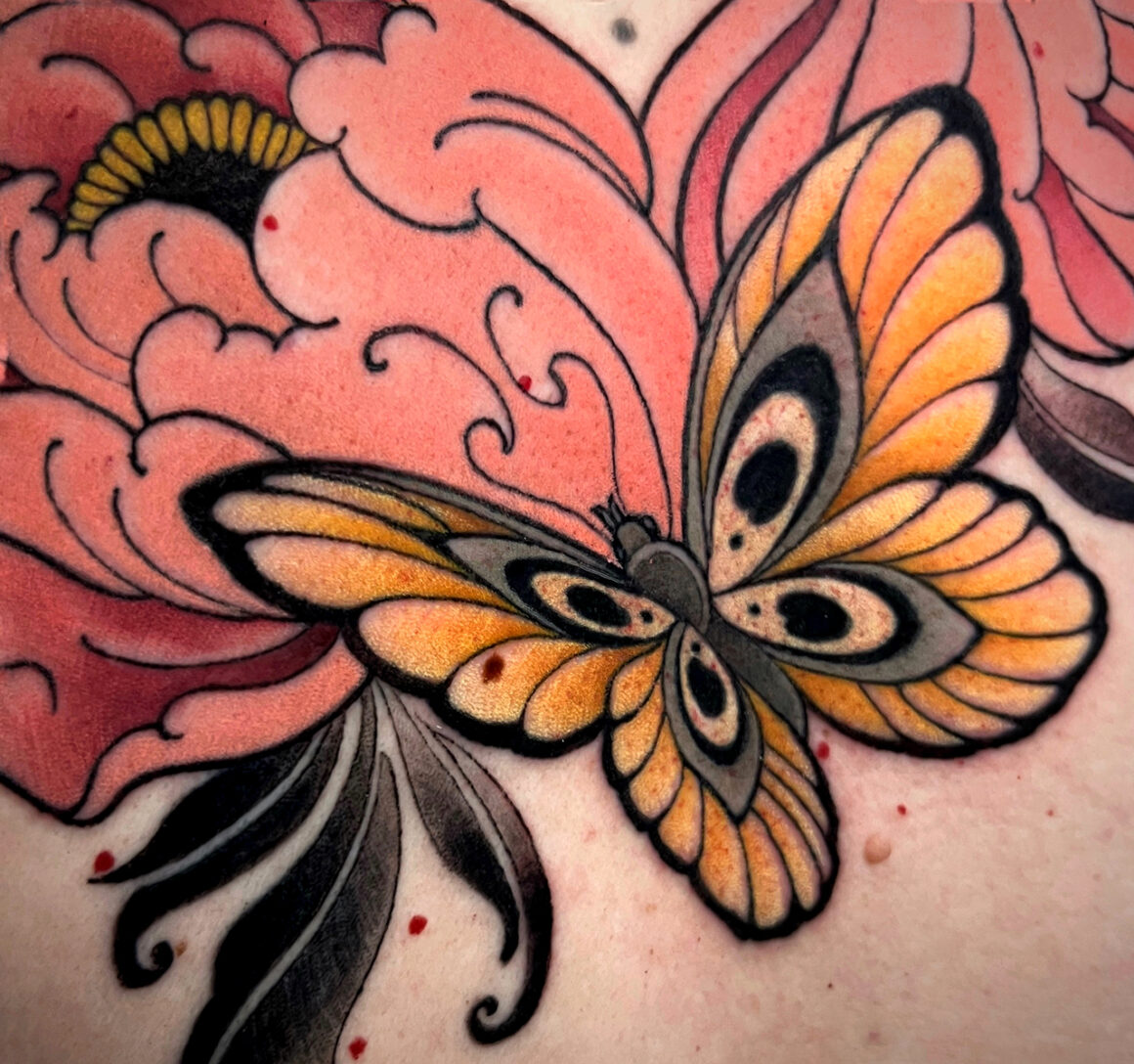 What do you prefer?
I'm open to both if the topic can be implemented in my style and is realizable as a tattoo. Of course it's nice when I'm completely free in the design, but if there are more concise specifications, I often find the challenge of tackling something I might not have dealt with myself exciting and so I can learn something new in the process.
Most of my motifs arise from the interaction between the customer and me, but I also really enjoy drawing Wanna Do's.
In these I can implement exactly what concerns me and the customer selects it if it speaks to him/her and triggers something in him/her. Often people who are rather insecure choose a Wanna Do as their first tattoo and then, with increasing confidence, become regular customers, who have individual motifs tattooed on them.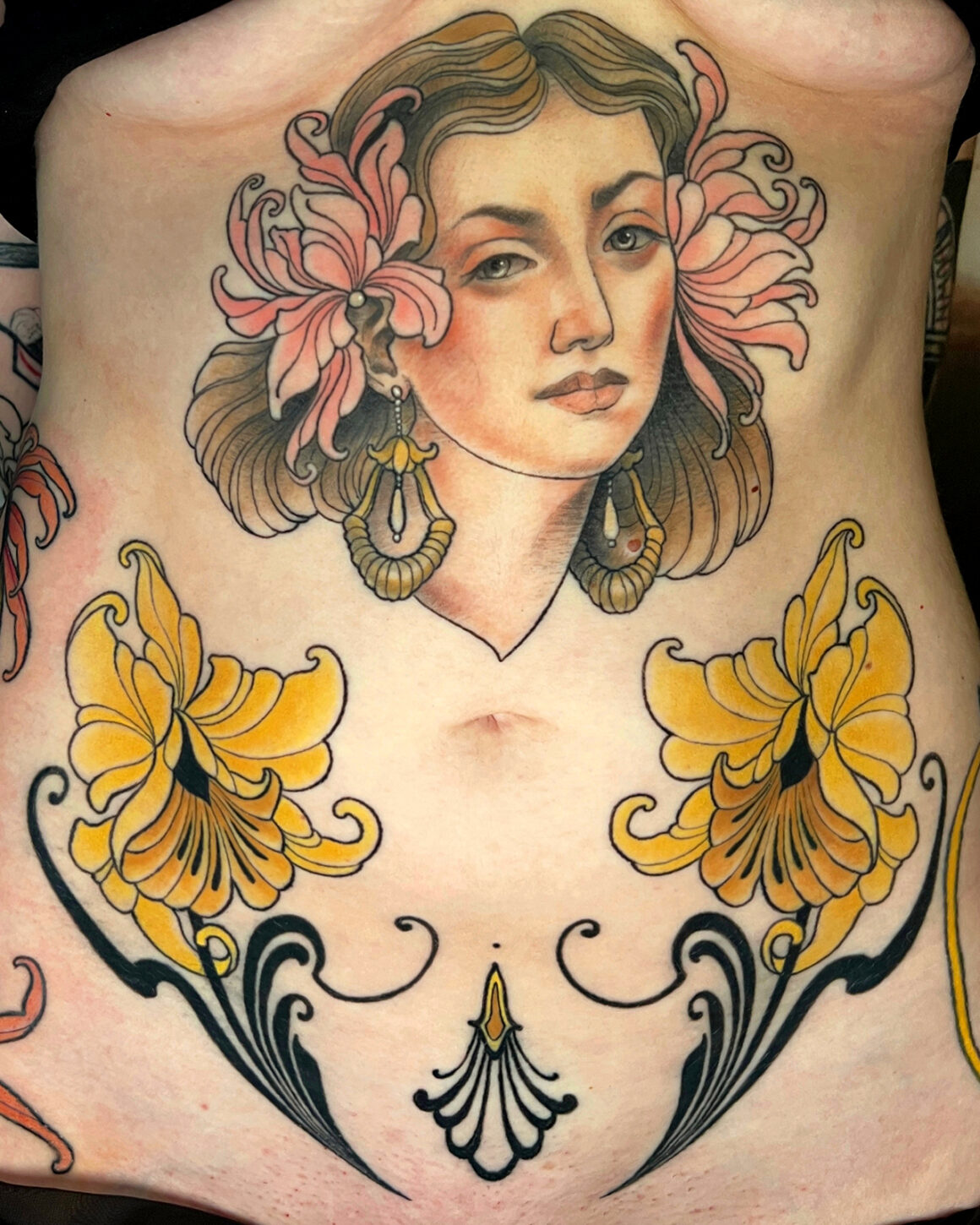 Can you describe what our eyes might see once we cross the threshold of your private Berlin atelier in the Friedrichshain district?
I just recently moved into my current atelier, which I really love. My boyfriend and I put a lot of time into the renovation (scraped off wallpaper, attached stucco, layed new floor etc.) but the work was totally worth it and I enter and leave it every day with a smile and a feeling of great gratitude. It consists of two rooms and a kitchen.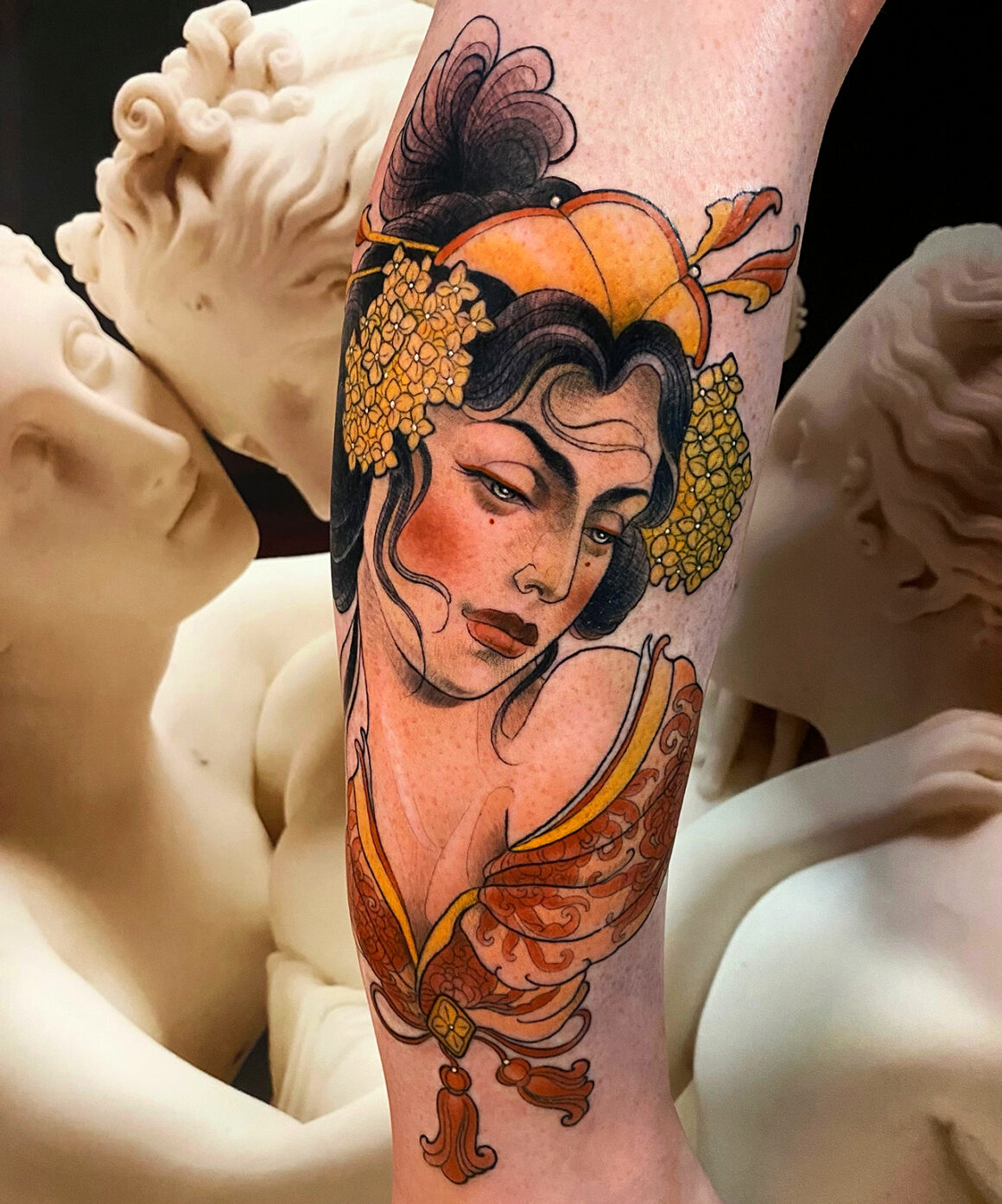 In the first room is the waiting area for customers and the place for guest artists and in the second room is my workplace. My atelier is in an old building with high walls, which are covered in antique golden frames with prints of paintings and it is furnished with dark antique furniture from the 19th century. There are also Asian elements, such as old Japanese scroll paintings and Ukiyo-e prints, carved wooden reliefs or painted lacquer caskets.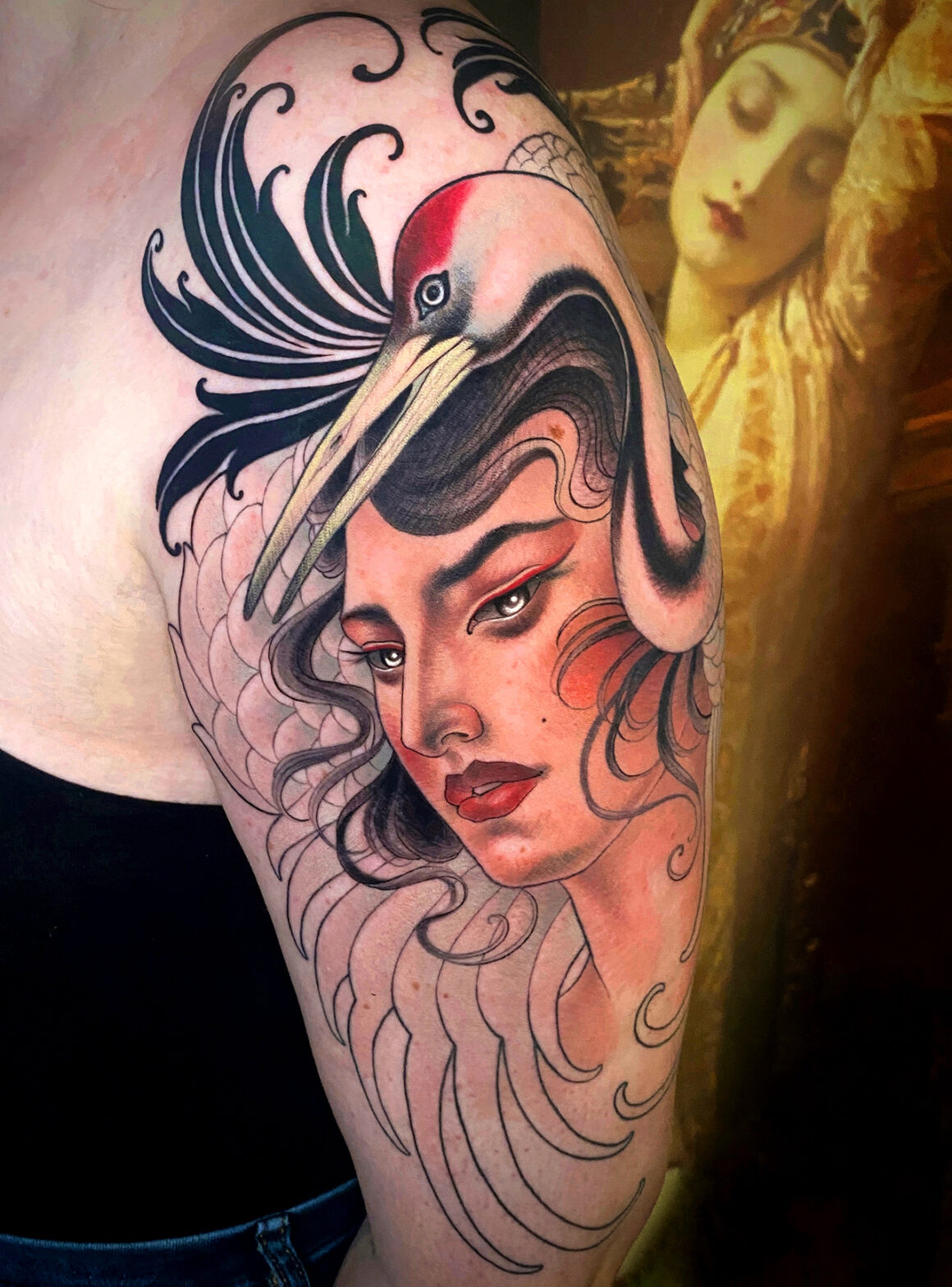 When you work you are surrounded by great art, aren't you?
Yeah. In the room where I tattoo I have also framed some of my favorite paintings by Frederic Leighton, Jean-Auguste-Dominique Ingres and Hans Makart in stucco. There are a lot of art books lying around that I have accumulated over time and that I like to refer to when I'm drawing. In antique cloisonné vases with ornamental flowers and dragons on it are always lilies, whose fragrance fills the shop. It is very important for me to have an inspiring environment and at the same time to create a pleasant and intimate atmosphere for my customers in which they feel comfortable.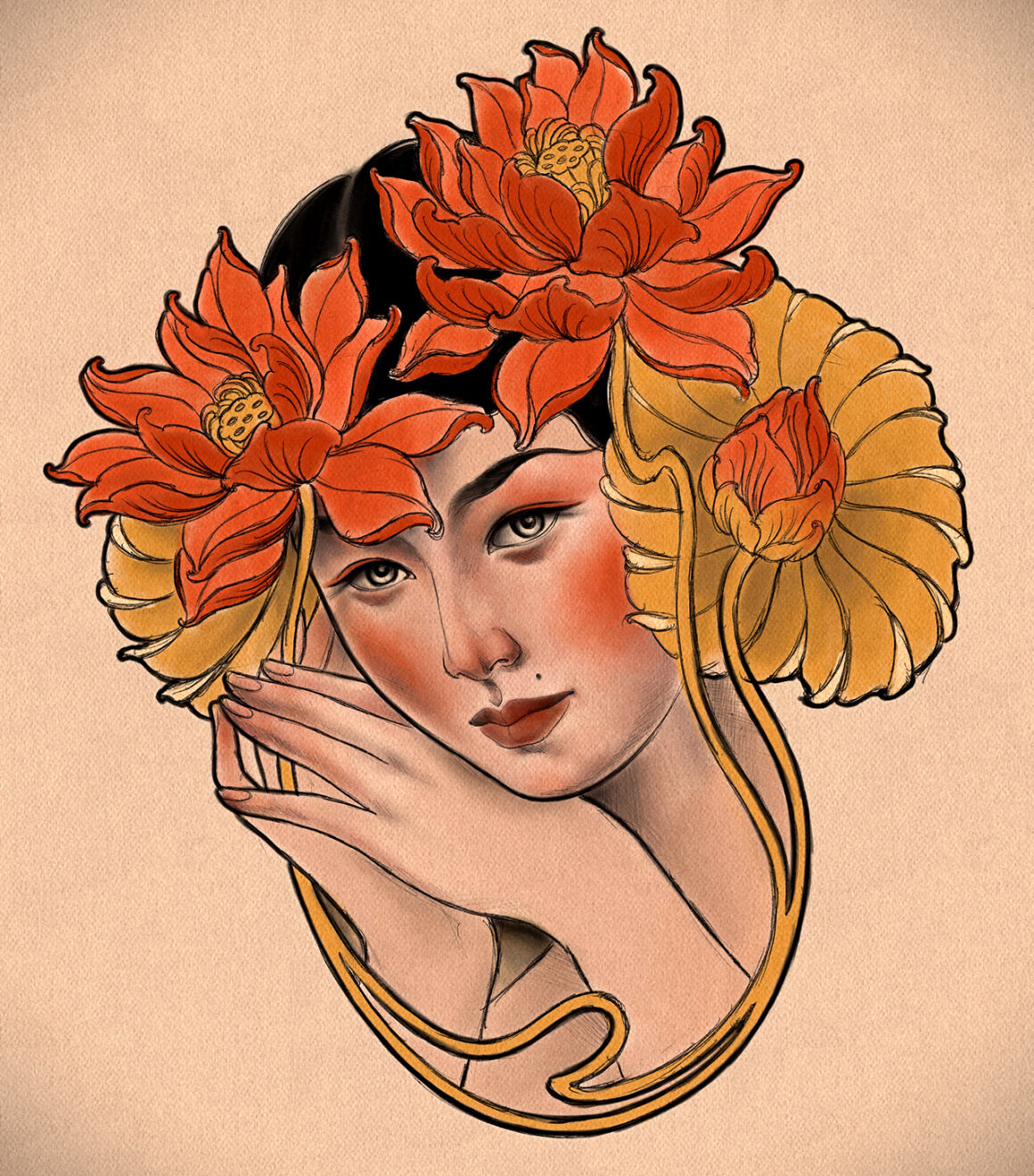 What is your relationship with tattoo conventions?
I've been invited to a few conventions, but haven't worked at one yet because it would be too busy for me there. I understand the appeal of it, because you work with many good artists, exchange ideas with them and thus gain new impressions.
For me, however, this work environment would be too much and I would find it difficult to focus with all the people and noises around me.
My way of working is the 1:1 situation with my client, in a calm atmosphere and that is what I currently feel most comfortable with. But of course I wouldn't completely rule out working at one someday.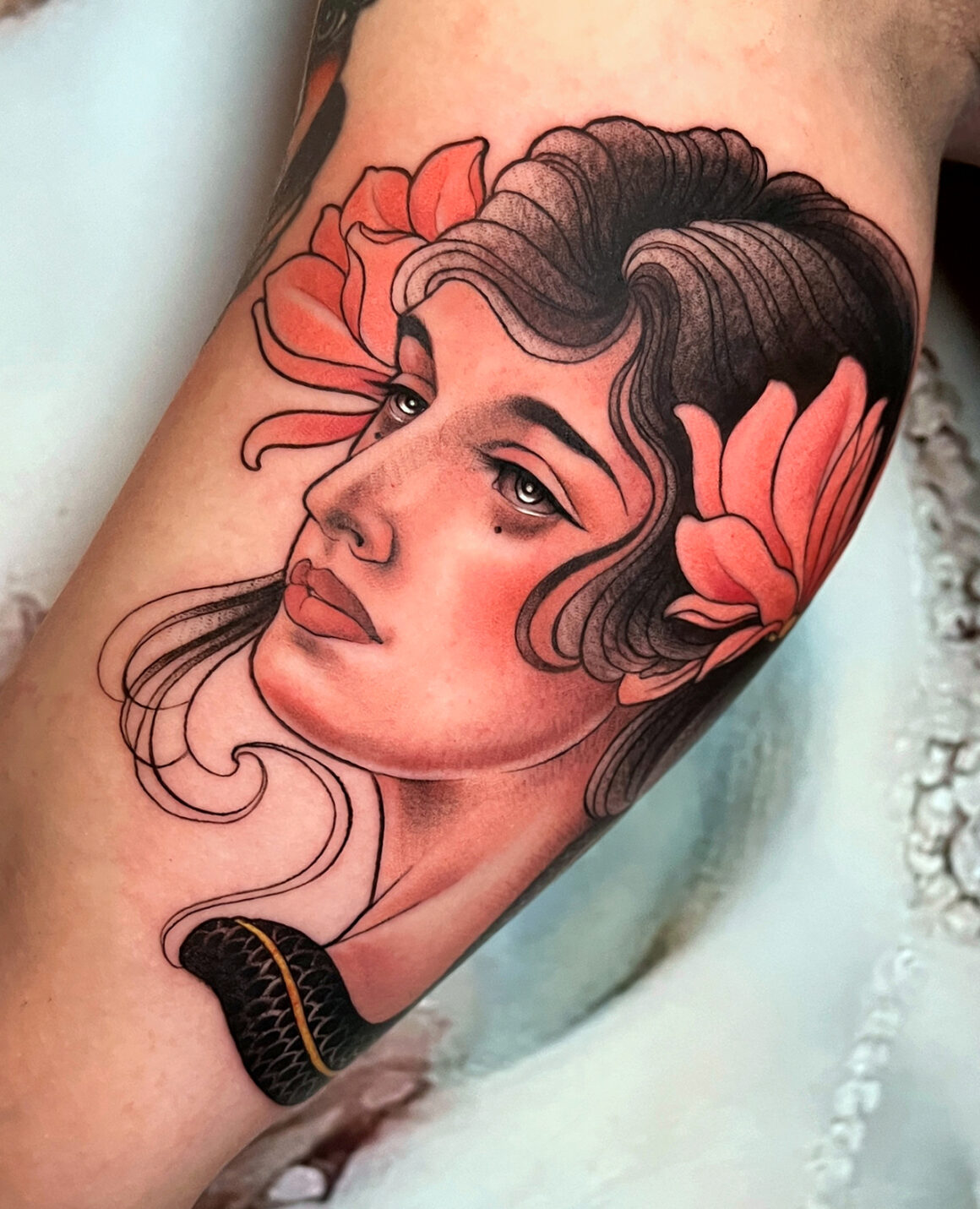 The most artistic place you have ever tattooed in your life?
Again, I find it difficult to move out of my comfort zone, as I prefer to work in my own studio… (smiles) I haven't done too many guest spots in different places until now, but I always love to be at my friend Konstanze's Studio in Vienna (IG: @konstanze__k), as the atmosphere there is very pleasant and the city has so many beautiful Art Nouveau buildings and art museums.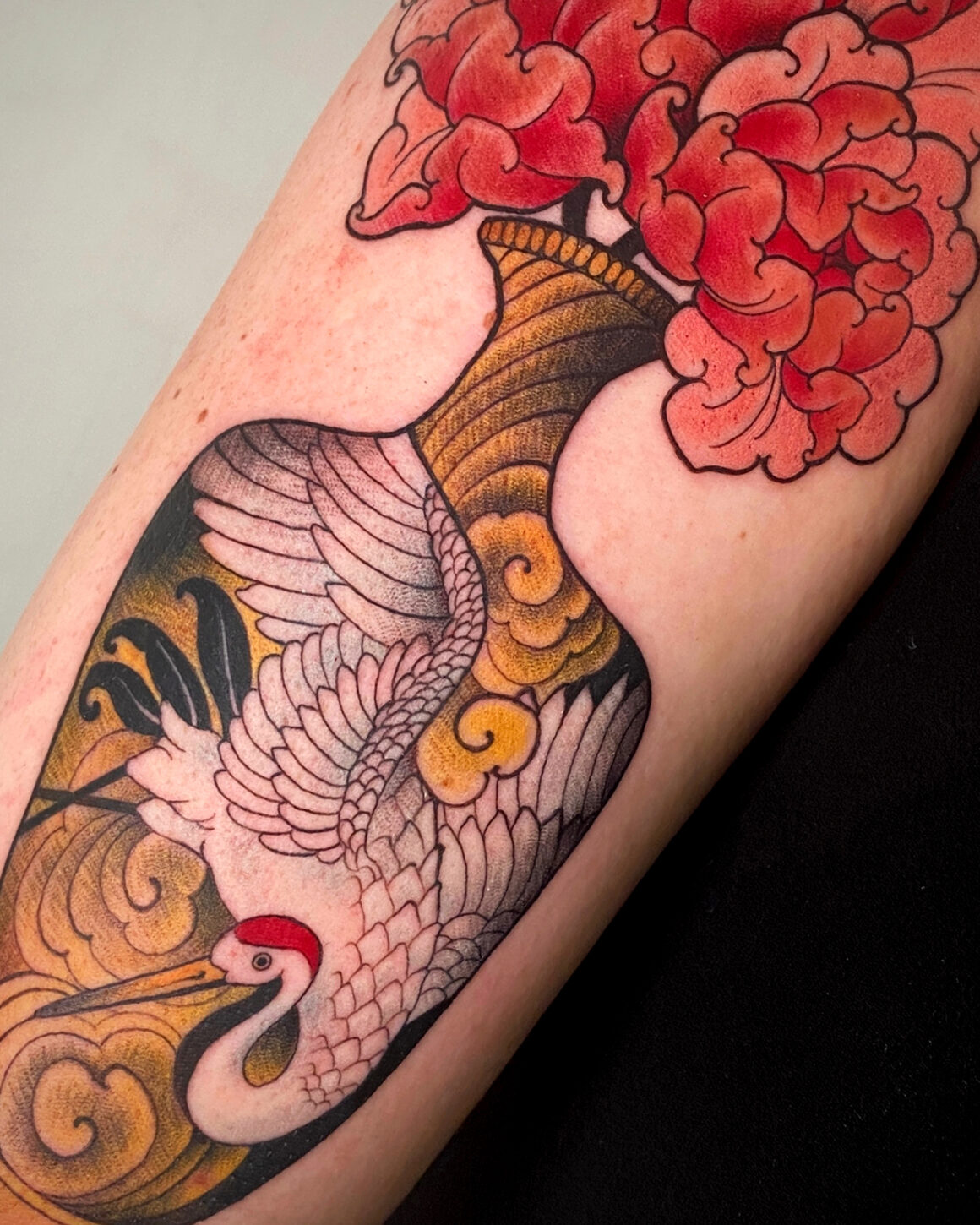 I asked it because on your Instagram page there are a lot of geographic locations rich in art and monuments…
The pictures you see on my Instagram page were taken on city trips where I went to see the art there. My vacations are mostly museum marathons, where I soak up everything and look for new inspiration. Since I work alone in my atelier, I'm very happy to now have a place for guests so that I can exchange ideas with other tattoo artists.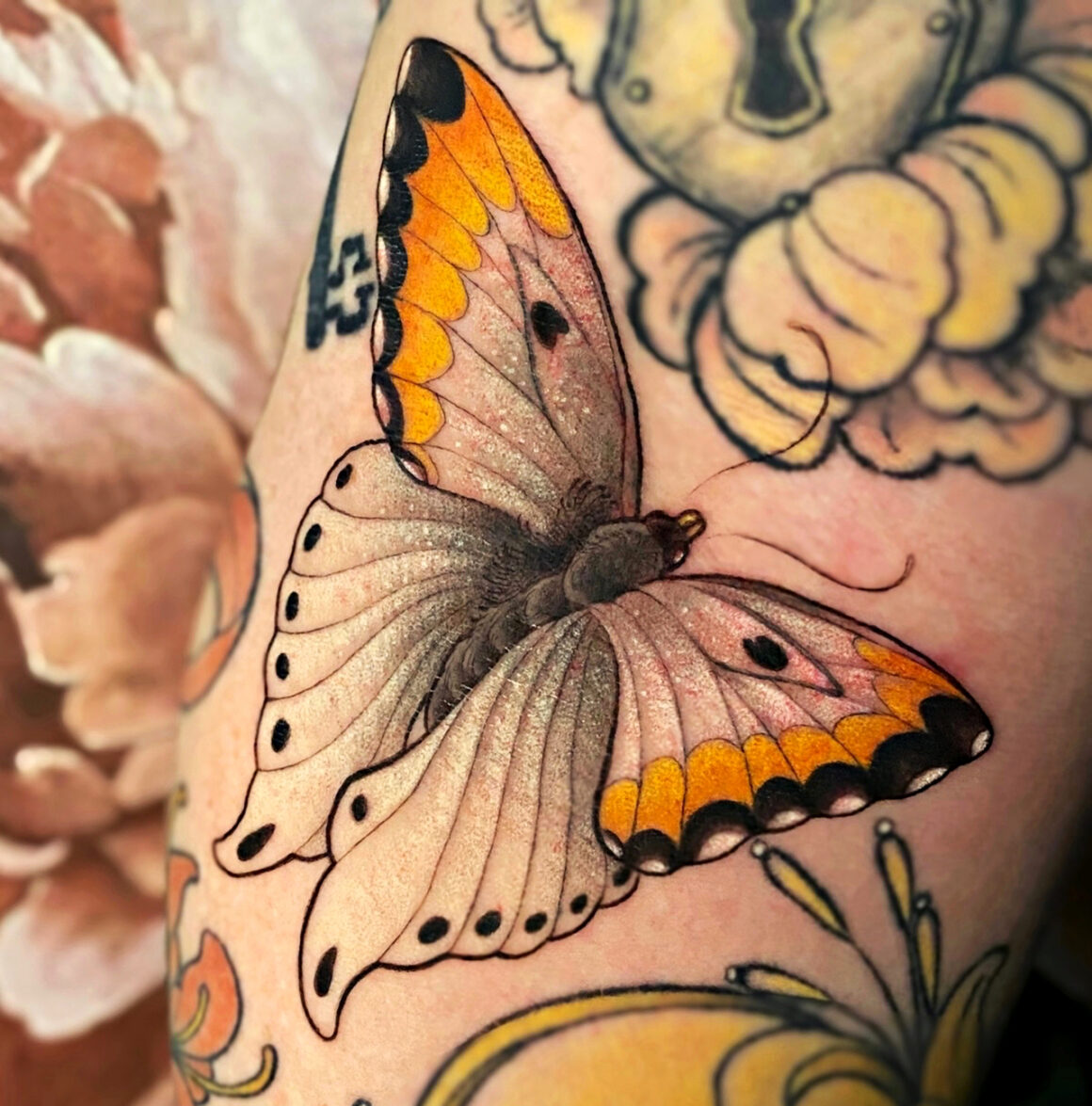 And your last famous words are…?
Everything in life is a matter of perspective. We often focus far too much on the negative and let supposed mistakes rob us of our energy and motivation. Rather, one should try to be inspired by it to create something new. But of course that's sometimes easier said than done. A quote from Hermann Hesse, which I will always remember, goes very well with this: "The bird fights its way out of the egg. The egg is the world. If you want to be born, you have to destroy a world."