She doesn't design her tattoos but it happened that in just 3 years her body became her canvas. Let's get to know Brooke better, not simply an influencer.
Let's play a game, Brooke: I'll give you carte blanche to describe your role as a "digital creator" for those who don't know you yet. What would you tell them about yourself and your profession?
I would say it's a less cringe way to say "influencer". Basically my profession is also my life. Digital creators usually are paid to work with brands and help advertise them via social media. So essentially I get paid for posts and I have also worked as a model.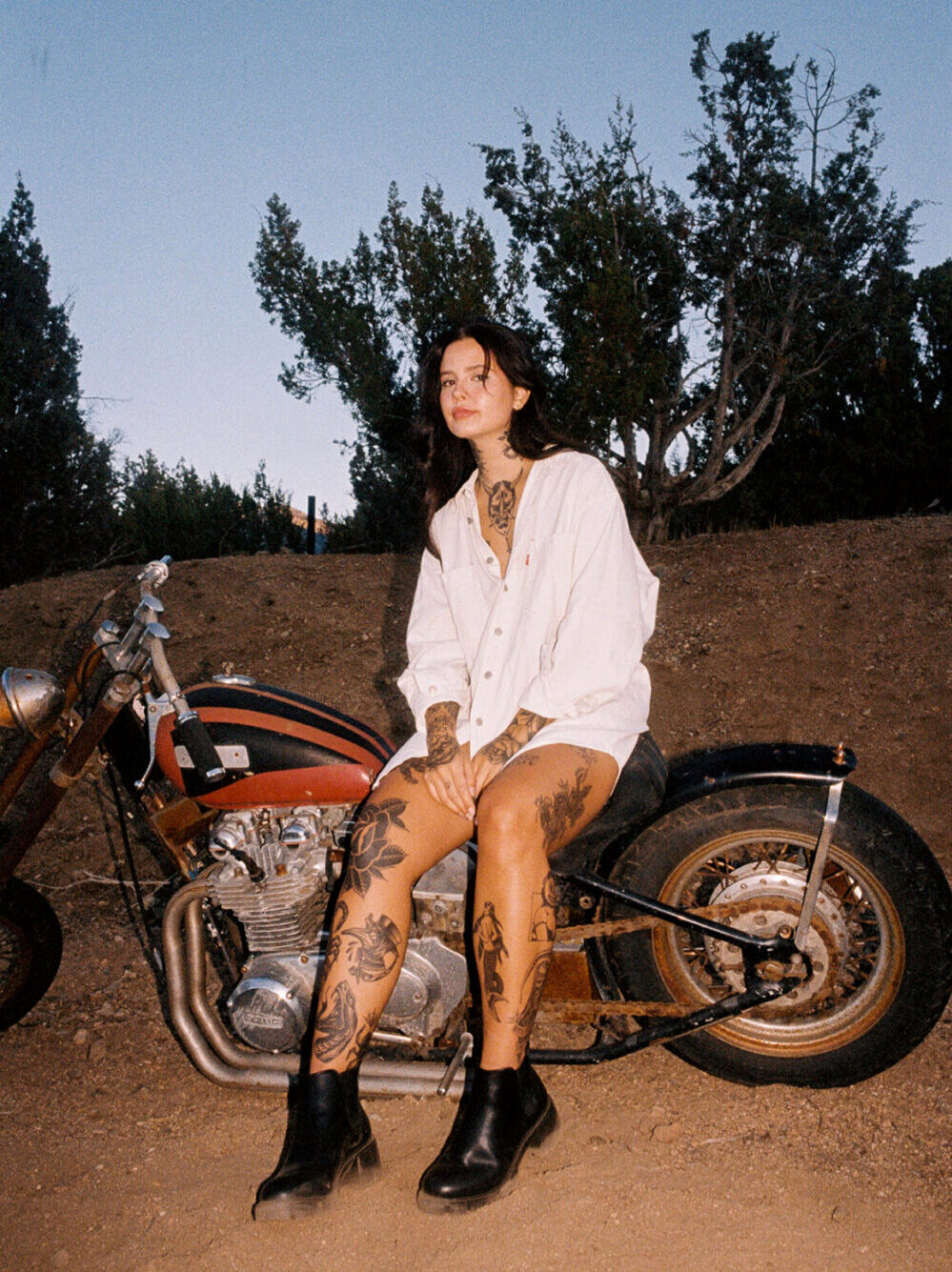 Where can we admire you?
The Social media I use consist of Instagram, TikTok, YouTube, Twitter and Pinterest. I enjoy sharing my life, travels and tattoo progress with my followers.
When was your great passion for tattoos exactly born?
I began getting tattoos when I was 20. I wanted them sooner but my parents told me if I had enough money to pay for tattoos then I had enough money to pay the rent! I was young and of course didn't want to be paying the rent so I held off for a bit even though I was considered an adult. I also have to add that my parents are not fan of tattoos but they are still supportive of me and know that I do things my own way.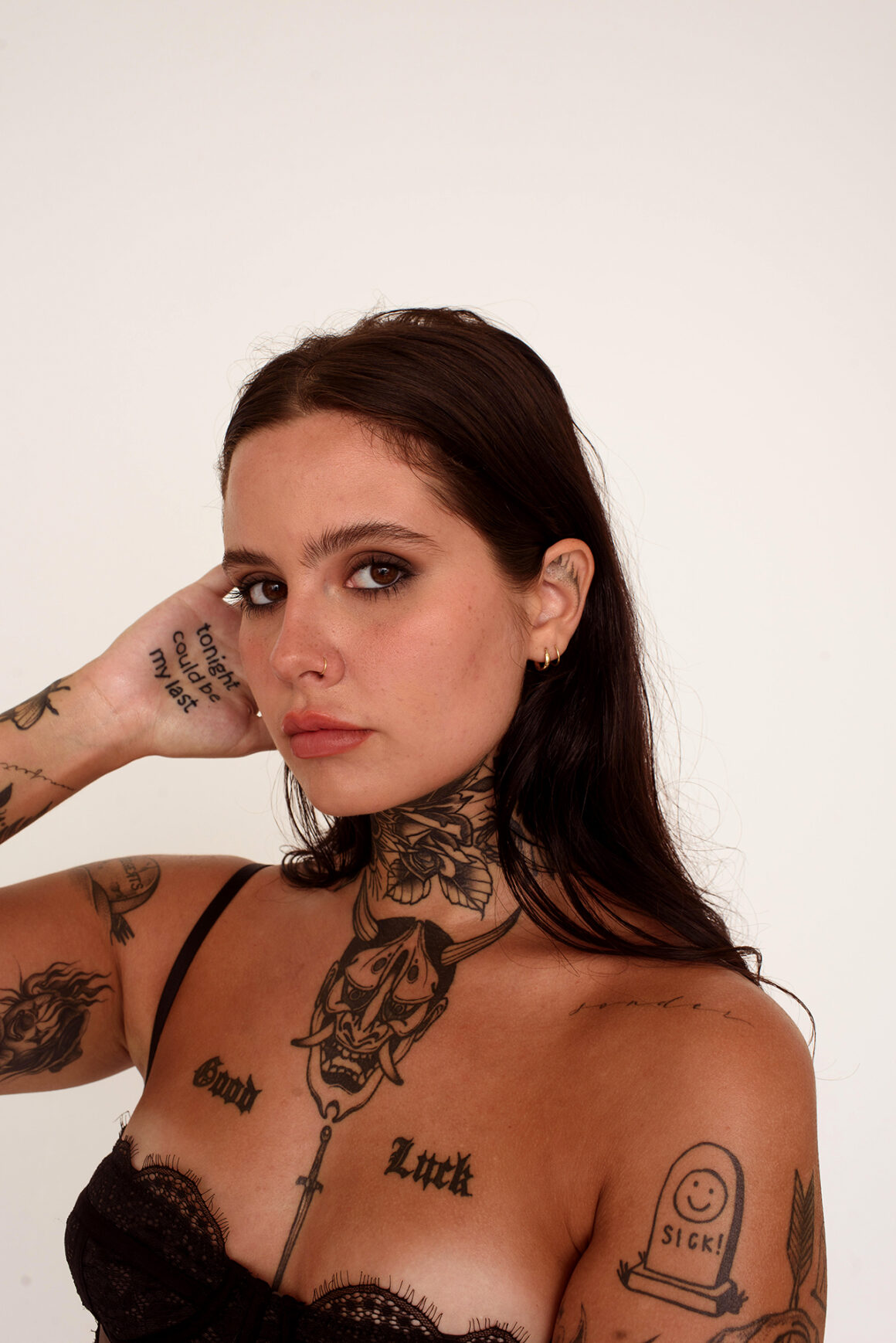 I haven't counted your tattoos, but they seem a good number. How many are there?
I'm not sure exactly. I think I stopped counting around 50 and that was a while ago! (smiles) I started and couldn't stop and I see no end in sight.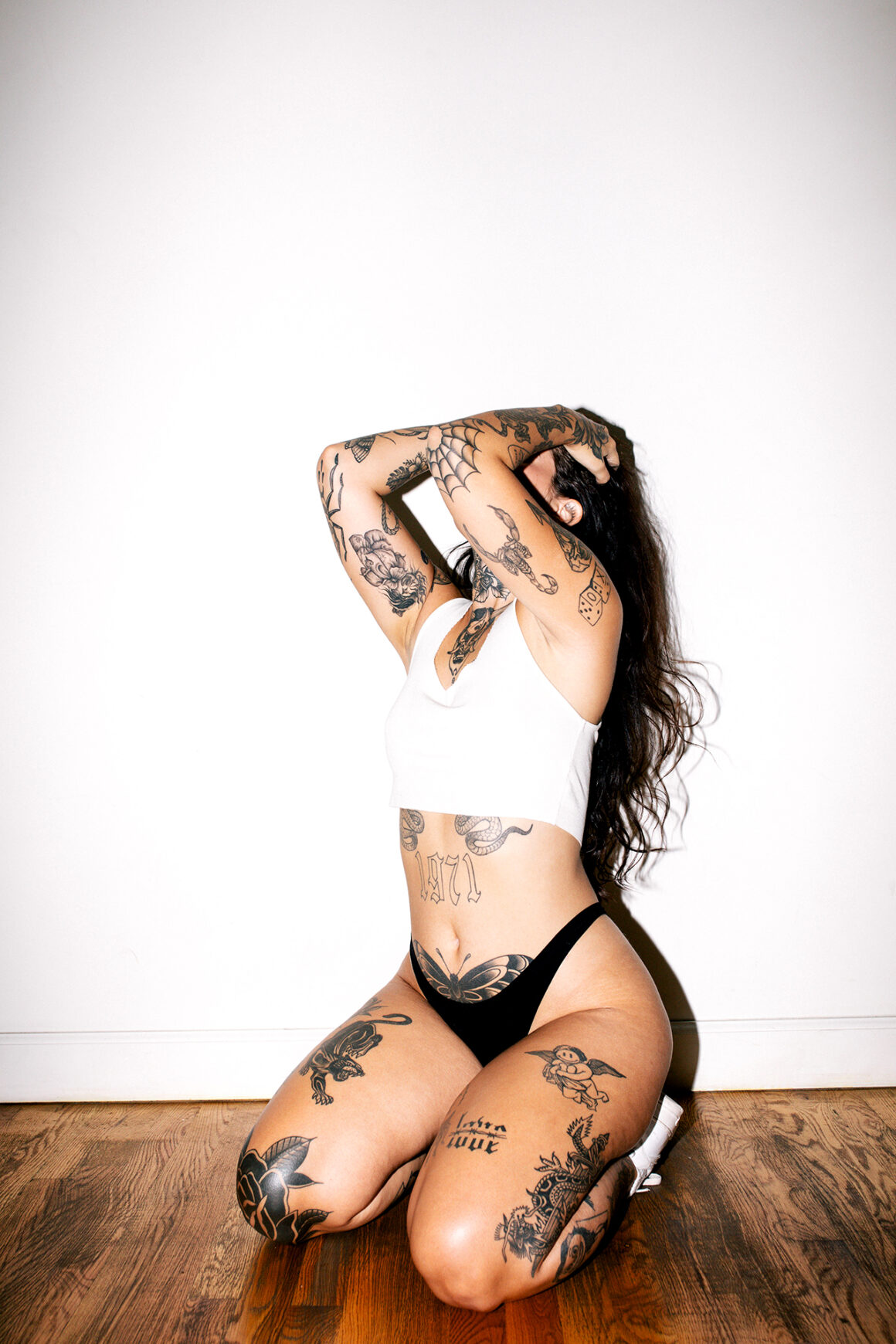 For you, getting tattooed is a way of expressing yourself, I guess…
Yeah. You know, I used to be more creative and enjoy drawing and painting but I was always so critical of myself and practically gave up. I believe I channeled my creativity into creating myself. Though I personally don't draw my tattoos I still see myself as an artist. My canvas happens to be my body.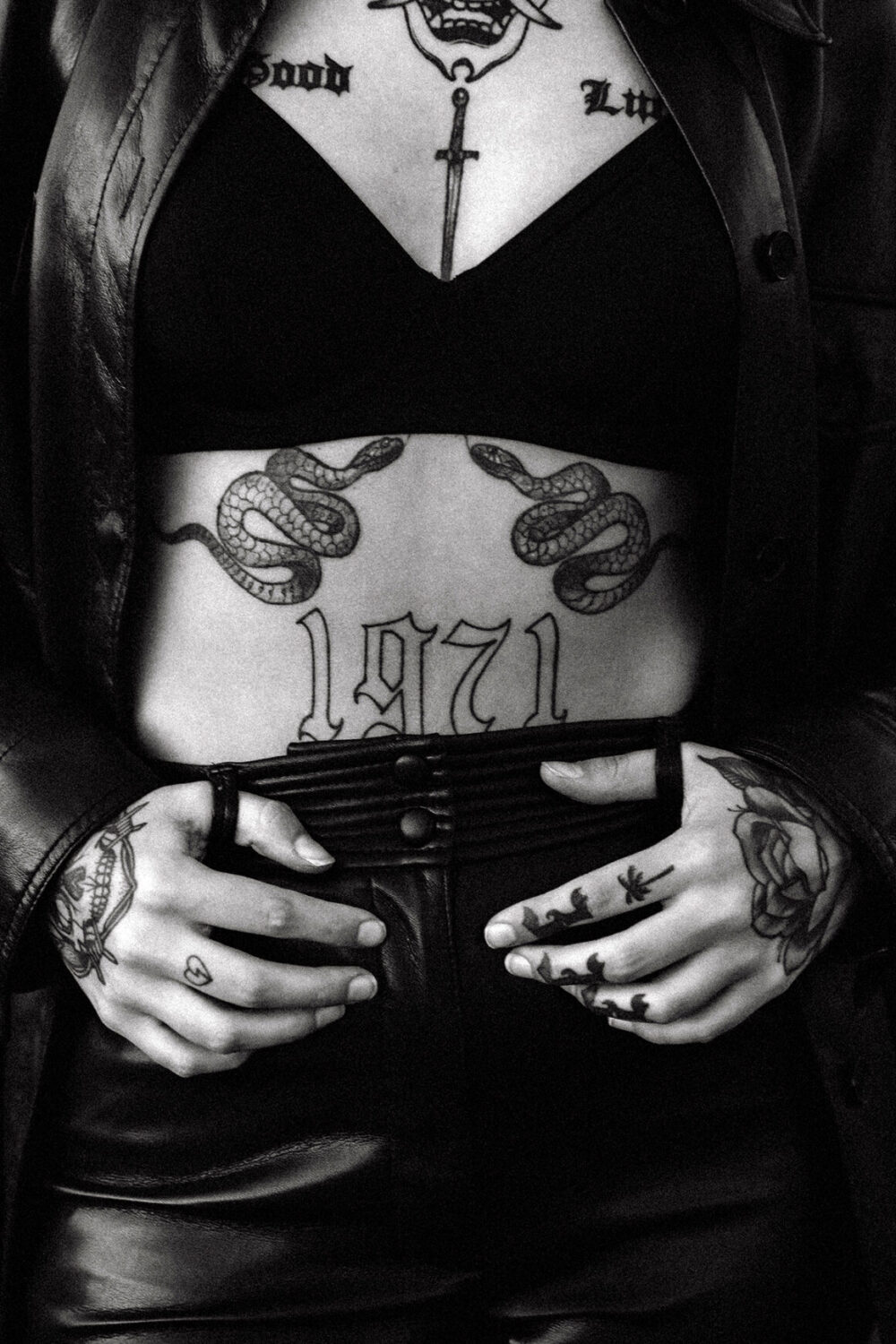 You seem to be a very cheerful and sunny person just by looking at your look, your smile or the pictures you post on Instagram. Your tattoos on the other hand are all created with black ink and strong subjects. Why this contrast?
I generally try to maintain a positive attitude because I believe that if I put out good energy then good will also come back to me. I love the contrast between the way I look and my personality. Some people say I look intimidating which I kind of enjoy appearing that way.
I'm very shy and awkward to be honest but I am very kind.
I like to prove people wrong because they may have preconceived ideas based on how a person looks.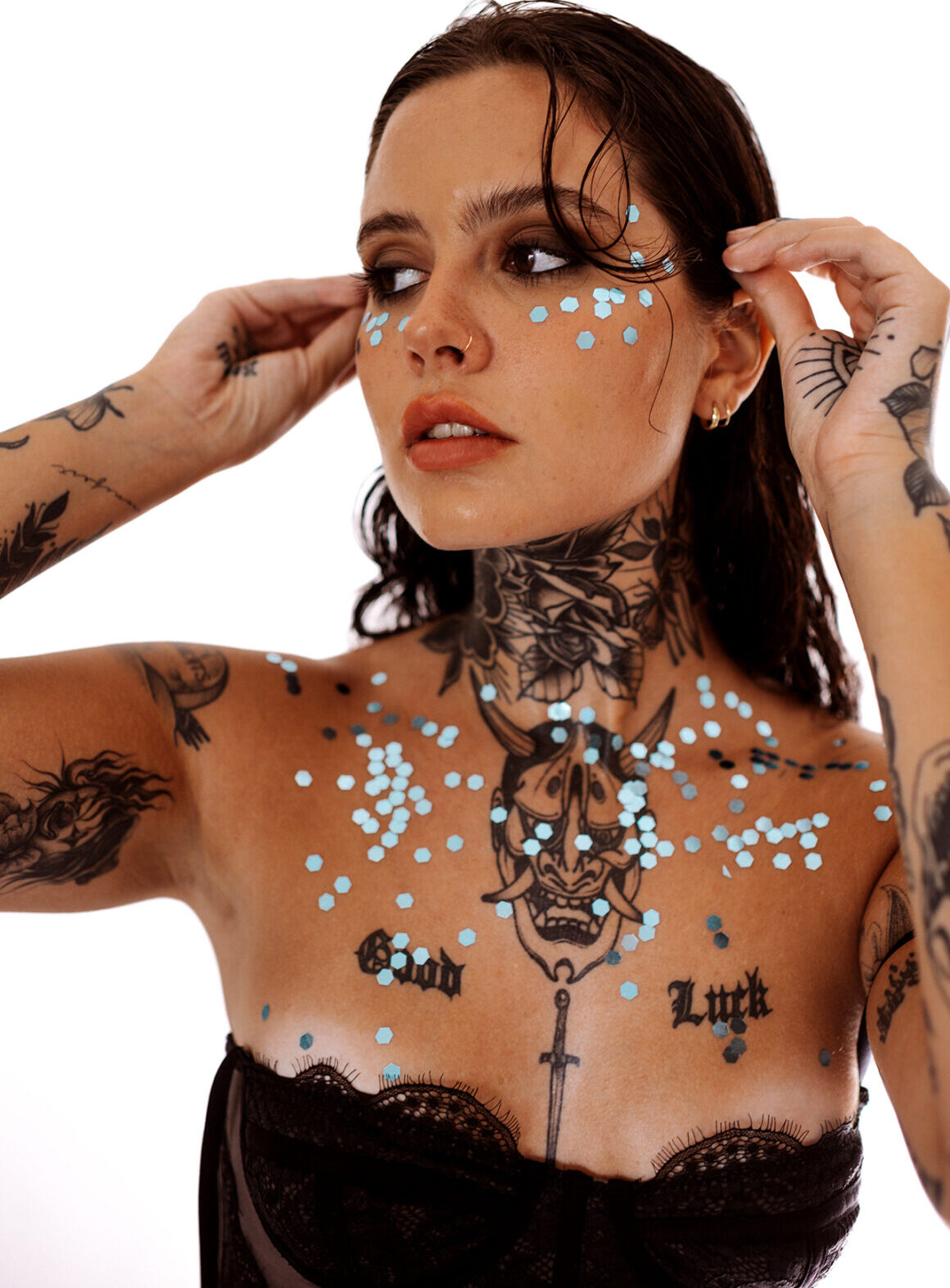 Did those tattoos all come from the hand of one artist or did several artists draw on your body?
It's the work of few different artists and these are the names that I can remember; Ryan Bly, WalkerX, Vince Maximin, Matt Vazquez, Hannah Sea and I probably missed a few. Brian Smith and Ryan Campbell have done a large majority of my work. I enjoy having different pieces though from different artists, it's a collection.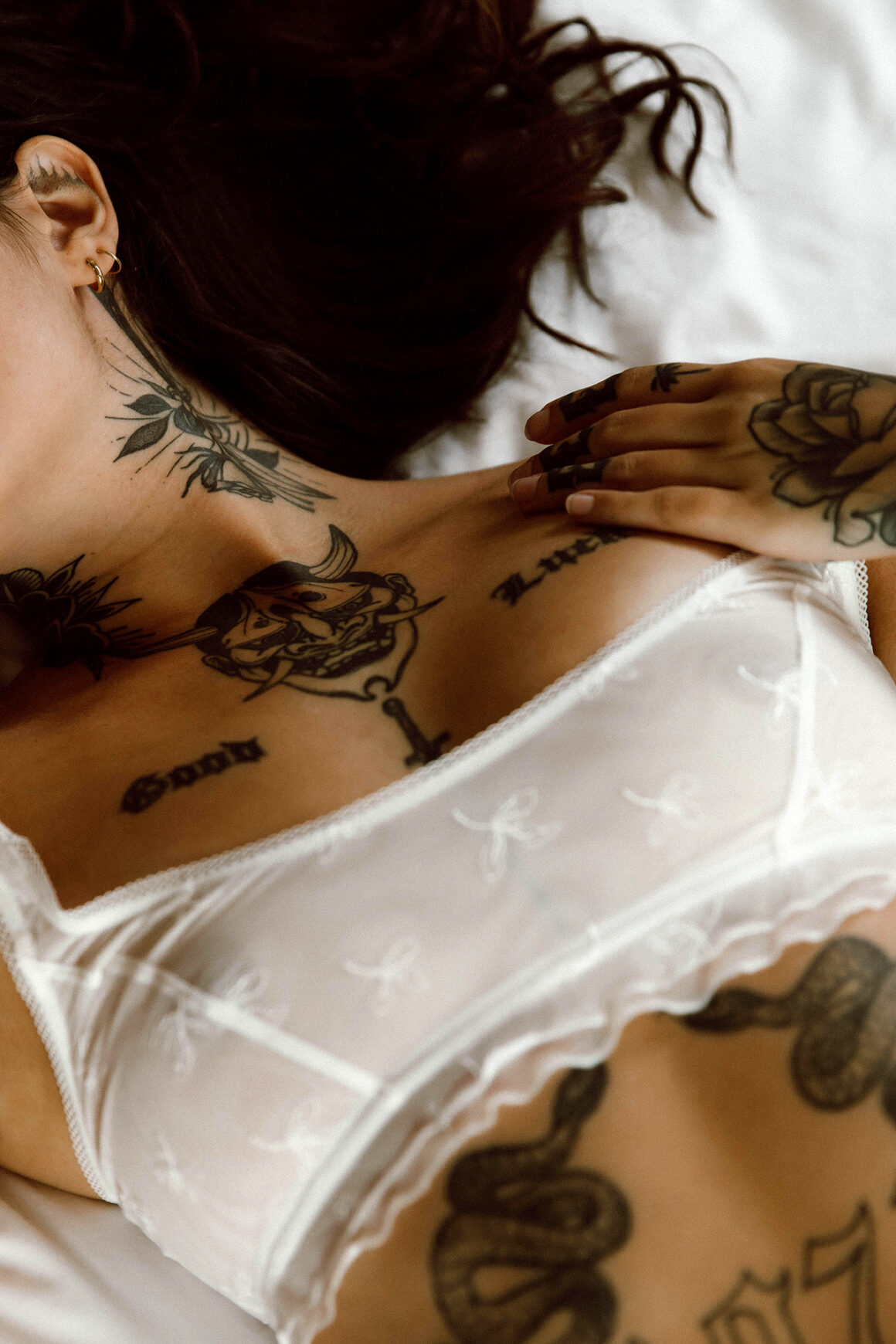 You seem to be 23 years old or at least that's what you write on your Instagram profile. Why then is that "1971" in the middle of your stomach?
The most famous question! (laughs) Yes, I am 23 but the year 1971 is for my parents who luckily were born the same year.
It's one of the few tattoos that have an actual meaning behind it.
So do you consider your tattoos simply aesthetic? I'm asking because you have an Oni mask, a couple of snakes, several insects, a butterfly on your lower belly etc.
The majority of my tattoos are purely aesthetic though there are a handful with meaning. I don't think tattoos need to have a meaning behind them, that's a more traditional way of thinking.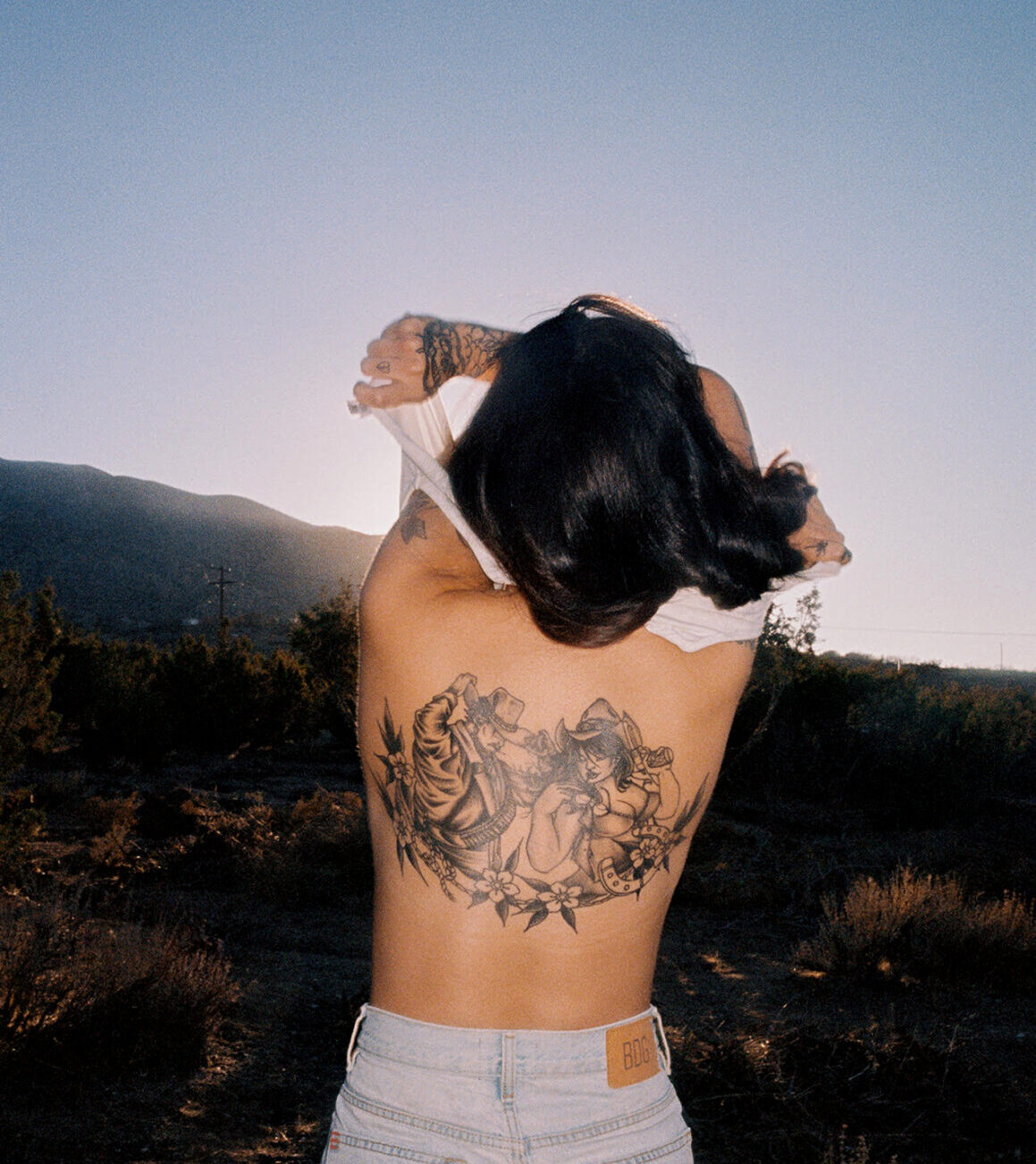 Why did you have "Tonight could be my last" written on the palm of your right hand? Is it a line from a song?
"Tonight could be my last" is from a song called 'Curtains' by Paris Shadows and for some reason the lyrics just stood out to me. It's a sort of life philosophy for me, it's mostly a reminder.
Was it painful getting tattooed on your hand?
Sure! That palm has been the most painful part of my body that I've had tattooed but I like having it on my hand so that I can read it clearly.
It means what it says, you never know how long you have and I live life one day at a time.
Is your most important tattoo the lettering "Mom" inside a heart?
My mom tattoo is very important to me, I love my mom so much and she has been through a lot in her life. She has helped me to become the person I'm today. No matter the hardships I've been through I come out stronger. It's not a memorial tattoo but it's an appreciation tattoo.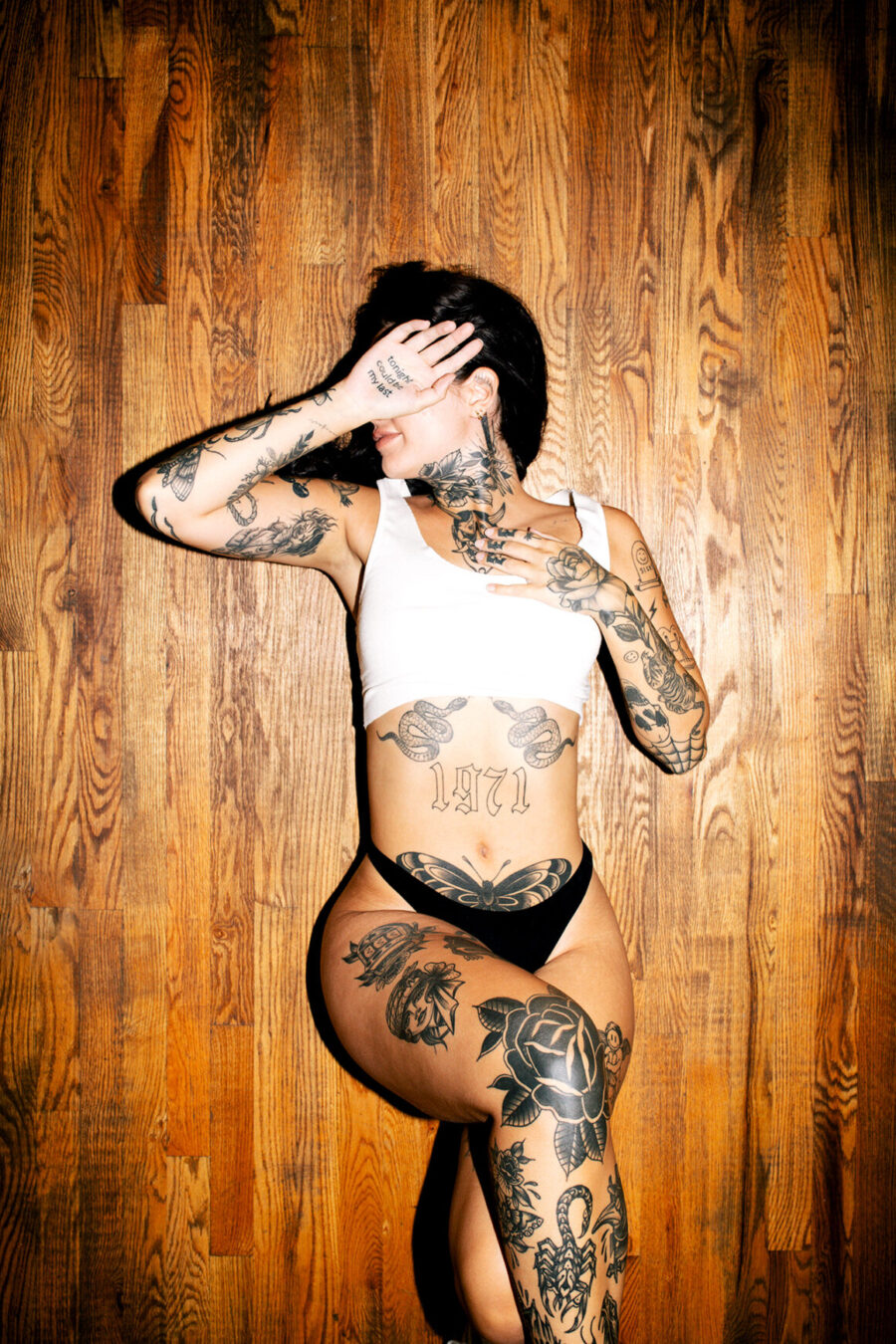 And now 4 simple questions. Your favorite song? Your favorite movie? Your favorite TV series? The novel of your life?
Okay! Favorite song is a hard one because I have so many but I'd pick 'Be Happy' by 347aidan. Favorite movie has to be 'The Lord of the Rings' trilogy. Favorite tv series might have to be 'Euphoria'. One of the best novels I've read might have to be 'The Alchemist' by Paulo Coelho.
And your last famous words are…?
"Pain is temporary but ink is forever". That's simply my motto.