The French artist works in Paris in 'Venenum Tattoo' and will keep us company for the next 12 months in a shooting able to mix elegance and beauty
Blum is one of the 13 tattoo artists of 'Venenum Tattoo' in Paris, an elegant "private atelier" where she receives by appointment and dedicates herself to the art of ornamental tattooing, obviously declined according to her strongest sensibility.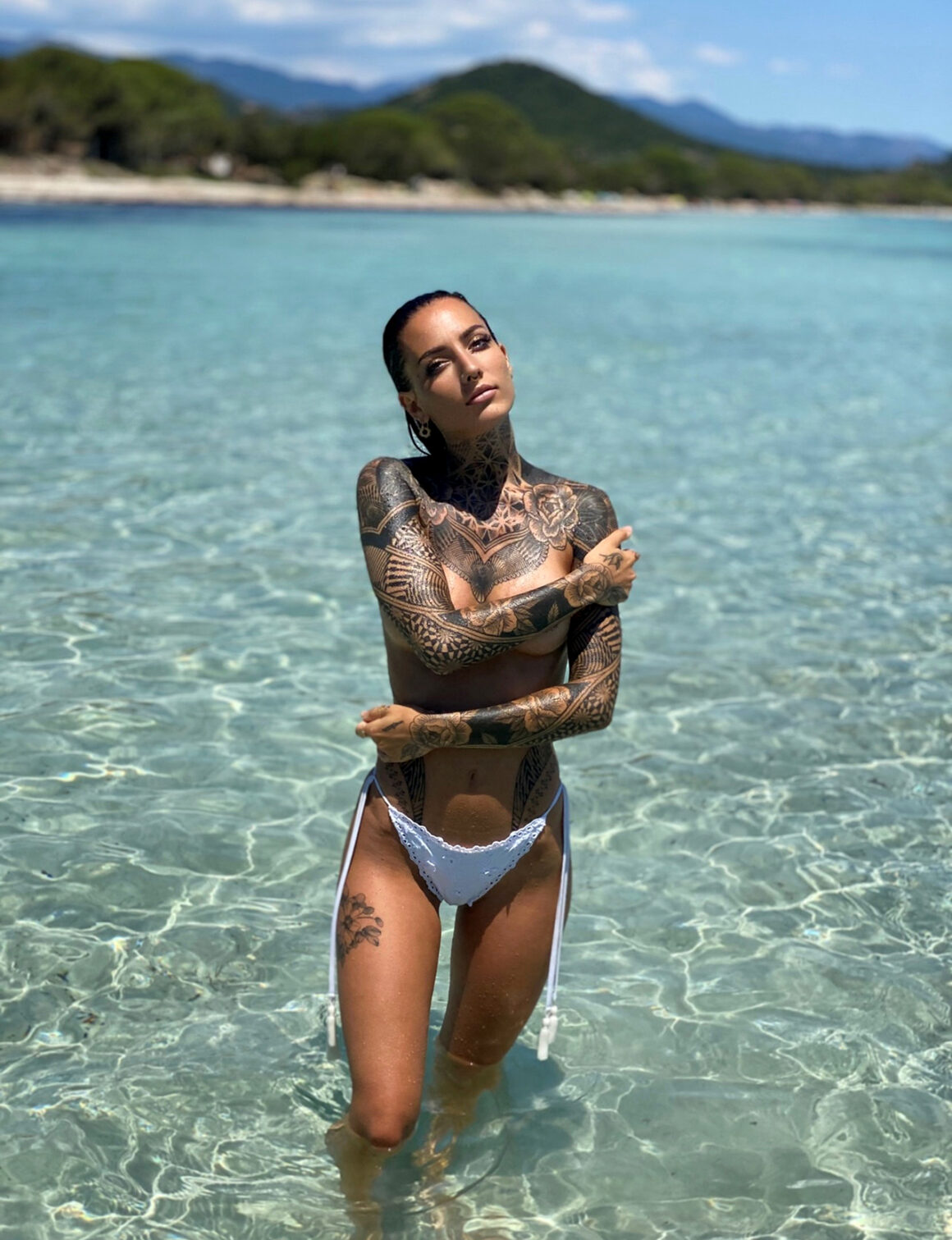 The most important news we would like to give you, is that Blum (in German language 'Blum' means 'flower') has recently been chosen by our magazine as the official model for the 2022 calendar.
Basically, she has been elected by our editorial staff as the "most beautiful tattooed woman in the world" and in the year 2022, she will keep you company for the next 12 months in a calendar that is set to be unmissable. The calendar is available in digital format as a free gift to all the customers of tattoolifestore.com and tattooebooks.com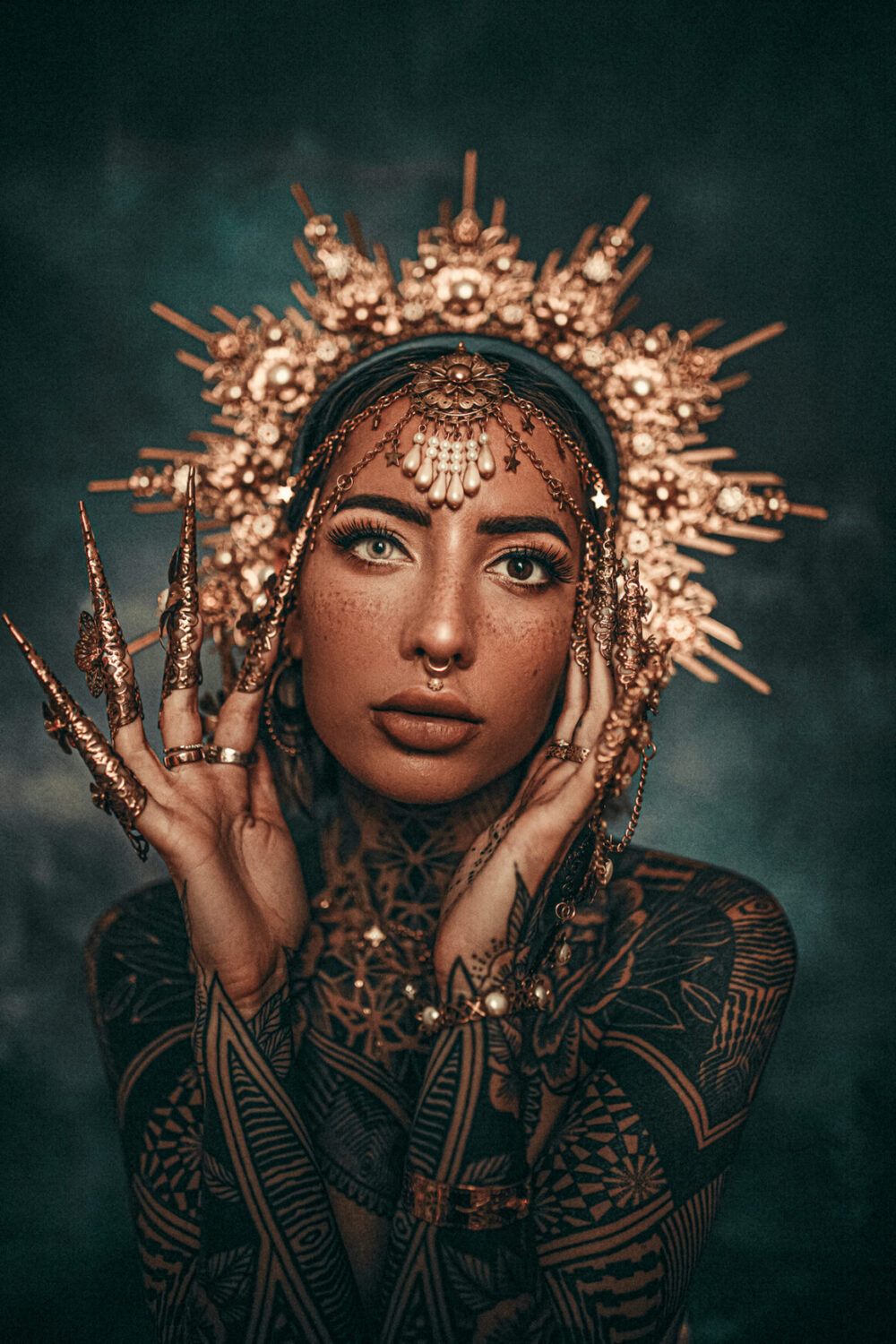 Blum, as well as a beautiful female tattooer, is also a stunning model originally decorated by a tattoo artist from Marseille, RemyB of "Prisme Tattoo".
Here's what Blum herself declared in a cover interview published in Tattoo Life magazine in the summer 2020 (issue number 125, July/August 2020, more infos here).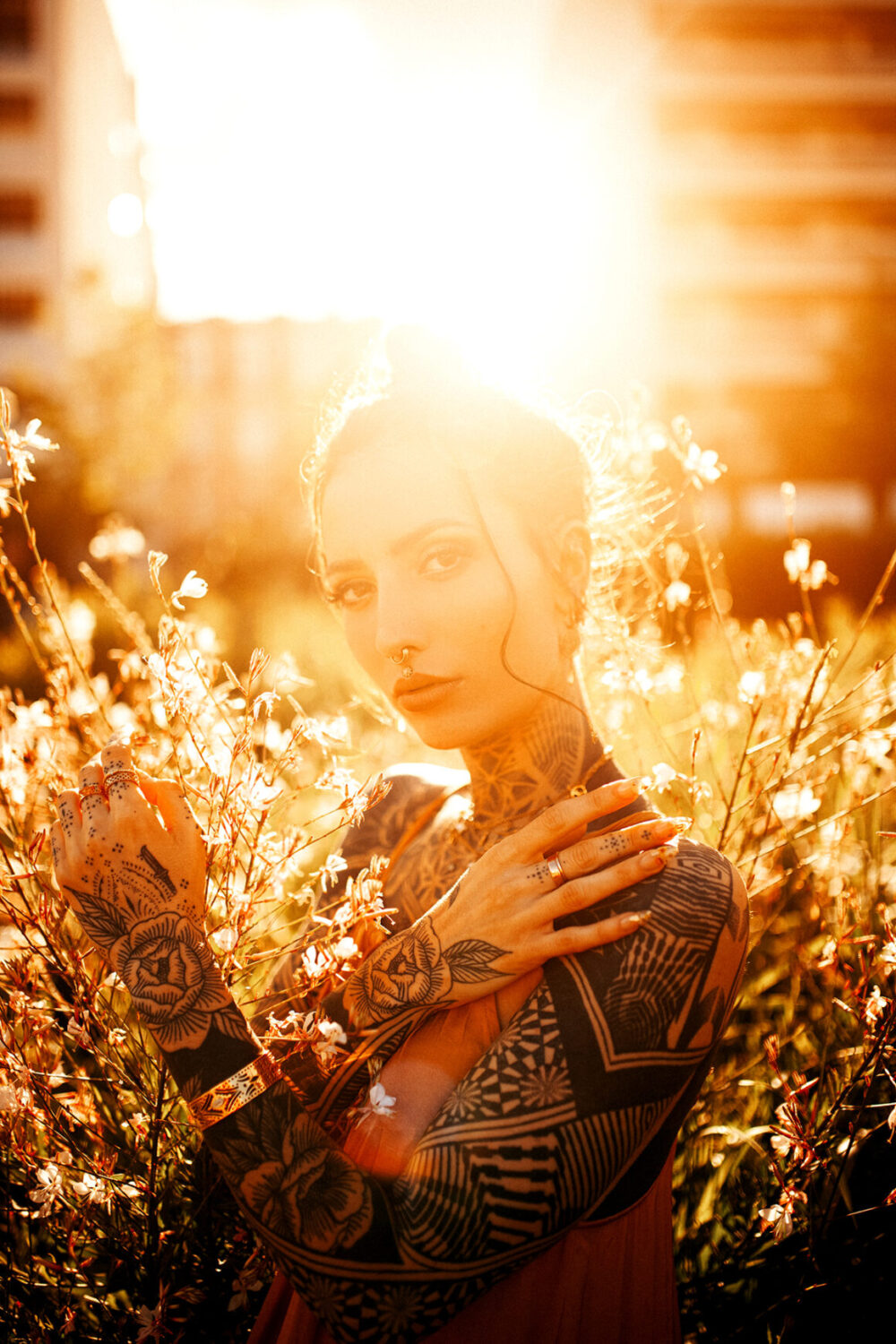 «Yes, it was Remy who gave me the desire to tattoo myself in such a flashy and intense way. I wanted to wear some of his work and I trusted him completely. It all started unexpectedly, from the chest, without knowing how far up the body would go, and when the project would have its own conclusion.»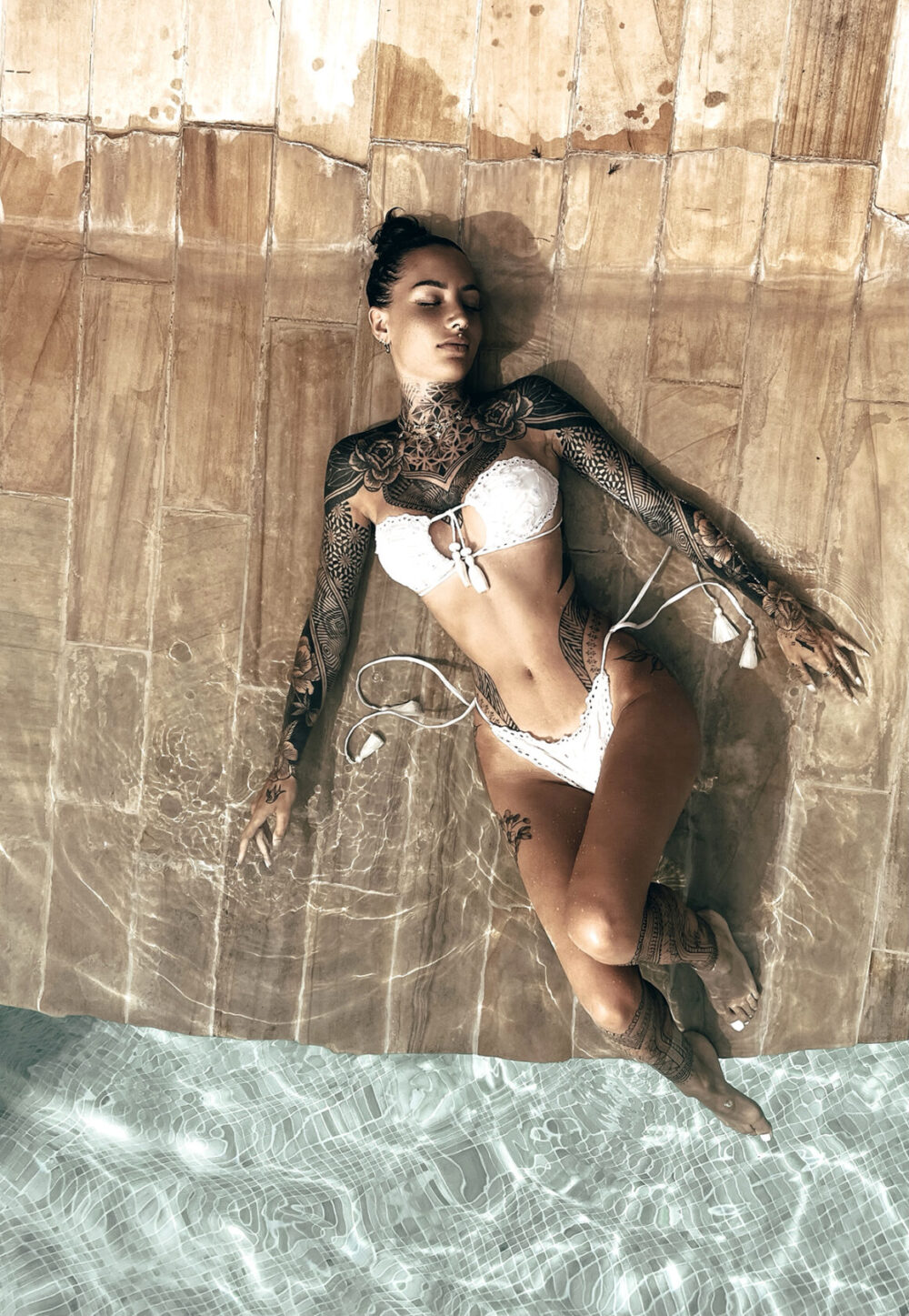 The sought-after ornamental tattoos that Blum wears not only symbolize a language of art, but also an aesthetic desire sublimated by what the tattoo artist herself posts on her Instagram page (@blum.ttt):
«My first two tattoos – she says – possess a certain symbolism because the swallow (on my right hand) is synonymous with luck, loyalty and love; while the knife (on my left hand) is connected to my father who was, in fact, a cutler for a living. All the rest of my ink, however, is purely aesthetic.»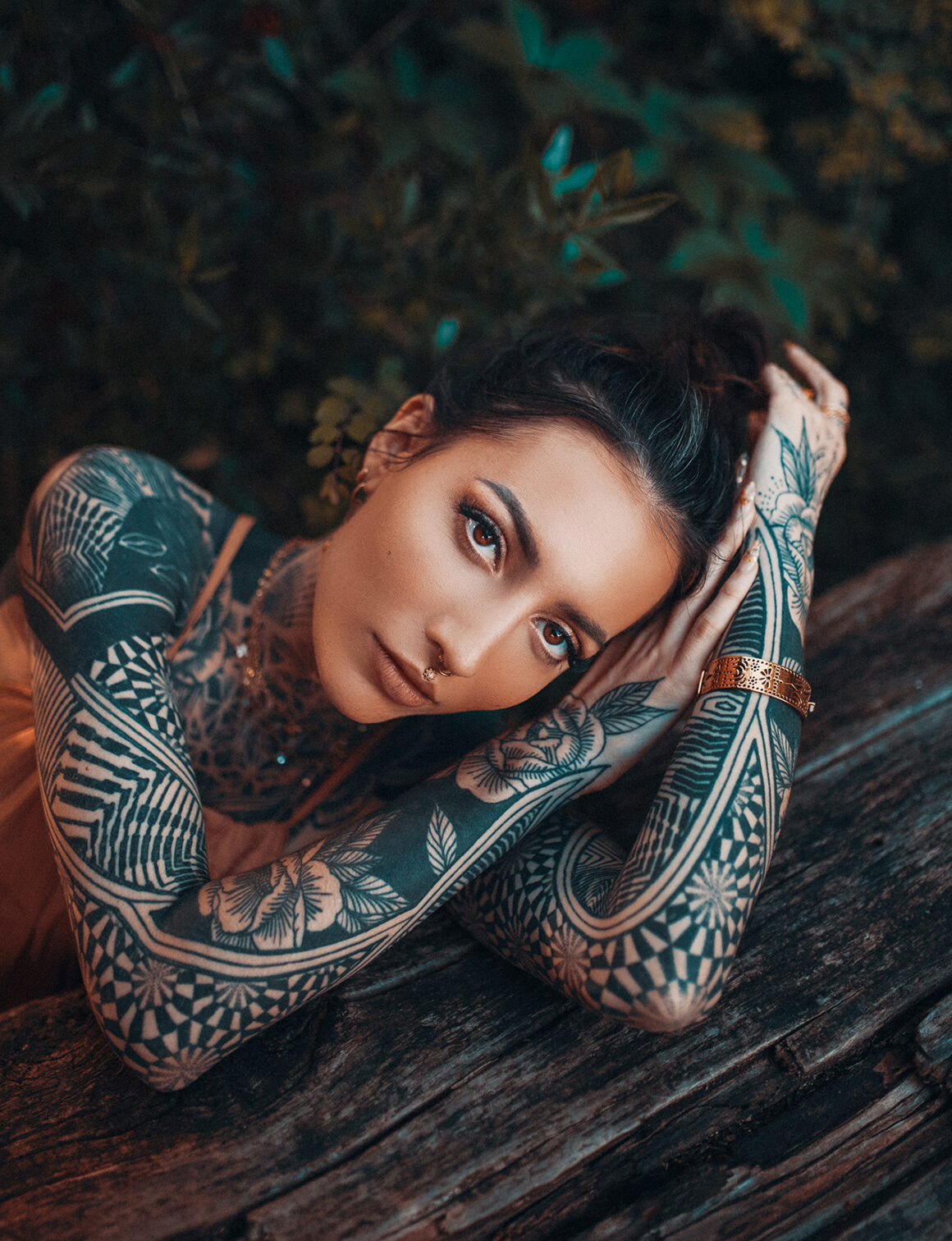 Regarding her craft that takes inspiration from henna tattoos, Blum's ideas are quite clear and bound to expand in the future. "Expand" in the truest sense of the word! As quoted from this other statement of hers, «I think every artist tries to develop and establish their style over time.
For my part, I would like to one day tattoo full bodies, true full body suits!
I see the body as a canvas and, most of the time, we only have access to a small part of it. Hence the idea of being able to work on a whole canvas is very appealing to me.»
TATTOO LIFE CALENDAR 2022
The Tattoo Life calendar for 2022 is now out and you can download it for free with any purchase on tattoolifestore.com and tattooebooks.com
CLICK DOWN AND GO STRAIGHT TO THE STORES