That means working daily for the owner of 'Sulphur Tattoo', a studio about 30 miles from Nuremberg. Let's find out his art inspired by Heavy Metal music!
Hi Billy, can you tell me a little bit about yourself?
Well, my name is Billy Bernert, I'm 36 years old and I live and work in a small town near Nuremberg in Southern Germany, together with my wife who runs the shop with me.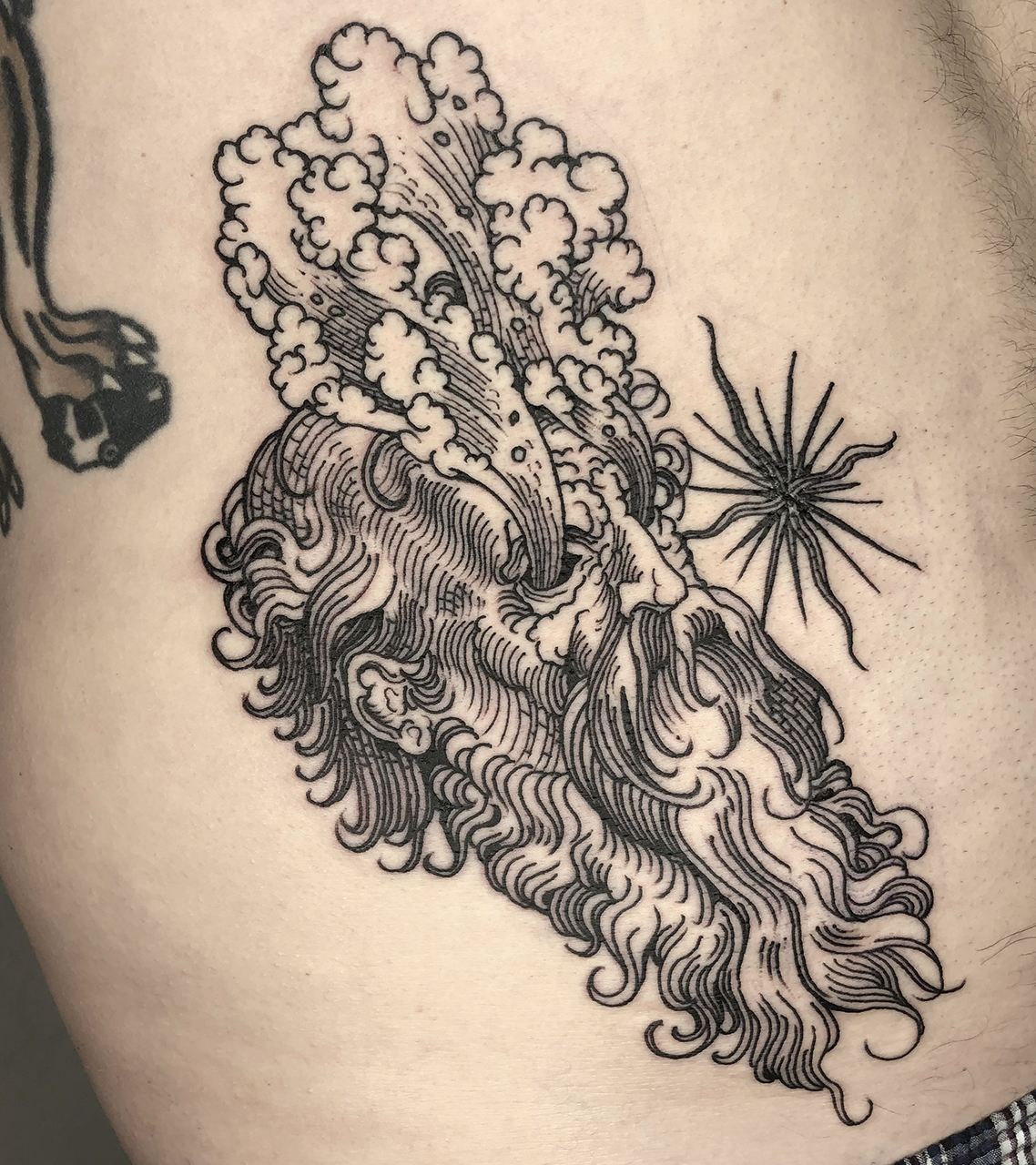 How did you get started in tattooing?
I had my tattoo apprenticeship in a shop in Nuremberg 12 years ago, and opened my first shop – always there – 9 years ago. Now we moved to the countryside as a complete private studio about 6 weeks ago, and I couldn't be happier! I have been drawing since I was a little kid and I got more serious when I picked up some drawing books at the local Library to study techniques and what makes a good drawing when I was about 14 or something.
Is there also Heavy Metal iconography among your main influences?
What really grabbed my attention and I still think it's a great design, was a poster from the band Metallica flashing a Pushead skull with a hand and a scale punching through it, I had it hanging in my room and was redrawing this motive very often, I still love it today.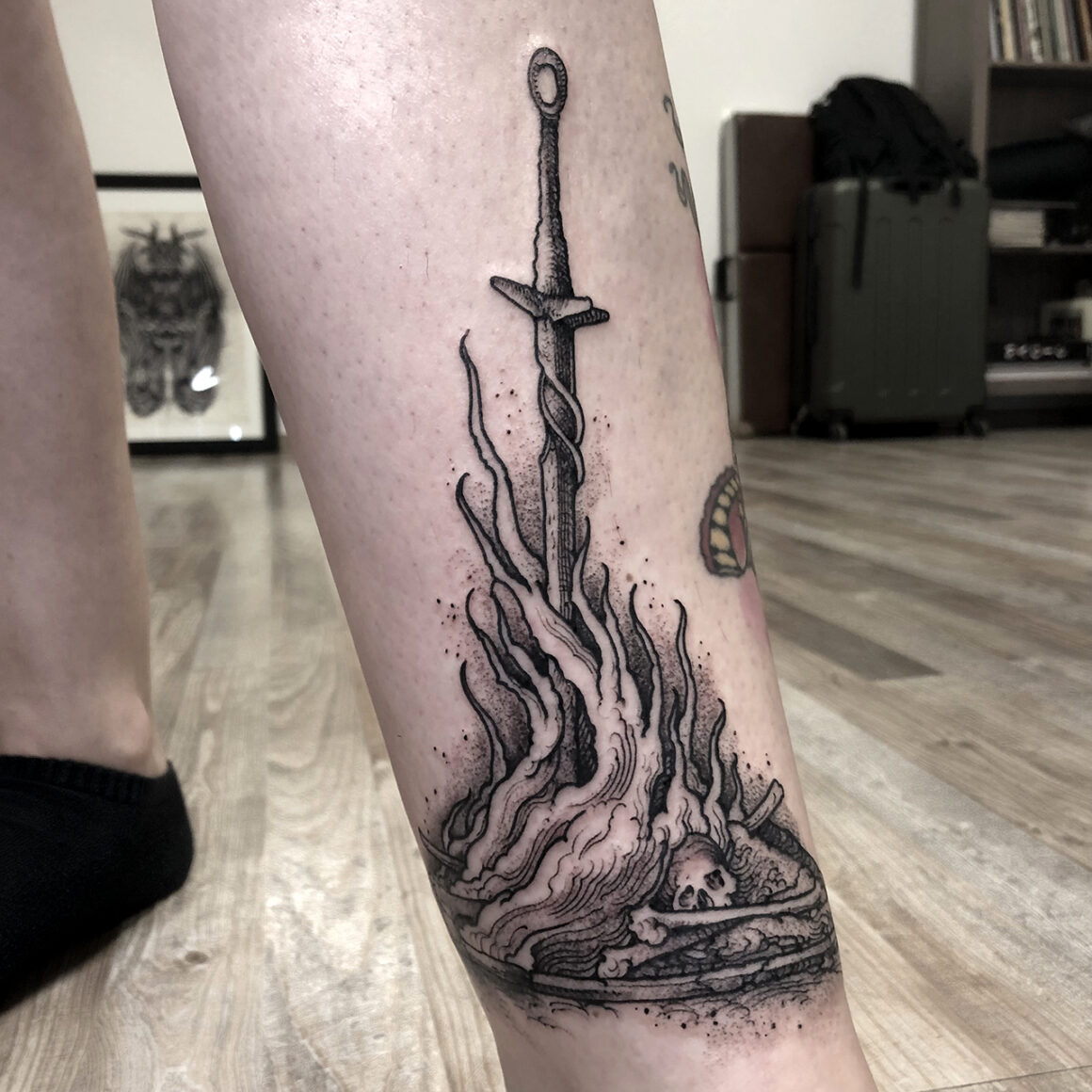 So are you a metalhead?
Yeah! I am a huge metal fan, though I listen to a lot of Black Metal, which gives me a certain vibe or "meanness" that I try to put into the drawings. It's not neccessarily the artwork but more kind of a feeling that comes with this music. My main influcence are woodcuts and drawings from around 1500 A.D. especially Albrecht Dürer's work and his contemporaries, it speaks to me in a way I cannot explain and it's Metal as hell! (laughs)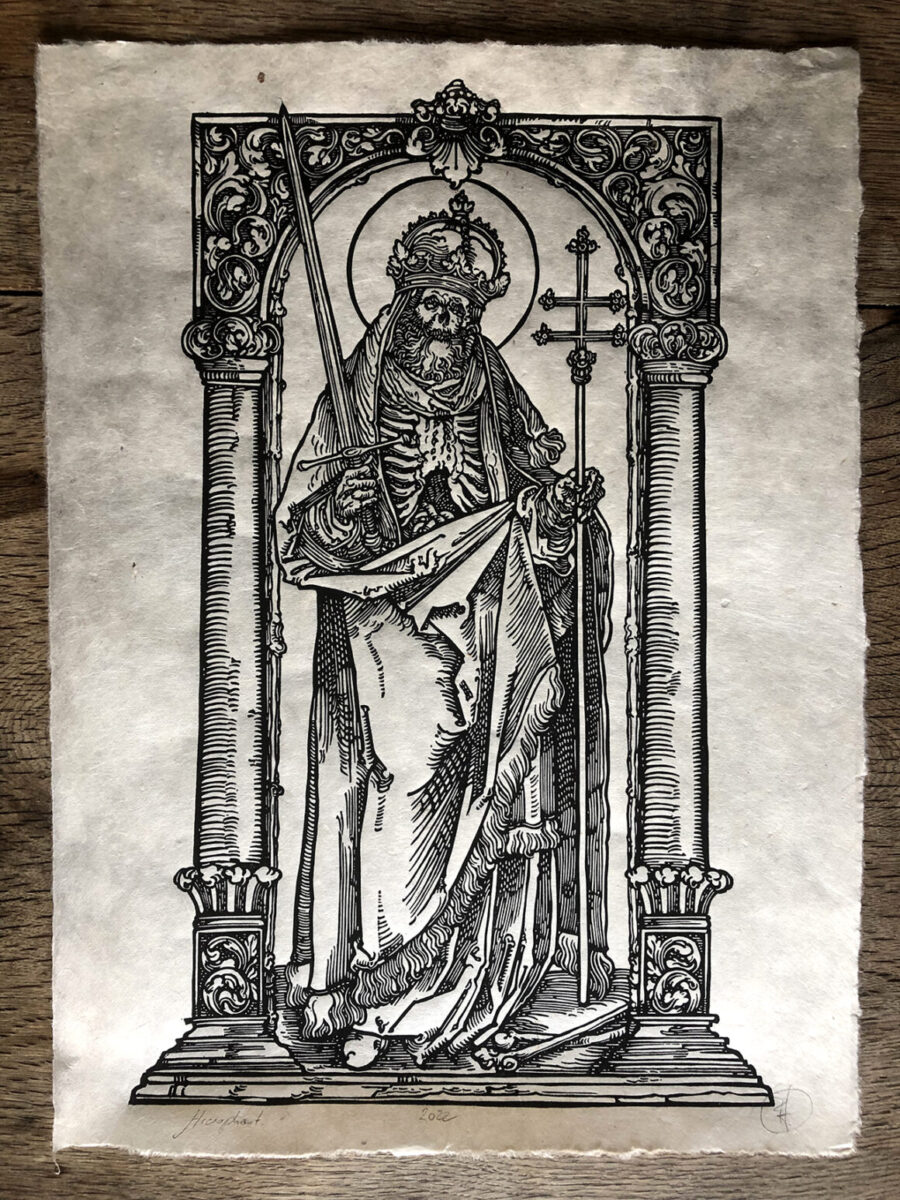 I think your work would make a splash if turned into some nice album artworks. I also found there an influence from old Metal demo tapes from the mid to late 80s. I would like to know your opinion on this…
It's very important to me! Metal fuels some kind of otherworldly drive to work and capture a certain feeling in the drawings and artwork in a unique way that I couldn't live without. I also like the rough and crude artwork of demo tapes and old school Black/Death Metal or the small details in booklets, it's super inspiring! I am sure some drawings would work as metal covers, but to be honest, I only had bad experiences with making commissions, be it brands or band stuff.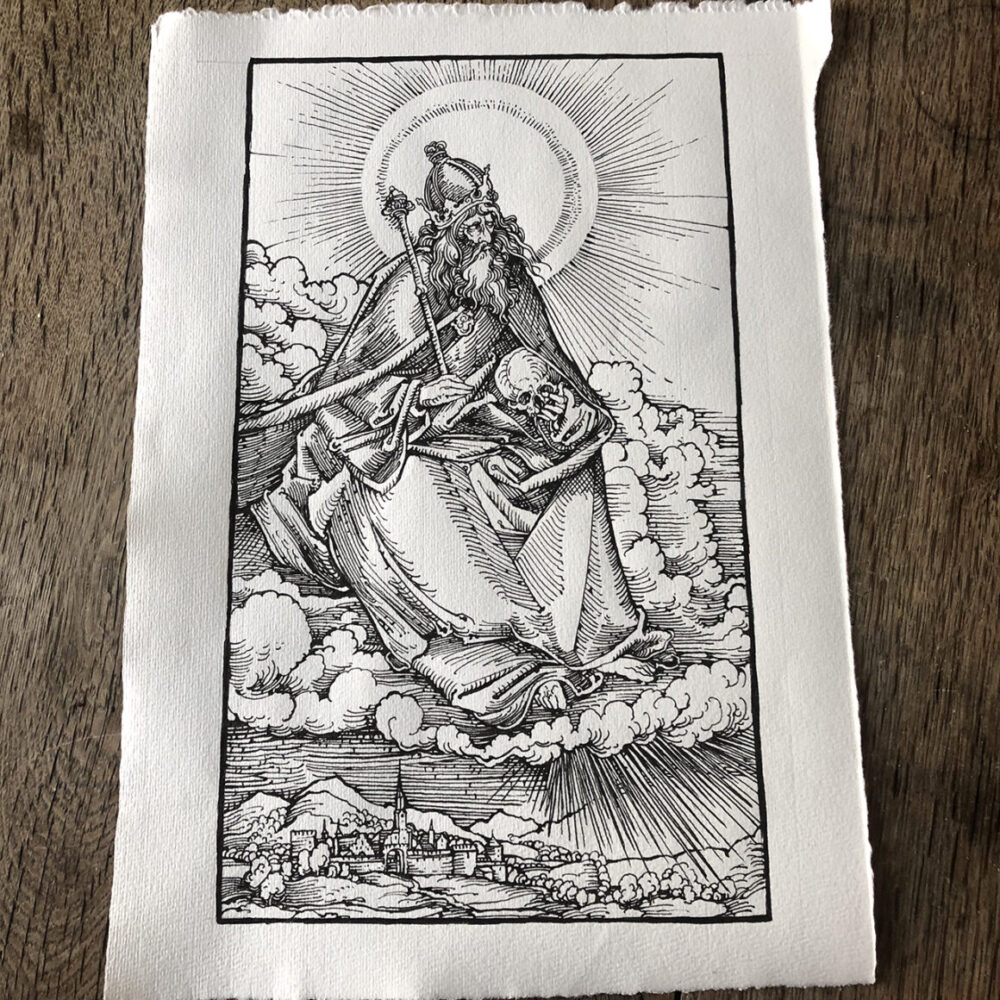 About drawing are you a no-compromise guy?
Yes. To me drawing and printmaking is something where I can do what I want without making compromises with other people's tastes or feelings. I am very open when it comes to tattoo designs, the concepts often come from customers or we work out something together and it's always "give and take" and I really like that, but drawing and printmaking is my own little space to relax and learn.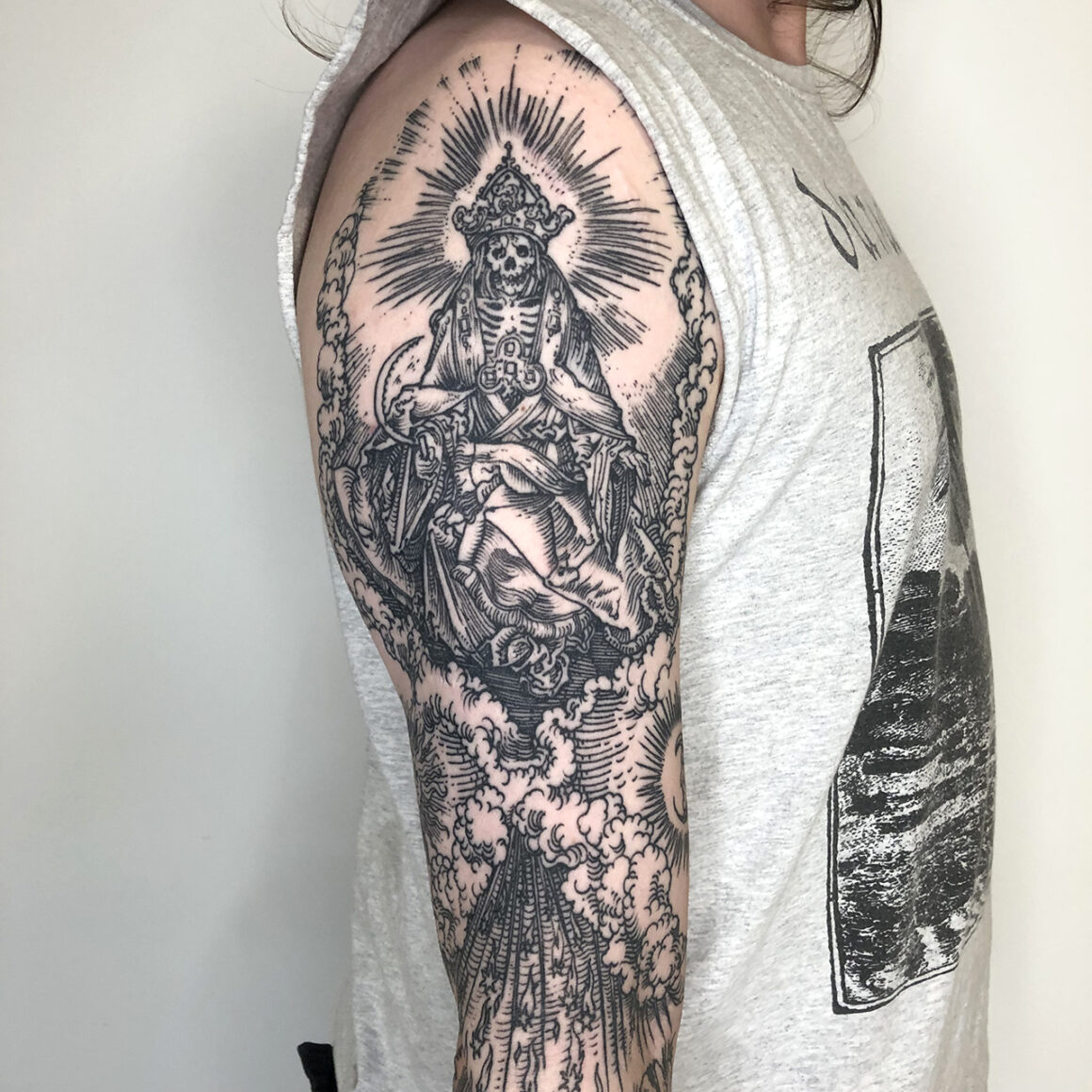 If I really have to be honest, I would have a hard time choosing between getting a tattoo from you or taking home one of your illustrations on paper. It seems to me that you are great at both. What do you think?
Why not both? (laughs) Thank you, it's great to see that people see the connection I try to achieve between illustrations and tattoos. I try to incorporate a kind of trademark style, where pen and ink and tattoos become interchangeable, as far as the technique of tattooing allows it.
When I draw I try to think of it as a tattoo and vice versa.
I think I learned the most from making lino and woodcut prints which are much more straightforward and cleaner than doodling with pen and ink which comes in handy again when tattooing. So you could say those different techniques are all interconnected and they all have their pros and cons, but it's all a big learning progress, it never gets boring.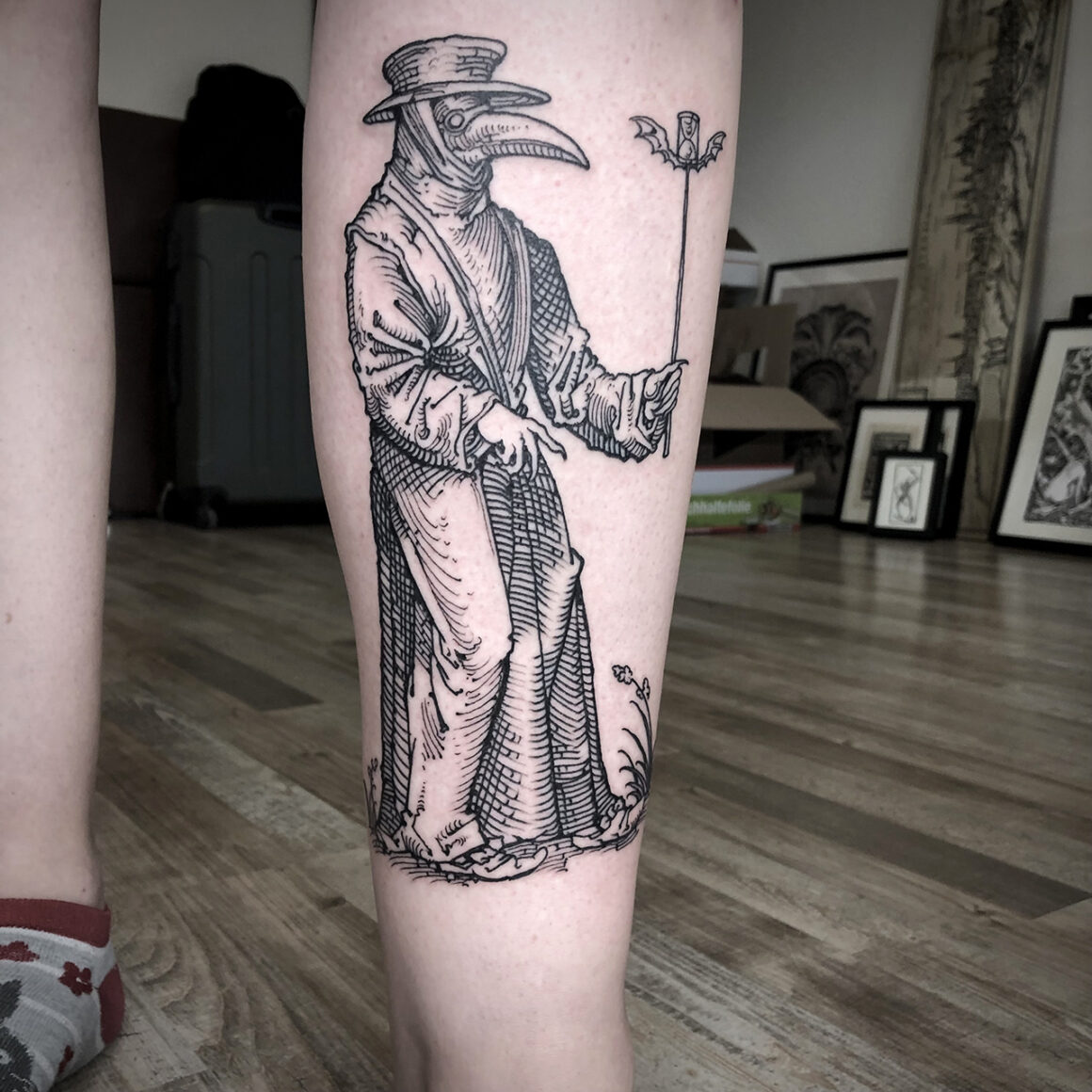 Have you had any teachers to say thank you to during your artistic career?
I am definitely very grateful for getting the opportunity to get an apprenticeship, which didn't cost money and was a great start into this whole crazy tattooing sub-universe. Olli Niehoff and Mark Thiemig just put an add into a tattoo magazine in 2008 – I think – stating they were searching for an apprentice in their shop in Nuremberg.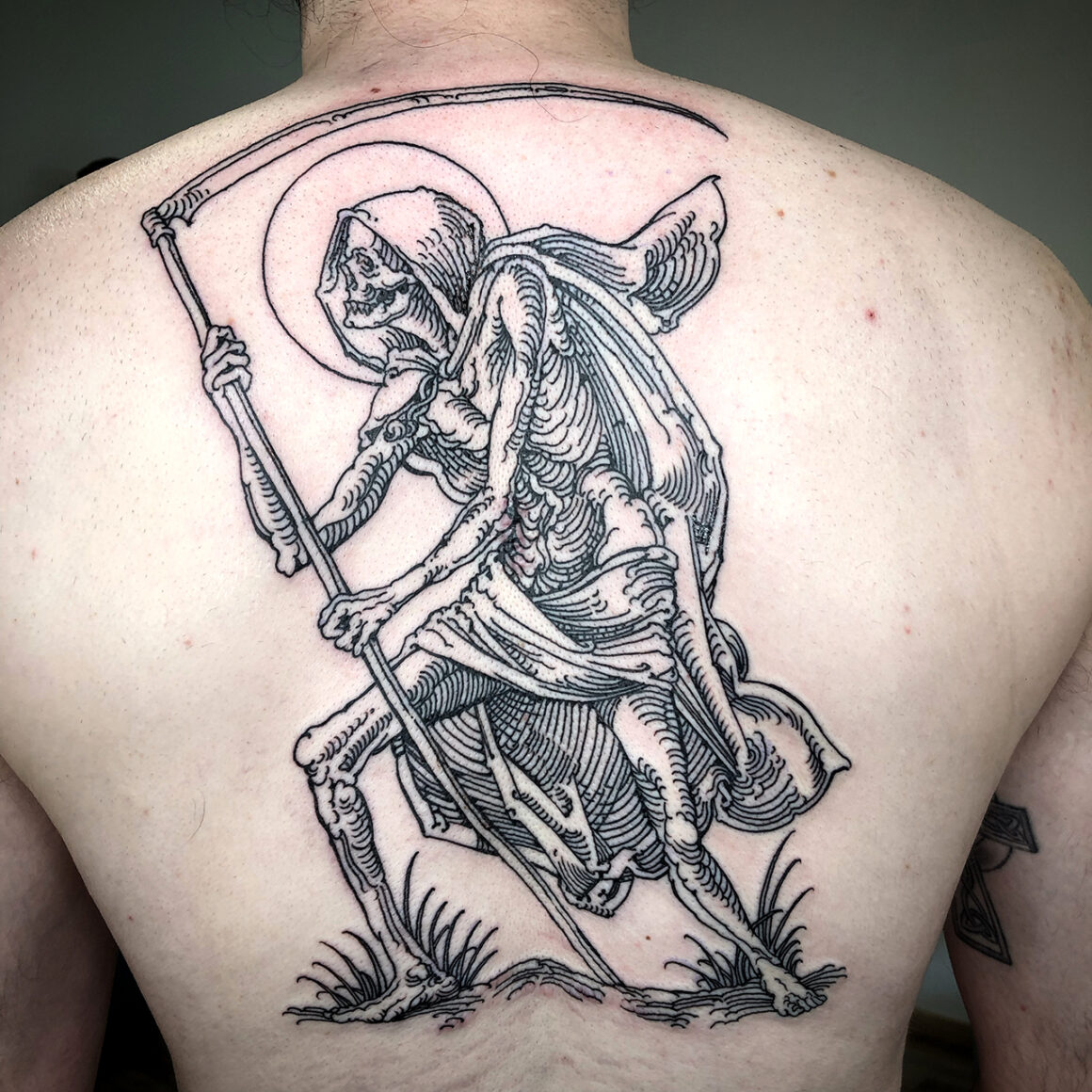 I applied with a curriculum and everything, and lucky enough they gave me the chance! I learned the basic techniques and everything that comes with running a shop from them. You know, there are just a lot of things you can't learn from YouTube videos or guessing what could work. What also still feels very important to me is getting tattooed by people whose work I like, there's always something new to learn, even if it only is a different way to fold a towel! (laughs)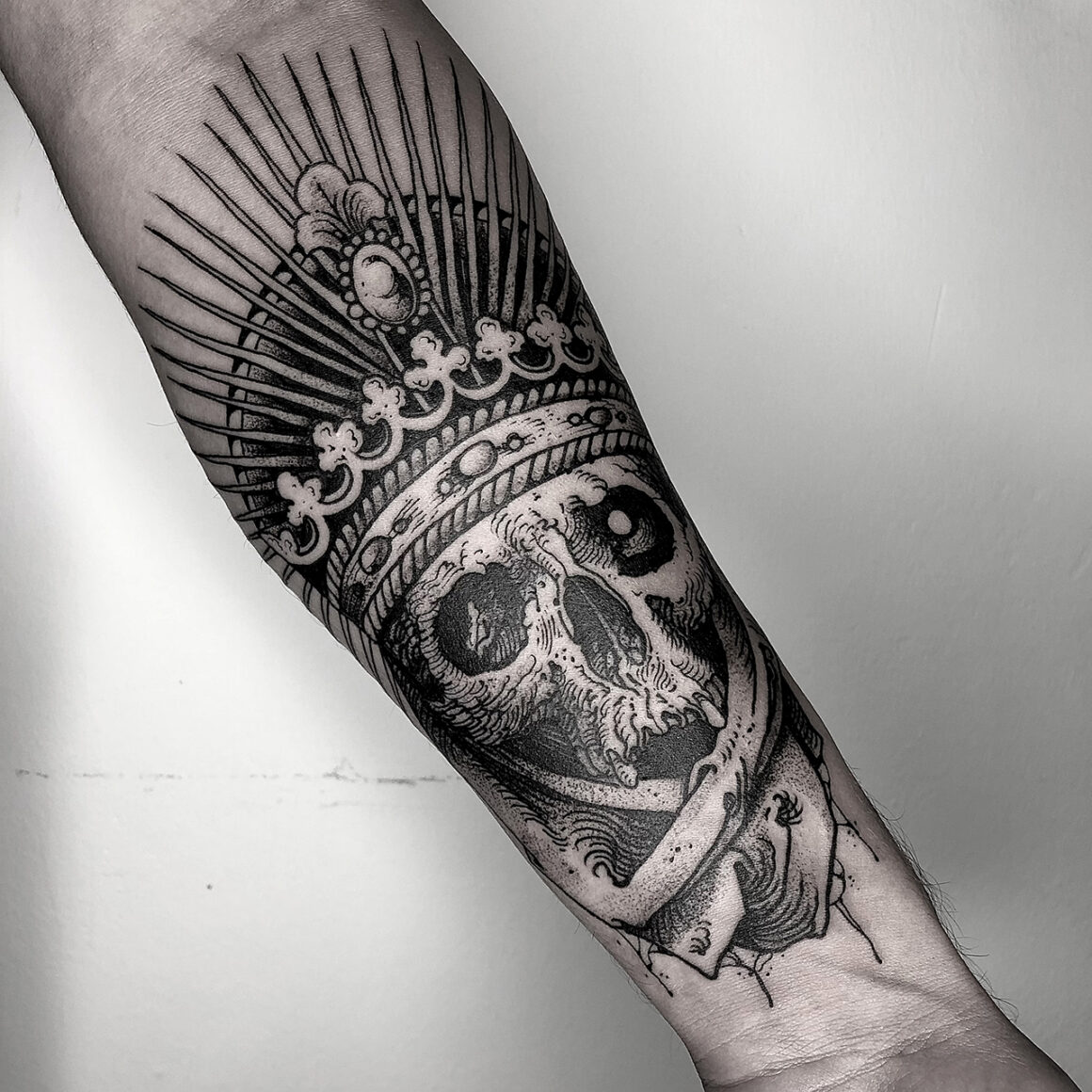 Teachers aside, how much did you put in yourself?
The rest is personal motivation, I guess and an ongoing curiosity in whatever style you feel most comfortable or have an innate connection to. It may sound cheesy but it's also important to remind yourself that there's nothing new under the sun and compared to Old Masters (in Art or tattooing) you are nothing! (laughs)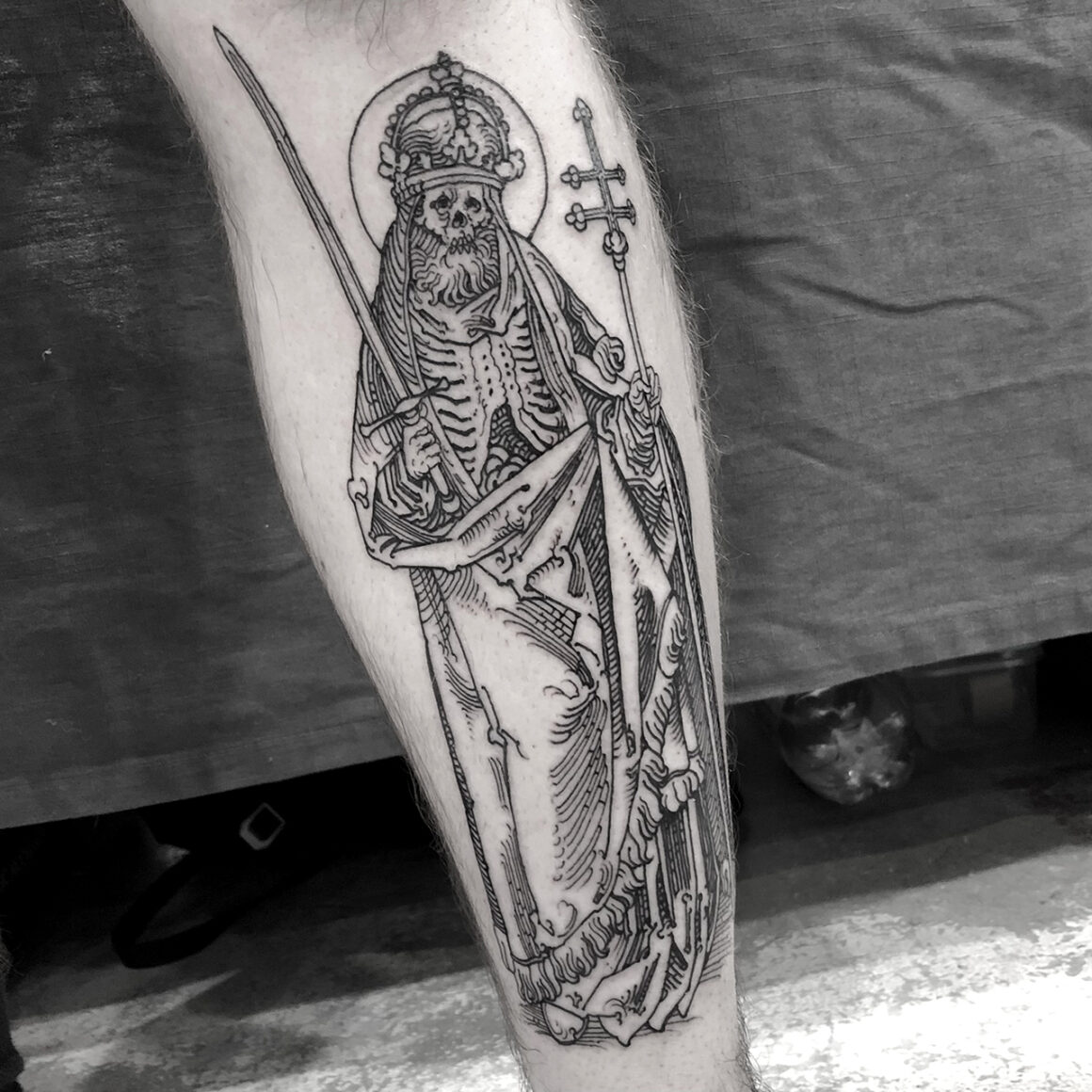 Can you describe 'Sulphur Tattoo'?
Actually we (my wife and I) are located 50 km south-west of Nuremberg, in Gunzenhausen, where we both grew up. It's a small town with some scenic lakes and landscapes and overall a nice place to live if you're not a party animal. The shop itself is located in a big complex with all kinds of businesses (carpenters, a driving school, a hip hop dance school etc.) but everyone is minding their own business here and it's super relaxed.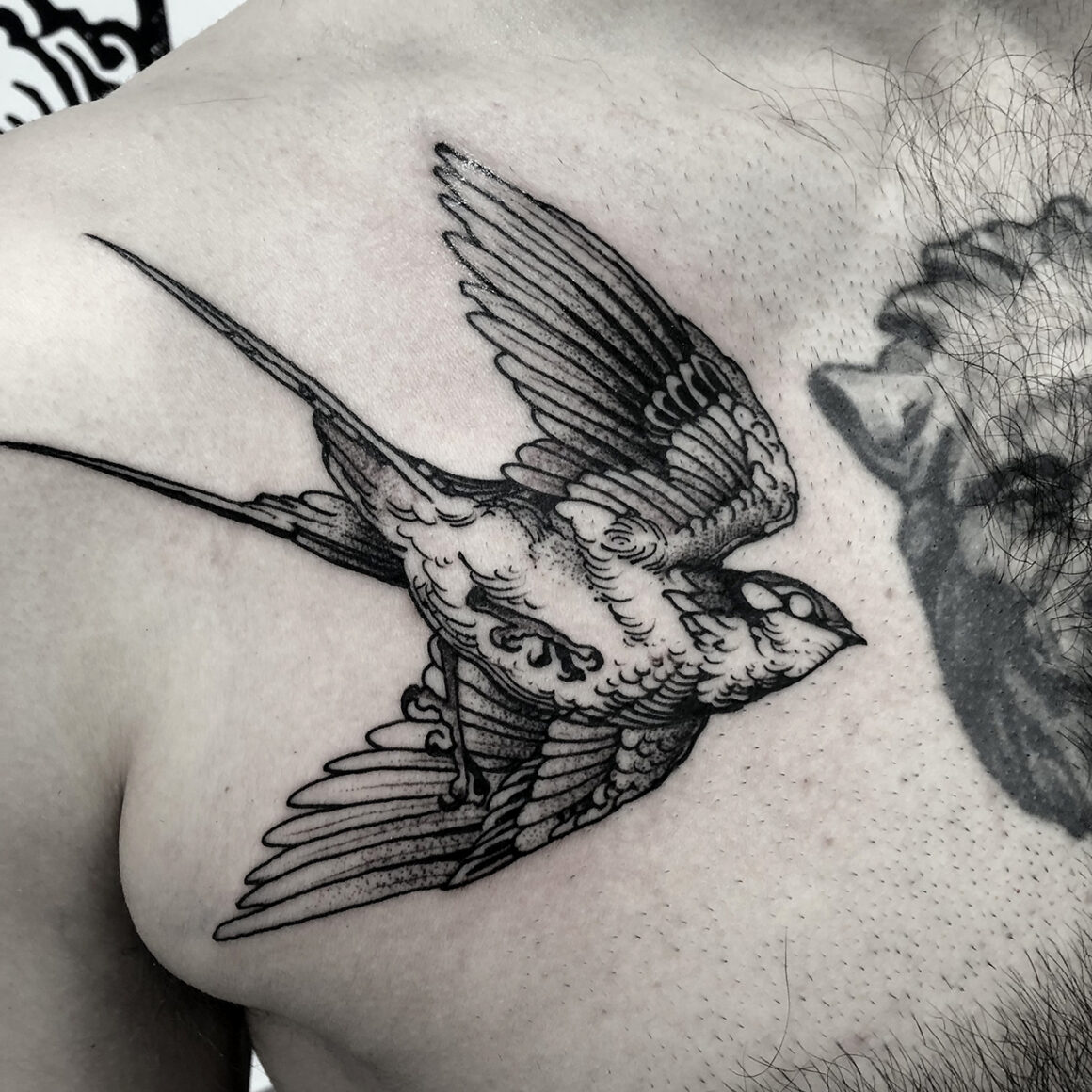 Tell me something more about it.
The studio itself is basically 2 big loft like office rooms on the second floor and some people already asked if we live in there. We have no signs or anything attached. Our customers are picked up downstairs at the front door. You probably won't find the shop inside the house as it is a bit like a labyrinth. But we like it!
Are you planning any German/international conventions or guest spots between next summer and fall?
Well, to be honest I never was that "travel guy" really. I did a few guest spots and enjoyed the experience, though it really freaks me out to work in a different environment, not having talked to the customers beforehand and getting out of my daily routine.
May sound strange and I always admired people that travel a lot and work here and there, but it's just not for me.
My life goal was to work at the German 'Kaiserstadt Tattoo Expo' in Aachen, which I did in late April, and other than that I am not planning any further conventions or guest spots at the moment. This may change of course but at least for this year I enjoy the 'Sulphur Tattoo' and taking everything a bit slower with more time to draw and go for motorcycle rides with my wife.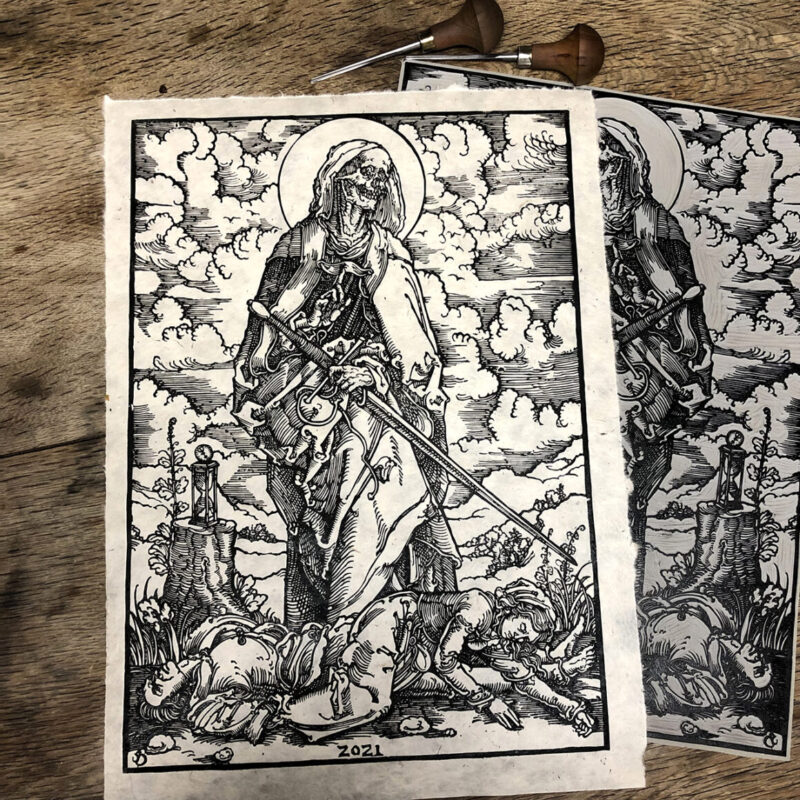 And your last famous words are…?
What can I say, other than don't take everything too seriously. Or with a quote from a Danse Macabre: "In death no difference is made, between the scepter and the spade".