We went to Barcelona to meet one of the artists working at 'Black Ship,' a tattoo shop near the Sagrada Familia. And we got to listen to her very interesting story.
Barbara, when did you discover tattoo art and when did you feel the desire to become a tattoo artist? A "Tattooer" as you call yourself…
I discovered my interest in tattoos when I was very young in TV shows and metal, punk or hip hop music videos. I was fascinated by people who had lots of tattoos but it wasn't until I moved to a bigger city that I was finally able to get my first tattoo and get to know that scene a little more.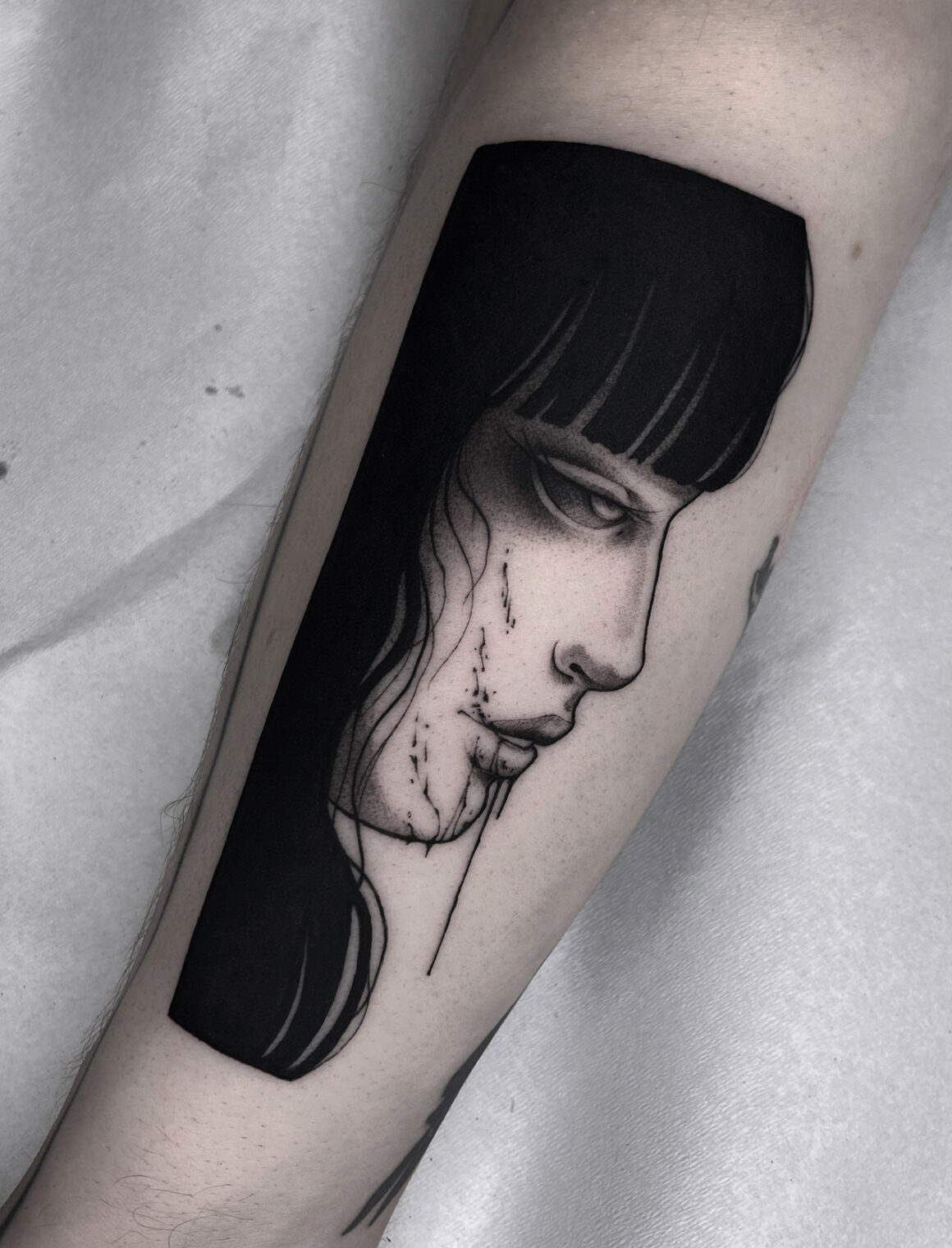 After that I started my degree in fine arts and surrounded myself with other artists, some of them tattoo artists, but it wasn't until years later when I discovered the work of Angelique Houtkamp, who was a real inspiration for me.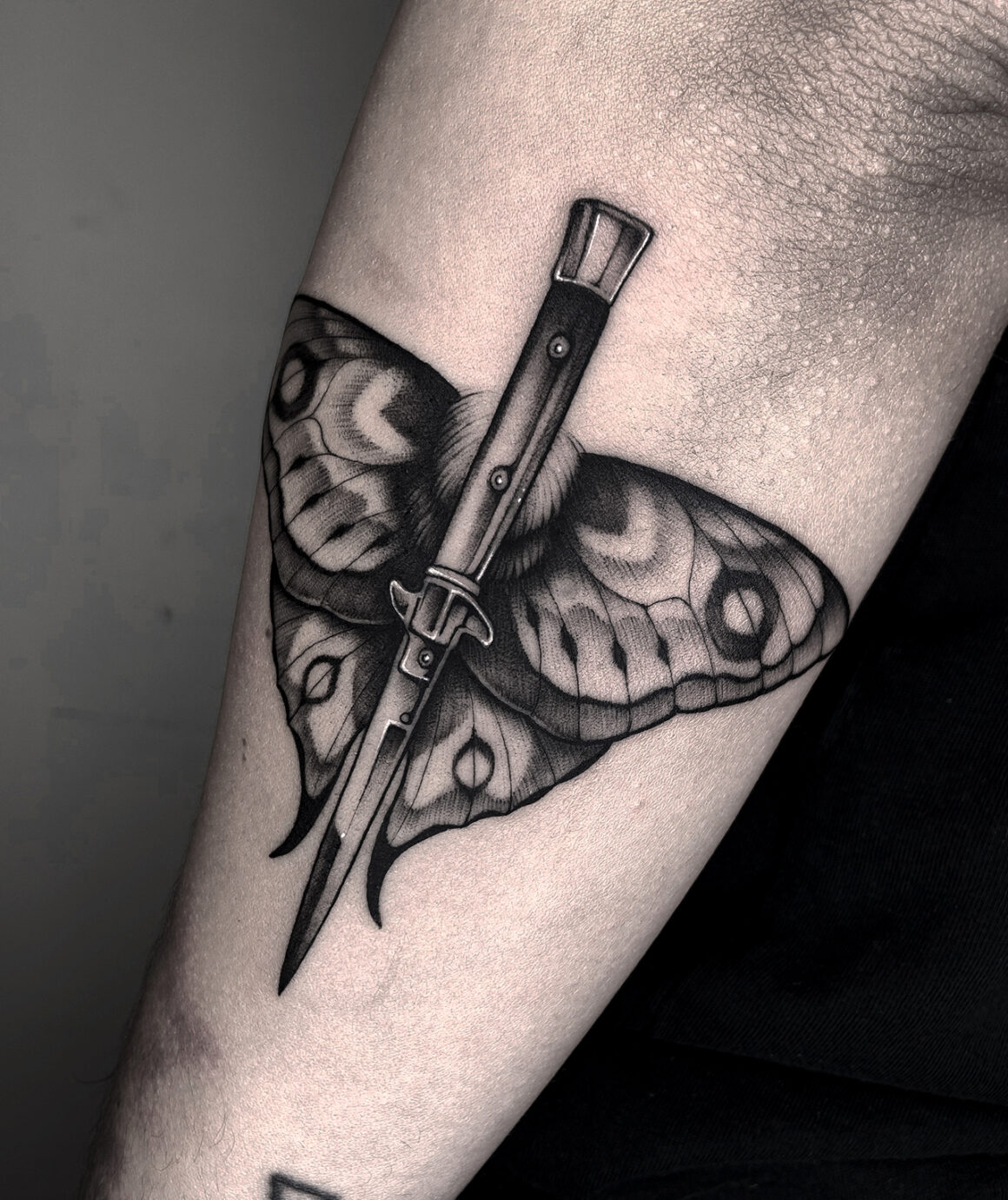 What happened later?
Until that point, I had only met male tattoo artists and seeing a woman as Angelique manage to make a name for herself in the industry encouraged me to continue drawing and learning. By then I still had a lot of insecurities and fears about starting to tattoo. I had a lot of respect for technique and the idea of doing something on someone's skin forever terrified me.
It was when my closest friends got in the scene, they almost forced me to take a tattoo machine and practice on them.
Many of my classmates and even teachers encouraged me to do it, so I finally moved to Barcelona (the tattoo capital of Spain) and left everything behind for the dream of becoming a tattoo artist. I think it was the best decision I made in my entire life.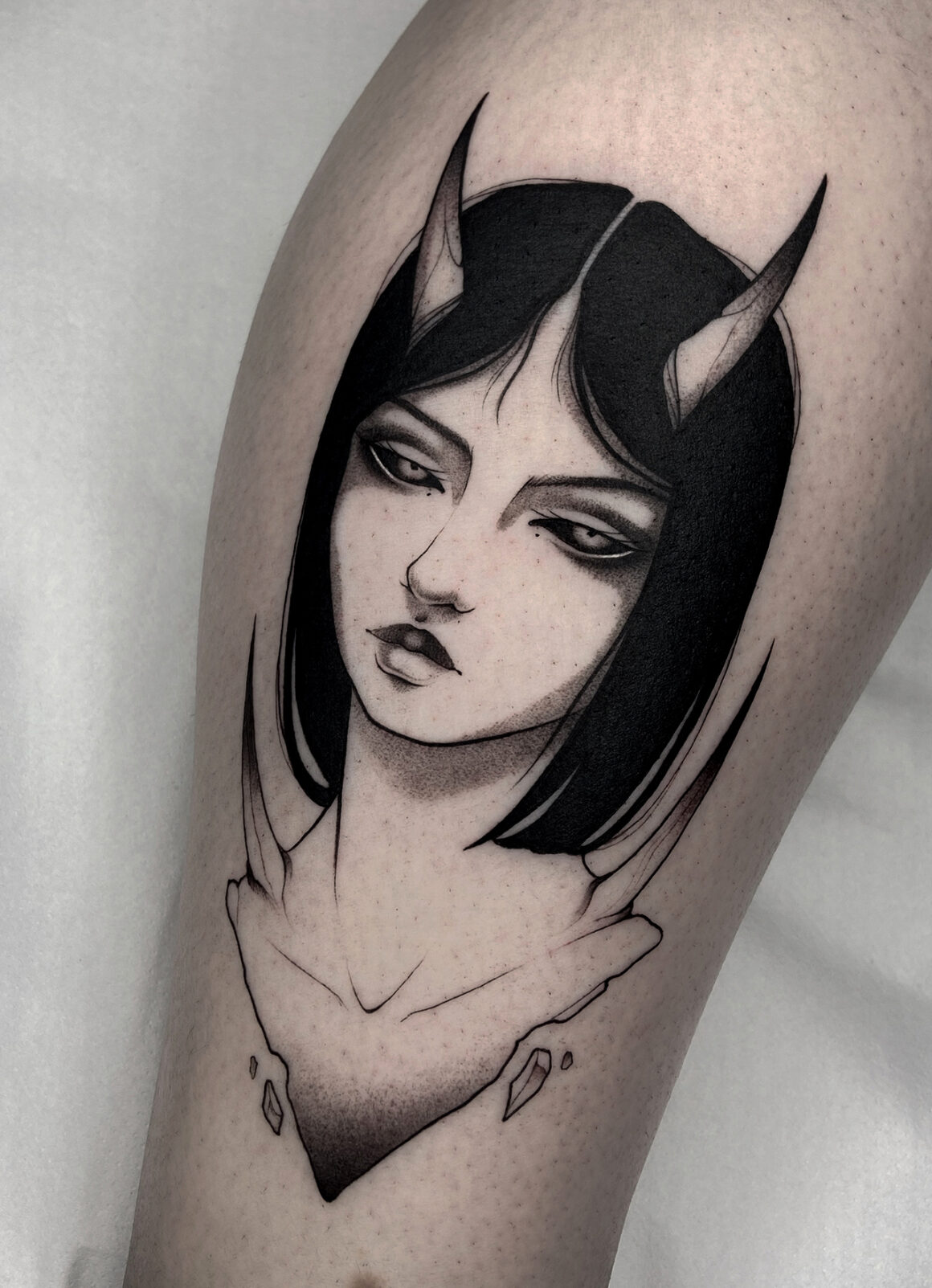 Do you think you had a teacher (or teachers) you would like to thank?
When I arrived in Barcelona, I had the opportunity to enter the former studio of Kike Esteras and his team as an apprentice, he was the one who taught me a lot about this world so unknown for me: how a shop works, important values for a tattoo artist, effort and dedication, the importance of drawing every day and of course tattoo technique.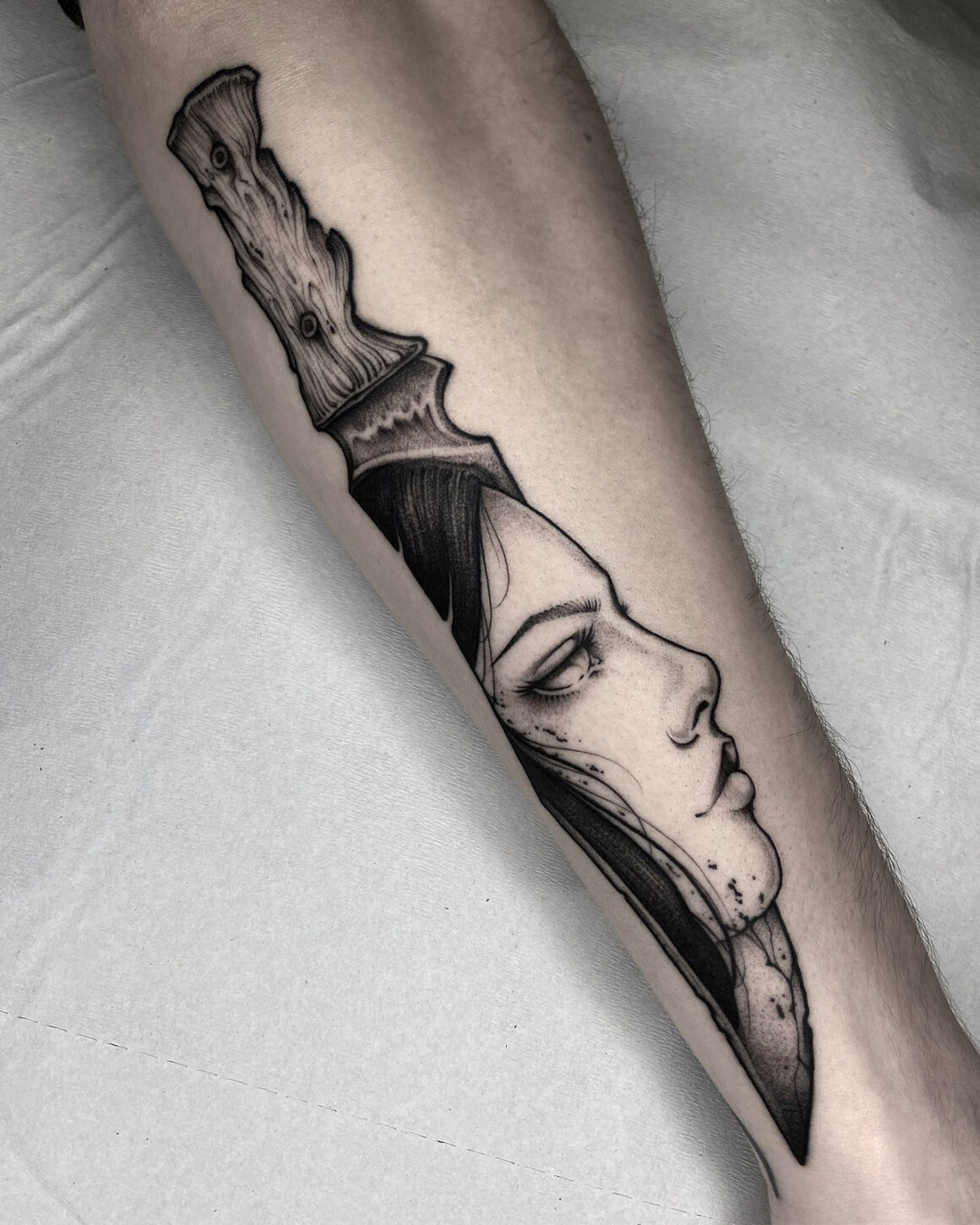 After that period of my life, I went my own way, working in different studios, meeting and working with other tattoo artists, so I could say that I had many teachers and I think that in this job you never stop learning from others. And that's what I like the most. Thanks to everyone who stopped for a minute of their life and gave me valuable advice!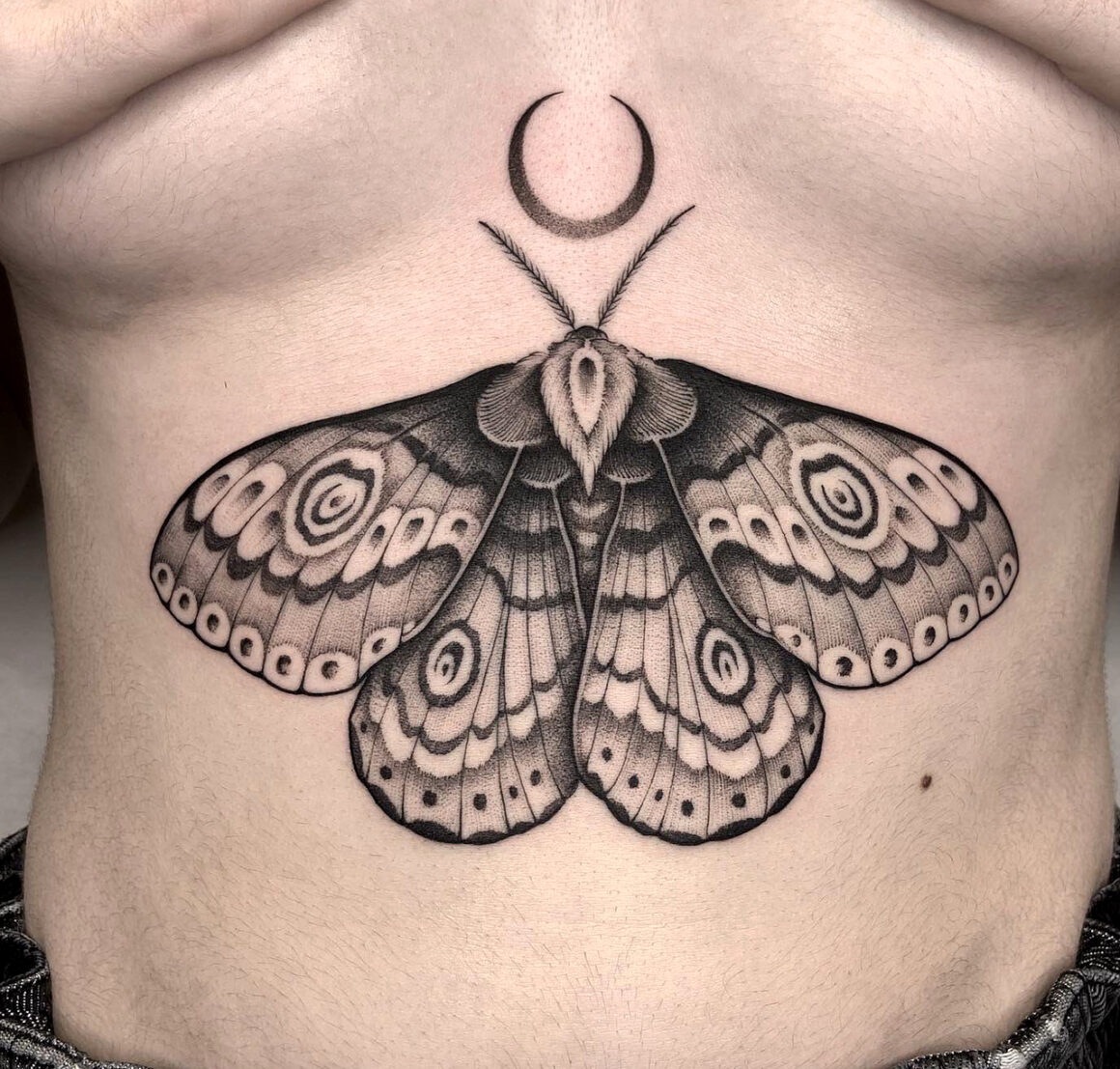 You call your works "soft&black tattoos." When you talk about "soft," are you referring more to your touch or to your choice of subjects that exclude violent or explicit figures?
When I describe my works as "soft" I'm talking about the technique: a smooth dotwork shading and a touch of deep black. Although I could also refer to the subjects I use since, even tattooing elements like insects, knives, skulls, demonic women, blood and other things that could be considered "dark", I think my style is softer compared to other blackworkers.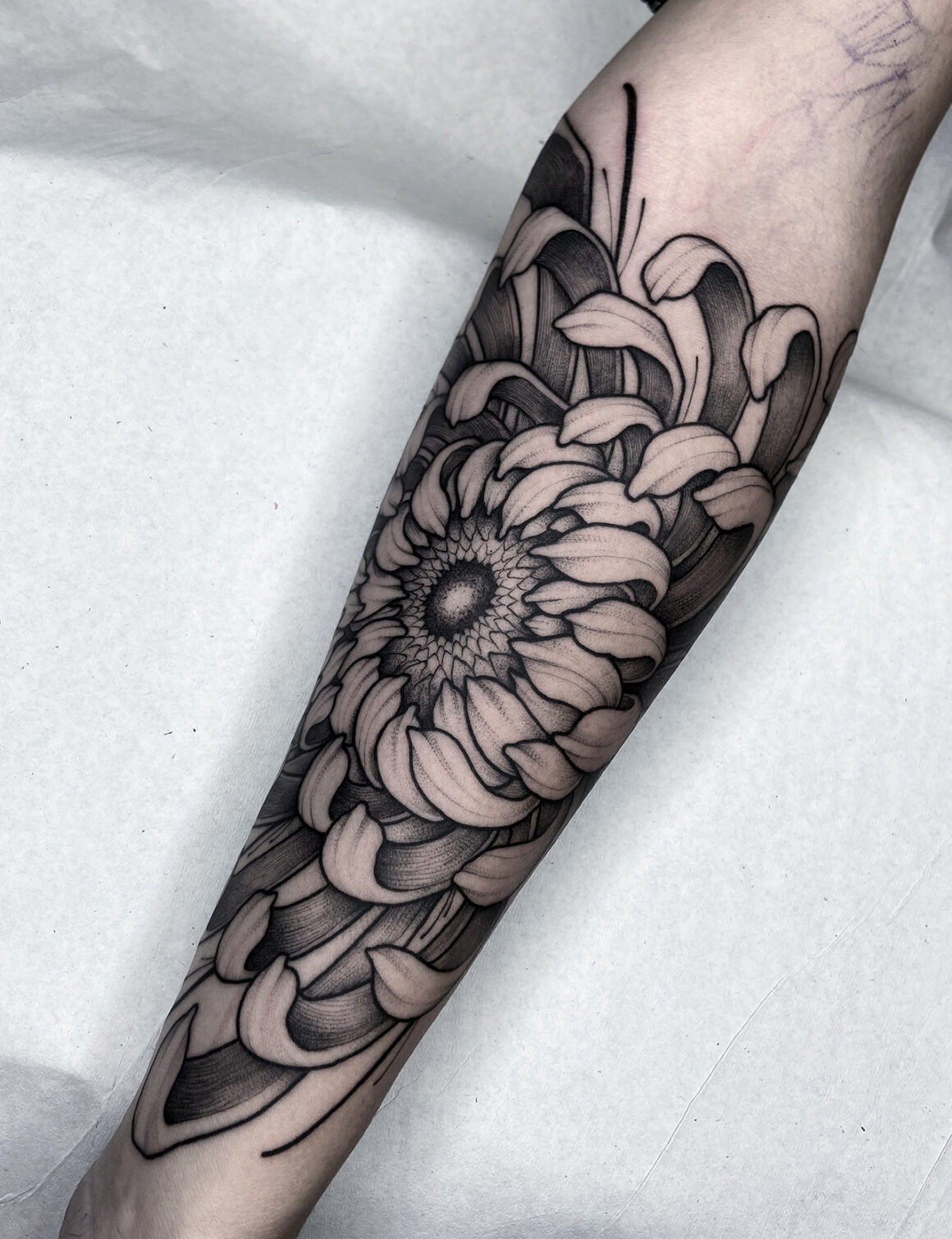 Can you frame your style in any way? Where does the inspiration for your subjects come from?
I could define my style as dark and sexy. When it comes to work, I've always been inspired by many elements such as music (witch-house/synthwave especially), video games, movies, artists, photography, and lately I'm more focused on the work of artist Junji Ito.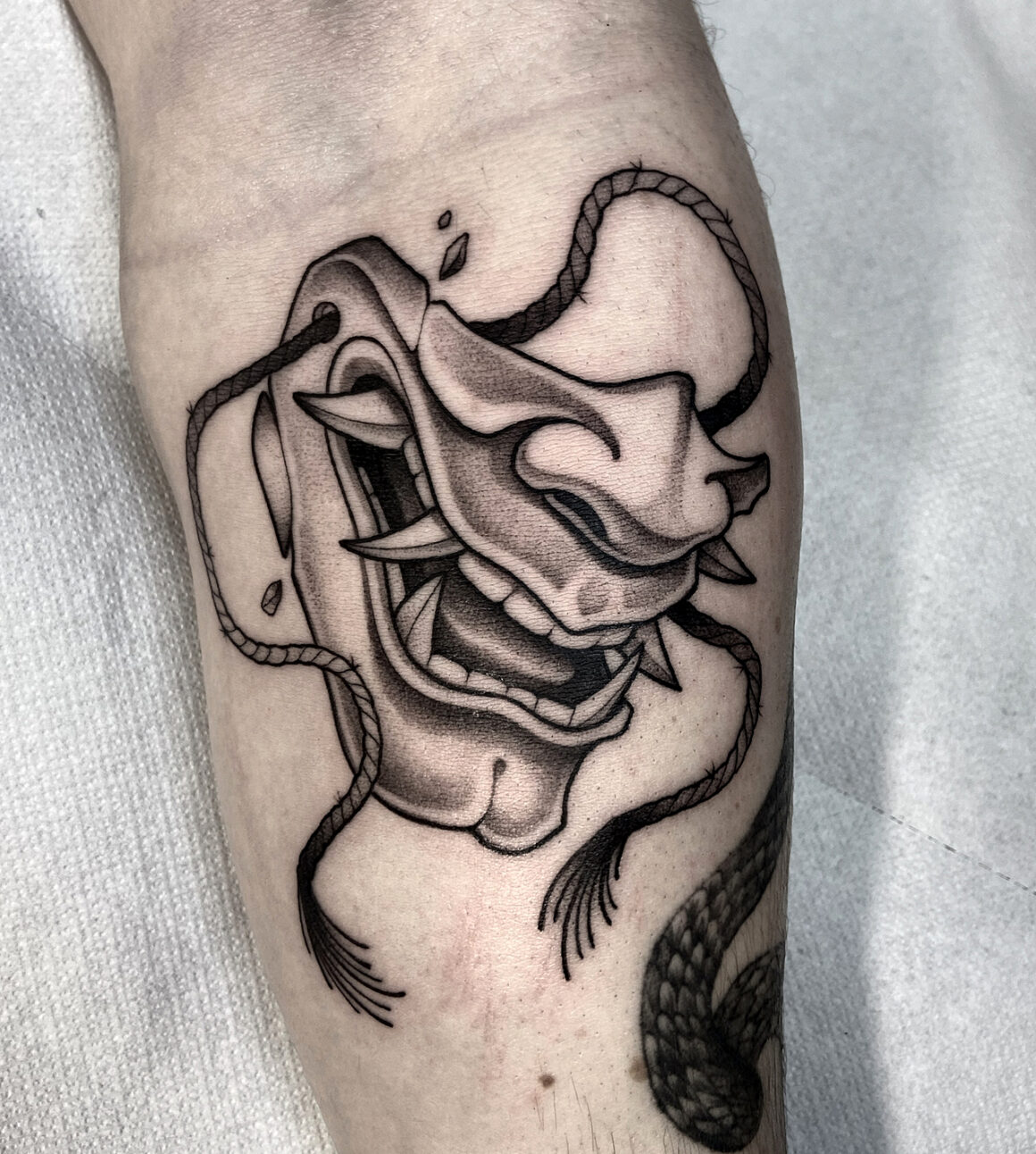 Tell me about him.
Ito fascinates me for the way he uses contrasts to create drama in his drawings. During some (and sometimes long) periods of my career I have felt that inspiration wan't getting to me so focused on bringing my clients' ideas to life, leaving aside my own. Sometimes it's hard to get out of that black hole and it's a terrible feeling for any artist.
Lately I'm trying to focus more on my own essence and bring my own style to life in a deep and personal way.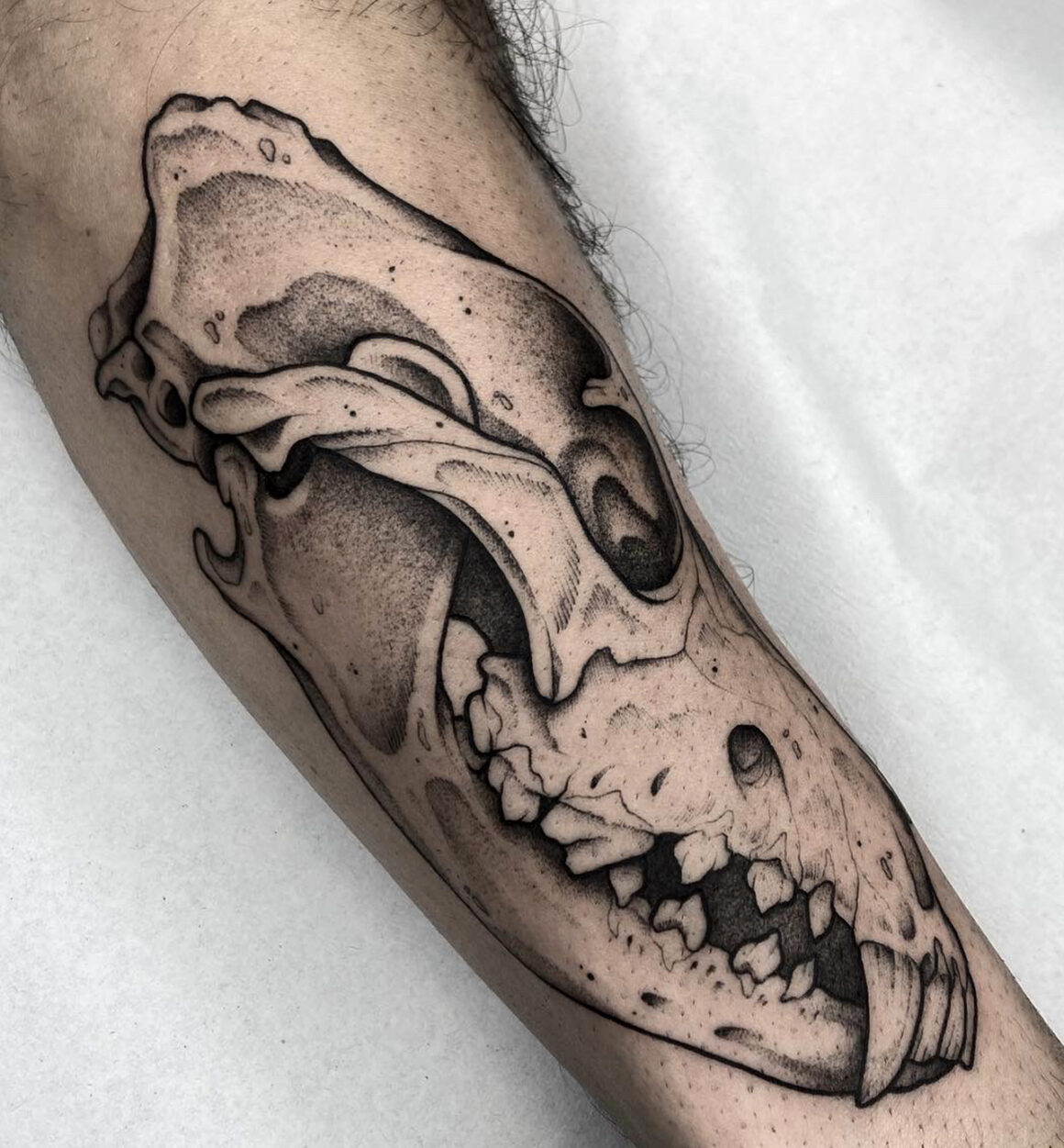 Your tattoos remain mysterious and fascinating at the same time. Works that attract the gaze of thoughtful people. What do you think of them?
Interestingly, I have an incredible variety of clients and most of them are looking for a dark touch in their tattoos. This makes me think that many more people than we think are attracted to that "dark and forbidden side". Many times my clients give me their ideas and I try to capture them in the best possible way, always within my style, they usually come through thoughts, experiences, dreams etc. Therefore I could say that most of my clients have a fascinating personality and way of seeing life.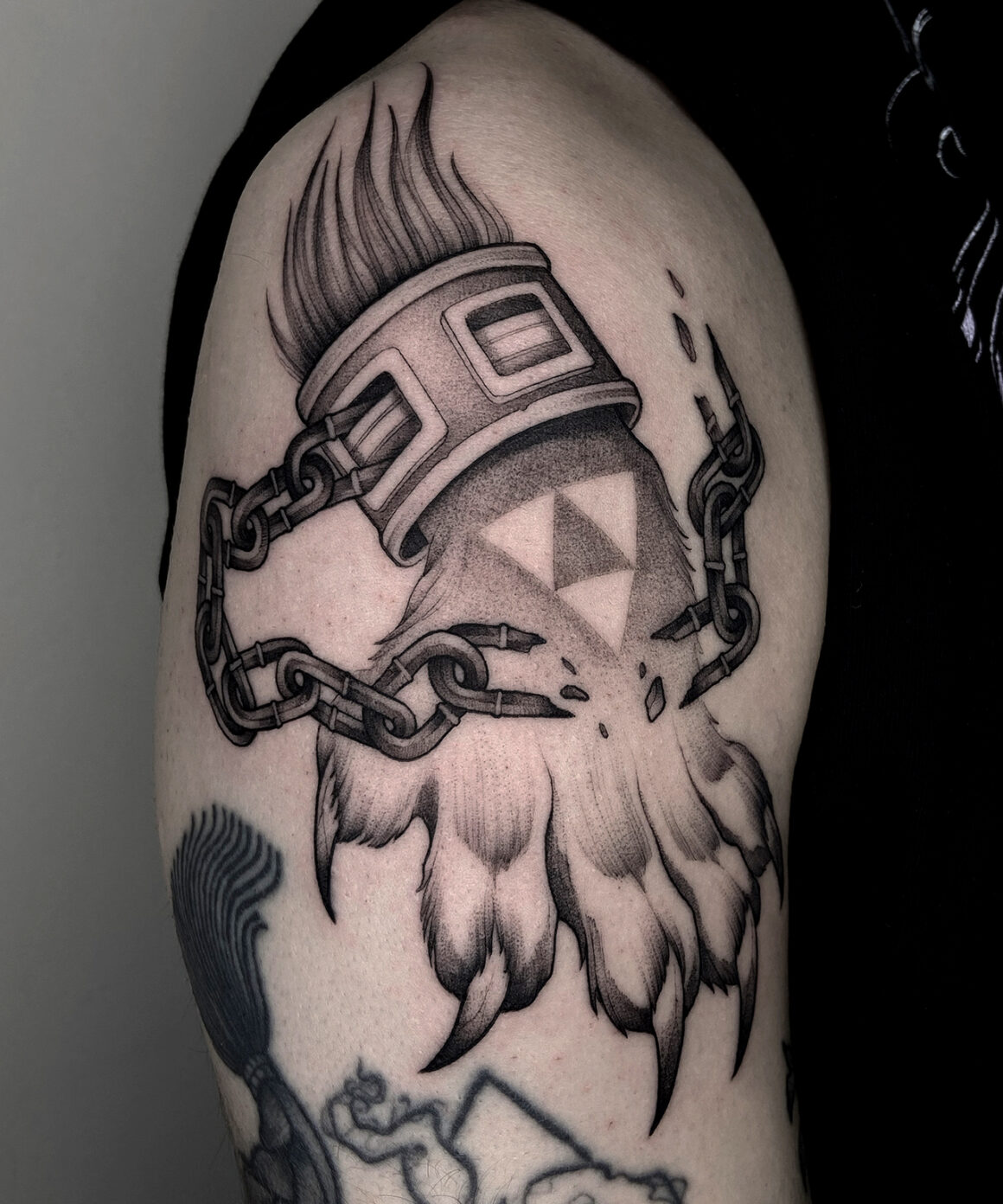 Tell me about the 'Black Ship' in Barcelona.
What can I say about my own home… (smiles) Working at 'Black Ship'(IG: @blackship.bcn) has been one of the best experiences of my life. In this studio I am growing as a person and as an artist. I will never forget the call from Kike Esteras inviting me to be part of his team in his new studio.
What kind of shop is it?
'Black Ship' is a unique space, when you walk through the door you can breathe that "tattoo environment". Walls full of works by various artists, sublime decoration and warm surroundings. But you really know you're in the right place (both client and artist) when you appreciate the number of talented artists working there.
Any style has a place here, from Blackwork to Traditional Japanese.
It's a shop where they take good care of the client from the first contact, giving them advice and helping out through the tattoo process. We also follow-up to make sure the tattoos are healing nicely. I can only say that for me, it is the best tattoo studio in the world!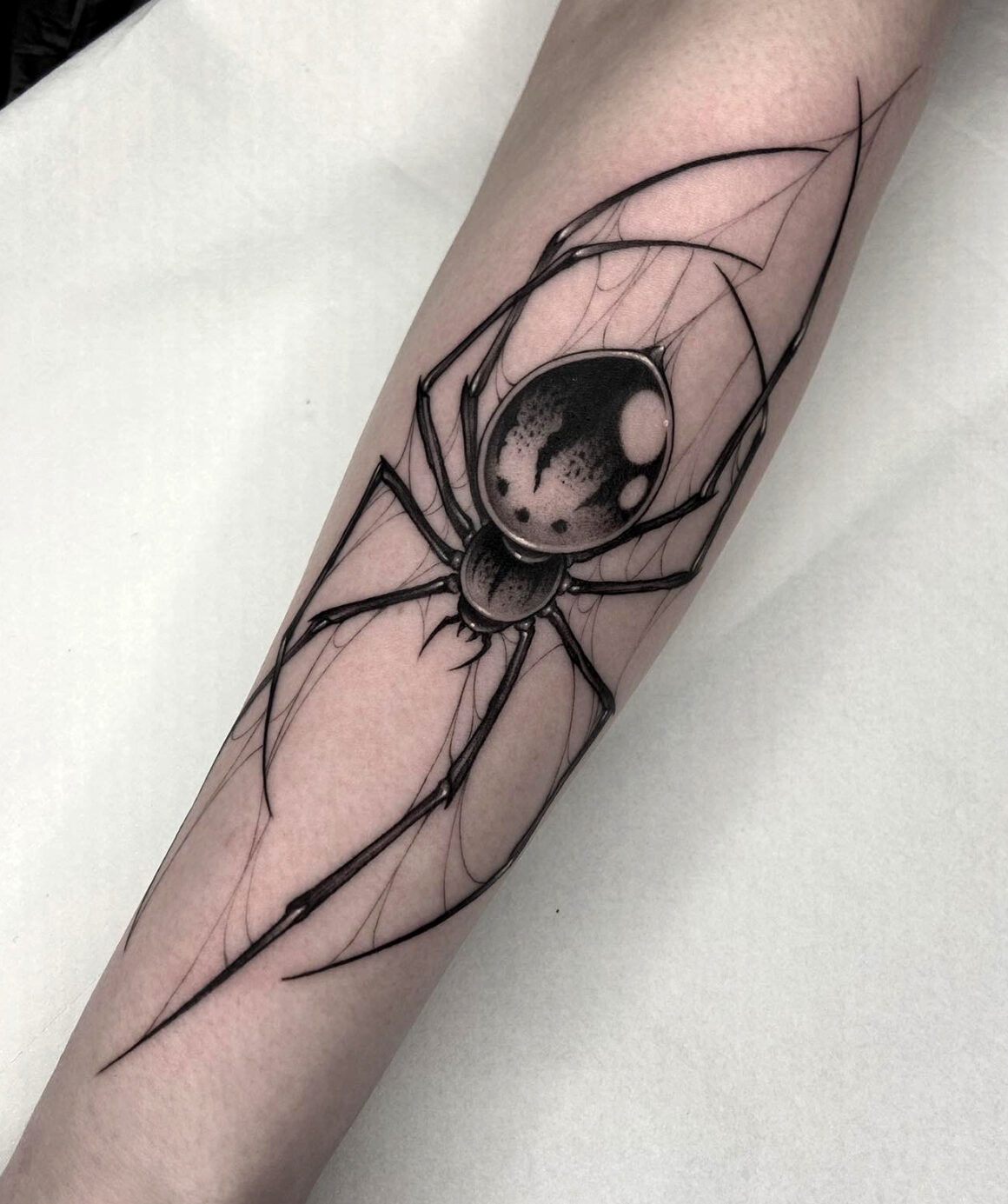 Are you in a vibrant area of the city?
Yeah, the studio is very close to Sagrada Familia, a very beautiful and also touristic place, so many visitors are tourists who seek us out for quality and proximity or just to take a picture at lovely space. (smiles)
And your last famous words are…?
From my personal experience, I think it's very important how you treat yourself. You can be your worst critic or your top cheerleader. The support of the people around you is undoubtedly very important, and for that I want to thank everyone who has stayed by my side and believed in me, but at the end of the day, you are alone with yourself in front of a piece of paper thinking about your next design. Believe in the process and everything will come!