"Dominatrix". "Model". "Professional Pervert". They are just a few of the definitions Adreena gives of herself. But for us she remains just a woman with a great love for tattoo art.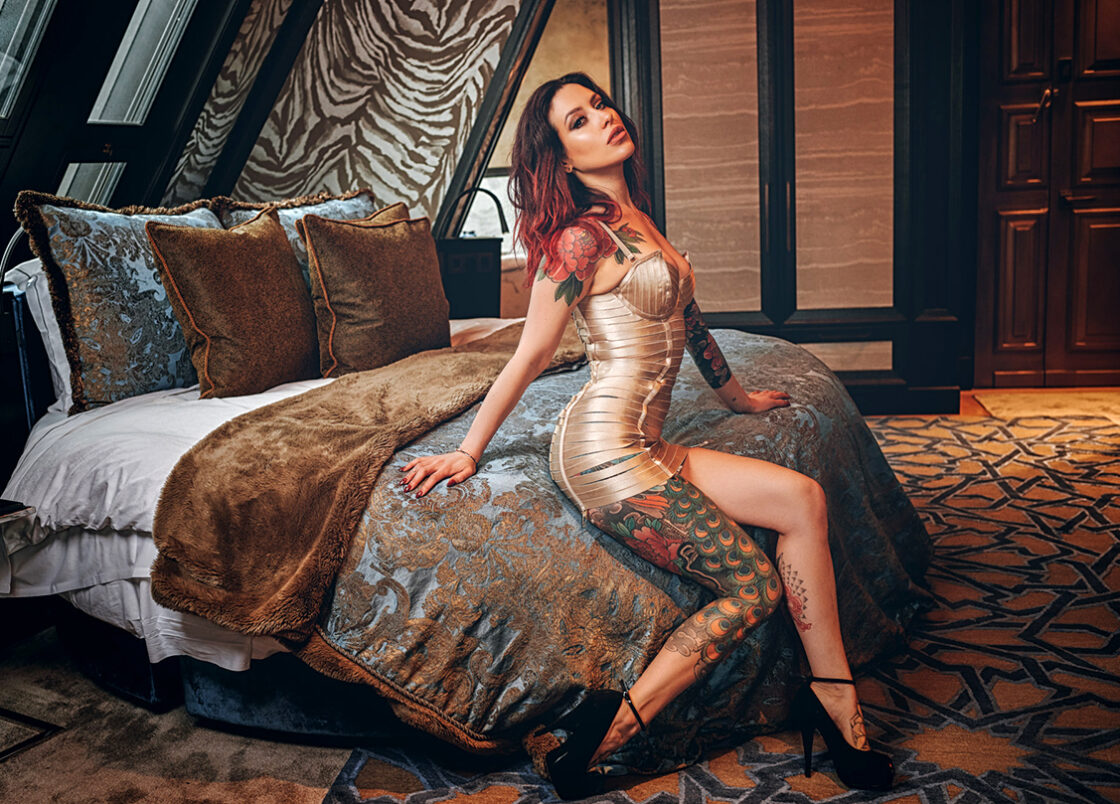 Adreena, I usually ask my interviewees how their passion for tattoos and ink came about. In your case I'd like to ask you how the "passion" (the passion and nothing else) was born in you…
Well, I got into tattoos hard and fast when I was in my early teens. Like a lot of kids that age I was beginning to explore sub-cultures and try to establish my own identity. I was into the punk and hardcore scene and tattoos were obviously a huge part of that.
I used to hoard tattoo magazines and pour through them.
I think it began as that teenage excitement of finding your tribe and being able to express yourself in full colour.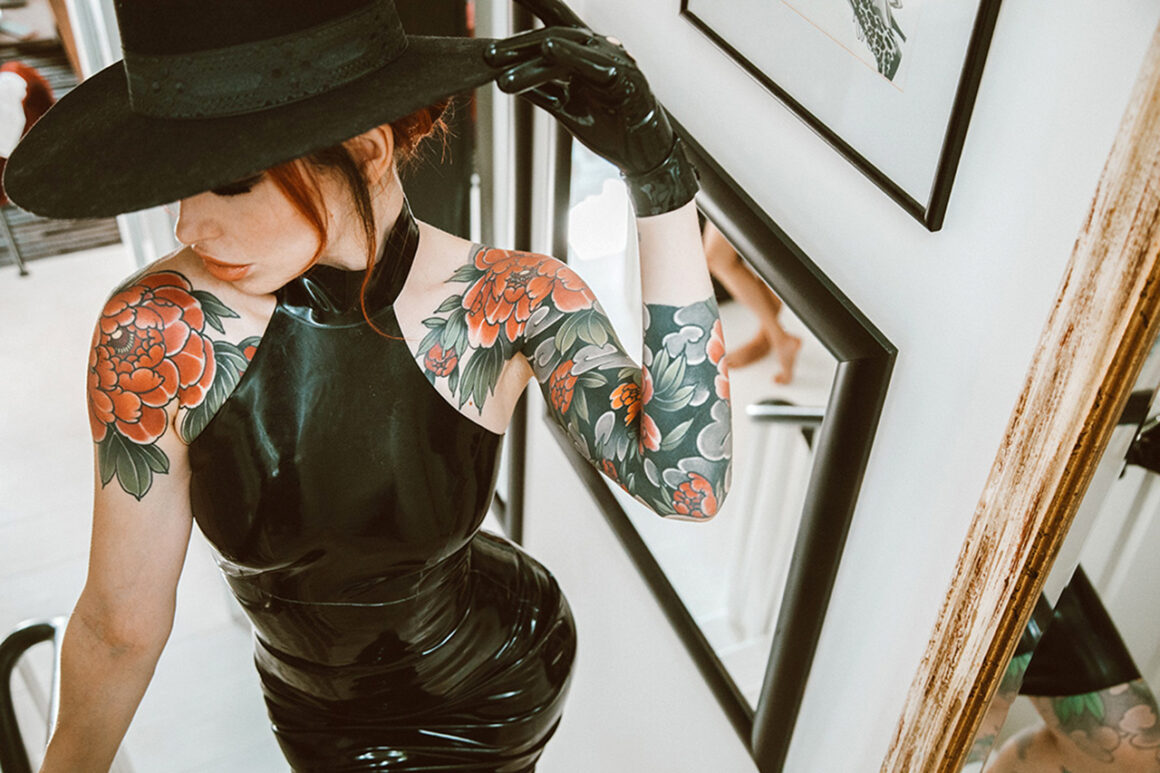 At what age did you get your first tattoo and what subject did you choose that day?
Amazingly, although I started looking at tattoos at about 14 and knew I wanted them almost immediately, I was about 21 before I got my first tattoo… I knew that as I was still young, my tastes would change and I probably wasn't ready to commit to an idea. I didn't feel too rushed and I'm glad I didn't. The choice for my first tattoo(s) was bold. I went straight in with getting the tops of both feet tattooed with lotus flowers. I know, not an easy body part for your first ink!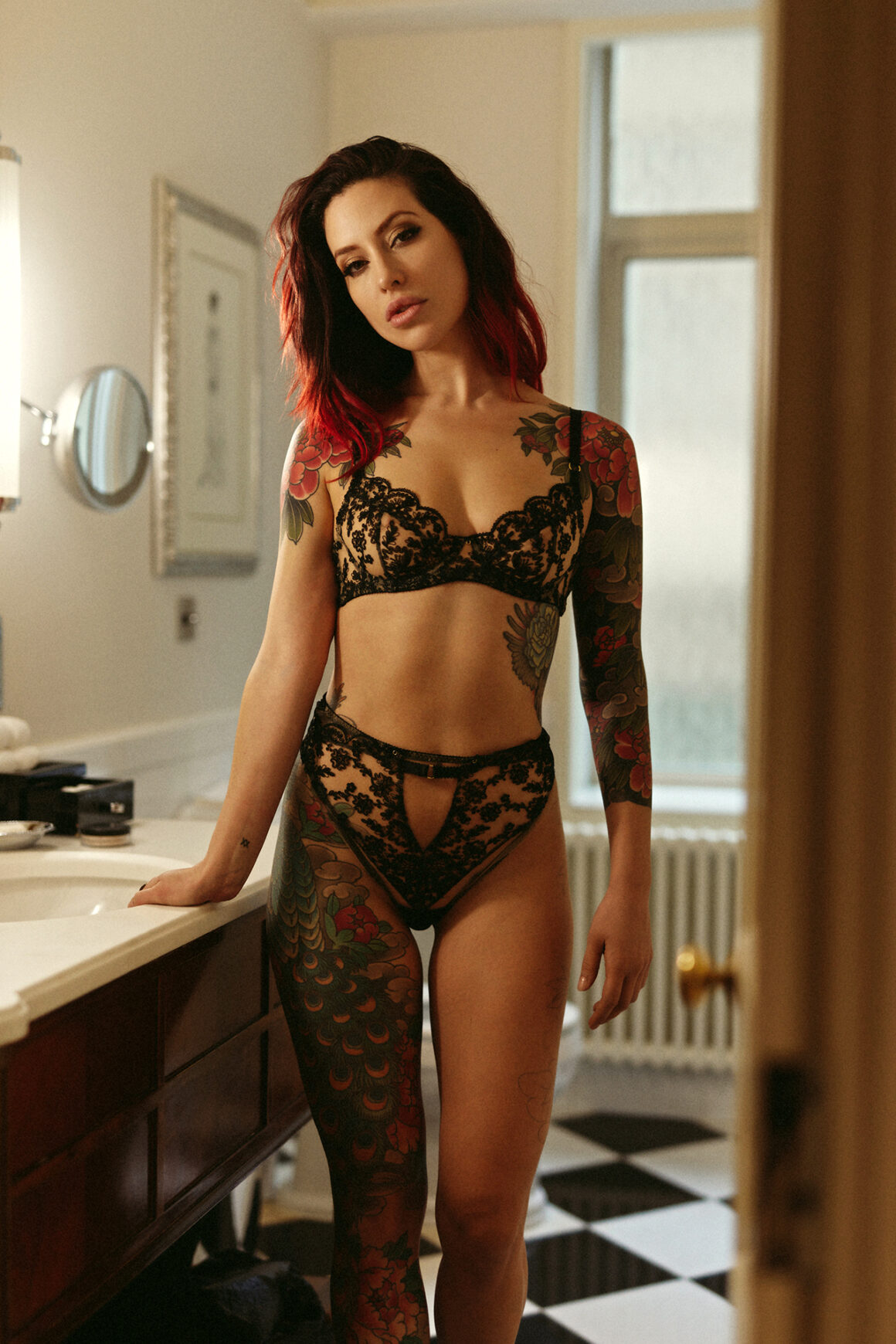 How did that session happen on your feet?
I lived in Cambridge whilst I was at university and used to visit the Fitzwilliam Museum there regularly. My lotus flowers are actually based on the sketches by Charles Darwin of lotus flowers that were on display in the museum.
I have always loved lotus flowers after spending much of my childhood in China.
I took a tattooist friend to see these sketches and he suggested I should get them tattooed. So that's how it began.
What did you find so attractive about getting a tattoo on yourself? The thrill of the needle on your skin perhaps?
Oh God no! (laughs) Whenever I hear a tattoo needle it brings back good memories, but it also makes my blood run cold. The older I get, the more I hate getting tattooed!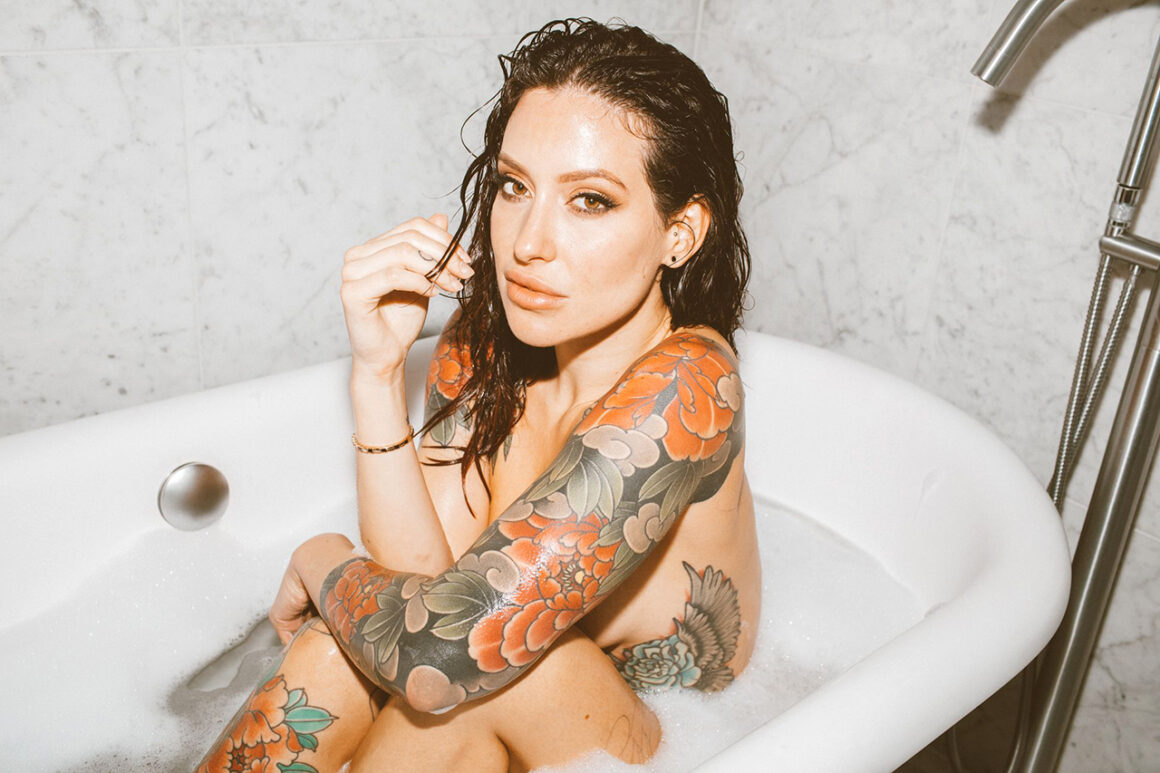 Are you serious?
I definitely don't enjoy the experience. I wouldn't say I pay a lot of attention to tattoos or tattoo culture these days, even though I've become a lot more heavily tattooed in recent years. If I'm honest with myself, I guess it's more that I get bored easily! I always feel much more like myself covered in colour. I never felt like myself before I started to get tattooed.
Is your favorite tattoo artist Rodrigo Souto Bueno? How did you get in touch with him?
Yes, he absolutely is. I've known Rodrigo (IG: @rodrigosoutobueno) for about ten years, he's great. I believe I had spoken to him a few times online, then we met in person the first time at a Tattoo Convention- we recognised each other and made introductions.
He had said that he wanted to tattoo me and I loved his work so I was very keen to arrange that.
He's done pretty much all of my tattoos – I love dedicating my body to one artist's work. It's quite rare to have such a large amount of large scale tattoos only by one artist, so I'm pleased with that.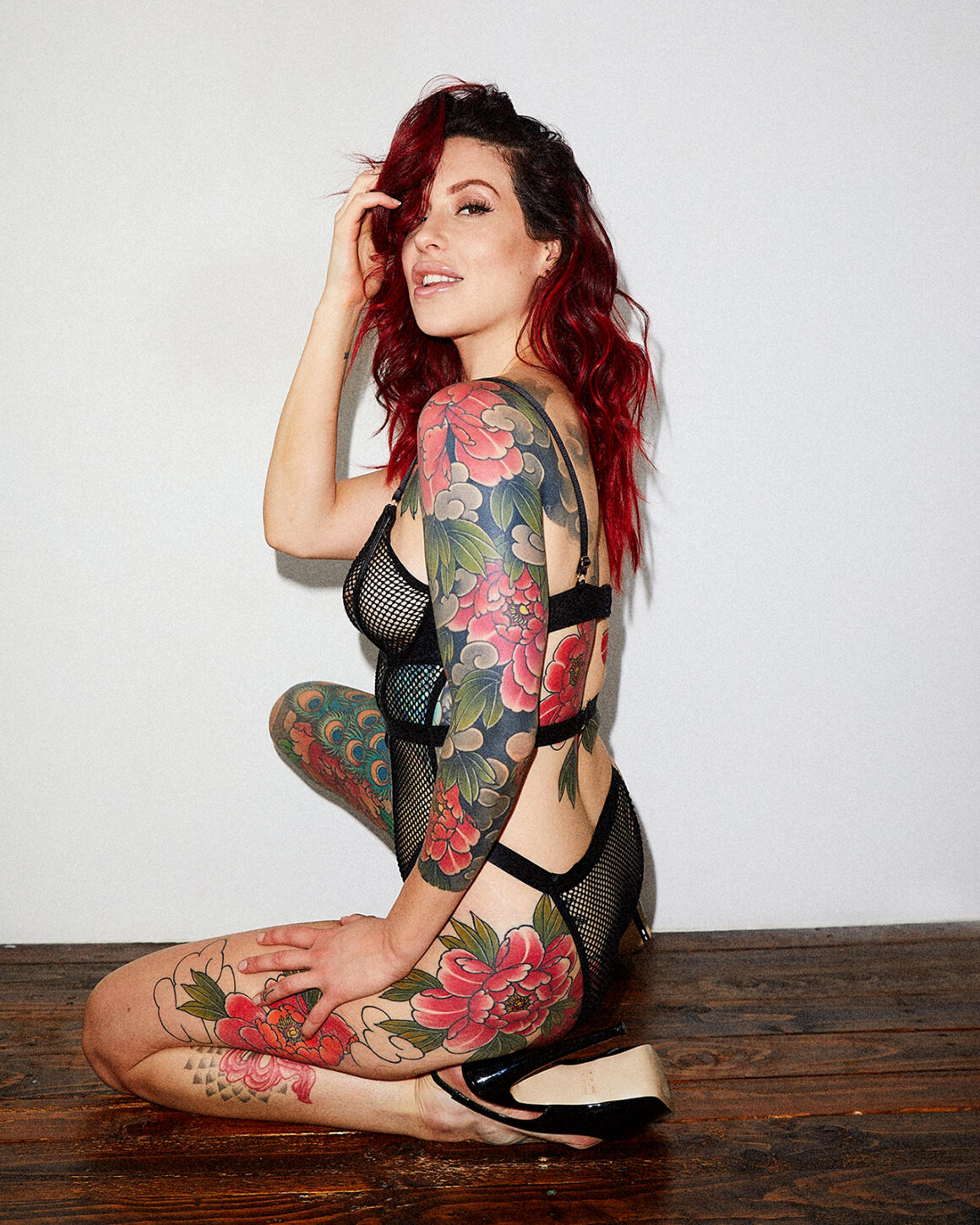 Has anyone else tattooed you so far? Would you have any desire to meet any other celebrated tattoo artists?
I have no particular interest to meet any celebrated artists. I don't pay enough attention to know who most of them are! (laughs) I now only let Rodrigo tattoo me. I like the continuity, and he sulks if I go elsewhere! (lol)
Your faithfulness to one trusted artist is really precious these days…
Sometimes I see an artist whose work I'd really love to have but I try to resist. I love the mismatched look, but it isn't right for my body unfortunately. I do actually have a few tattoos by other artists – my first tattoos on my feet and ribs were by Nick Whybrow (IG: @nick_whybrow) and Roxy Velvet (IG: @roxyvelvet) from 'Velvet Underground Tattoo' (IG: @velvetundergroundtattoo) in East London has done my hands.
Her tattoo studio used to be next door to my dungeon, and we became very good friends then…
The tattoos on my fingers and wrists were done by a woman I met at a women's only play party I hosted. They're female focused tattoos, so that felt right.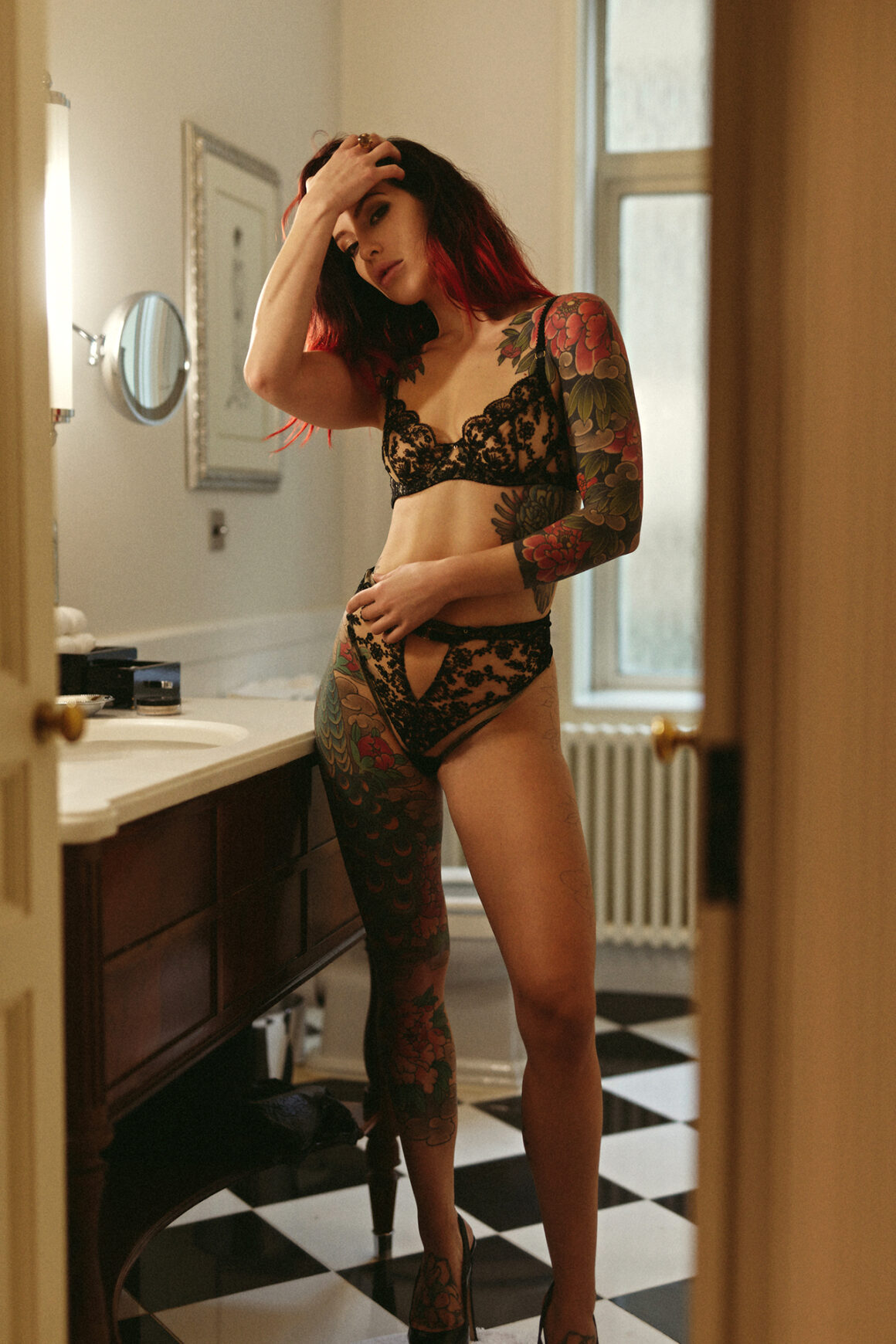 Amidst all those peonies, a peacock is also sprouting on your right leg. Do you find this set of tattoos a great mix of feminine sensuality (flowers) and vanity (peacock)?
Yeah, that's a full peacock, with its body on my thigh, tail feathers going down to mid shin and its head up on my waist. Most people don't see the body and head so much though! I'm not one for having meanings to my tattoos as such. Aside from the ones on my arms and wrists, my tattoos don't have particular meanings or memories – they're just a celebration of colour and beauty.
So are they about aesthetics?
Definitely. My tattoos are more an aesthetic to me. Vanity is just a Western perception of the symbolism of the peacock – I joke my peacock is my 'bad luck charm' but in certain cultures they're considered a symbol of good luck. And I do love the femininity of being covered in flowers!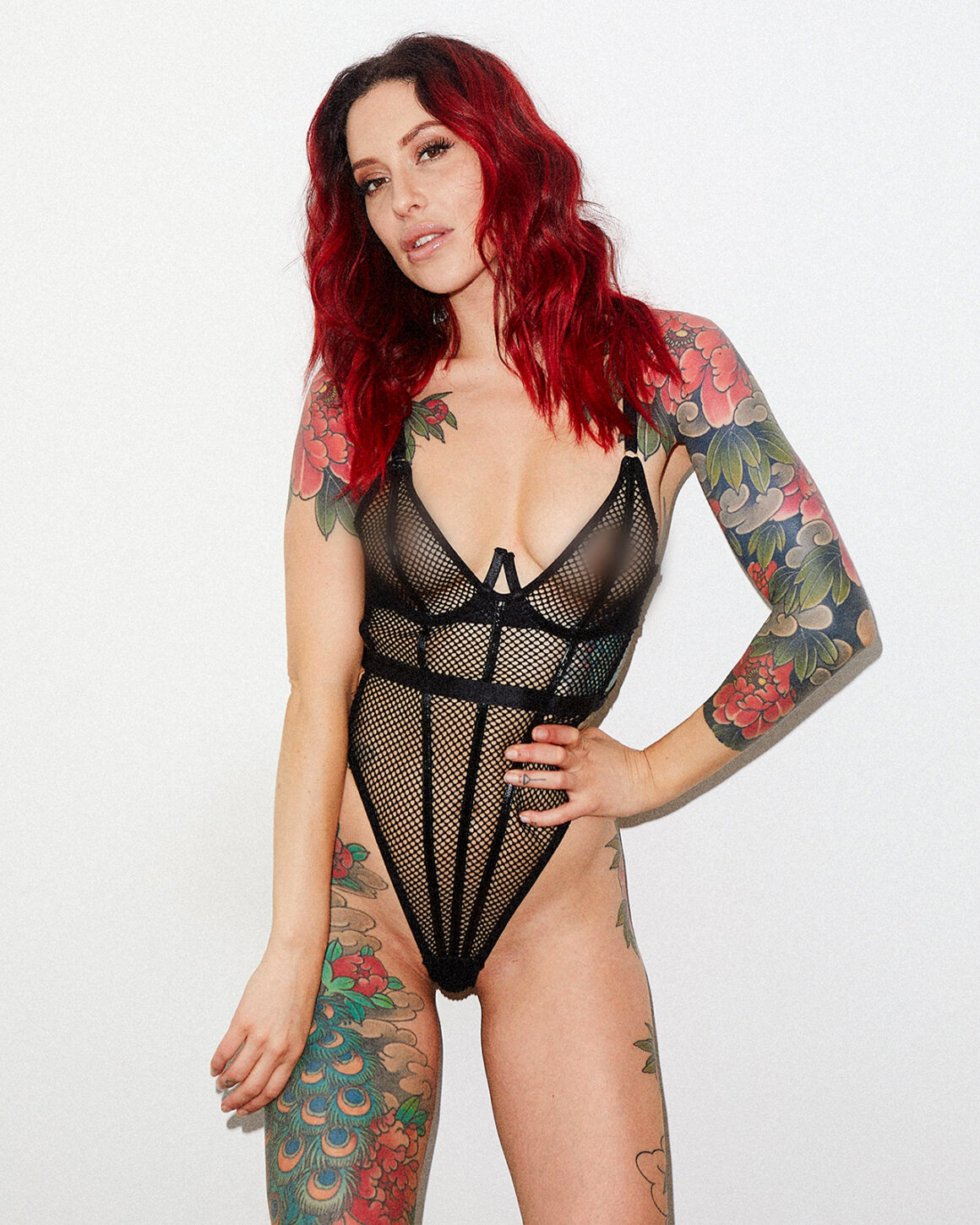 Tell me the truth: do you find tattoos a fantastic weapon of seduction? Or, as usual, does everything start from the brain and in that case tattooed skin or clean skin doesn't make much difference…?
Hahaha. Okay, you are right. Men definitely do seem to be drawn to tattooed women – I think it's synonymous of exoticism and wildness, of women who are free spirited and don't conform. I do think I have quite feminine, striking tattoos that are sexually appealing to men and fit both with my aesthetic and lifestyle. Of course, attraction is based on so much more than (in this case, literally) what is skin deep. But no one is immune to superficial attraction, and it's just one of the many weapons in my arsenal!
Particular question: has a male client ever asked you to fake tattoo him or write something on him with permanent markers during one of your dominatrix sessions?
Yes, actually! A few days ago even. I have one sub who is actually getting my initials 'AA' tattooed on his inner arm as a mark of dedication. But I have another that always brings a henna with him and I adorn his body before we play.
Usually I'll do a design based around my initials on his chest.
Will you get tattoos again in the future, or is your skin fine with this large portion of ink for now?
I wish I could say I was done, but I'm not. I've just started a back piece (of a snake, surrounded by peonies) also by Rodrigo Souto Bueno. It spans from my shoulder to my knee, so it's another huge piece and taking forever to complete!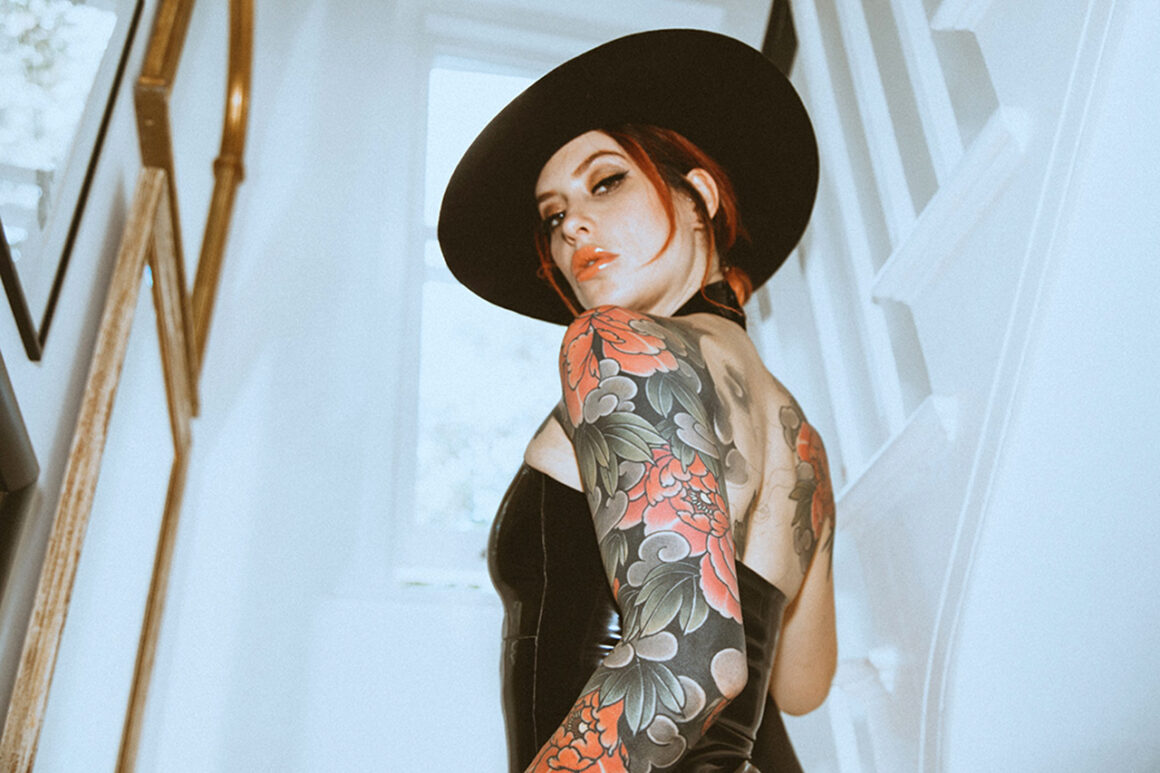 Now we are really curious…
It looks great so far and I can't wait for it to be finished. Once that's done, I think I'll start to slow down. I have always been a firm believer in negative space; what you don't tattoo and the skin you leave blank is as important as the skin that you ink.
And your last famous words (especially for TattooLife.com readers) are…?
Don't overthink it.