She is Acid, singer of Acid's Trip, great ink lover and fan of vintage motorcycles. Are you ready for a bit of Thin Lizzy mixed with some good Swedish hard rock?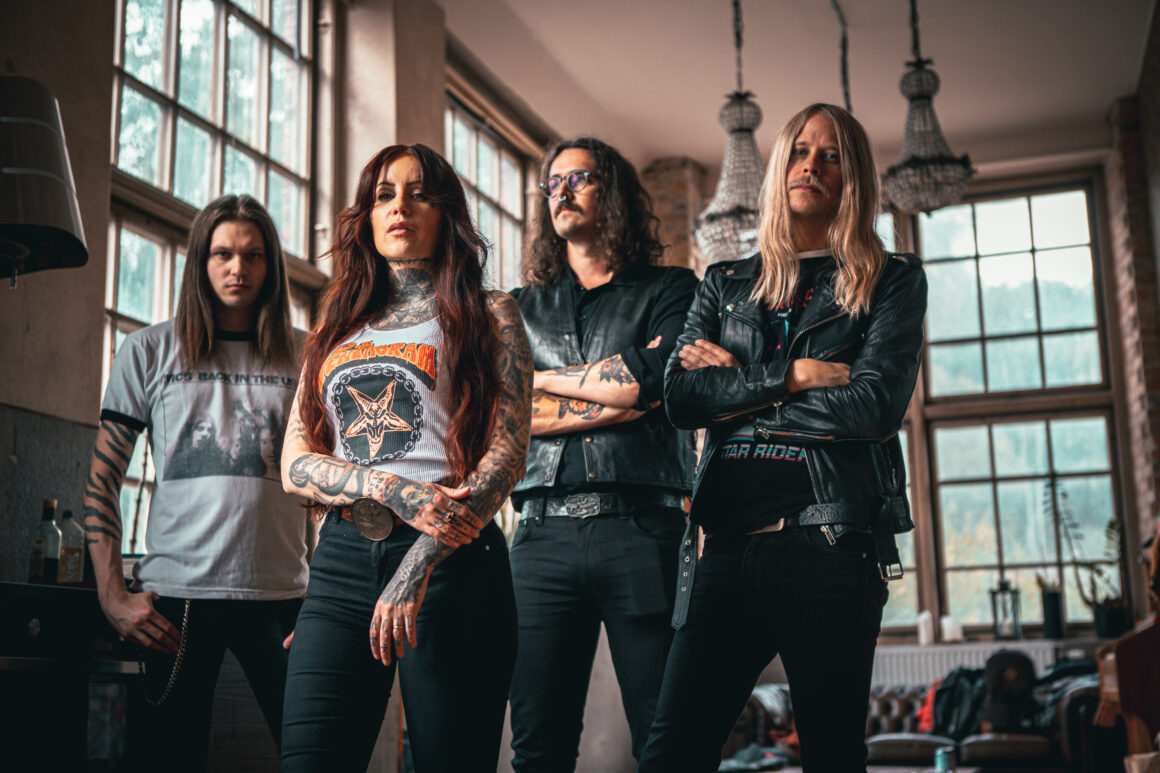 Hi Acid! Which was born first: your love for music, for tattoos or motorcycles? Or did the three come together?
To be honest I think that the music, tattoos and motorcycles came together at the age of 5-6 because my dad used to ride a wasp yellow chopper style Yamaha XS 650 when I was little. My strongest memories of him as a young child are from when he pulled up the driveway with this bike and did super loud but awesome burn outs in front of me and my sister, just to play "the cool" dad for us! He also had a super rad dodge van that could jump which we loved and he always took us with him when it was time to load in and out of venues, when he was out playing with his band.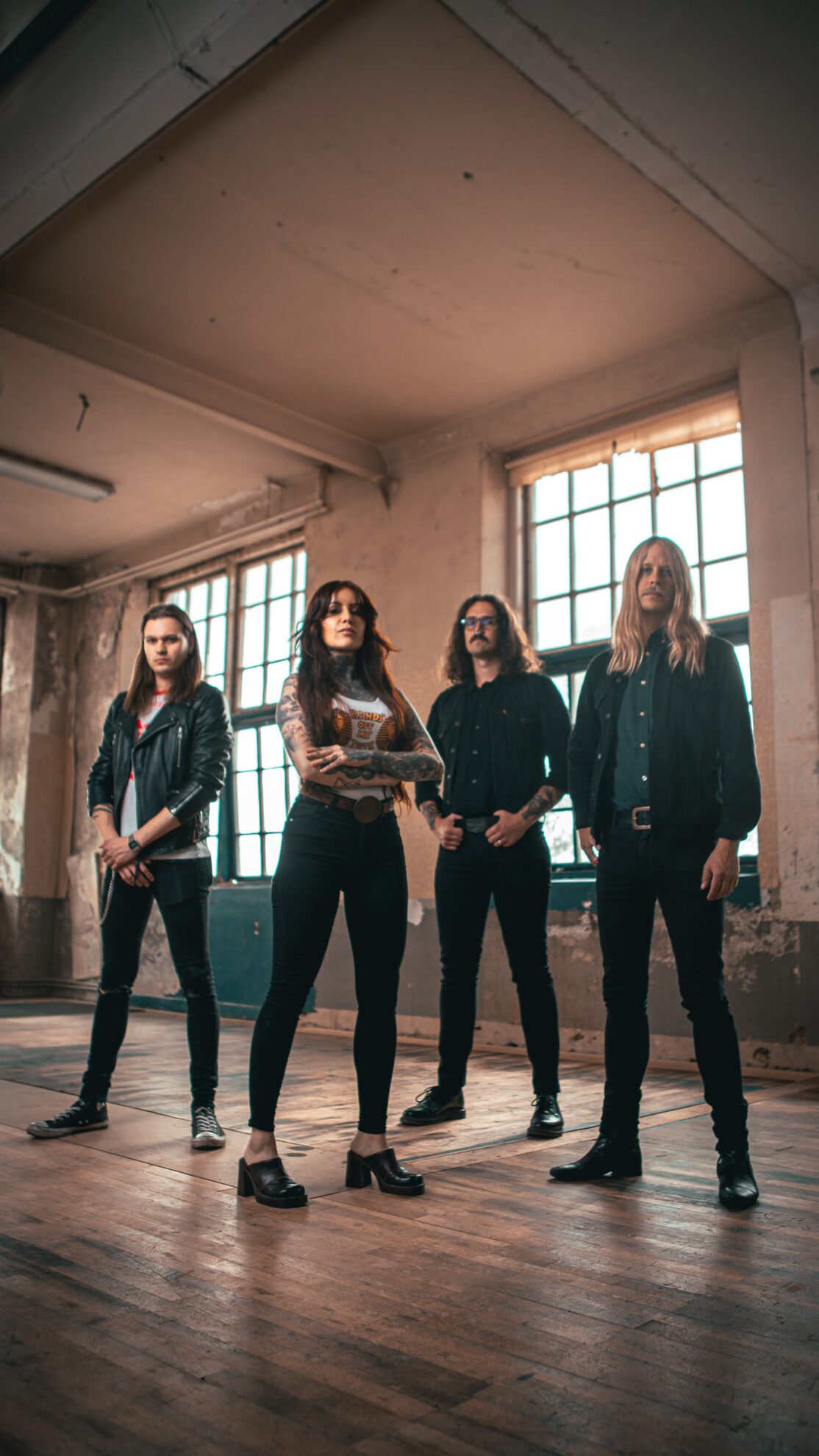 So your father is a musician…
Yeah! He is a B3 hammond organ player and I still remember the smell of the old beer imprinted in pubs where my sister and I used to hang around while dad had his soundcheck together with the band. I grew up watching him playing blues and rock 'n' roll and since we always were with him we got to meet a lot of music folks and related gentlepeople with tattoos and rocker lookin' styles. I wanted to look the same, so I loved to have temporary tattoos which I bought with my weekly allowance (only 5 dollars).
My dad was my big inspiration early on in life…
And since I grew up in a bluesy family, always attending gigs and bike/car shows, I got the rhythm and the love for vintage engines very early in life.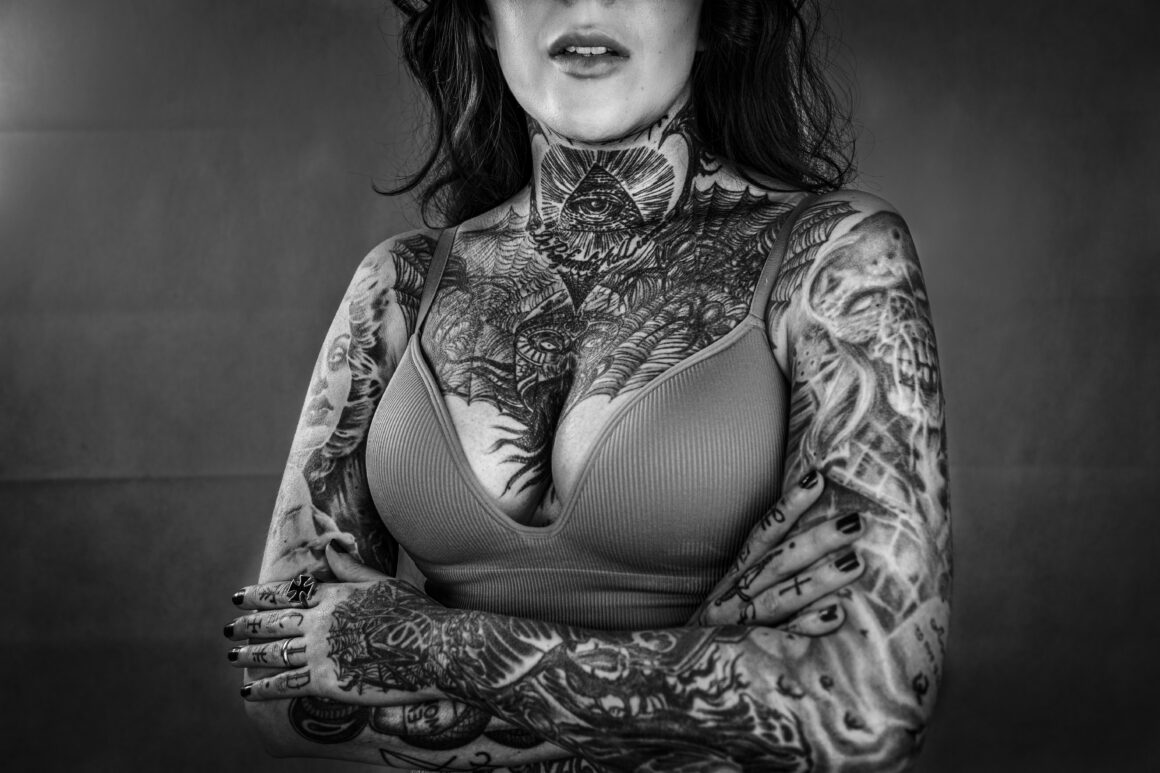 Tell me about your first time ever in a Swedish tattoo studio: how old were you and what was going through your head?
(Acid – real name: Anna Skogo – laughs loudly) Well my first tattoo was actually my coolest tattoo ever and the one that I'm most proud of I think. It was Mankan of "Rough Stuff! Tattoo" (IG: @roughstufftattoo) in Uppsala who made it. He is royalty within Black 'n' Grey realism.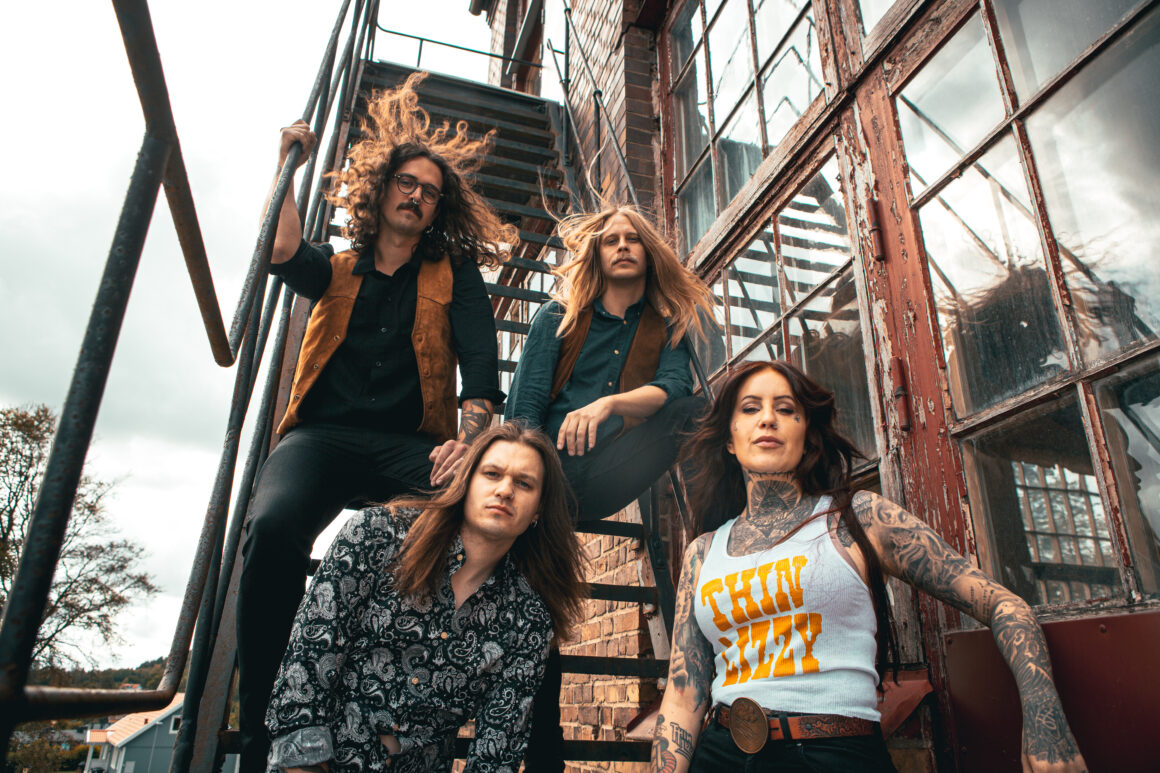 What did Mankan tattoo on you?
I was the age around 17-18 and all that was spinning in my head at that time was Thrash Metal and old school hard rock. I started to listen to heavier metal when I was about 15 and my favourite band was (and still is) Exorcist, an underground occult speed/thrash metal band with members from Virgin Steel and Original Sin to name a few. I wanted my first tattoo to be a tribute to their album "Nightmare Theatre" so I had a huge rotten gore zombie wearing a flannel shirt done on my left upper arm along with a graveyard theme with zombies coming out of their graves. I was very interested in old school horror splatter movies at that time and that tattoo motive was the coolest thing I could come up with.
I still think that my flannel zombie is the coolest tattoo I've done to this day!
Do you think your left sleeve is the one most exposed to your teenage love for death metal sounds?
Yes most definitely! I grew up with the Swedish Death Metal Scene and me and my friends lived for Entomed, Dismember, Repugnant, Unleashed, Kaamos and many other great bands.
I still love and cherish those teenage worship years!
Let's talk about your snake full back piece. Who made it?
It was my wonderful friend Kalle Södergren (IG: @kallesodergren) of "All Gold Tattoo" in Gothenburg who made my back piece, I would never have done it if it wasn't for him. After we did my chest and throat in a darker metal style I wanted to do something different on my back to capture my present state of mind. So I opted for a big transcending snake representing strength and willpower. I also wanted to honour the past and old traditions.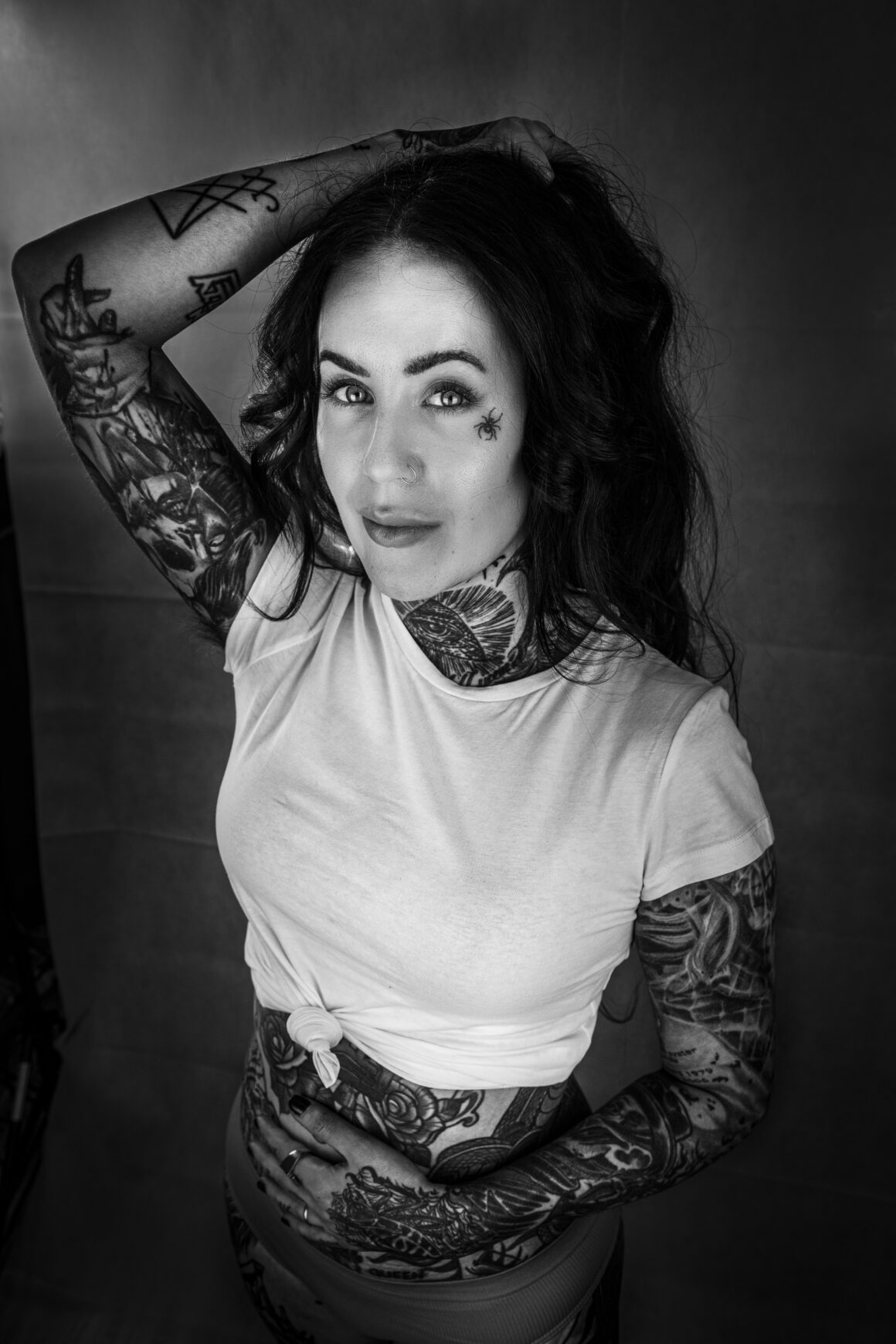 Do you think that huge snake is the most important tattoo in your entire collection?
Yeah, it's the most important one I've done because I knew a large tattoo like that needed commitment and resolution.
How long did you spend lying under the needle for that tattoo?
I can't tell how many sessions we had as I lost track of it but it took almost 1 and a half years to complete it since the more ink we put in the more time. I needed to heal mentally.
I'm not that bothered about pain but my back piece took me places that I mentally wasn't prepared for.
At times it felt more psychological than physical and it became more challenging with the lower back and the butt cheeks. It got into my mind that I didn't expect, and it took a lot of willpower to stay committed. My snake full back piece was something that I always wanted to get done but I needed to get to the right state of mind and therefore I waited for a few years before we started on the piece.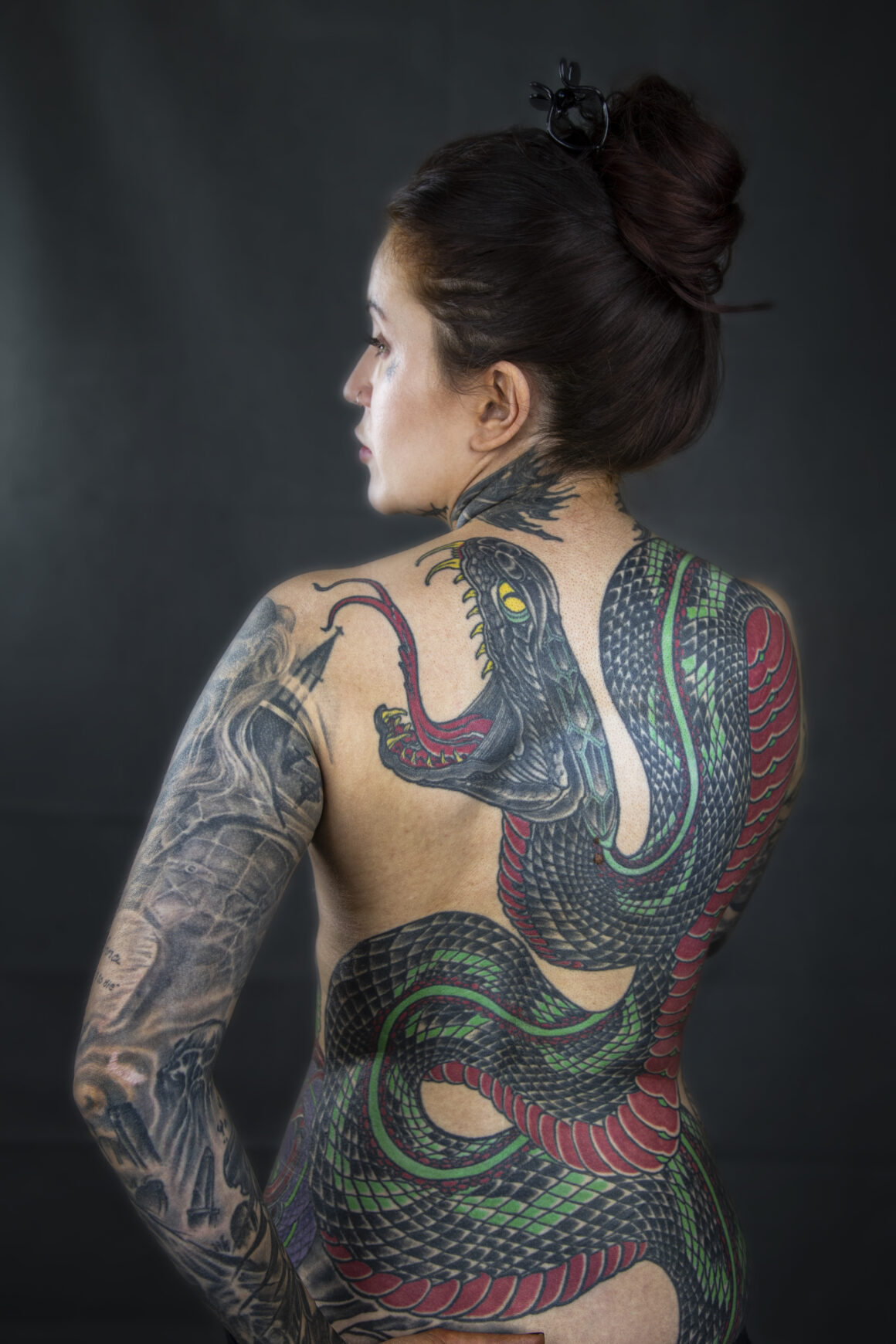 What did this deep experience teach you?
That tattooing can at times take you on a spiritual journey and reach into your core and that's what this piece did with me. I'm happy that Kalle was the one who shared this journey with me, it wasn't easy and life never is!
I saw you have a Thin Lizzy tribute on your right forearm (the band logo) but I don't see any Ace Frehley tattoo so far. And I know the Spaceman is your biggest idol ever. Will you fix it someday?
(Laughs) I would love to get Ace done to, I just haven't had the opportunity to do a Kiss tribute yet.
I've got three Thin Lizzy tattoos (on my arm and two on my stomach) so it is about time to get Ace in there too somewhere!
He is after all my rock god and guardian angel.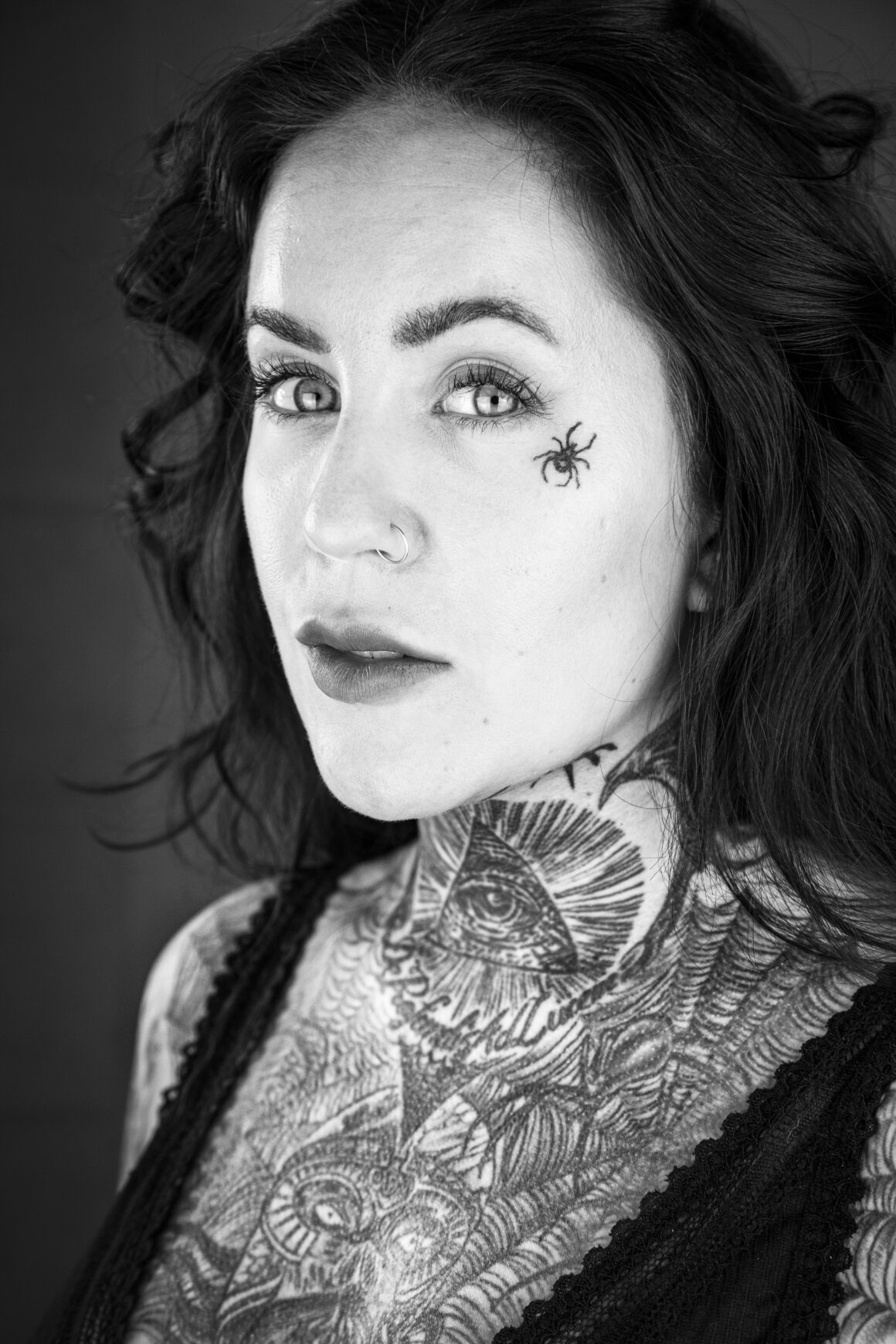 I read in your past interview that you judge the Gothenburg music scene as very "united" and always ready "to give support to its artists". Do you think this is the same in the local tattoo scene too?
Yes I truly think so, at least here in Gothenburg since everyone here wants the community to thrive and without the love for each other the scene will implode. The tattoo world can be very competitive (just like the music scene) since the artists need their share of people wanting to get tattooed in order to make their business. But here in Gothenburg the scene works together quite well in my opinion, because the more people are talking about the variety of artists and styles that flourish here the more people will come to our town to get art done, of which benefits everyone within the scene.
We need to work together in order to make our scene grow whether it's music or tattoos. We are best together I believe.
Last question: if I gave you five lines to give me a review of Acid's Trip debut album "Strings of soul" how would you use them?
I would say that our album is as emotional as my snake full back piece, because all the songs in the album are about raw emotions and have a chunk of soul in them while being on the edge of hard rock 'n' roll. "Strings of soul" has that crisp vintage tone and people who worship The Hellacopters and appreciate the heavy rock sound will love this album.
It has many metal references too, with a neat melody touch to it. Don't think about it, just get it!
Read the whole Acid (by Acid's Trip) interview on a forthcoming issue of Tattoo Life magazine.