WT Norbert is a Polish tattoo artist, living and working in Sydney (Australia). In this interview he talks about his life, his tattoos, and the eBook he published with Tattoo Life.
"Earthly Fears & Cosmic Delights" is drawn in his amazing style: a mix of art nouveau and art deco filtered through the solid western Traditional and "a touch of Japanese". Let's discover more…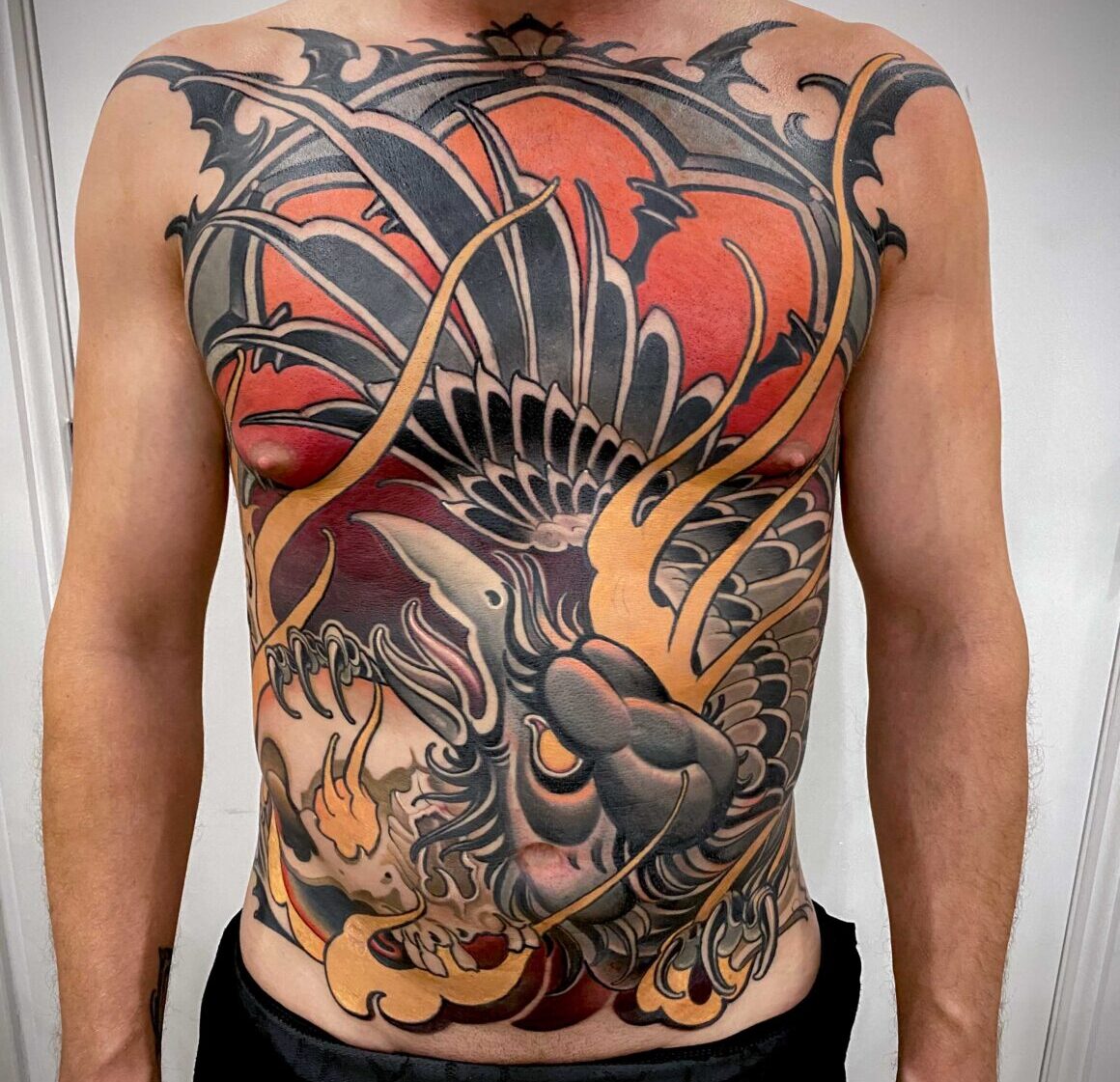 Would you like to introduce yourself to our readers?
Hi, I'm Norbert, a Polish tattooer living and working in Sydney, Australia. For the last three years I've been part of an amazing crew at Tattoo Rosie's. Apart from tattooing I dedicate most of my time to my second passion which is music. Listening to it, making it solo and with multiple bands through a few decades, collecting vinyls and dj-ing. I'm also a father to my 9 year old son Max which is an amazing experience and journey and I'm very grateful for every minute I spend with him.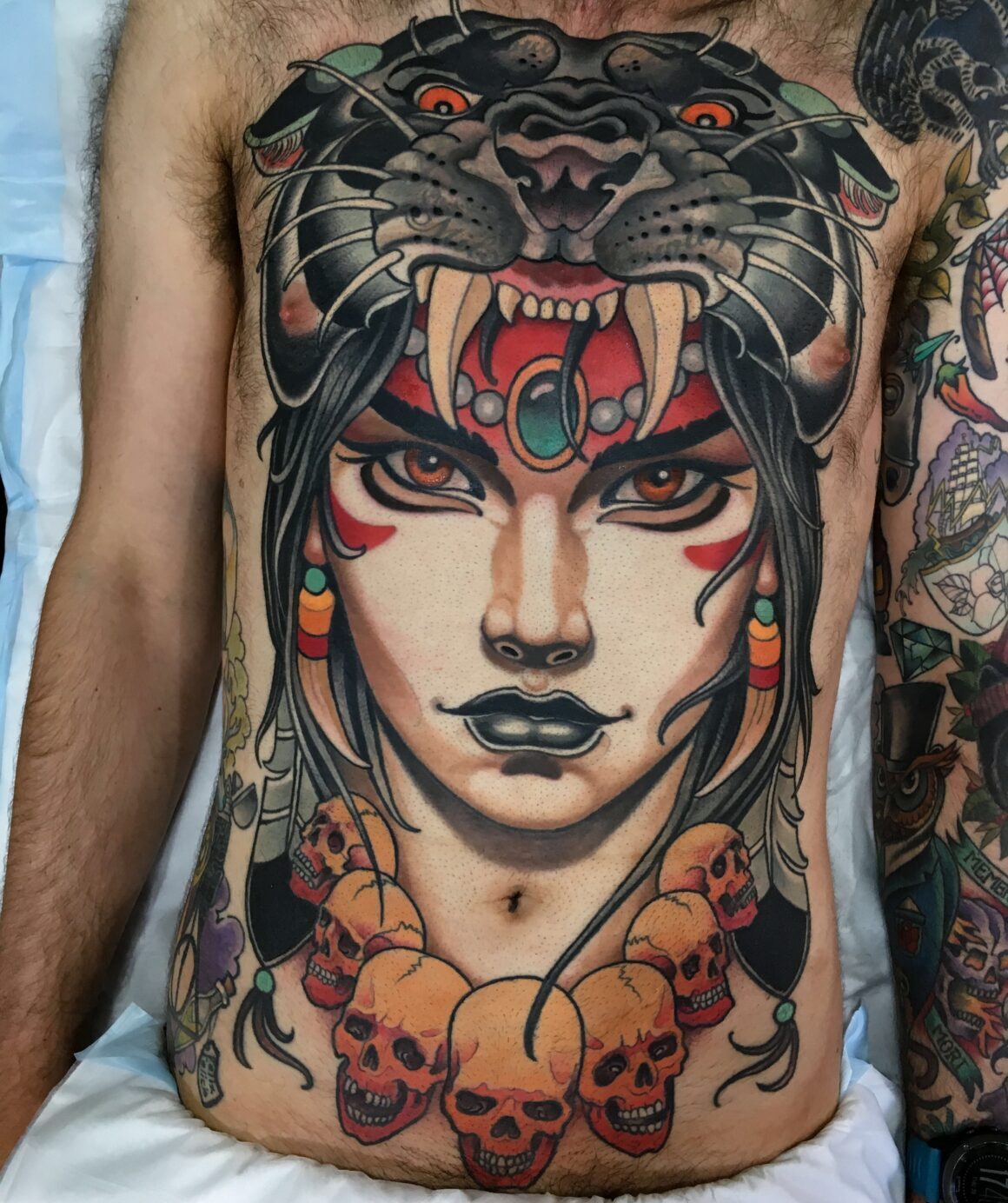 And I paint a bit but not as much as I used to a few decades ago when it was my main occupation. Being first a student then a graduate of Polish Academy of Fine Arts. Back then, in the early 90s, it was a very traditional art school focused on a classical education with endless hours of drawing from life models, learning painting technology and techniques of different periods in Western art history starting from Ancient Greece through Medieval Arts, Renaissance, Baroque and so on. As part of technology classes we had to sometimes learn and emulate painting techniques and tricks of particular artists like Rembrandt, Vermeer, Rubens to name a few.
Some of the most memorable moments were those from two years of anatomy classes which took place in local Medical University's morgue.
To complement life drawing studies we were also taking a close look at human anatomy part by part using deceased donors bodies. One week it would be a leg, another an arm, with the professor peeling muscles one by one explaining how it all works and affects our body movement and appearance. Definitely decent education and well spent six years of my 20s. Made my life as a tattooer much easier being able to draw things properly, knowing the rules of light, composition and how to play with colours, mix them and use them to my advantage.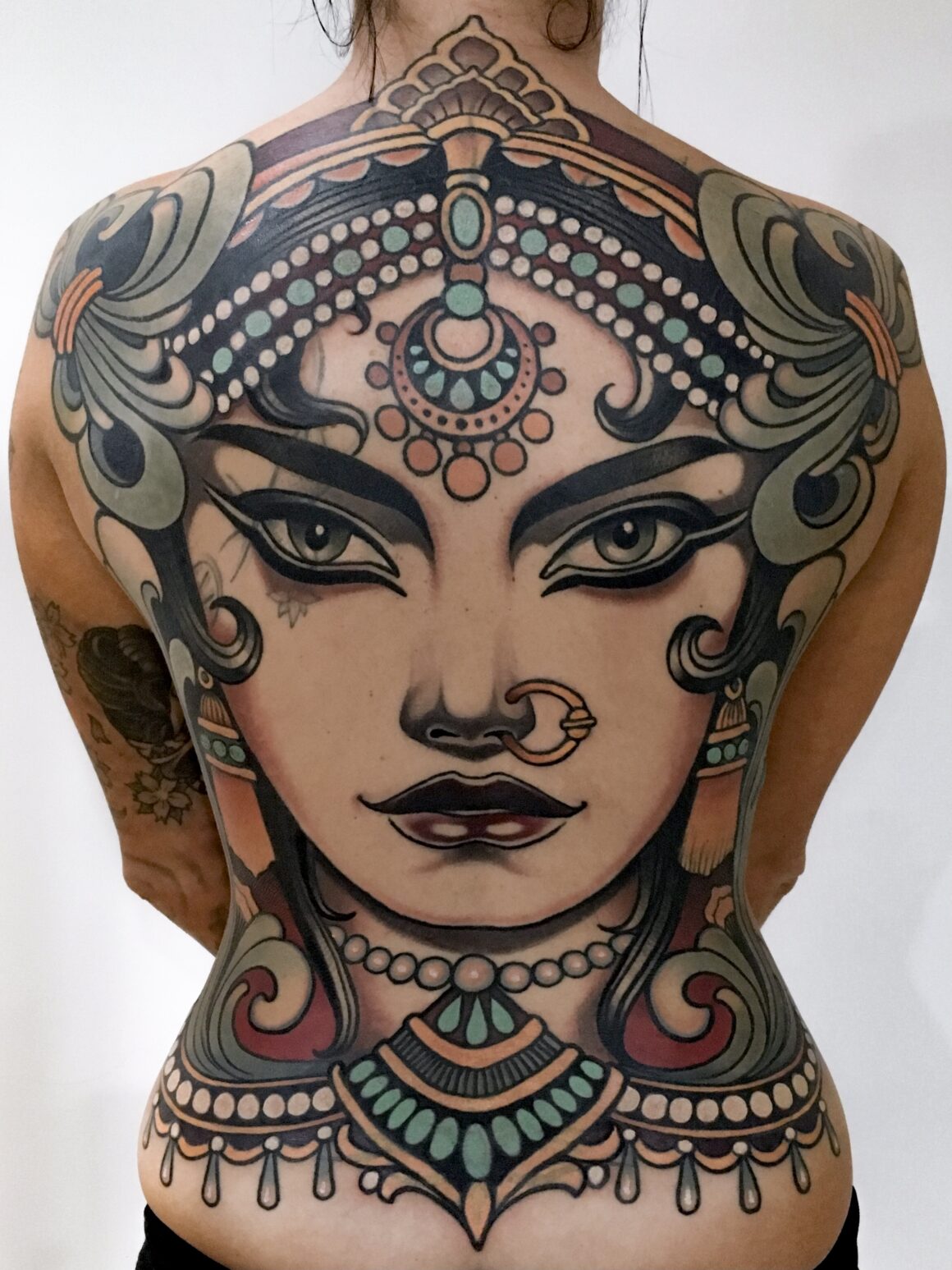 When did you start tattooing and how would you define your style?
My adventure with tattooing started rather by coincidence. Growing up in Poland during communism I had pretty much no exposure to tattoos, seeing only time to time some dodgy guys on the streets of my hometown, with prison made dots and crooked lettering on their hands or faces. Back then behind the iron curtain in the 70's and 80's we didn't have tattoo shops, magazines or any knowledge of tattoo culture from the West, Japan or Polynesia.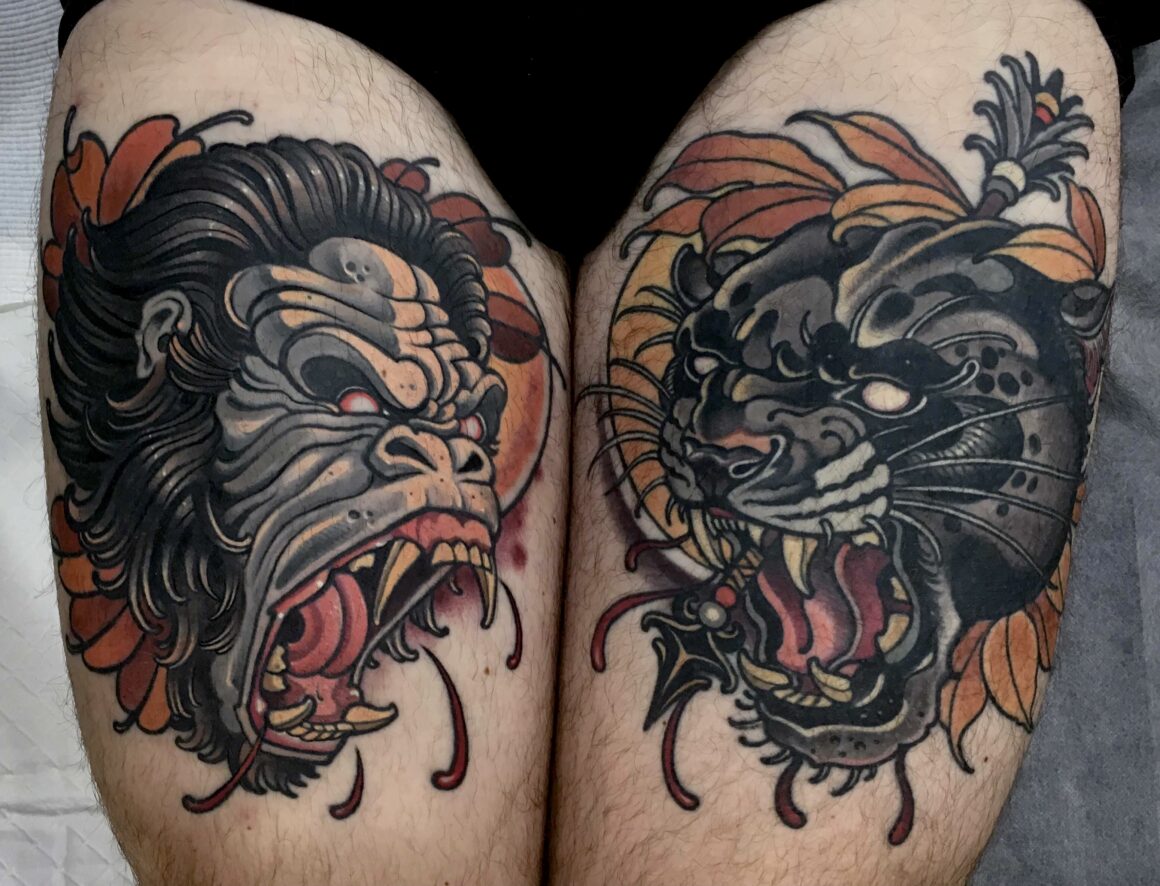 Somehow I knew about the movie 'Illustrated man' which was very intriguing and mysterious to me as a child but apart from the title and the movie poster image in some newspapers or magazines I had very little clue what it was all about. Of course seeing 'bad guys' on the streets made, rebel by nature, me and my mates wanted to toughen up, so we tried to poke ourselves with sawing needles, stolen from my mum's craft drawer, dipped in a ball pen ink. We didn't do a great job so all is long gone.
For the first time I really got exposed to proper, professionaly made tattoos with colours and its iconography when my older brother Arthur came back from his first visit to Sweden in the summer of 1990, just after Communism fell down and the borders were finally open so anyone could leave the country to travel abroad. I was 20 at the time. In Sweden, Arthur met Jim, a local guy who was a tattoo artist with some years of experience. Inspired by the very fact my brother brought back from his trip a glossy tattoo magazine, thinking that I, then a first year art student, may be interested in it.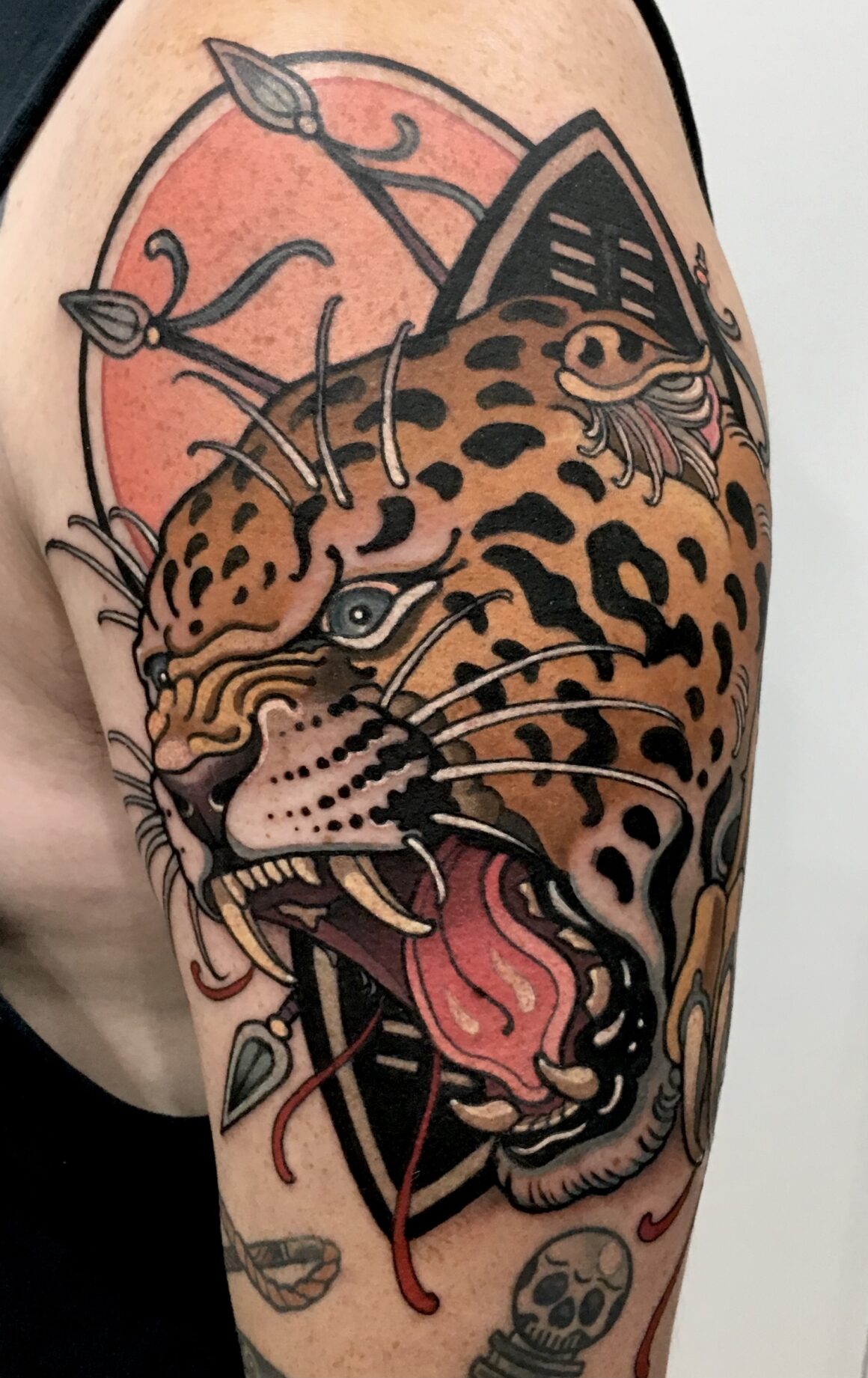 Unfortunately I don't remember which tattoo magazine it was. I lent it to someone at some stage and never got it back. I was instantly hooked, flipping the magazine pages back and forth for months. And of course I wanted to meet Jim.
I thought to myself: all this tattooing looks pretty much like painting.
Canvas and tools are different but with my drawing and painting skills it seemed like something I could put my hands in. The following summer I made a trip to Sweden with my brother to get a glimpse of tattoo mystery myself. I ended up coming back to Poland with two tattoo machines, a few inks, tubes and needles. With a language barrier and a lack of English, I didn't get much explanation on how to use the equipment but I called my good friend Slawek who was also into art and painting to come over and help me figure the things out. And that's how it started.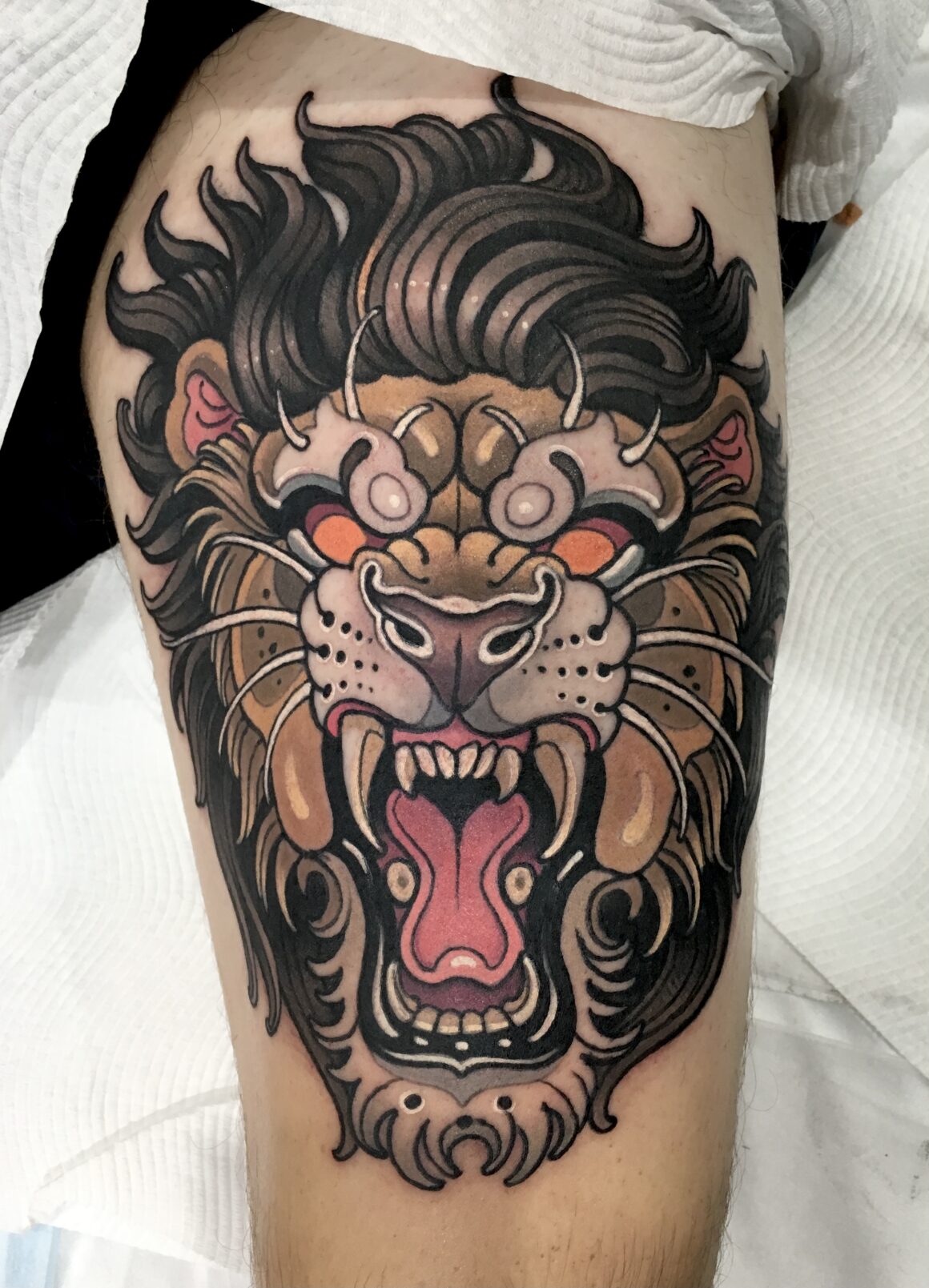 With all its ups and downs, a few more trips to Sweden and believing that we were the only ones in Poland giving it a go I learned all the basics myself. It was hard, not many people wanted to get tattooed back then, as tattoos were very strongly seen as an activity of notorious criminals only. I pretty much gave up after a year or so of trying and decided to stick to my art studies and the traditional art path as a painter. I gave all my tattoo gear to my mate Slawek who just failed exams to the art academy and decided he will dig deeper into tattoo craft. But a bug was already in me though so a year later I got back to it.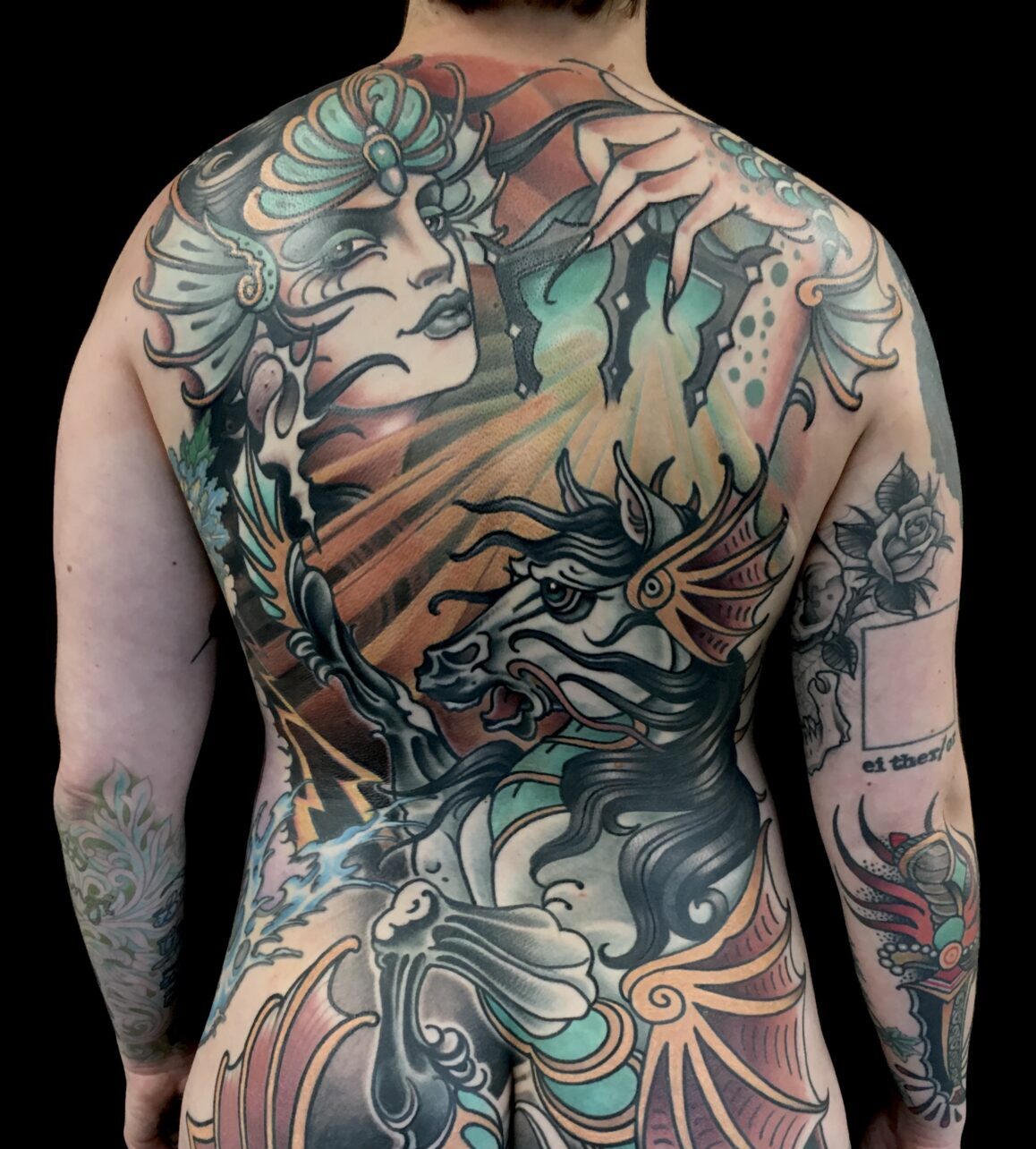 And here I am, thirty years later, working at multiple shops, conventions and running a few shops myself over all these years. If it comes to my style or way of tattooing, it's a combined result of my art education and fascinations, a few decades of exploring tattoo world, travelling and working along some amazing fellow tattooers.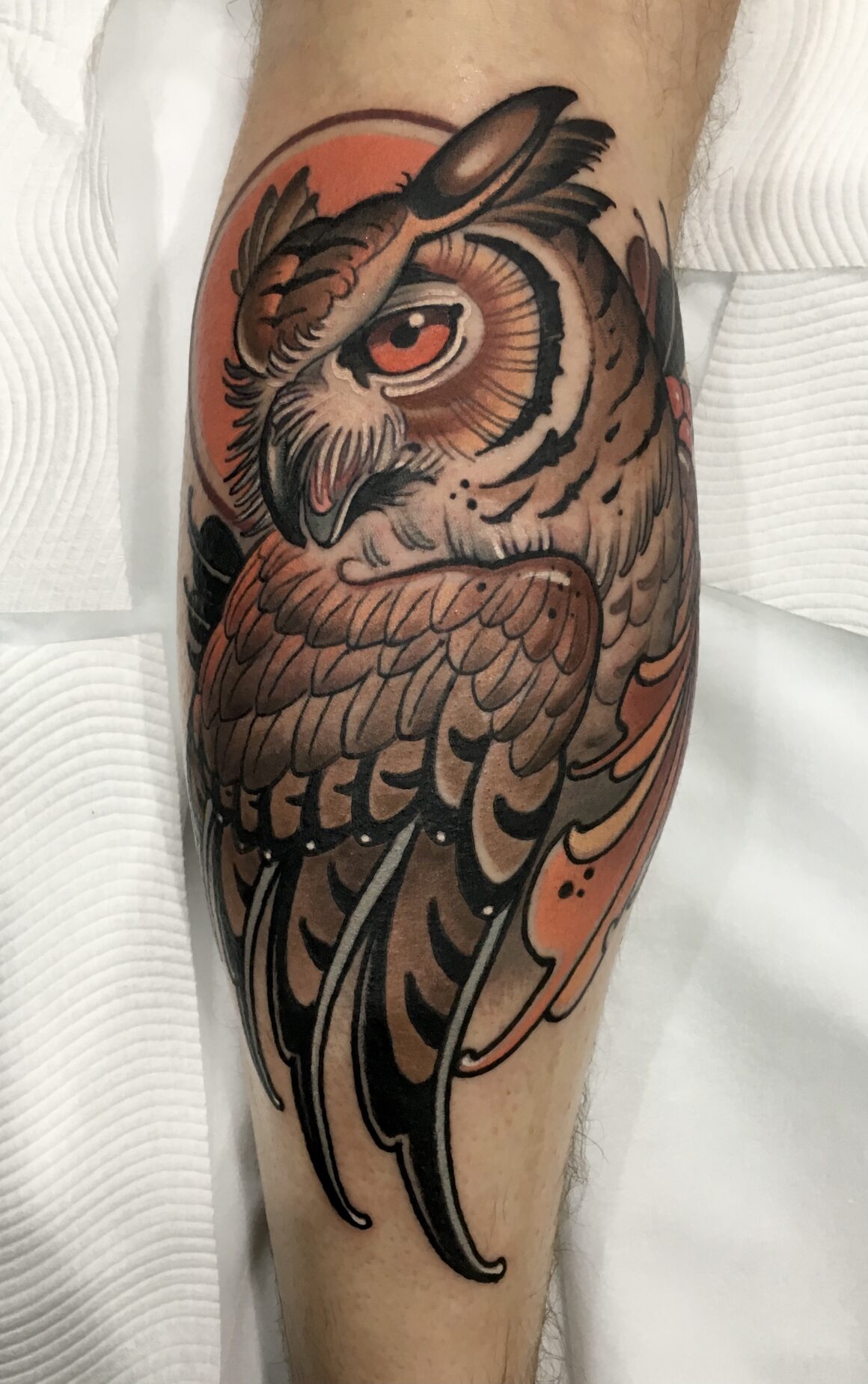 These days it's mainly so called neotraditional vibe but I personally would call it a mix of art nouveau, art deco filtered through the solid western traditional tattooing with a touch of Japanese tattoo way of composition and flow on a body. Rather large scale, oversize subjects with bold lines and limited, muted colour pallete. Wild animals, birds of prey, human forms, mainly female strong characters, goddesses, warriors, witches.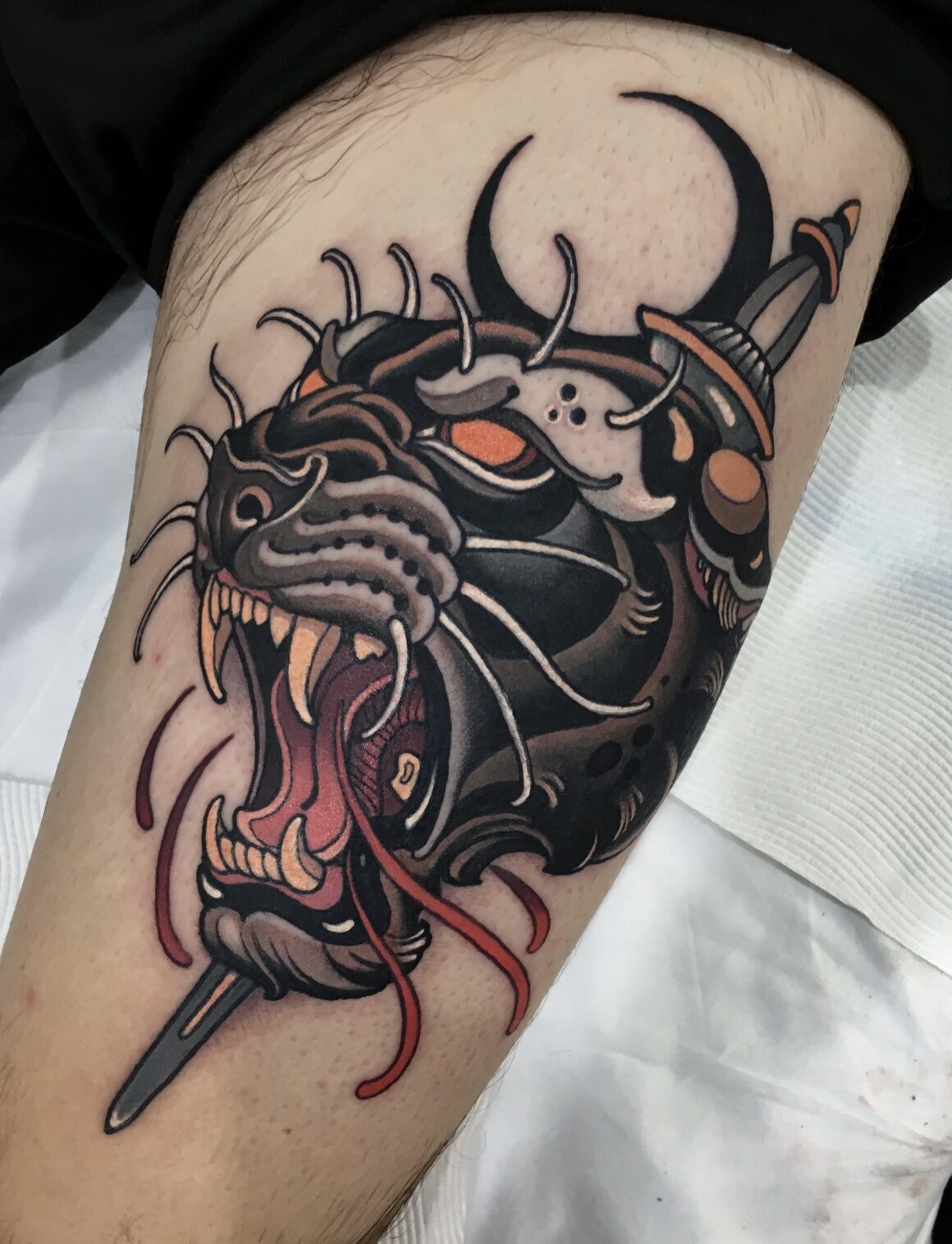 Did your style change over time?
It definitely got refined and narrowed to the principals of tattoo application and its requirements but the main appeal is actually influenced by the same aspects of visual language that were closed to my heart for quite a long time. Especially if it comes to colour choices, flow of lines and shapes, composition dynamics.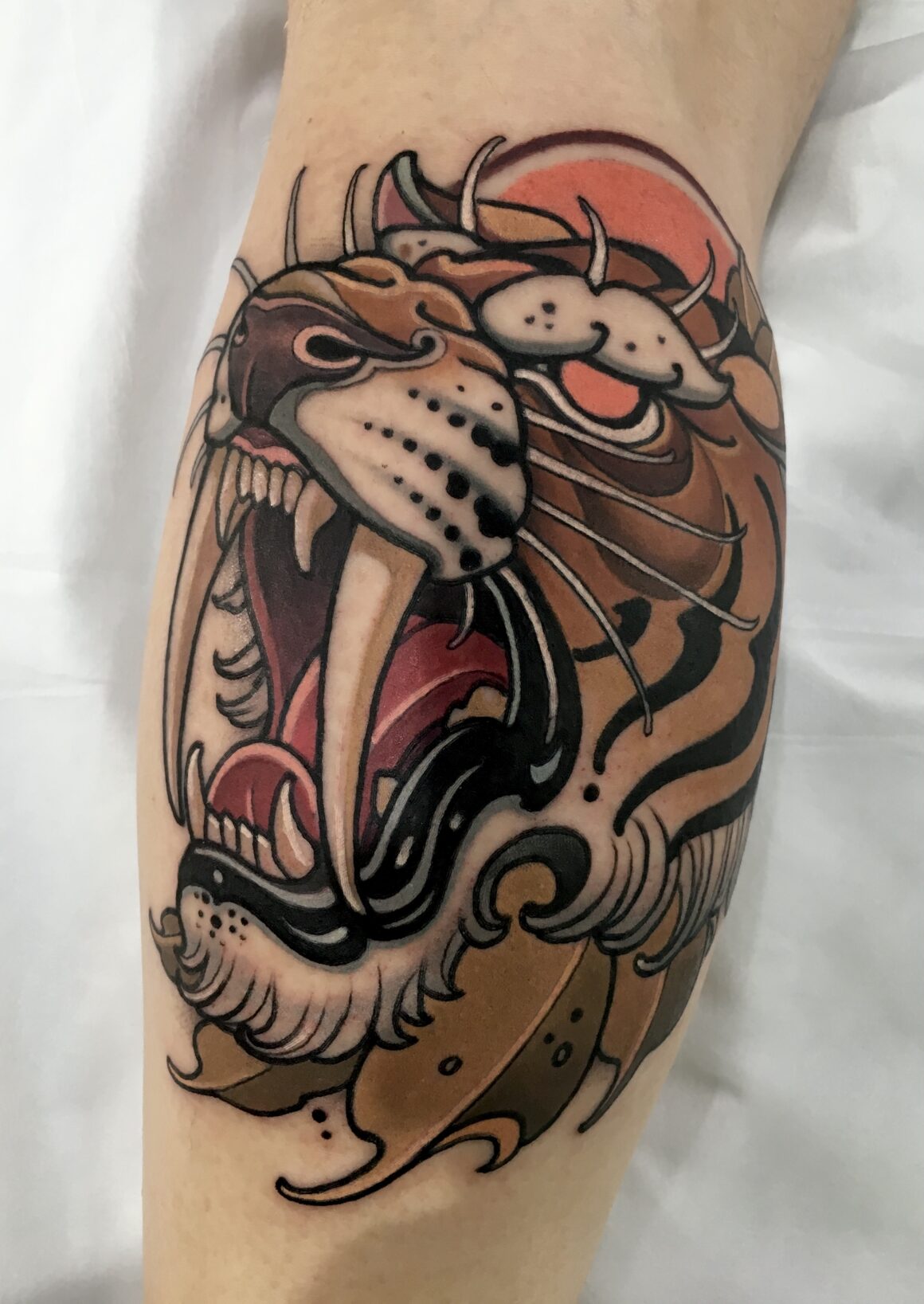 When I started my tattoo journey, being skilled in realistic drawing and painting and mainly inspired by classical art education, I was trying to apply my gimmicks into tattooing. But back in the early 90's, after tattooing gained a bit of presence and popularity in Poland, the only way was to be all-rounder, able to do a bit of everything. Then mainly tribals, Celtic, biomechanic, fantasy, lettering and realism for those who had a skill. The more I tattooed the more I started realizing that not all the rules that worked on canvas or sheet of paper could be applied to the human body with the same success. So I was for a search of more definition, simplicity and clarity, and the ways to incorporate tattoo designs into the anatomy flow.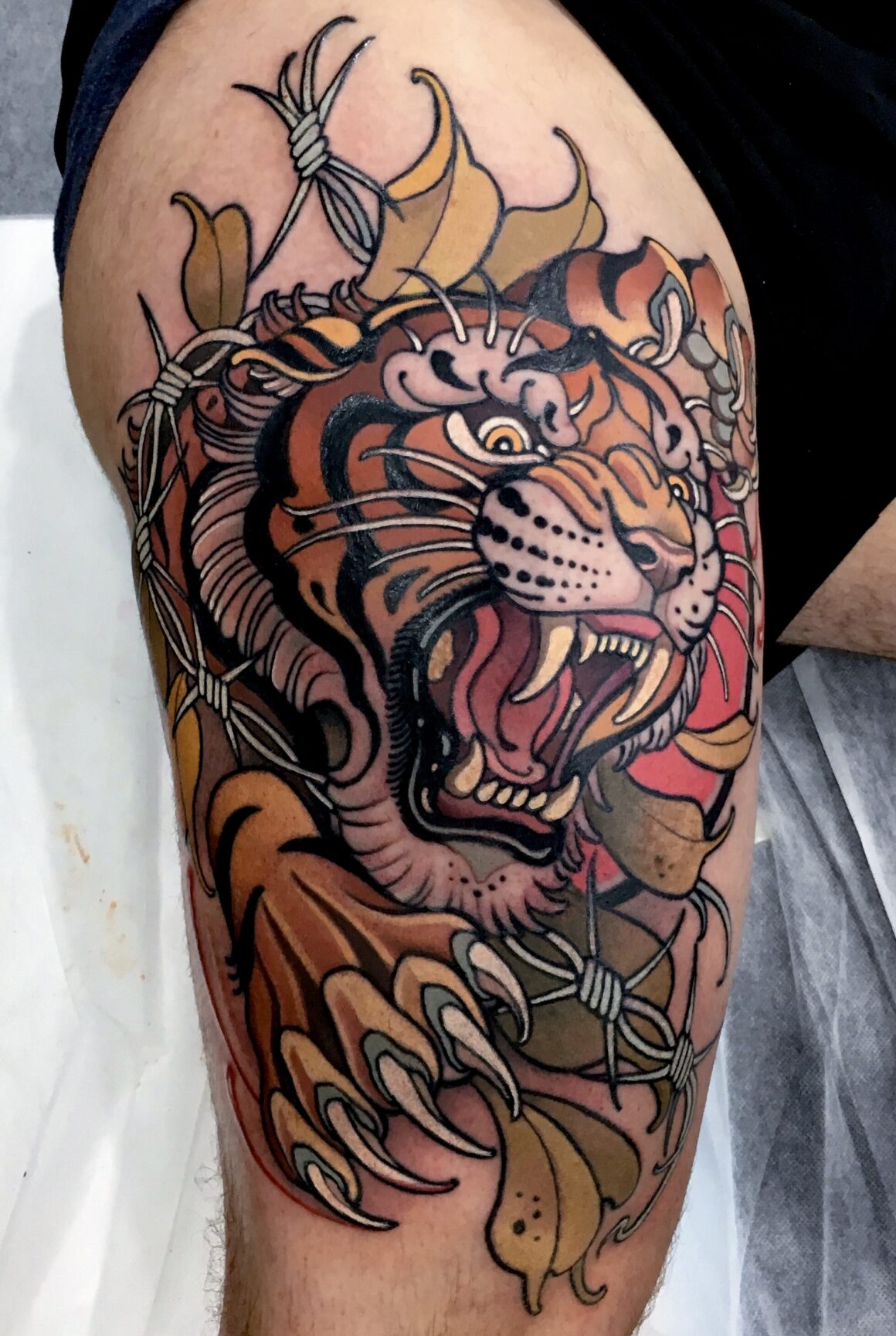 It took me years to unlearn my classical way of painting with multiple layers, where lighter opaque tones could easily go over dark ones back and forth with a possibility of endless repainting over and over. I had to also unlearn my attention to very intricate details to be able to achieve the definition and simplicity I wanted for my tattoos. But it's a constant and I believe never ending process of reducing then amplifying particular elements to gain desired results at the time.
So to make a long story short, starting with mainly realistic approach I then moved into more art nouveau and early 20th century inspired layouts.
But I turned my focus into bold traditional tattooing with heavy lining, lots of black and very compact, simplified way of drawing things. After some years of subtraction I stripped my tattooing into the core of simplicity. Realizing there's not much left to play with I started adding again a bit more complexity, heading back to art nouveau and posterized version of realistic subjects but now equipped with solid tattooing experience and ability to make my tattoos look strong and dynamic yet containing all painterly subtlety that I love.
Is it important for you to also paint and draw, beside tattooing?
Drawing and painting was always my main thing. Since I can remember. As a child I could sit and draw for hours and days as my mates were out kicking a soccer ball. From kindergarten until getting into the art academy I was always in some kind of after school art classes etc. And thanks to my parents I was always strongly supported and encouraged to follow my artistic passion. But as I mentioned before having another huge passion, music, I'm juggling my spare time between visual and sonic activities with the latest taking over a bit recently.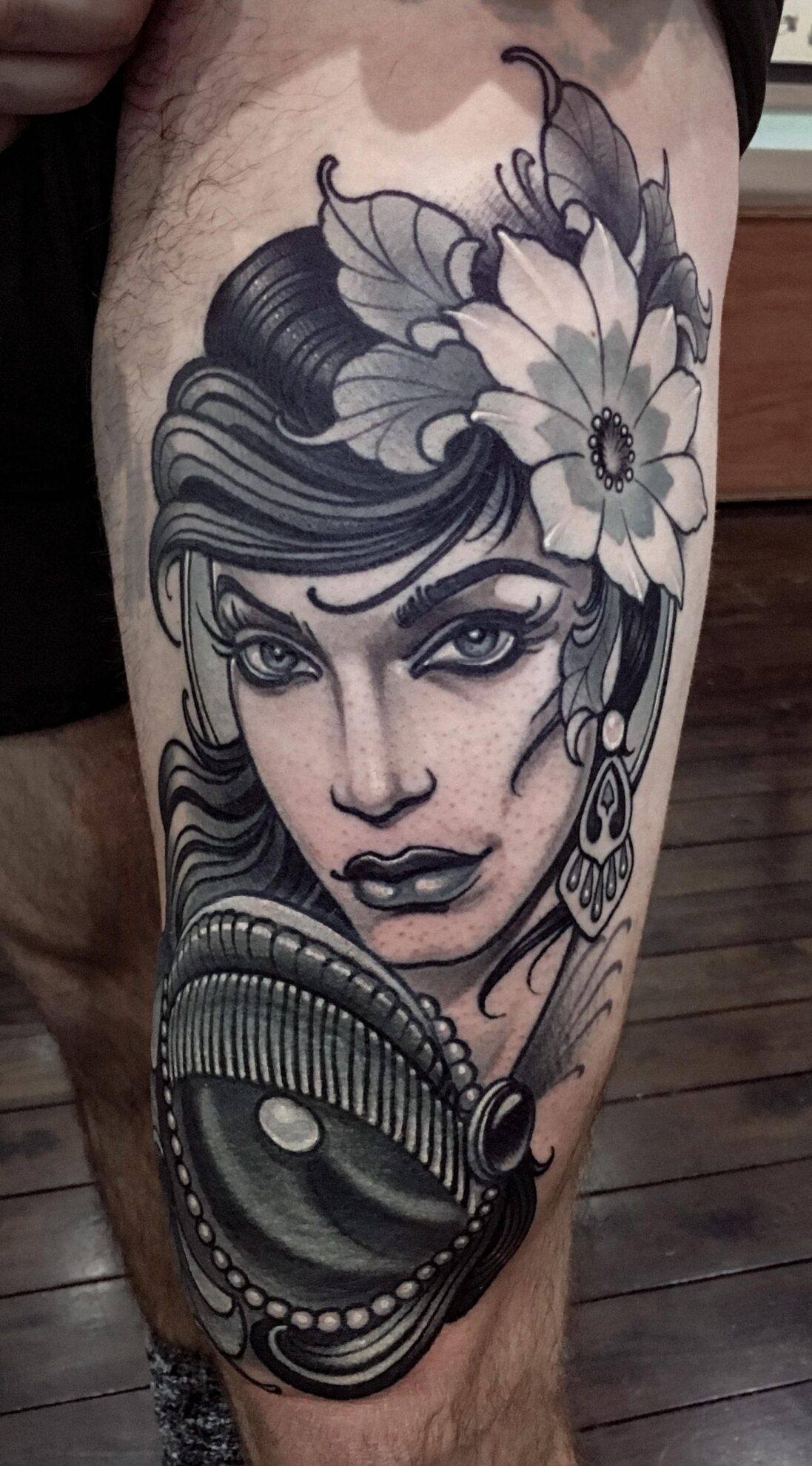 What are your favorite subjects and techniques?
As previously said nowadays I'm mainly drawn into all things figurative, human form, animals, birds with a bit of floral add ons here and there. But as I get bored very easily and quickly, I change styles and techniques every now and then. After heavy classic training at art school I gave up oil realistic painting and jumped into semi abstract, semi surrealistic mix done on huge canvases with acrylics, which helped me to paint quick with the option of very instant repainting and layering colours.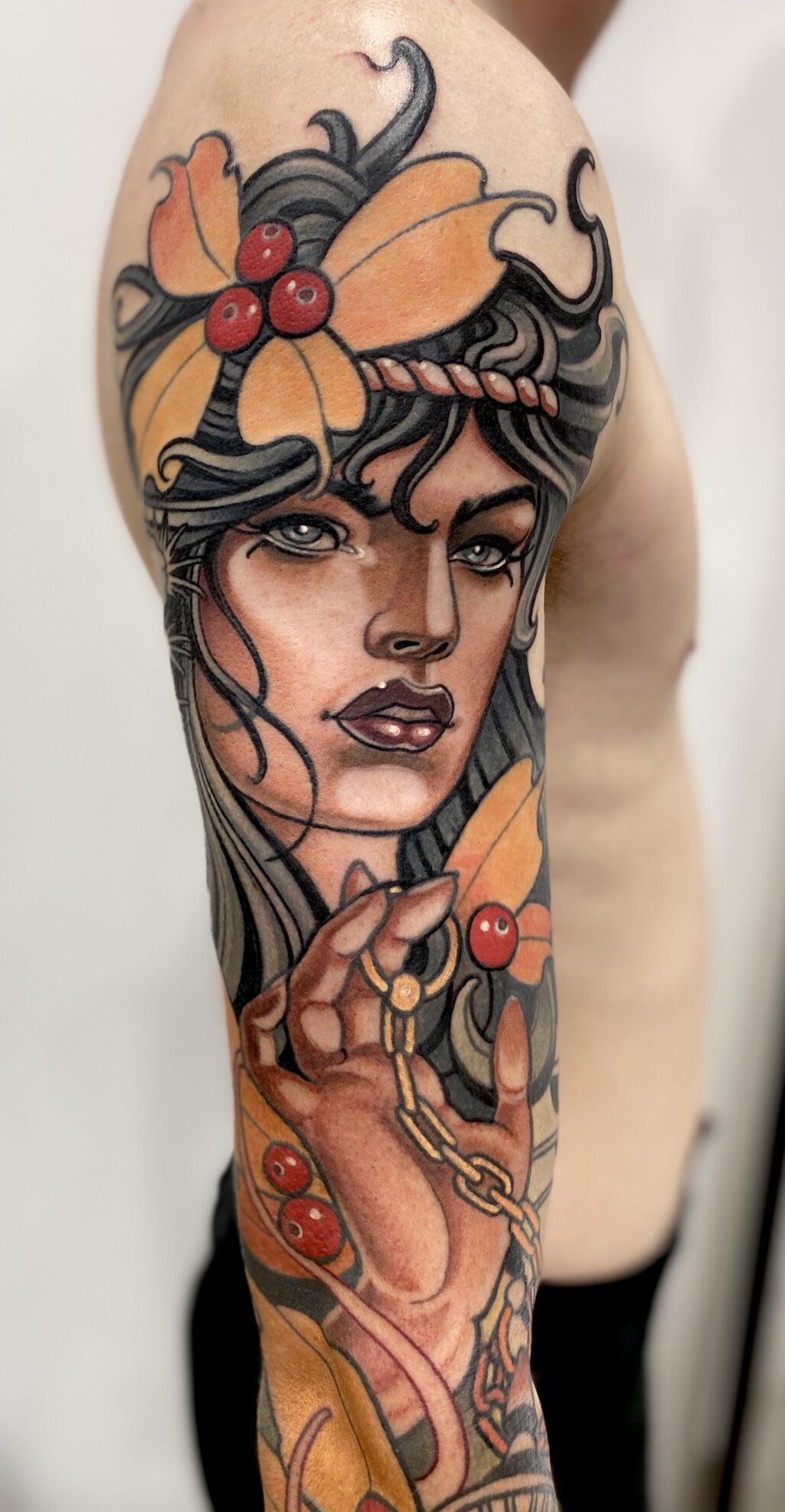 But as I started travelling more and more and relocating it seemed natural to reduce my arsenal and stick to something that I could carry around. Also tattooing and hanging out with fellow tattooers resulted in my subject matter being influenced by tattoo imagery. So these days I usually paint with liquid acrylics on watercolour paper surfing between art deco, vintage illustration aestethics and traditional tattoo flash look. And I hardly paint anything bigger than A2 but as I like changes, sooner or later something bigger may be on the way.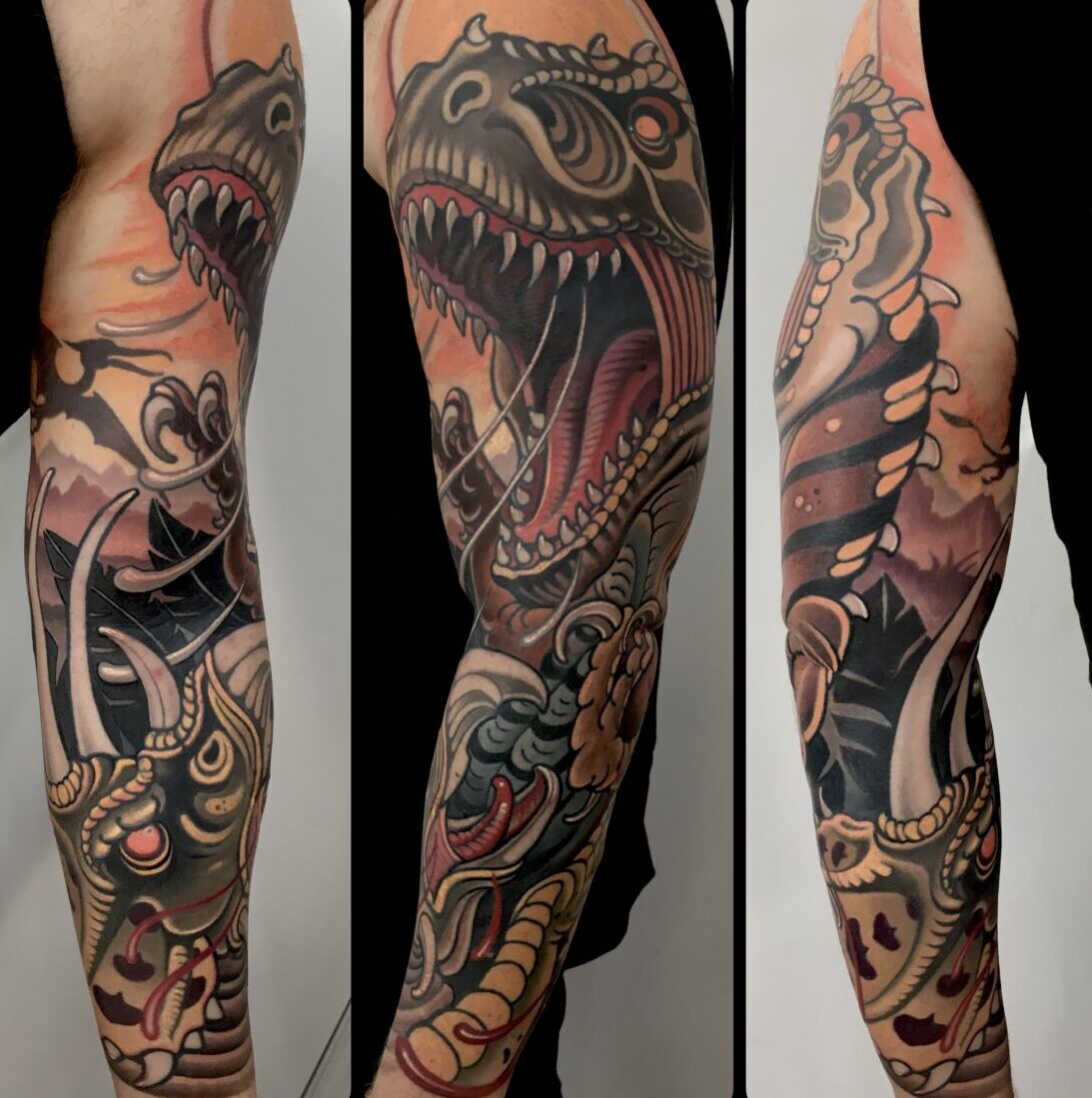 Where did the idea of this eBook come from?
My sketchbook 'Earthly Fears & Cosmic Delights' is pretty much a compilation of things I usually design for my clients. When I got invited by Miki Vialetto to present some of my designs in form of an eBook, I went through my sketchbooks and realized that all I draw is inspired by untamed power and fearless energy of the animal world or by the grace, beauty and out of this world mystery that I find in female forms. I selected forty something designs that are most iconic to my style and it became clear that all this imagery reflects the most powerful and influential forces that drive our human existence: something very empirical like fear and something way more abstract and subtle like the appreciation of beauty. So I summed it all up in the title of my eBook.
What are your projects for the future?
Definitely get back to large scale painting sometime soon. When the world gets better after the virus drama, guest spot tour and some conventions in Europe will be on the horizon. Also seems it's about time to start thinking of a new sketchbook, this time with more complex compositions which again will reflect my current tattoo projects. And on the music note I'm looking forward to start playing live shows with my new band 'Date Night', spending some time in a recording studio and releasing a few of my new solo tracks.