There's the Yokai tradition inside the fascinating works of this great Melbourne-based artist who also aspires to create very imaginative t-shirts. Here's his story.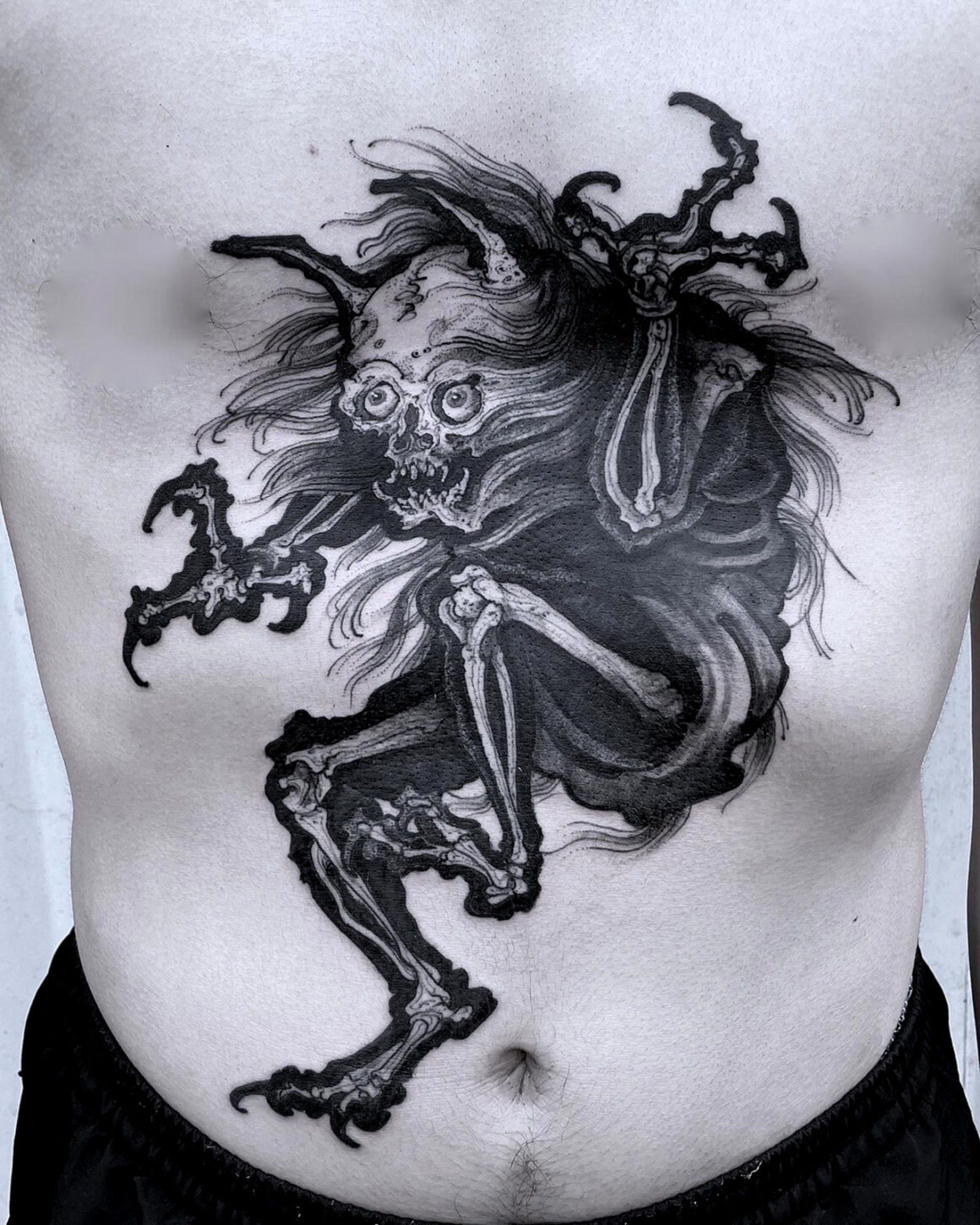 Hi Ganji, tell us a little bit about yourself…
Hi, I'm Ganji. I'm originally from Japan and have been living in Australia for the past five years. I'm currently working at 'Capital Tattoo' (IG: @capital.tattoo) in Melbourne, and I've been tattooing over a decade.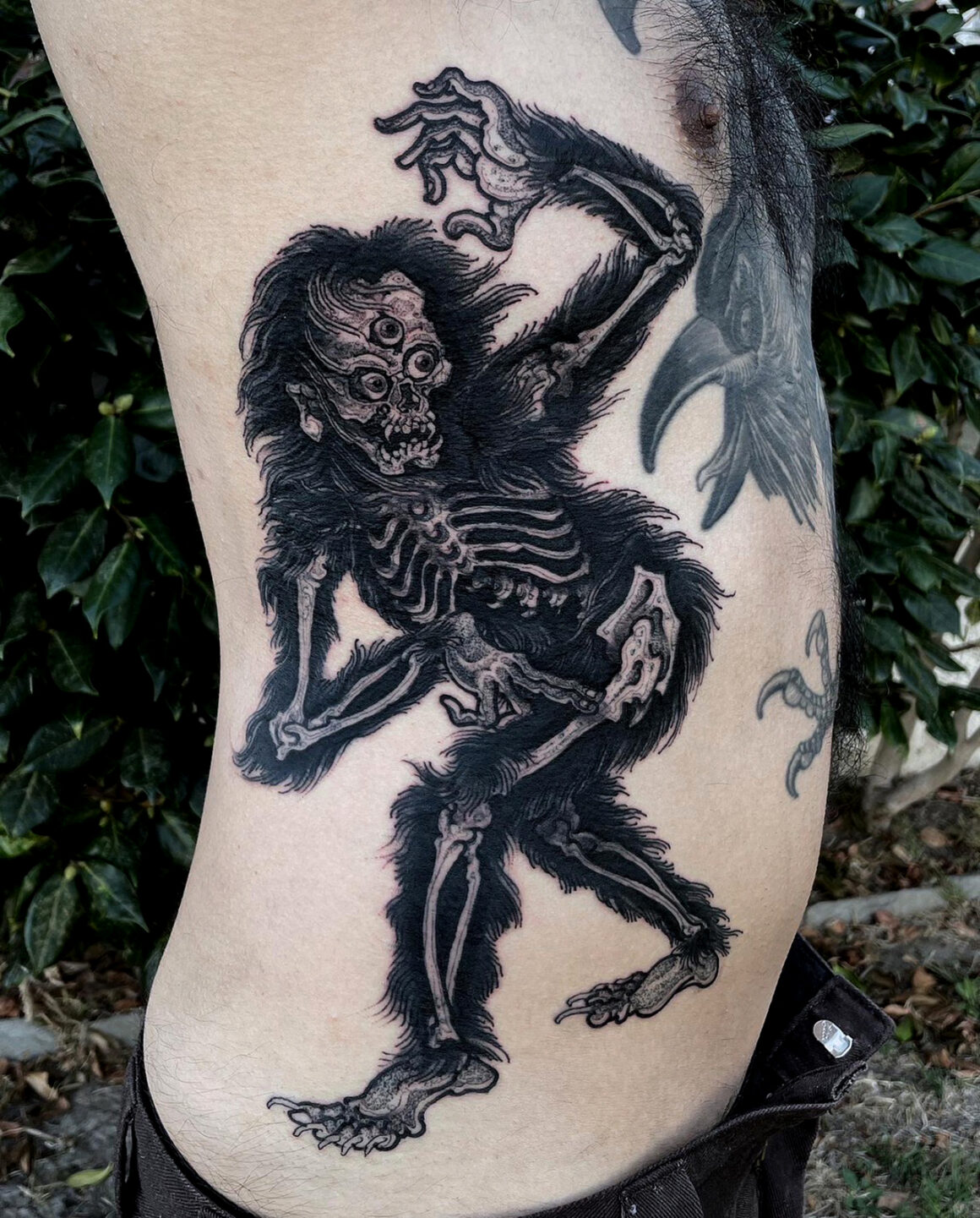 How did you end up being a tattoo artist in your life?
The first time I saw someone with a tattoo (I guess he was Yakuza) was at an Onsen (Japanese hot springs and the bathing facilities. Ed) when I was a child! I was in awe and thought his tattoos were beautiful.
From that moment on, I dreamed about becoming a tattoo artist, and here I am now, tattooing for over a decade.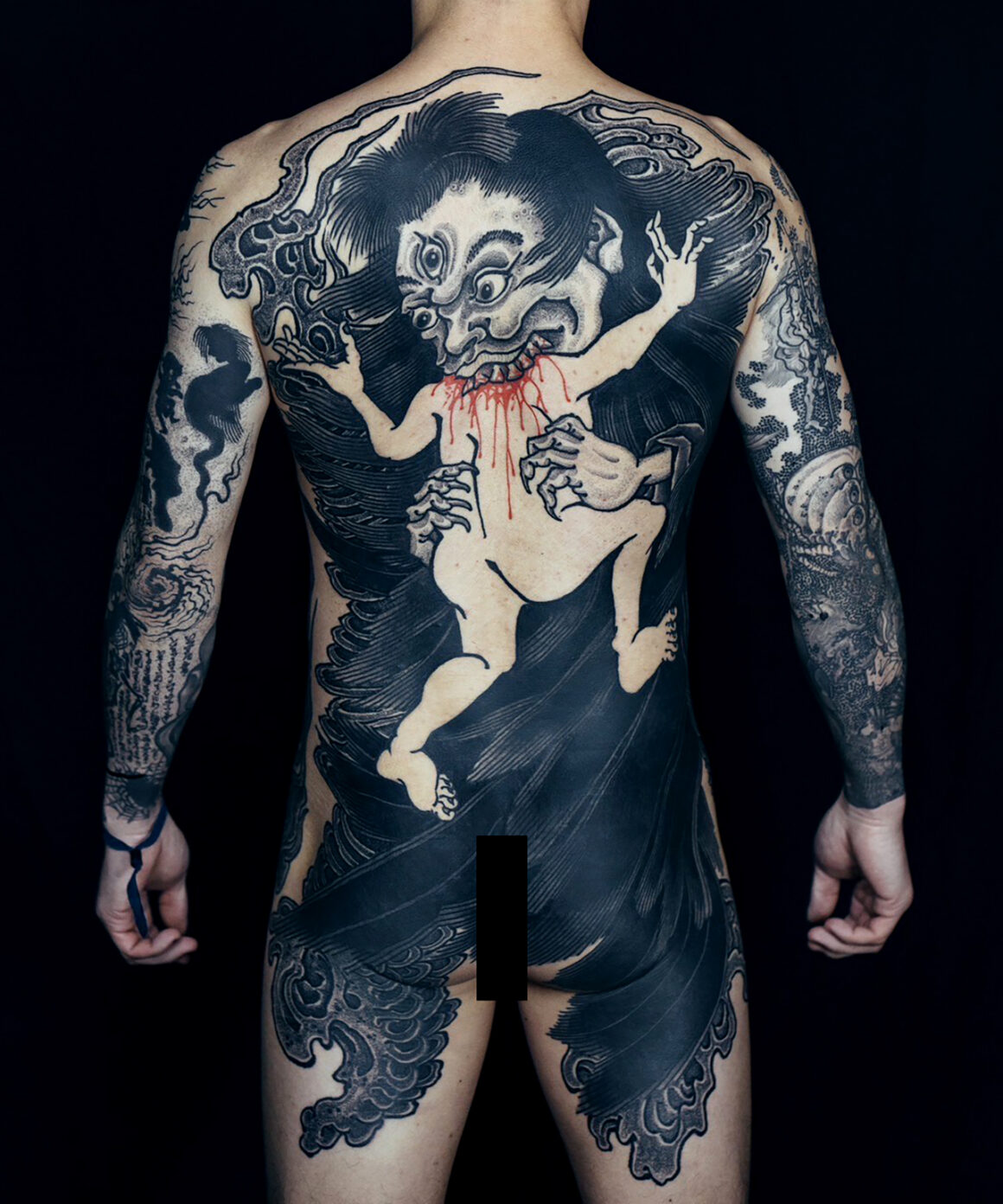 How much fun and hard work goes into each of your tattoos?
For me, tattooing is not a process of hard work/suffering at all. A lot of ideas are flowing freely everyday and I enjoy the process. It's especially rewarding when I am entrusted with a large piece such as an arm, a leg or full back tattoo.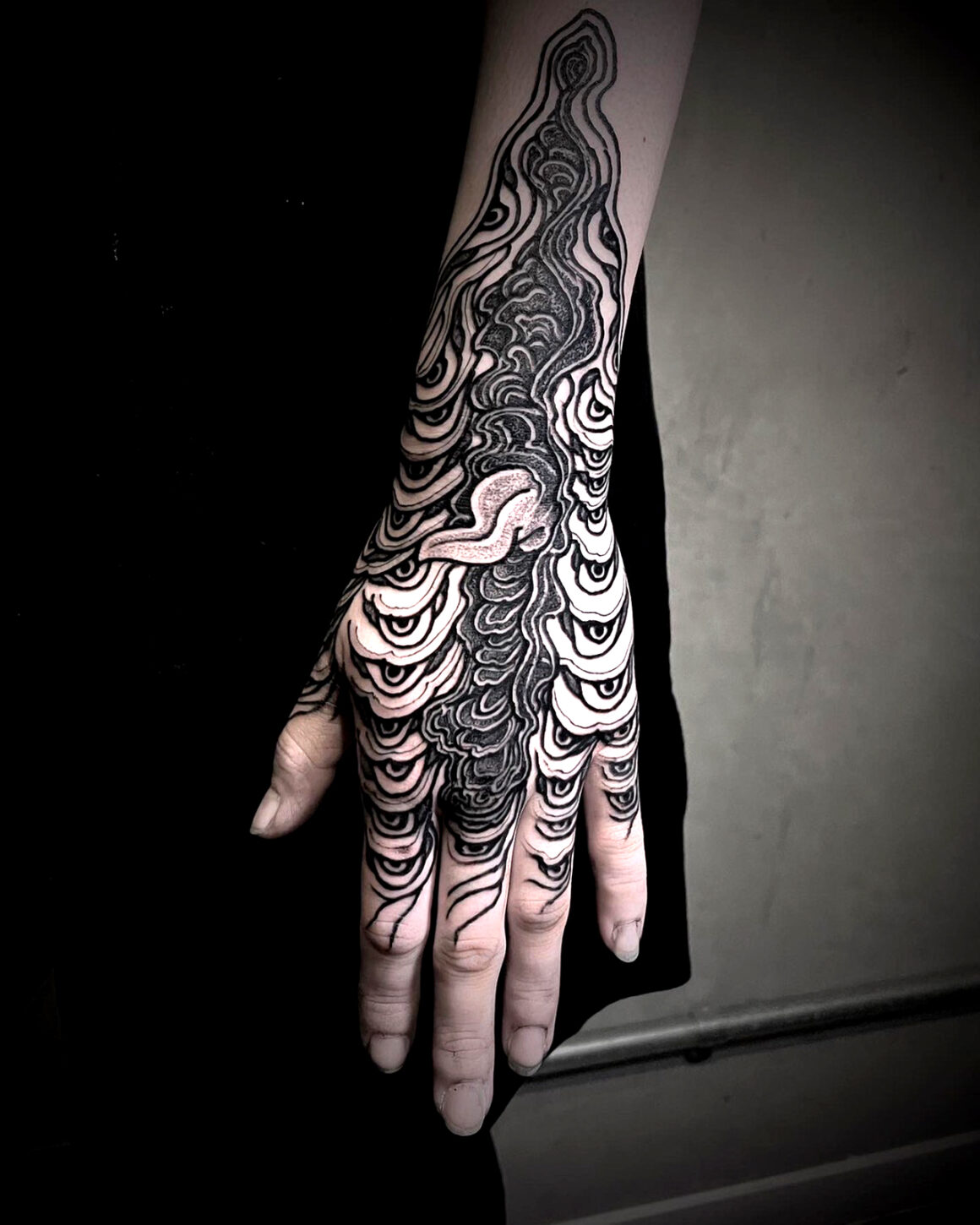 The more I look at your works I really struggle to describe them or find a dominant style. I see some death metal in them (those evil eyes to give you an example), some Oni masks like they've been eaten by a horde of zombies, and a lot of other things propped up and full of details. Maybe someone like H.P. Lovecraft would tattoo exactly like that today. What do you think?
I can understand someone seeing those influences, but my work is predominantly influenced by Yokai (妖怪), the spiritual entities of Japanese folklore.
My other main influences include Manga, comics and vintage toys.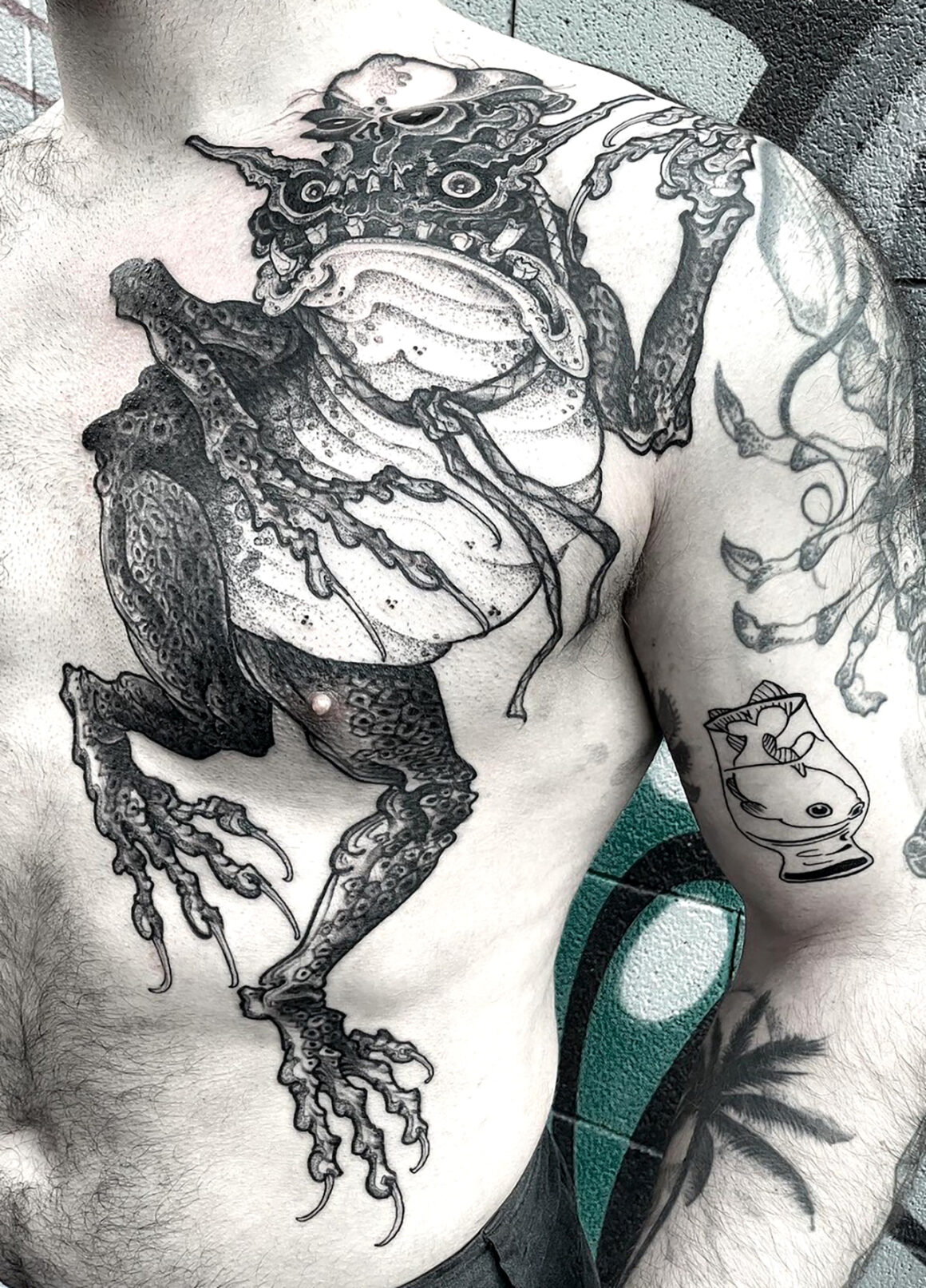 Can you tell us about Collingwood's 'Capital Tattoo'?
'Capital Tattoo' (IG: @ capital.tattoo) is in the hipster epicentre of Melbourne, Collingwood. The studio has a great vibe, it's very hygienic and everyone's warm and welcoming.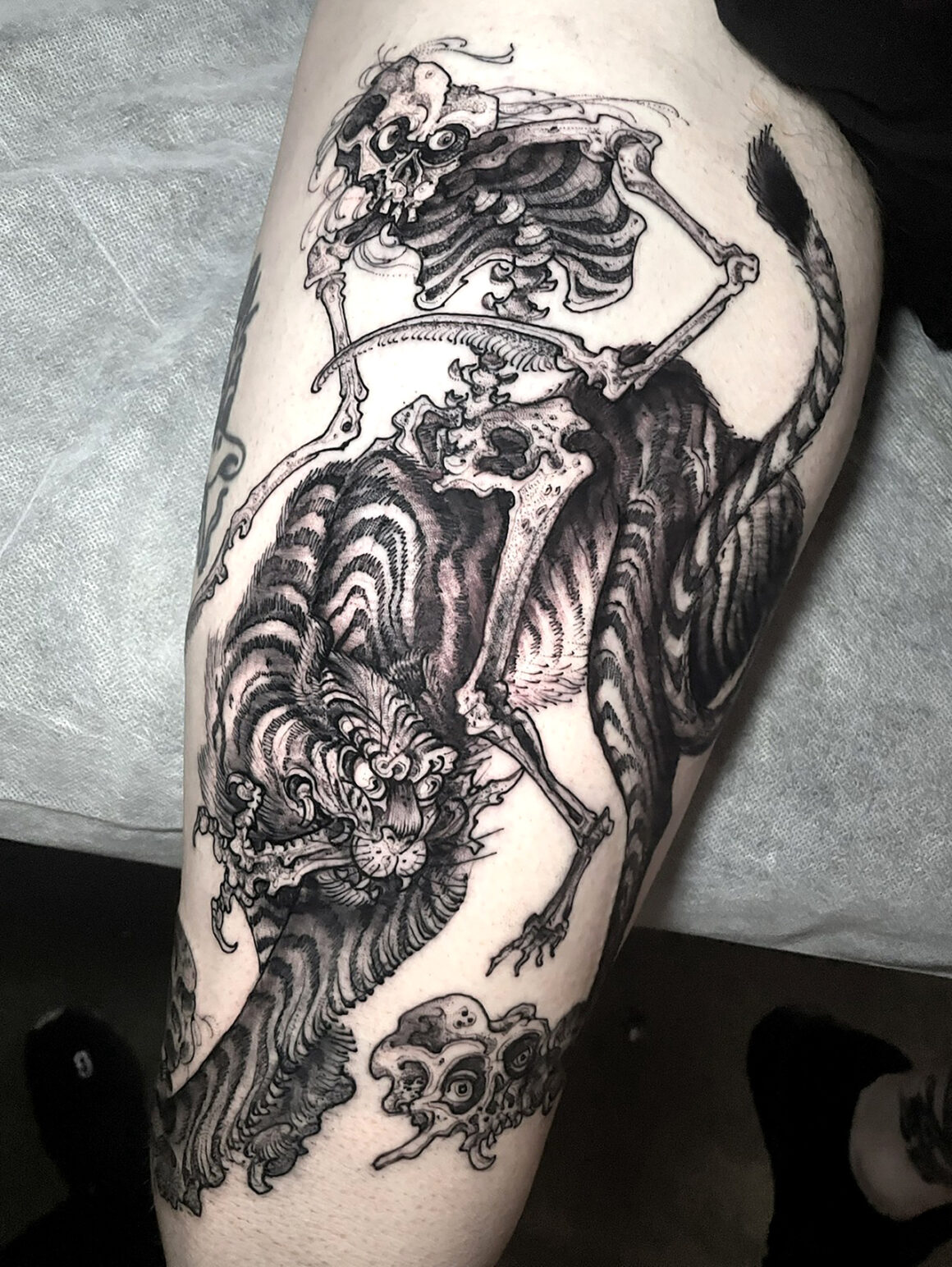 Can you describe the style of your colleagues Mayonaize and Inez?
The studio is owned by Mayonaize (IG: @mayonaize), who produces beautiful lettering-based pieces and creates amazing murals all over Melbourne. Inez (IG: @vulgarartist) is producing a lot of work at the moment and evolving her style constantly. I'm looking forward to seeing her progress over time.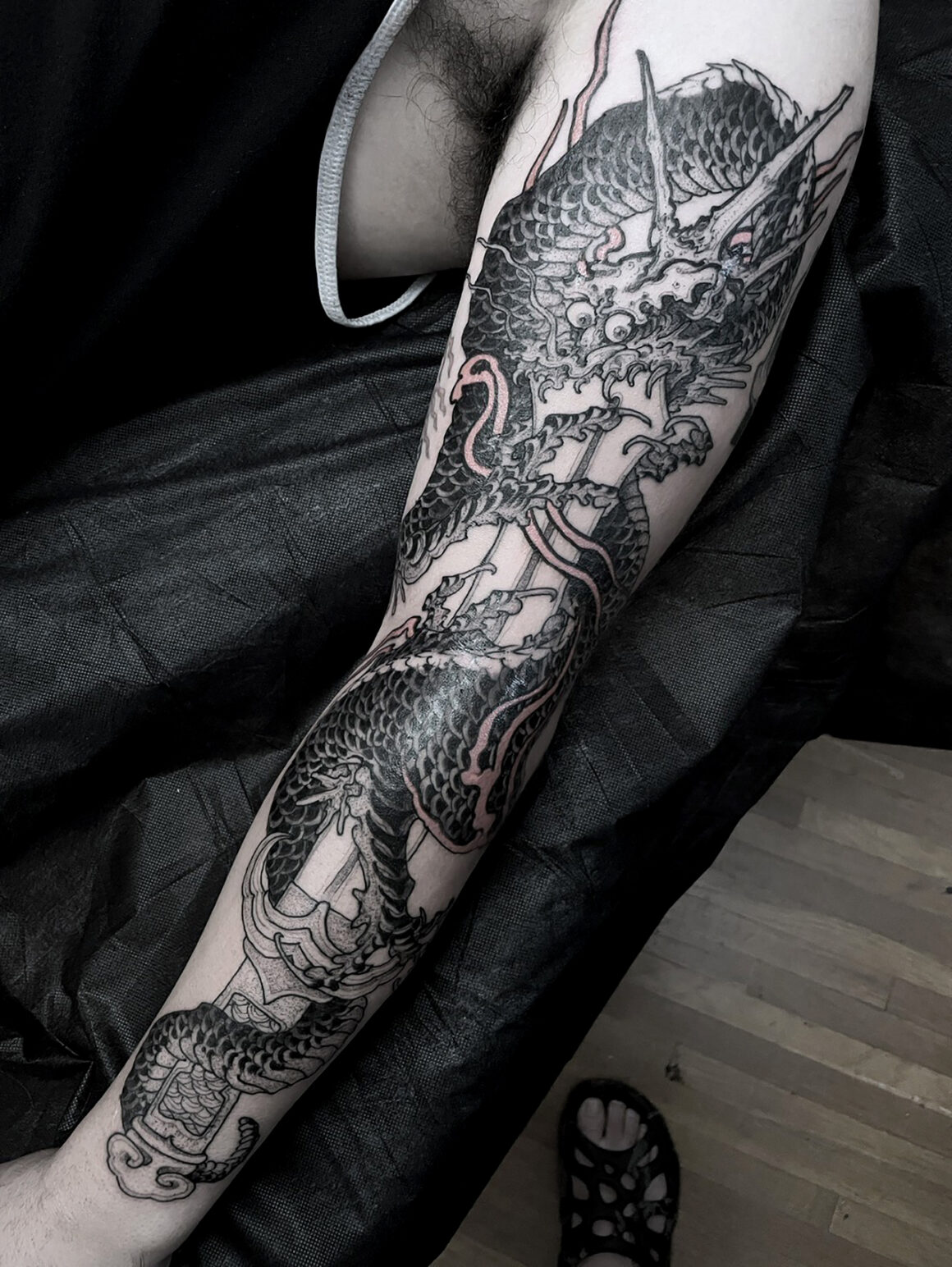 Favorite movies and TV series? Music to take to a desert island?
My favourite movies are the 'Mad Max' series and 'Fight Club' and my favourite TV series is 'Tales from the Crypt'. My desert island albums would be the Ghibli movie soundtracks by Joe Hisashi, so I can enjoy the Ghibli universe despite being stranded on an island!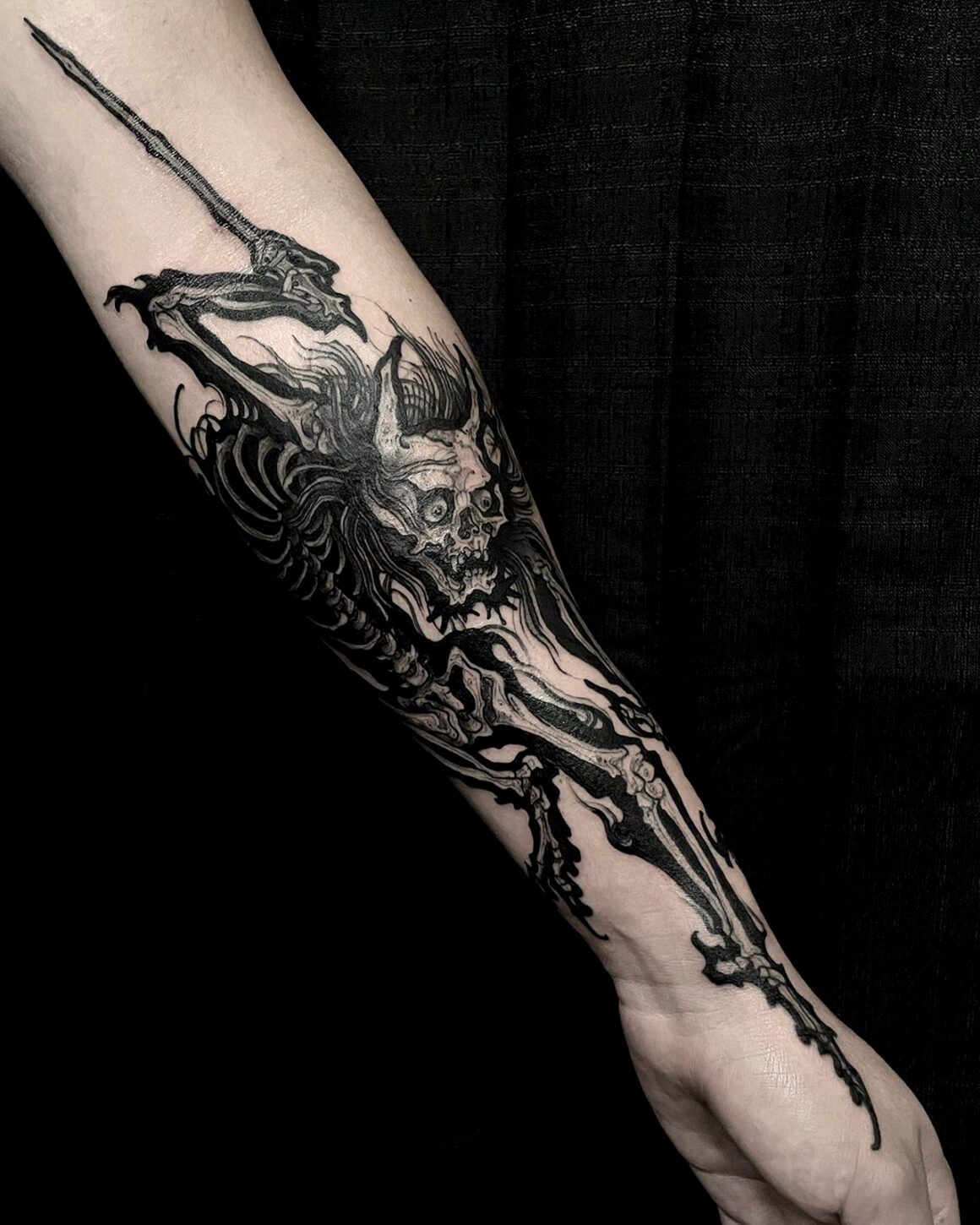 What kind of 2023 do you expect?
For 2023, I want to continue to find more great vintage t-shirts and open a vintage t-shirt and toy store with Mayonaize. I'd also like to make some original t-shirts too.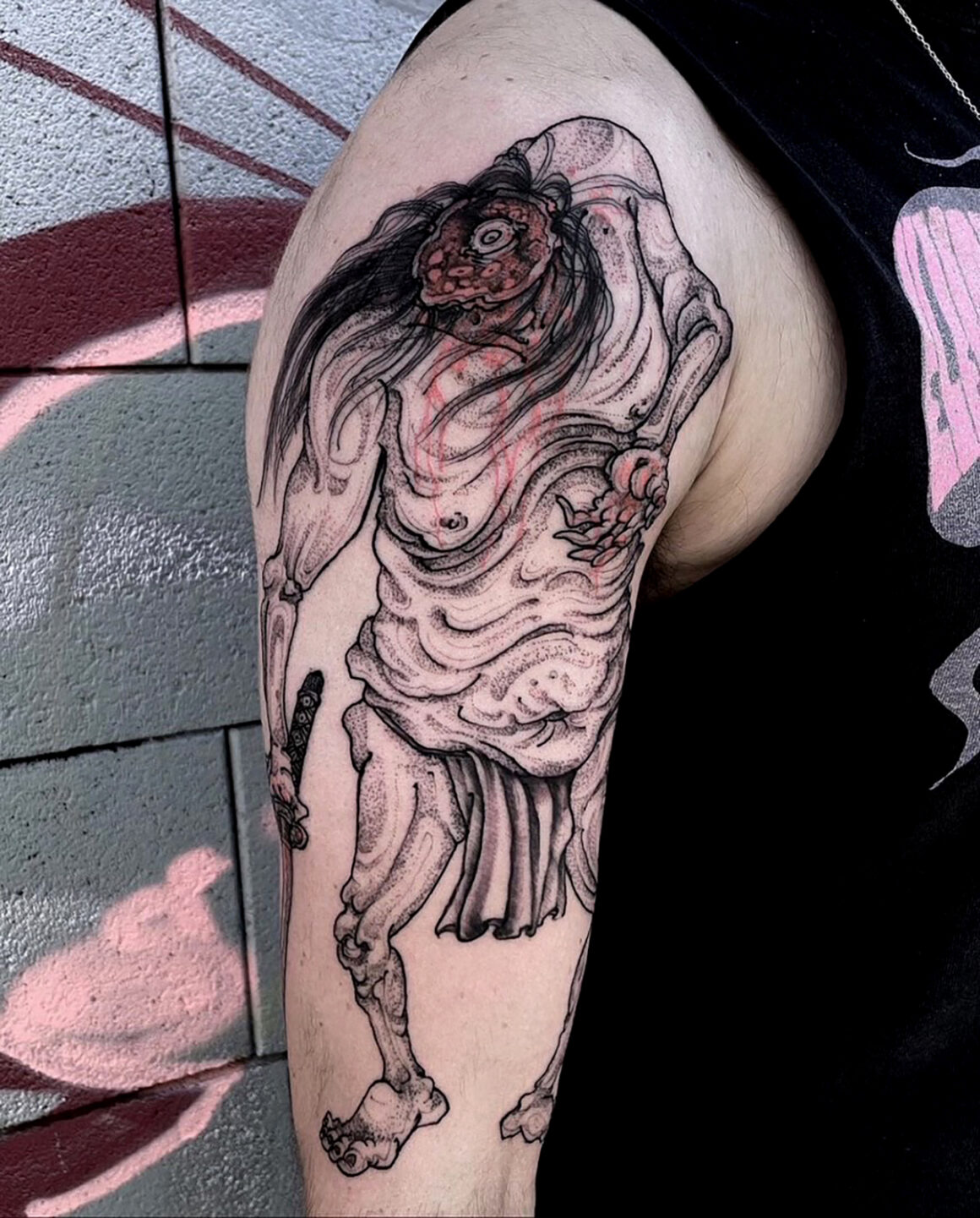 Do you have a dream tattoo convention you aspire to attend and an equally important one already on your agenda?
I've already done all my dream tattoo conventions! (smiles) Conventions are hard work, but catching up with other tattooists from around the world for a few days makes it fun.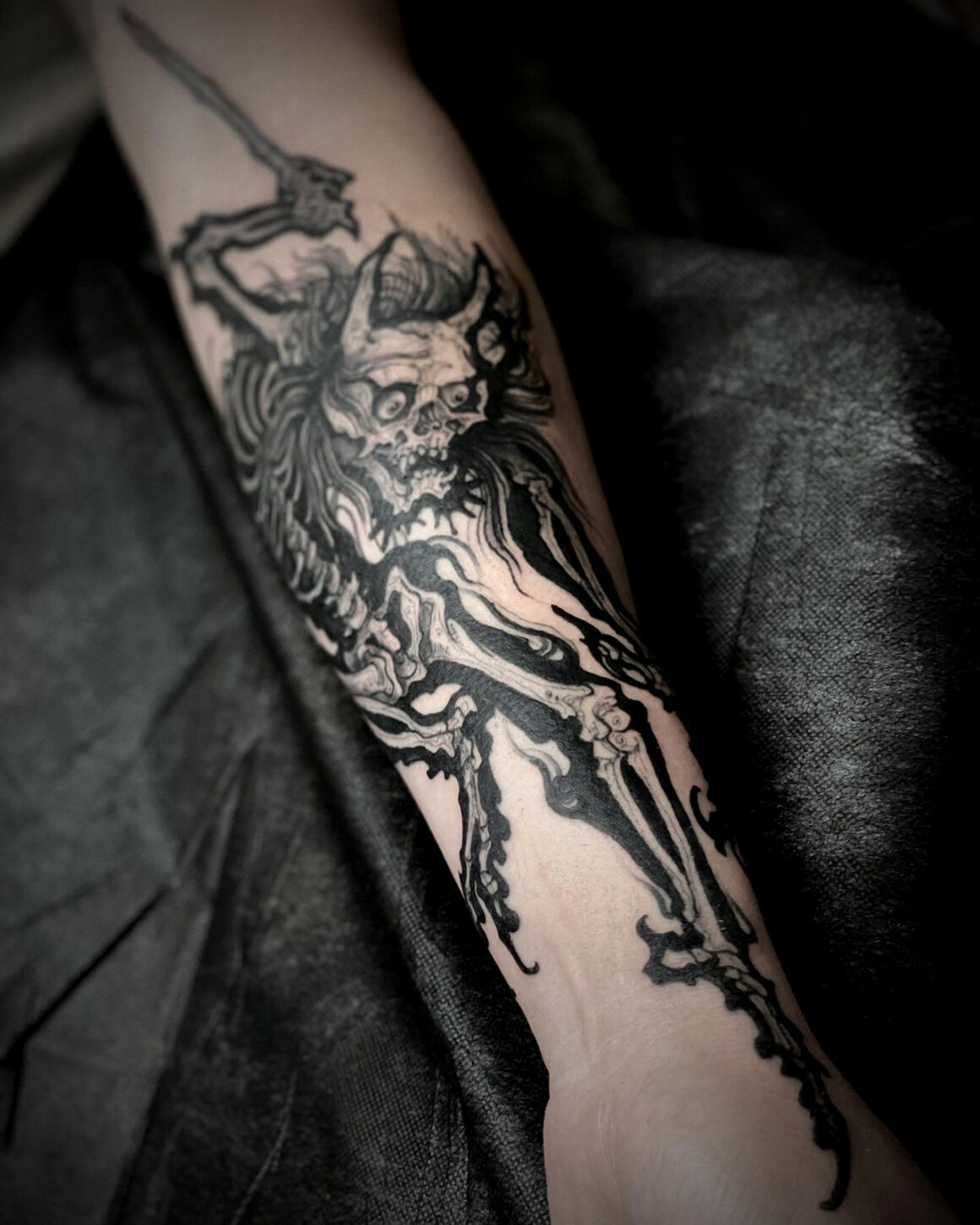 And your last famous words are…?
天上天下唯我独尊. It means: I'm the only one in heaven and earth.