We all know him for the unmistakable "Rudy Fritsch" style which has left its mark on Old Classic Traditional. It is him that we have dedicated the volume Lacrime e Sangue – Blood and Tears, where we see the full range of his graphic imagination with cross-eyed cats, imaginary architectures, his own take on skulls, and hundreds of images from his repertory so beloved to thousands of tattoo fans. In this interview, we have asked him to tell us about his magnificent production of paintings and drawings, many of which he created during these months of lockdown when his most abstract imagination found fertile ground in which to germinate.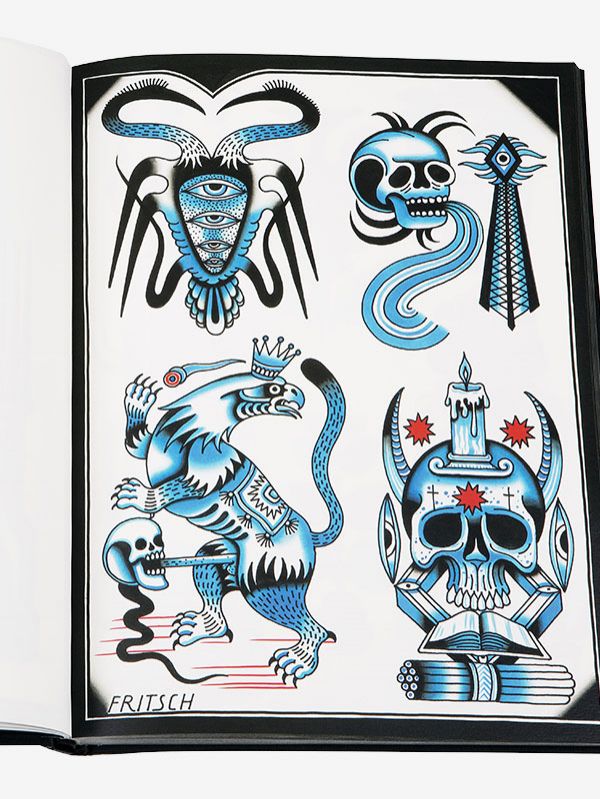 I have to say that the one thing there was no lack of during quarantine was time. I used it as best I could, working on interests I have developed over time in parallel to tattoo and going on with a number of projects which have been proposed to me by my clients or simply fruit of my own inspiration. The part of the work that I do in the most abstract way is what allows me to free my mind of any preconceived structures or rules, leaving free space to my expression and state of mind at the moment which I express through the combination of certain colour schemes. Alongside the colour, I have worked a lot on light, using white ink on a black background, a strictly illustrative technique with iconic subjects in surreal combinations which give the pieces a sense of mystery.
What we are looking at in any case is all my iconography which harks back to the tattoo classics revisited from a modern perspective. Then there are my more graphic subjects which I normally do in black and white: urban landscapes, factories, smoke stacks…all the stuff I've been working on for quite some time now and which over time have evolved, taking on different forms with the insertion of human elements, such asj, for example, faces.
Do you by any chance look to Klee in some of your more abstract paintings?
As far as the abstract paintings are concerned, my mental library is certainly geared towards artists like Mirò, Klee, Calder for the shapes and above all for the approach, Kandinsky and Kline for the black things.
What are their dimensions and what technique do you use?
The dimensions vary greatly: from 10×18 cm to formats like A4, A3, and up to much larger canvases of 2x2m. The pieces I've been working on during the quarantine are a smaller format, I start them and finish them quickly before moving on to the next one.
Do they have any particular titles?
Usually they go something like "Untitled xxx"
On the subject of your pieces which I see as closer to Paul Klee, so more abstract and with lots of colours, can you tell me what they represent and whether they are figurative subjects?
They are subjects which in my personal iconography I would describe as "ascensional". They are creative peaks, an arrival at summits which hide something among the clouds. They are altars, refractions of light and cosmic energy.
For this kind of powerful inspiration you always have to be accompanied by lots of music while you are working, isn't that right?
That's right. I listen to a lot of drone music, as well as electronica, psychedelia or classical.
And what is the best time of the day for you to work?
I have no particular preference for any time of day, but with two five year olds, when I go to bed I manage to get in contact with the deepest part of my mind, digging down ever deeper.
Where do you show your work?
I always post my paintings on INSTAGRAM and if anyone is interested in buying one all they have to do is DIRECT MESSAGE me on IG or write to me for information at: rudyfritsch1@gmail.com
How has lockdown been for you?
I have to say that seeing as how I am used to working all day in the shop and then working at home as regards the part dedicated to drawing and painting, this lockdown pretty much flew by. I got to enjoy my children, we had some really long home-made aperitivos via chat with friends and we cooked up a storm!
To wind up would you like to tell us something about your book Lacrime e Sangue?
It took years of work to come up with this book. In the 100 plates in Lacrime e Sangue you'll find all my iconography, creative development and background as a graphic artist in advertising and especially lots of old classics which I have always loved to give my own twist. I only hope it will be an inspiration to many artists who like me have chosen this style. I hope it can serve as a starting point from which everyone can take something to rework in their own way.